Dramatic Bathroom Remodeling Project in Black Hawk Colorado – Part 1
Glass block shower in a bathroom remodel in Black Hawk Colorado
During a bathroom remodeling project, great things can happen when contractors, suppliers and homeowners work together on design and delivery. Tina Crabb, of Black Hawk Colorado, was looking to give a facelift to a master bathroom in a home she and her husband purchased 15 years ago. The old bathroom was dated and the jetted spa tub took up too much room and was seldom used.
In Part 1 of this series learn how Tina, in conjunction with Jeff Pettus (owner of general contracting company Snowline Designs) and Ray Visco (owner of Visco Tile and Stone), identified and used innovative bathroom accessories and other products to create an impressive bath design which combined dramatic style and long term functionality (note: Part 2 of this series focuses on the quality driven installation approach used Jeff and Ray to make sure the project lasts).
Unique Products and Vision of the Project
The glass block walk in shower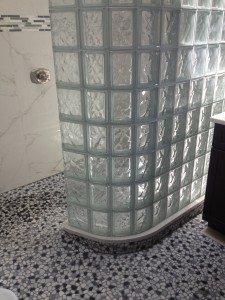 When Tina saw the glass block shower in her sister's home in Chicago she knew this would be a key element in her remodeling project. The challenge was how to incorporate a glass block walk in shower while keeping the installation costs down. Jeff Pettus, in coordination with material supplier Innovate Building Solutions, used a waterproof ready for tile shower base with a drain hole in the exact location specified by Jeff. This product feature enabled the installation to go quicker than with a "standard base." Since Jeff's company actually built the home 15 years ago they had the benefit of knowing how the home was put together – which was helpful in taking some of the remodeling "guesswork" out of the equation.
To make the walk in shower design work best and to keep the water inside the wet space a curved glass block wall was used. The base was done without a step over curb (i.e. it was barrier free base) to make it safer and make the tile transition nicer to look at. As Tina said, "Since I intend to stay in this house for as long as I live I really like the slope down feature of the shower base. What an excellent design touch from Jeff and cool looking tile work from Ray!"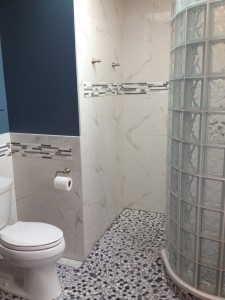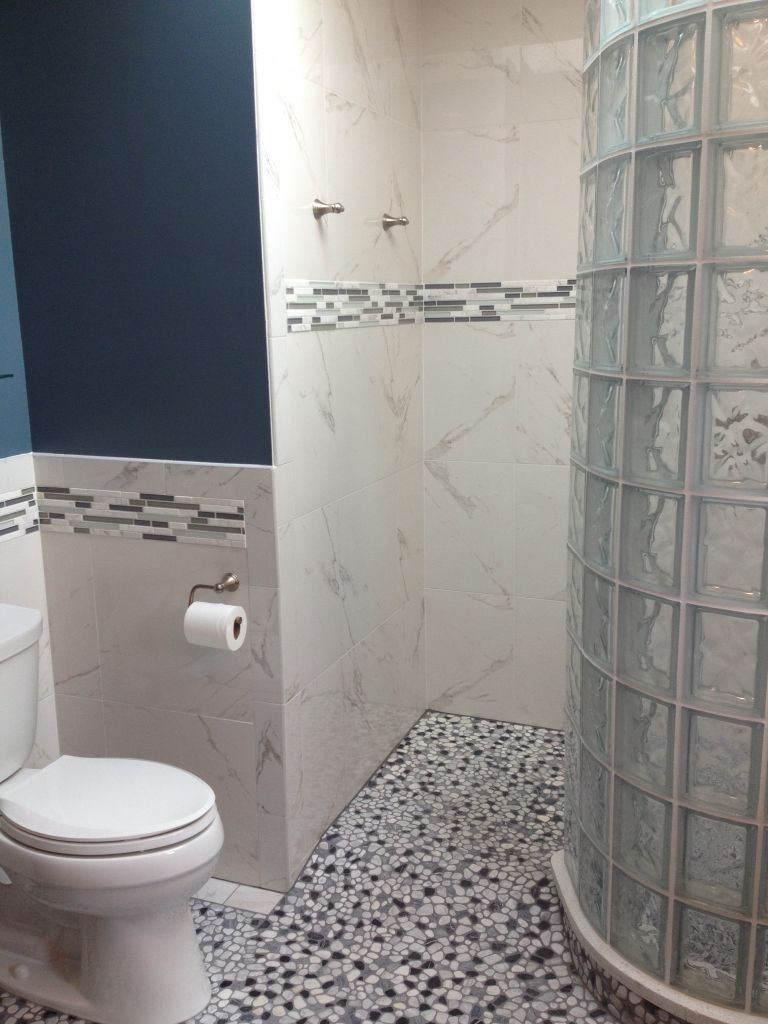 The tile design
Specialty tile can truly be a work of art – and this is readily apparent in Tina's finished bathroom. Ray Visco not only used attractive 18" x 18" Italian ceramic tiles on the walls, but the pebble stone floor which starts in the shower seems to literally "spill out" into the bathroom.
A glass tile accent border was also used through the walls for a decorative touch.
Tina also loved Ray's idea to use ceramic tiles around the toilet area as well.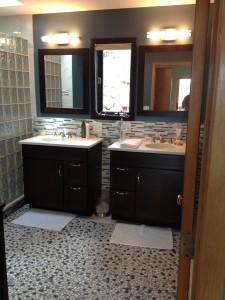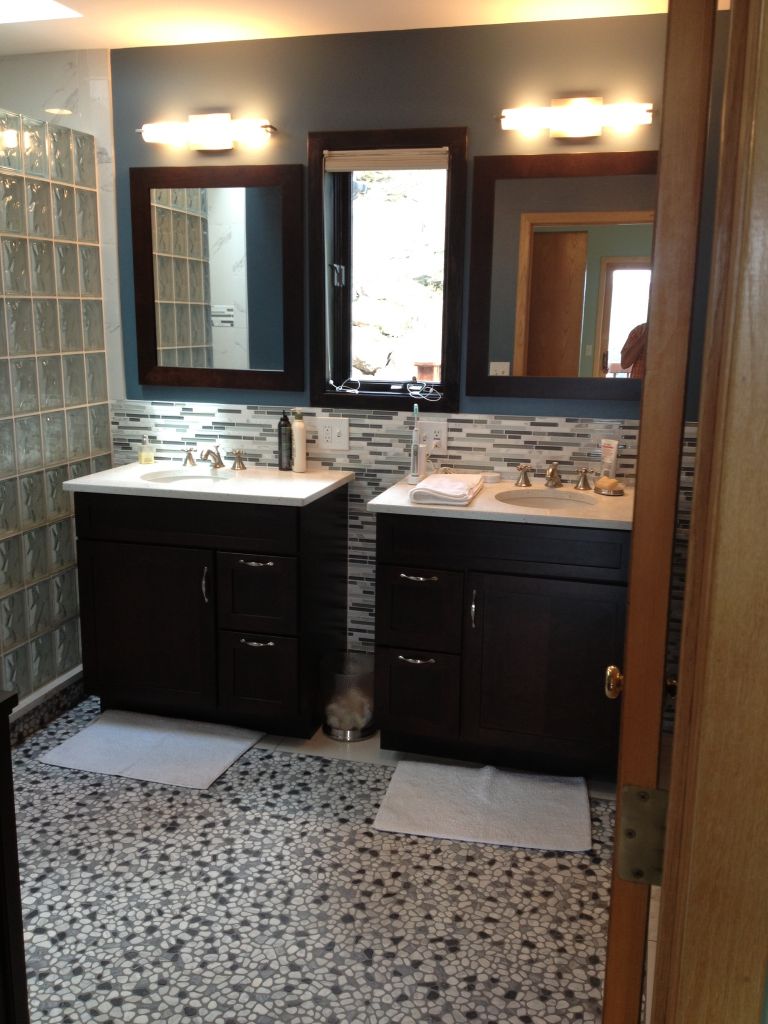 Furniture grade vanities that coordinate with the master bathroom
Tina's goal was to have a "his and hers" vanities which used a darker wood to match with the woodwork in the master bedroom. These vanities provide also provide a high end look to the space.
What do you think about about this bathroom remodeling project? The product selections and design decisions made on Tina's project? Please comment below.
###
To learn more about the various aspects of this project or to get more information about your remodeling project call:
Jeff Pettus of Snowline Design (general contractor) – 303-258-3696
Ray Visco of Visco Tile & Stone (tile and stone contractor) – 720-440-1933
Mike Foti at


Innovate Building Solutions


(nationwide supplier of glass block walk in showers and bases) – Replace with:


(877) 668-5888
---
Mike Foti
President of Innovate Building Solutions a nationwide supplier and regional (Cleveland and Columbus) remodeling contractors. Some of our product lines include glass counters, floors, backsplashes, glass blocks and grout free shower and tub wall panels
---