Five Ways to Make a BIG Impact in Your Small Bathroom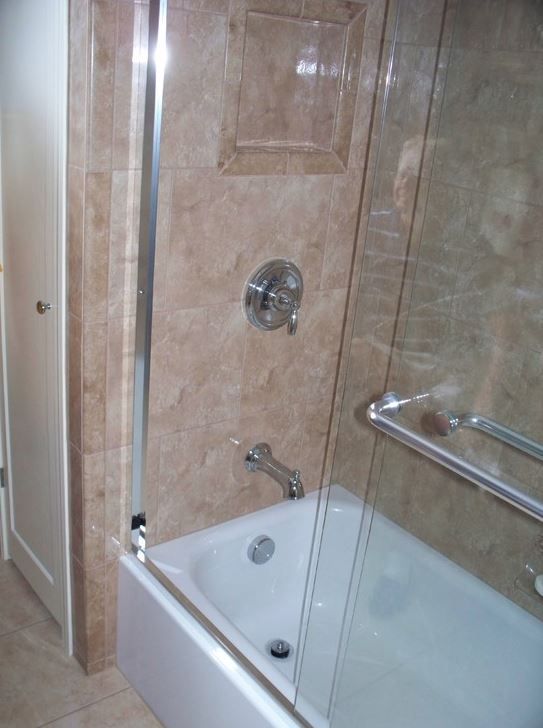 Just because you have a limited amount of space in your bathroom does not mean that you have to sacrifice functionality and style!  The importance of having a bathroom you can relax in should not be understated—in fact, this room plays an essential part in your daily routine and as a result, should be a place that you can comfortably unwind.  It may take a bit of brainstorming, clever organization, and a dash of creativity, but you can make the most of the space you have and create a look you will love, too. Check out these five ways to make a big impact in your bathroom, even when you're short on space.
1.       Utilize savvy storage. So maybe your cabinet and counterspace is lacking, but clutter can never be comfortable.  Use clear containers to store common items like cotton swabs, soaps, cotton balls, bath salts, and cosmetics and place them on shelves for a clean and ordered look. (This will also free up cabinet space under the sink for items you prefer to keep out of sight.) Glass shelves above the toilet or beside the sink can add additional surface space and are a fantastic option for bringing in natural light, making the room appear more spacious and open than it actually is.
2.       Ditch the curtain. While colorful, patterned curtains can help incorporate your personality in the bathroom, bright hues and vibrant patterns across the length and width of your shower can have a visually shrinking effect in small areas. Opt for a more modern look instead by using glass blocks in your shower, like the ones from Innovate Building Solutions, to create a barrier-free entry. Tub or shower screens also work well in small spaces and are available in clear glass styles which make the space feel bigger.  Check out this remodeling project on Houzz to see how sliding glass doors were used in a small bathroom.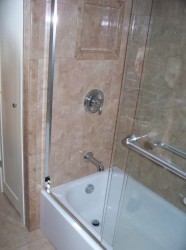 3.       Use neutrals to add a clean look with luxurious appeal. That's right, we said luxurious—even in a small space! This can be done several ways, depending on your budget and overall goal. A coat of paint in a soft, soothing color can go a long way on a conservative budget. If you're looking to make more of a long-term investment, Innovate Building Solutions has decorative shower and tub wall panels in warm colors like "golden beaches." These panels have the same look as marble or stone, without the large price tag and are lightweight, durable, easy to install yourself, and easy to clean. The same "color" concept can be applied to flooring—lighter is usually better. If you're looking to heat things up a bit, adding a radiant floor system can keep your feet warm and make an inviting statement that guests are not likely to forget.
4.       Take a seat. Installing a shower bench can provide you with a spot to sit down, soak in the warm water, and decompress after a long day. For bathrooms with limited space, using a fold down seat or corner seat is recommended. Shower seating is also a great solution for enhancing safety in the shower.  The experts at Bath Doctor in Cleveland and Columbus can offer expert tips and stylish remodeling solutions for making the most of your shower space, regardless of physical ability.
5.       Create a focal point. Whether it's a pretty piece of wall art, a unique tile pattern or a patterned glass block mosaic, every bathroom needs at least one visual feature that leaves you thinking, "Wow!"  Whatever you choose, remember to make sure that it properly reflects your own style and makes the bathroom feel like the kind of relaxing environment you want to be in.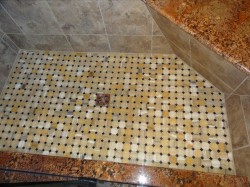 For more helpful tips about bathroom design and remodeling, visit the Innovate Building Solutions blog or call 877-668-5888 for a free estimate. Residents of Cleveland and Columbus, Ohio can call the regional Bath Doctor branch, at 216-531-6085 and 614-252-7294, respectively. 
---
Mike Foti
President of Innovate Building Solutions a nationwide supplier and regional (Cleveland and Columbus) remodeling contractors. Some of our product lines include glass counters, floors, backsplashes, glass blocks and grout free shower and tub wall panels
---