Adding color with shower wall panels and glass blocks
Fun colors are not just for dresses and sports cars anymore! The bathroom – which for many people is the bastion of blandness and functionality – can now be transformed into a vibrant and easy to maintain space with the use of colored wall panels and color glass blocks. Learn more about the benefits, options and installation of these products below.

High gloss acrylic shower and tub wall panels
Imagine the sleek and contemporary look of back painted glass with the ease of installation and cost-effectiveness of an acrylic panel – then you've got the picture of what a high gloss optical grade acrylic shower and tub wall panel is. This product comes in 6 fun and welcoming colors including arctic white, blue attol, red rouge, carbon, mocha and glacier (and is available in panel sizes including 36 x 96, 60 x 72, and 36 x 72). Check out the picture below which used a mixture of red rouge and arctic white colors.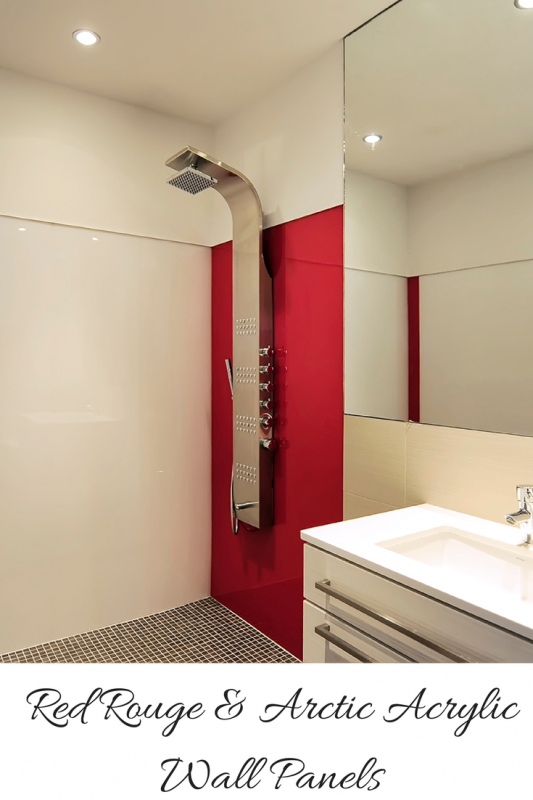 Installation of high gloss acrylic panels
High gloss panels are installed over green board or tile and are adhered with a double sided tape and neutral cure silicone. The material is cut and drilled with common woodworking tools.
Colored glass block for shower walls
With over 100 colored and frosted glass block color choices you're sure to find an option to fit your decor. These blocks are available in a wide range of sizes (including 4 x 8, 6 x 6, 6 x 8, 8 x 8, and 12 x 12) and even designer shapes to turn curves, angled and provide a smooth finish for the end of a wall. The frosted block option provides a more subtle use of color. For even more variation mix up the various glass block patterns and sizes like the picture below.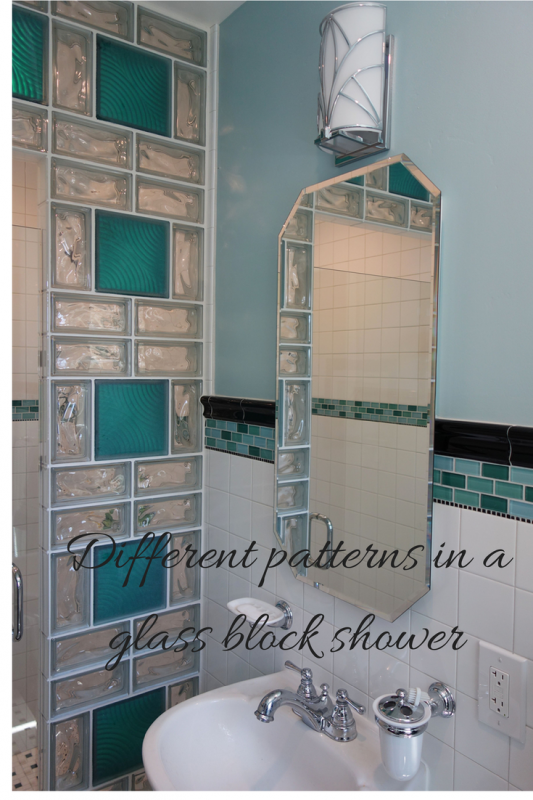 Installation of colored glass block shower walls
Whether you have a curved (generally used for walk in showers), angled or straight glass block design it is now possible for a professional contractor or a DIY consumer to install a glass block wall! Using the Protect All glass block shower wall system sections of clear and colored glass blocks are prefabricated, stacked together, anchored to a wall and grouted. This system provided protection against cracked joints (the joints in this system are a tight 1/8"), wall movement (the wall is anchored every 2 block courses) and any problems associated with joint size variations (the vinyl spacers used horizontally and vertically ensure consistency throughout the wall).
Conclusion
As you can see it is possible to embrace the use of color and fun with these colored wall panels and glass blocks. Please call any of the numbers below with questions.
If you're looking for more information or an estimate on remodeling a shower or nationwide material supply colored wall panels or glass blocks call The Bath Doctor in Cleveland (216-531-6085), Columbus (614-252-7294) or for nationwide supply Innovate Building Solutions (877-668-5888). For regional glass block needs call Cleveland Glass Block (216-531-6363), Columbus Glass Block (614-252-5888) or Mid America Glass Block of Dayton or Cincinnati (513-742-5900)
Tags: color glass blocks, colored glass blocks, colored shower wall panels, colored wall panels, glass block colors, glass block shower, glass block walk in shower, shower panels, wall panels
Trackback from your site.