How to create a fun summer home feel in your 5' x 8' bathroom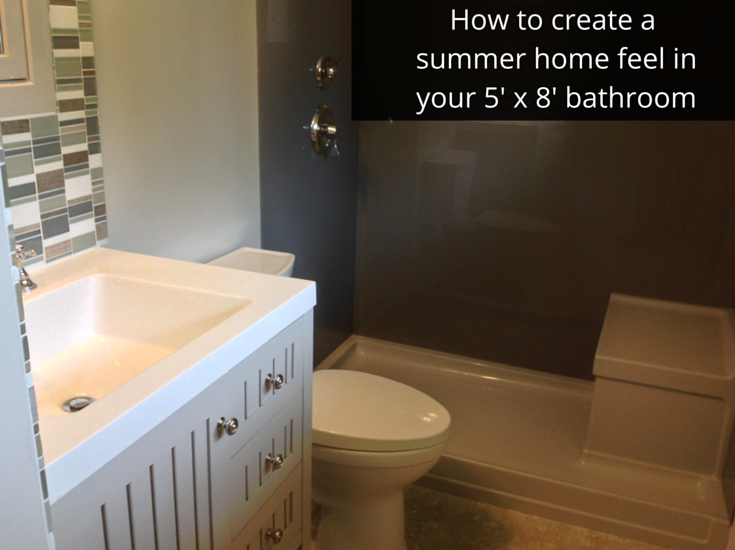 Wouldn't it be cool to feel like you're enjoying a "summer home" every day you step into your bathroom? While most of us love the idea of owning a summer home many things get into the way (kids, college expenses, health care costs etc.). But what if you get a summer home ambiance – even in your standard 5' x 8' bathroom you use every day?
This was the vision of a progressive Columbus Ohio couple when they bought a traditional ranch home about 2 years ago. In the short run this home would provide a place for their daughter, future son in law and grandchild to stay until their careers took them elsewhere. In the long run this home would not only be a comfortable place to retire, but also a place to relax and enjoy – just like being at a summer home (even during the cold Central Ohio winters!).
So how did they create a summer home ambiance in their 5' x 8' bathroom? Let's take a look at the key design concepts and products used.
Design concept #1 – Make it relaxing   
Summer homes are all about kicking back, relaxing and enjoying a calm setting. Here's a few fun (and practical) selections this couple made to create a soothing bath environment:
Calming colors and materials which reminds you of the beach – When I think of the beach and a summer cottage I can visualize blue skies, bright reflective colors radiating off the water and rocks and sand lining the beach front. To replicate this type of aesthetic a backsplash pattern by Fired Earth Glass Works called "Oasis" was chosen. It combines stone and glass tiles with grays, silvers and blues shades to capture the summer-time feeling.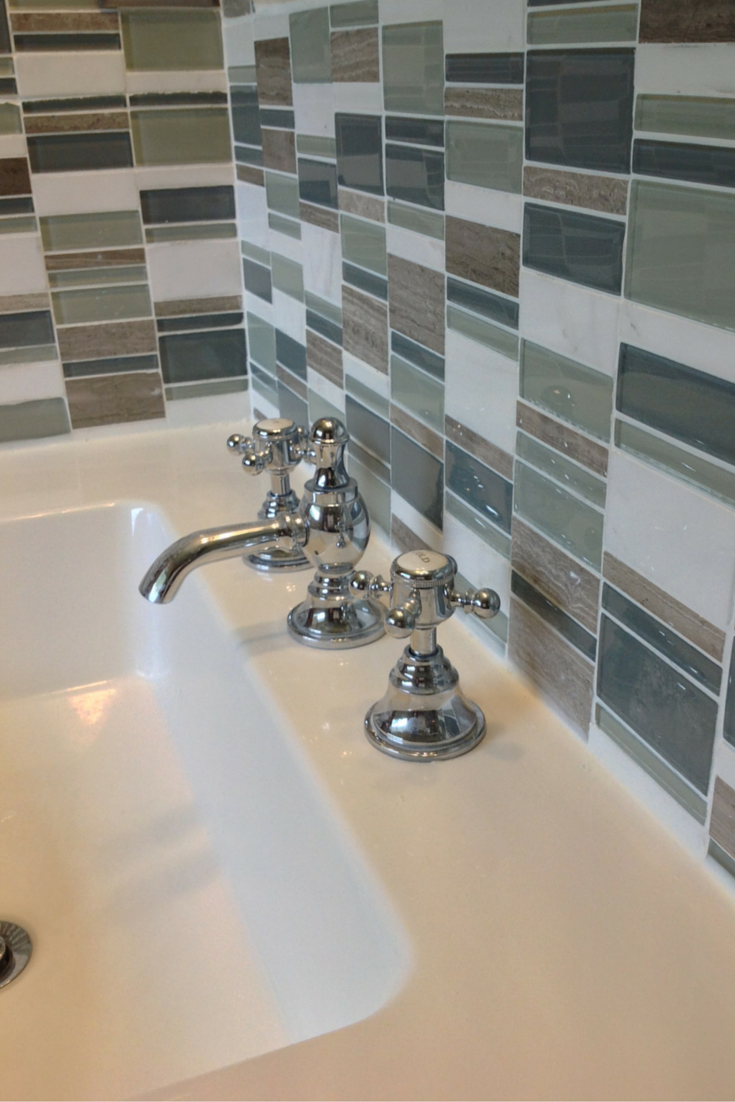 A place to sit and relax – Creating a place to sit down in a 5' x 8' bathroom can be a challenge – as you and I know there is not a lot of extra room in a small bathroom. This 60" x 32" gray acrylic shower pan was equipped with a small seat to provide a place to shave your legs or just kick back after a long day.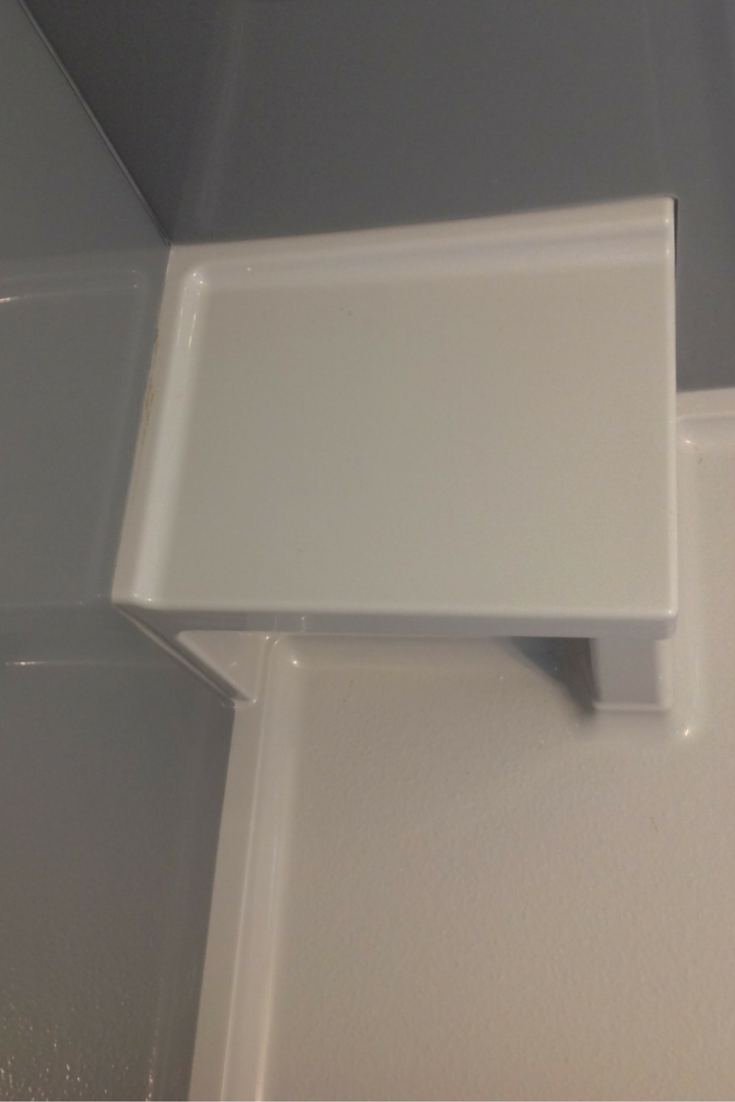 Let it rain! OK – we may all like the sunny days at the beach – but a summer rain can also be refreshing. In this bathroom a rain head was added to take a long relaxed shower and let the "rain" water flow down.
Design concept #2 – Light filled and reflective   
When you think of the beach adjectives like bright and shiny would certainly come to mind. Adjectives which certainly wouldn't come to my mind would be scrubbing and maintaining! In this project the goal in selecting the shower walls was to have a high gloss, low maintenance space. The product chosen was a "titan" (a silvery gray) colored high gloss wall panels. These shower wall surround panels are made as one continuous sheet so you can eliminate the hassle of repairing grout joints once and forever (now that's a bonus!). These panels are so shiny they are kind of a pain to take a picture of (I had to take care to photo shop me and my camera out of these pics!).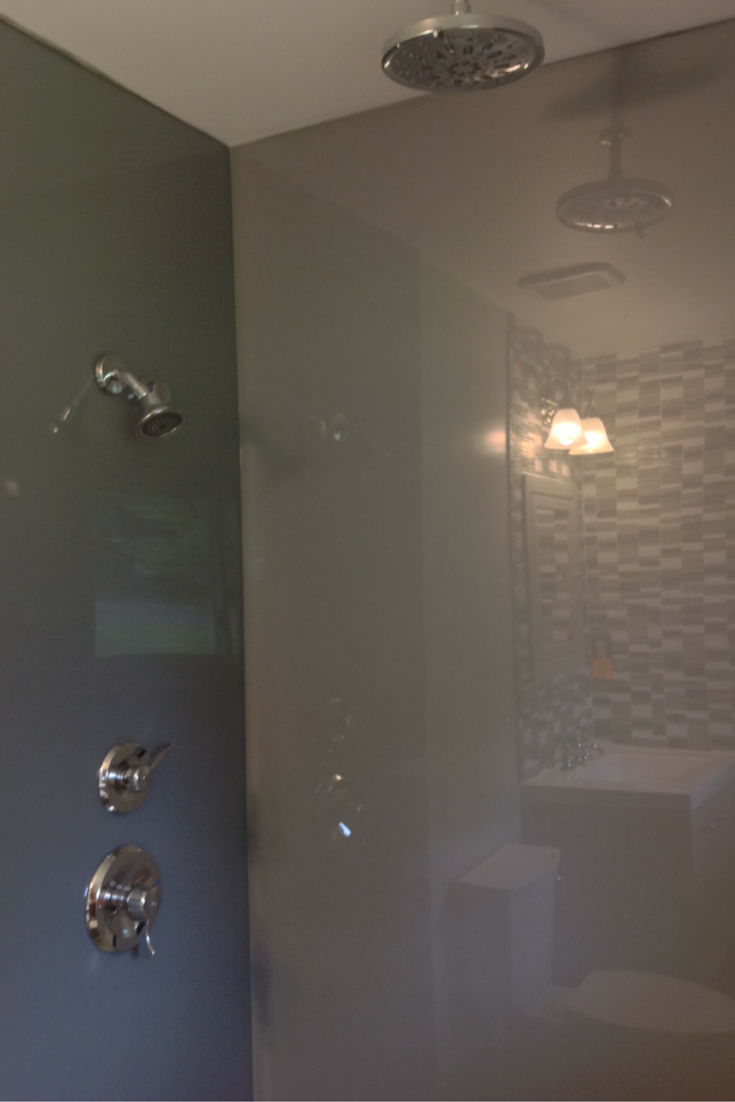 Design concept #3 – Design today with tomorrow in mind  
The key in designing summer homes is to make them work for ALL members of your family regardless of their age or level of mobility! When this home was purchased the original bathroom had a typical tub/shower combined unit which required climbing over a 14" high tub rail to get in to take a shower. Like most couples the tub function would not be used. To satisfy the dual requirements of having an easily accessible and stylish bathroom the tub was converted to a shower. Entering the shower is now safer and simpler.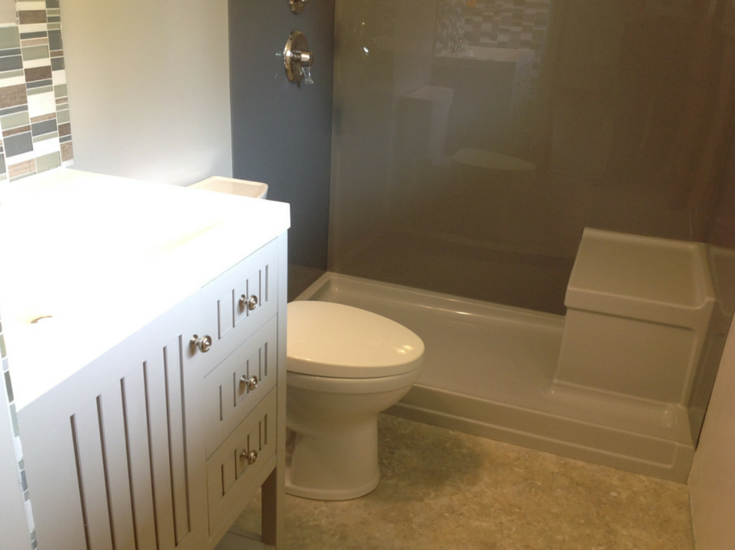 Design concept #4 – Where country meets modern
In order to capture the architectural flair of a country style beach cottage a Shaker vanity from the Martha Stewart Living collection was combined with the modern high gloss walls previously mentioned. A classic chrome faucet purchased through Signature Hardware is right at home with the relaxed cabinetry. The overall feel of the bathroom is country, yet modern.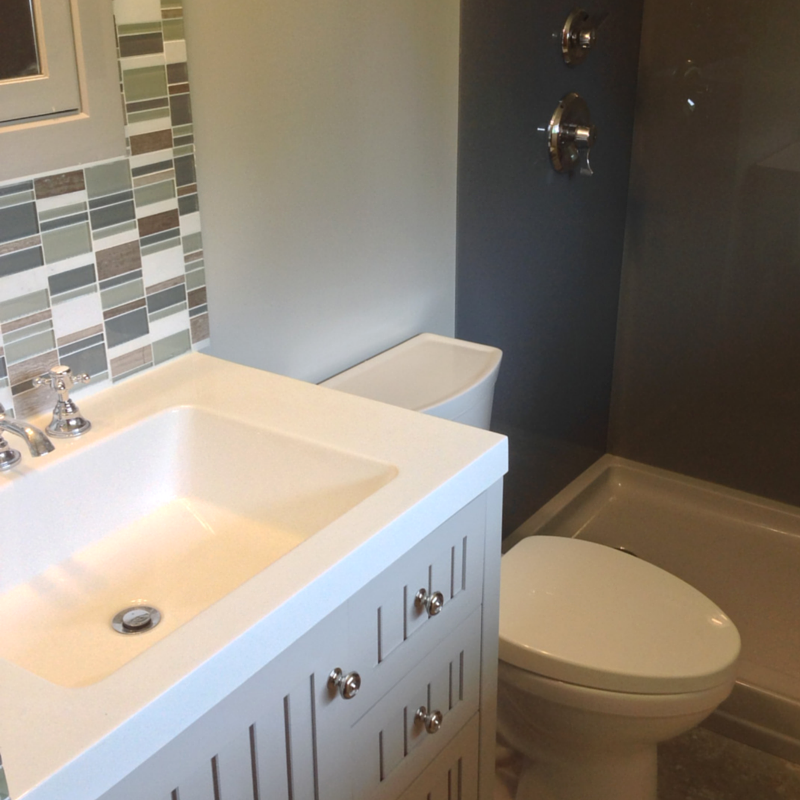 Design concept #5 – Practically efficient
Summer homes (or every day bathrooms) should be made for improved function and less maintenance (who exactly wants to maintain any bathroom- that would be no one!). To carry this thoughtful design further easy to clean vinyl flooring and an inset cabinet where used to minimize maintenance and maximize storage.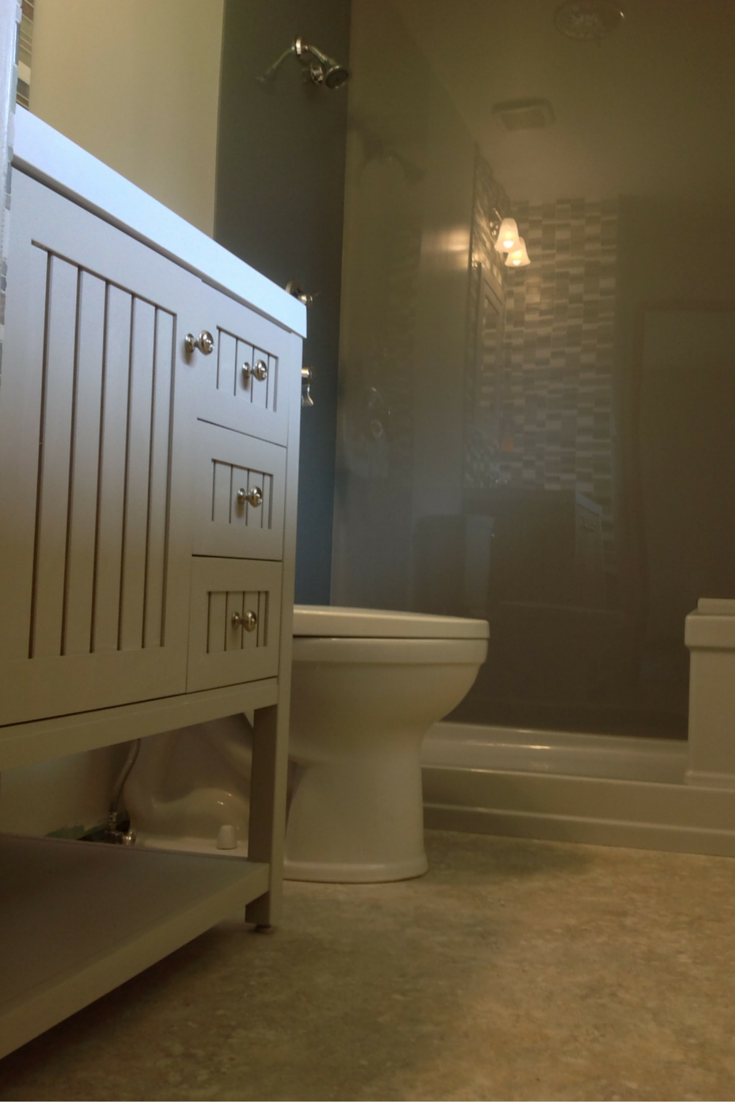 Conclusion
If you have a small 5' x 8' bathroom – and don't have the bucks to own a luxurious summer home – there is no reason you can't create a summer home feeling in the bathroom you use every day! Will it take a bit of thought and planning? You betcha! Follow some of the design concepts above, call us on the phone below, and we'll help you move from some nice ideas into an enjoyable, affordable, every day bathroom!
For information and nationwide supply on the high gloss wall panels mentioned above contact Innovate Building Solutions at 877-668-5888. For a Cleveland bathroom remodeling project call Cleveland Design and Remodeling (216-658-1270) or in Columbus The Bath Doctor (614-252-7294).
Save
---
Mike Foti
President of Innovate Building Solutions a nationwide supplier and regional (Cleveland and Columbus) remodeling contractors. Some of our product lines include glass counters, floors, backsplashes, glass blocks and grout free shower and tub wall panels
---