7 Hot 2017 Bathroom Design Trends You Need to Add Style to Your Space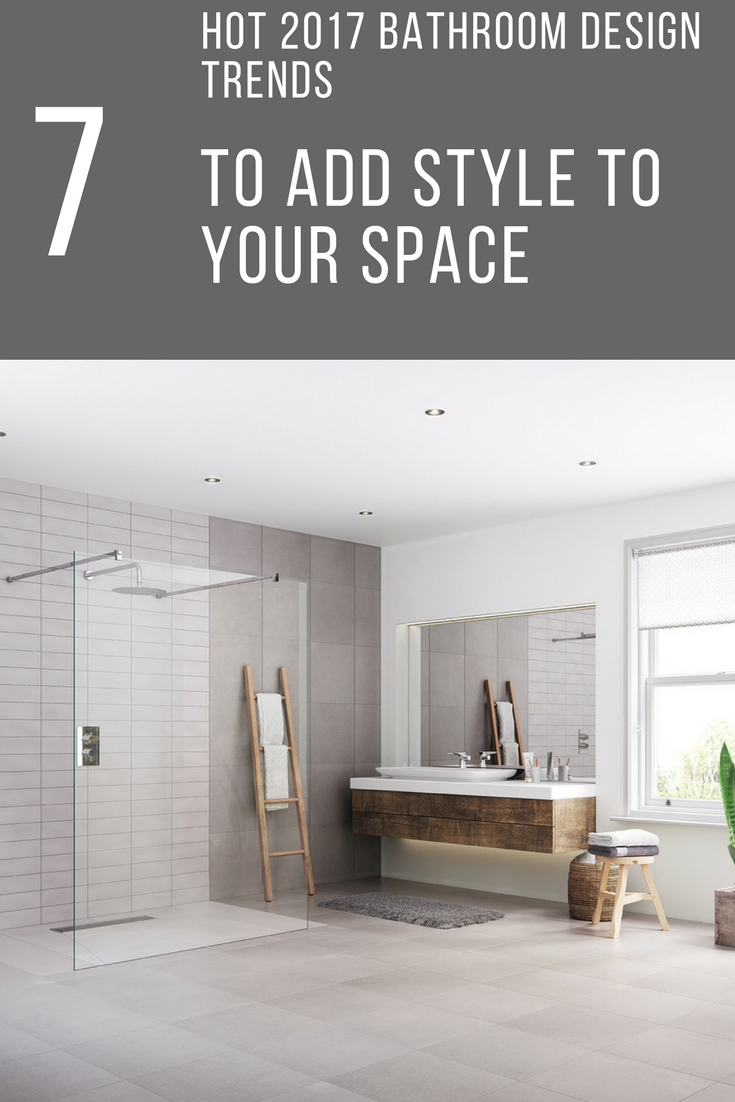 Updated February 10, 2019
Do you have the June Cleaver throwback bathroom from the 1950's, or maybe a "modern" 1970's bathroom straight out of the Brady Bunch which are practically begging you for an update? You know you NEED a bathroom makeover so bad. It doesn't take a rocket scientist to see the partially rusted tub, pealed wood on the window sills, tired old particle board vanity with a dated laminate top and nasty looking grout in the shower. The challenge is what are you going to do about it? How can you update for a fresh, clean look? How can you create an updated design which takes advantage of the latest trends and keeps maintenance to a minimum? The question is – where do you start?
One excellent place to begin is to take a sneak peek at the products which are hot today and include these elements in your remodeled "bathroom of tomorrow." In this article, we'll look at what's hot now (both in 2017 and now updated with some new ideas for 2019). At the end, I'd love to hear your "Siskel and Ebert" – two thumbs up or thumbs down on these products.
Hot bathroom trend #1 – A stylish one level "life-cycle" bathroom
Are you staring down the challenge of having to put Mom or Dad into an assisted living facility because their step-filled single family home has become too dangerous? The reality is most homes are not designed to work for family members as they age.
One important trend is the use of one level bathrooms which eliminate the curb to get into the shower. Not only are shower systems which eliminate the curb hot, they are also sleek and minimalist (more on this trend later) and will save you money, big-time.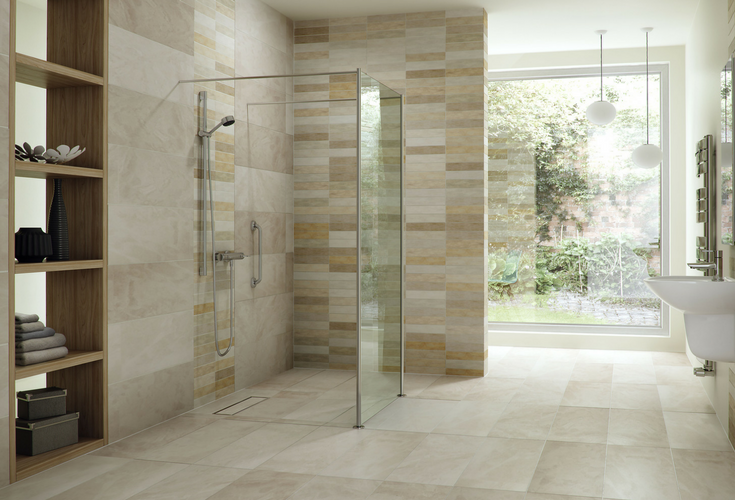 If you've priced assisted living facilities for Mom you know they can cost easily $3,000 to $4,000 per month. Using an "aging in place" (I hate this term – but many people use it anyway) solution like a one level shower can be sleek, stylish and eliminate the high cost of assisted living facilities.
Hot bathroom trend #2 – Geometry is in …at least for tile showers and bathrooms!
Although I'm sick guy and actually love math – I still didn't "get" geometry. I don't know, maybe it's because I'm more of a linear guy than a rhombus dude? Putting mathematics aside, one hot bathroom look for 2017 are geometric tiles. These tile designs not only add a feeling of shape and style – they also add drama to the bathroom. Fun and functional – that's cool.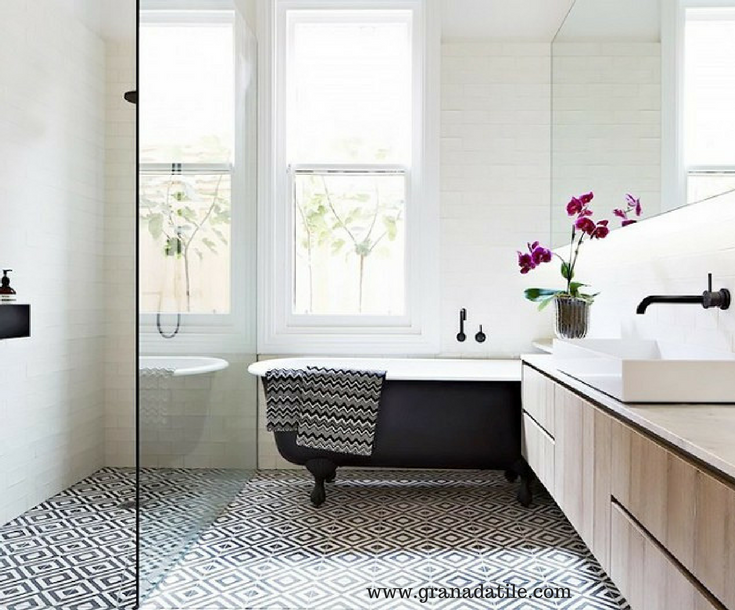 Hot bathroom trend #3 – Drop in tubs are way out – larger showers are in
Nothing says, "big hair and 1980's shoulder-pad-like" look in a bathroom quite like a gigantic soaking or jacuzzi tub in the corner flanked by two massive windows. I know this look was hot – but today you need to stay away from it like the plague. Our schedules are too crazy for bathing. Today's it's all about expansive showers. We are seeing people blow up their big tub and small 3' x 3' stand up shower next to them and convert to large open walk in showers. Sleek frameless glass walk in showers are all the rage – and why not – they get rid of the cost of the door and take less time to clean (a double benefit to you). What's also cool is this acrylic shower base has a reinforced bottom core so it won't sag when you walk on it.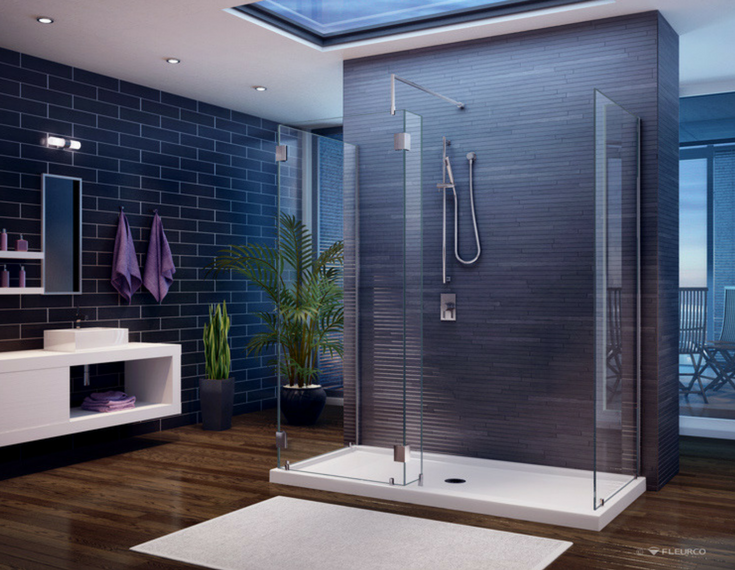 Hot bathroom trend #4 – Let's heat things up a bit
If you live in the Midwest (I live in Cleveland, but also spend a lot of time in Columbus) you know stepping on a cold bathroom floor in January can make a man out of you – even if you're a woman! It used to be in-floor heating systems where difficult to install and un-godly expensive. Not so today.
Electric and hydronic (liquid) in floor heating systems are no longer super pricey. You can even extend the heating systems inside the shower space – but I'll warn you may never want to get out if you do this! Another fun idea is to add a towel warming rack to pamper yourself when you get out. This bathroom will be so relaxing it may make you late for work!
Hot bathroom trend #5 – Sleek and minimalist is the thing
In the late 90's and early 2000's it seemed the fancier the woodwork in your bathroom the more style points you got. Today – bathroom trends are the opposite of our lives. The goal is to create a sense of calm, serenity, a place which flows with minimalist lines and flair. Think about using wall mounted vanity cabinets and the one level floors mentioned in trend #1 above. Take complexity out of your bathroom. You already have enough complexity in your life to go around. This will make your space stylish and simple to clean.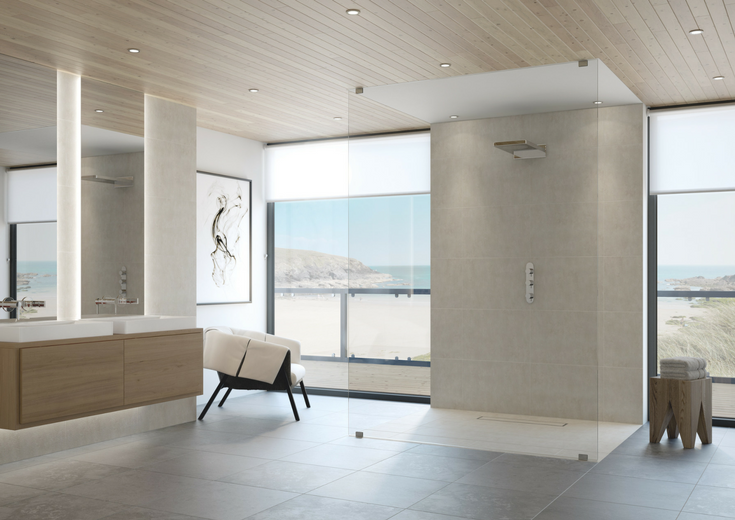 Hot bathroom trend #6 – Think like "Mrs. Thomas and her English muffins" and use your nooks and crannies
Home sizes historically kept getting bigger until the bottom fell out of the housing market in the late 2000's. Now people are stepping back and evaluating how big a house they really need. Groundbreaking books like The Not So Big House by Susan Susanka and formerly weird concepts like tiny homes, container homes and houseboats are becoming a larger part of the housing market. So, what does this have to do with Mrs. Thomas her filling the nooks and crannies of her English Muffins?
As homes have begun to scale down we now need to be more thoughtful per square foot and every room including the bathroom. This trend has certainly "washed over" (bad pun intended here) into the bathroom remodeling projects. In 2017, you'll continue to see inventive soap and shampoo niches (like this one illuminated with LED lighting below) which use the "inside of walls" to create space in a bathroom.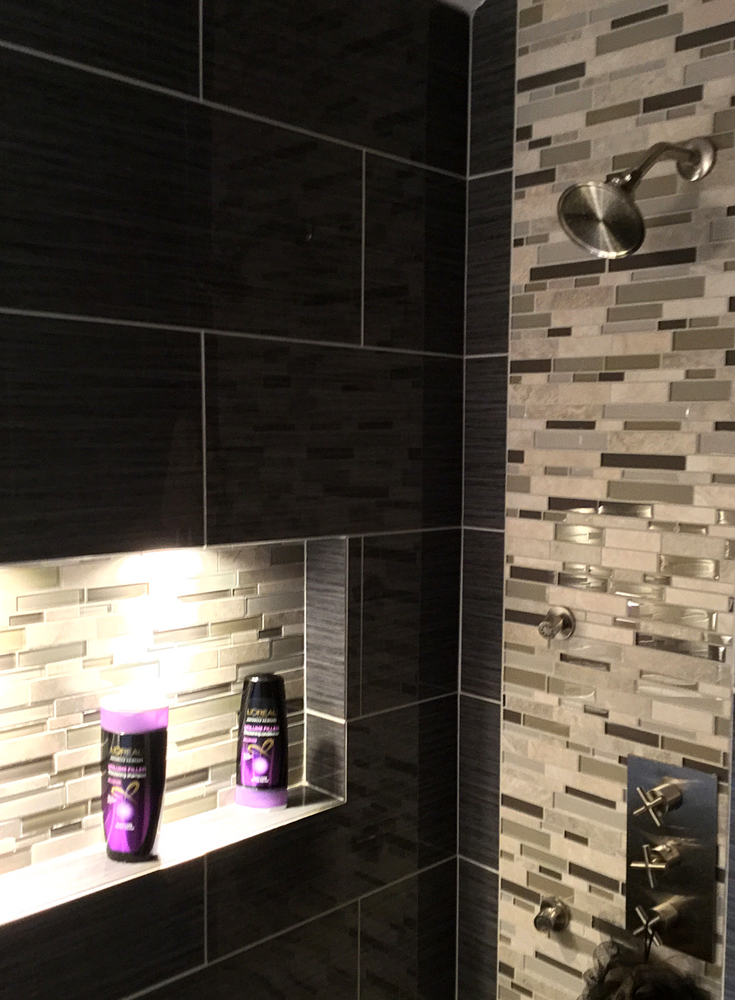 The movement to level floor showers (see trend #1) has helped because our bathrooms are now – more than ever – thought of as one continuous space. Fun ideas including vanity mirrors built into the wall are another example of superior space planning which in the years of the McMansion would have had no place – but are hot today.
Hot bathroom trend #7 – Maintenance is way out – luxury grout free shower wall panels are in
Tile looks great the day it's installed. The problem is those doggone grout joints end up sucking up your time cleaning them or needing to schedule a "Grout Dr." to come out to maintain your shower. What's hot in 2017 (and with some new ideas which have come along since 2017) are cool lines of grout free shower wall products to blow up the grout cleaning challenge once and for all. Below you can see DIY shower wall panels made of PVC, high gloss panels and also laminated wall panels (these are hot new additions which have been used in Europe for years and have now made their way to the United States).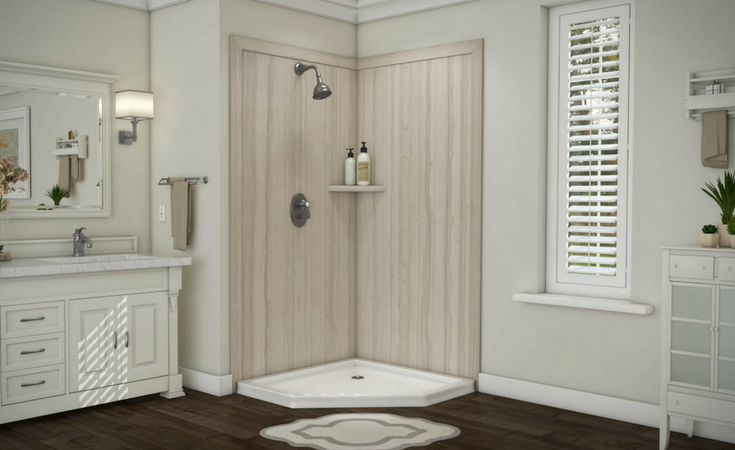 Stylish lines like these high gloss contemporary wall panel system provide the sleek, Euro contemporary (low maintenance) look. 3D wall panels are also getting hot because they add a sense of drama and texture.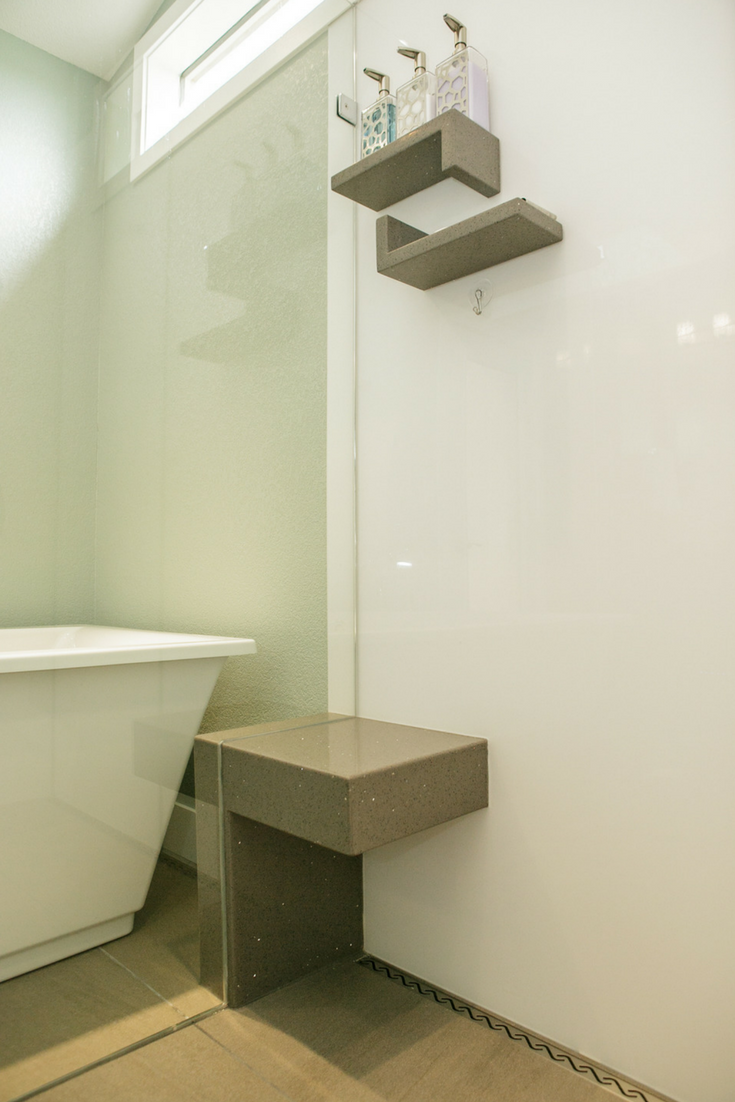 And here is the latest (and I might say hottest) entrant to the shower wall panel scene. The 2′ x 8′ x 3/8″ thick laminated shower wall panels. They are simple to install and look so much like tile they're called the 'No Tile, Tile Shower.' Can you tell the difference vs. actual tile?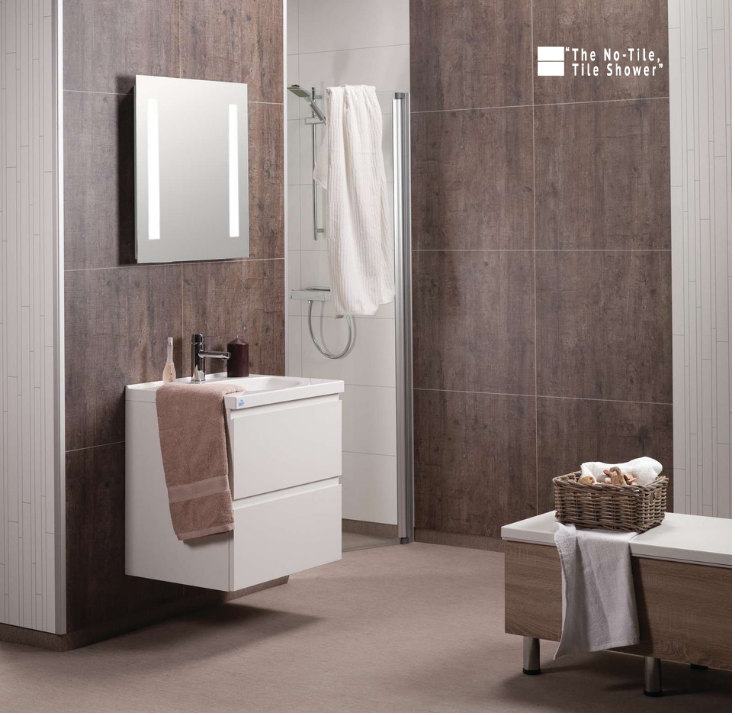 Conclusion
If you're living with your Brady Bunch or June Cleaver bathrooms of yesteryear isn't it time to blow them up for a fresh, clean, low-maintenance contemporary bathroom of today? What do you think about these 2017 (and now updated for 2019) hot bathroom design trends? Which do you like? Do you find any to be butt-ugly? Are there other trends you'd like to add? I'd love to see your comments, ideas and thoughts below.
How can I (or a member of my team) help you with these bathroom trends?
I know it can be challenge to put a fun and functional bathroom design together by yourself. That's why I (and the members of my team) would be delighted to assist you through your bathroom remodeling project. Whether you need nationwide factory-direct materials to save some money on doing the project yourself or professional design our Innovate Building Solutions (877-668-5888), Cleveland Design and Remodeling (216-658-1270) and Bath Doctor division in Columbus (614-252-3242) would love to help. Give us a call or click here for a Free Design Consultation.
If you're a remodeler or builder and want practical advice on remodeling products, industry trends, marketing and sales tips to grow your business (and cut day to day hassles), start reading my newest blog – Innovate Builders Blog. It's packed with ideas you can use now. Click here to Sign Up for the Innovate Builders Blog.
If you're in the building business, click here if you'd like to learn how to become a shower wall panel dealer or call and ask for Mike at 877-668-5888.
Follow the Author on Twitter @Mike_Foti or his company @InnovateBuild.
---
Mike Foti
President of Innovate Building Solutions a nationwide supplier and regional (Cleveland and Columbus) remodeling contractors. Some of our product lines include glass counters, floors, backsplashes, glass blocks and grout free shower and tub wall panels
---