5 cutting-edge ideas to get a cool shower door without draining your wallet
Updated March 9, 2019
Who has unlimited money to spend on a bathroom remodeling project? If you're like me you do not resemble this remark. You start doing your Internet research and see on Pinterest, Houzz or Google some cool shower doors, shower bases and shower heads and think, "do I have enough bucks to make this project happen?" Make no bones about it. bath remodeling is usually more expensive than you think. So now you may be asking, "Mike, the good news is…..?"
The good news is you can have smart contemporary, sleek shower door today which is cost effective IF you're familiar with the right products and systems. You'll need to plan smarter to get a cool, price-effective shower today (and glass shower door) for you'll enjoy for many "tomorrows" in your home. Let's check out 5 cutting-edge ideas to save on one critical shower component –your glass door.
Cutting edge shower door idea #1 – Get a shaped base designed with a shaped shower door in mind
A curved glass door is a design-savvy way to create a shower which stands out from the crowd. The challenge is the cost of custom curved and bent glass will make you weak at the knees and light in the pocketbook. This type of glass is out of reach for the average homeowner. However, check this idea out.
If you combine a curved shower floor pan with a production made curved glass enclosure, the cost is cut by 75% of one of a kind custom glass door. This makes it affordable (and you have assurances the curved glass will fit the shape of the pre-manufactured acrylic base).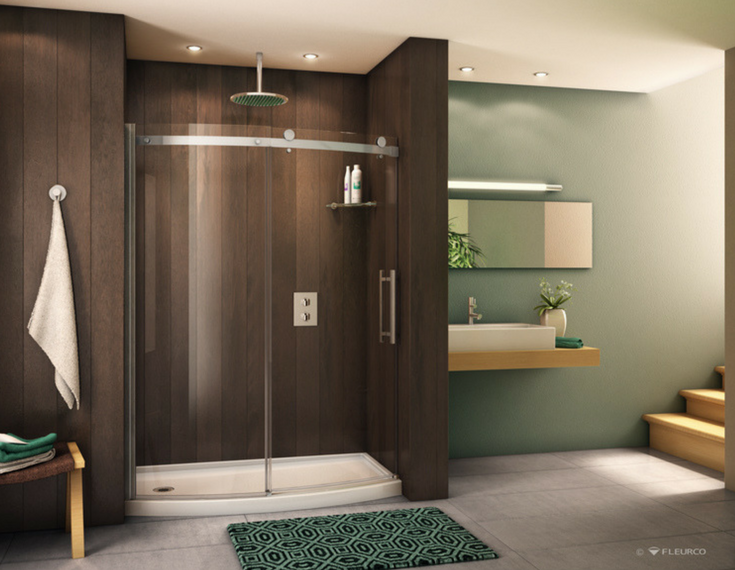 If you don't need or want a curved shower, you can also get hard to find double threshold shower pans and premade glass enclosures. Fun shower base shapes (or corner shower designs) and glass enclosures can be affordable if they are designed together as a system (plus you won't have to have to call a custom glass guy to install them in for you. You can save money and DIY it.).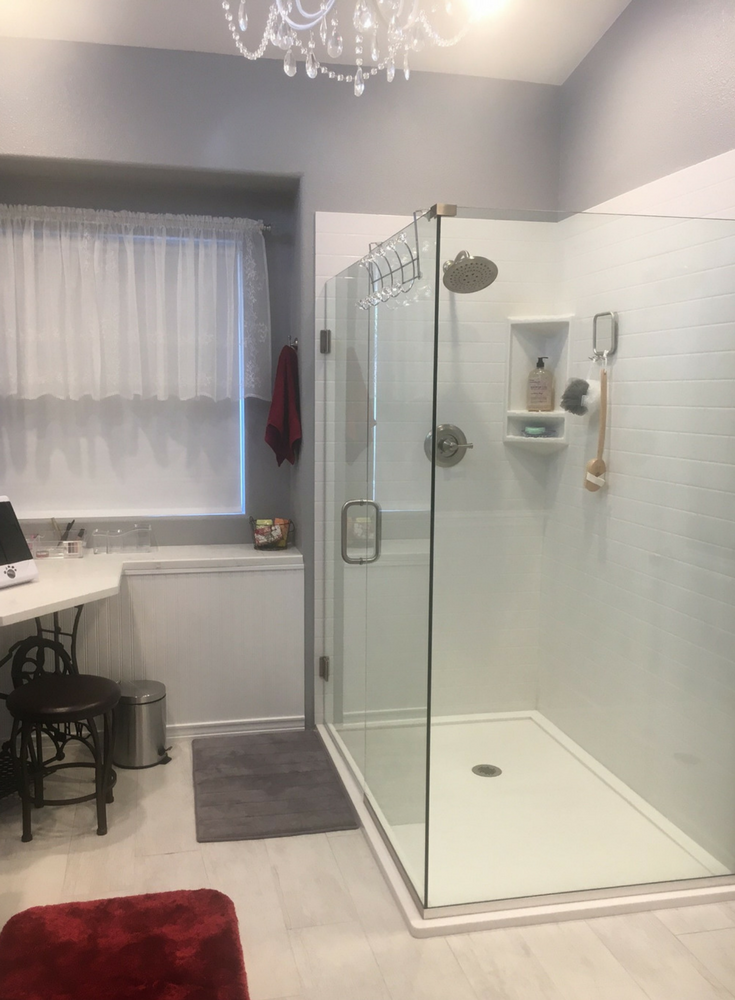 Cutting edge shower door idea #2 – Contemporary finishes beat traditional hands down and save you money
In the bathrooms of 10 years ago the focus was on furniture grade cabinetry, rich wood and dark oil rubbed finishes. You can almost hear the famous work from Fiddler on The Roof saying "tradition" to describe these bathrooms of yesteryear.
Today – even if you have a traditional home – contemporary is the cutting-edge design look desired in bathrooms. Sleek wall hung cabinets. Clear frameless glass enclosures. What's also nice is the preferred hardware finish is chrome – which is more cost effective than the oil rubbed bronze of the past. It's nice to know at least in one area more stylish is associated with more cost effective.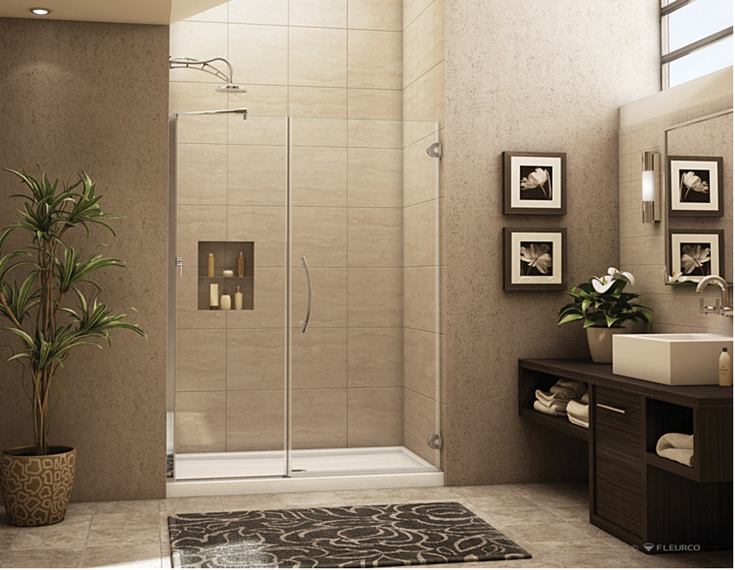 Cutting edge shower door idea #3 – This is one place "sawed-off" can be cool and safe- the glass shower screen
When you think of the term "sawed-off" nothing good comes to mind (violence is not a pretty concept). However, there is a place where sawed-off and safety are a logical companion. This is true in the case of a glass shower screen. If you're unfamiliar with a shower screen, it is a smaller fixed glass panel and pivoting door enclosure which creates a walk in shower which is easier to get into (because the opening is larger). It's also lighter on the budget because there is less glass (in a 60" wide shower the shower screen glass takes up only 36"). So – it's safer and cheaper – a double bonus!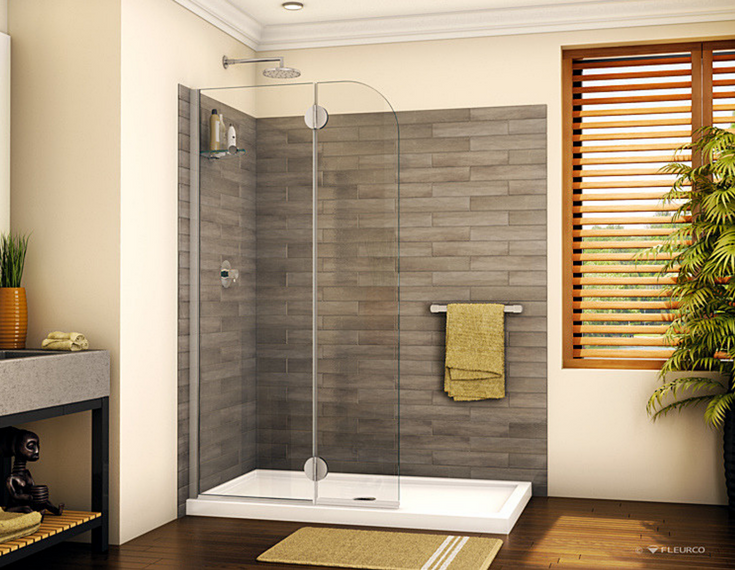 Cutting edge shower door idea #4 – Use semi-frameless glass to save cleaning hassles and is less costly than a frameless door
I will admit the heavy 3/8" thick fully frameless doors are cooler than the semi-frameless or fully framed doors. The problem is they are also the most expensive glass shower door system. There is a simple solution to create a nice look – and get rid of the nasty task of cleaning the bottom of a fully frameless shower door. This solution is to choose  a semi-frameless shower door.
With a semi-frameless glass system, you'll get a shower door without a track at the bottom (and which sane person ever wants to clean a framed shower door track ever again!) but is framed around the sides. It has ¼" thick glass which is 2x times thicker than the thin 1/8" framed shower door your builder slapped in years ago.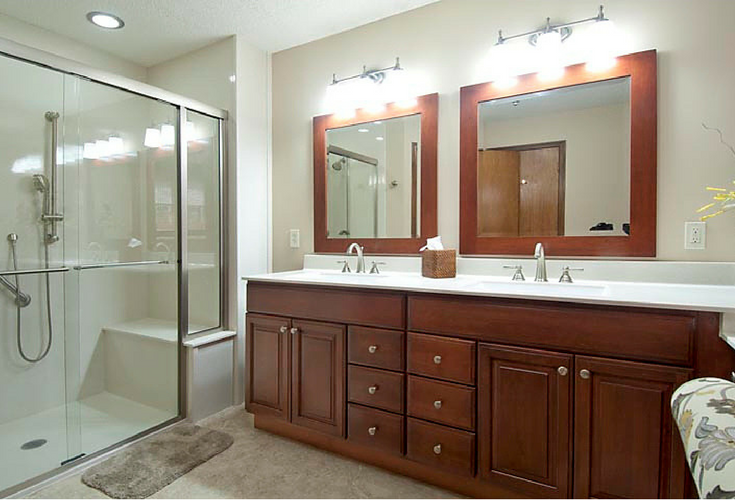 Cutting edge shower door idea #5 – Don't buy a shower door, buy a shower kit
When you hear the French term "a la carte" what comes to your mind? If we were watching The Family Feud I would put money the #1 term associated with the term "a la carte" would be expensive. For the same reason you and I want to avoid buying a la carte is the reason we should look to buy a complete "shower kit" (a shower base, shower wall panels and glass enclosure) as a package.

If you purchase the components (glass door, base, wall surround panels) separately you will pay multiple shipping charges and also have to worry if the components will "play nice" (or work together) with each other. Buying a complete system eliminates guess-work and saves you money.  This is a concept anyone can get behind!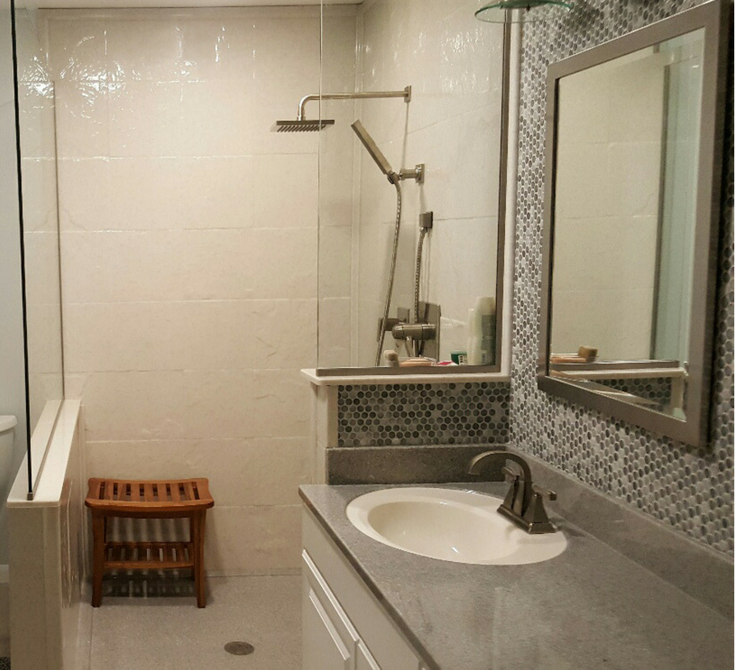 Conclusion
It's nice to know the term "cutting edge" and "cost savings" doesn't have to be mutually exclusive. To make sure you're not draining your wallet see which of these 5 ideas you can use to save money on your next glass shower door purchase.
How can I (or my team) help you?
Shower remodeling and buying a glass shower door doesn't have to be a mind-blowing experience – but if you still need help – we get it. If you're looking for assistance and wholesale supply for your door call Innovate Building Solutions at 877-688-5888. For a Cleveland bathroom remodeling project contact Cleveland Design and Remodeling at 216-658-1270 or The Bath Doctor in Columbus  at 614-252-3242.
If you're a remodeler or builder and want practical advice on remodeling products, industry trends, marketing and sales tips to grow your business (and cut day to day hassles), start reading my newest blog – Innovate Builders Blog. It's packed with ideas you can use now. Click here to Sign Up for the Innovate Builders Blog.
Follow me on Twitter @Mike_Foti or my companies @InnovateBuild.
---
Mike Foti
President of Innovate Building Solutions a nationwide supplier and regional (Cleveland and Columbus) remodeling contractors. Some of our product lines include glass counters, floors, backsplashes, glass blocks and grout free shower and tub wall panels
---