5 Critical Questions to Choose the Right Type of Shower Base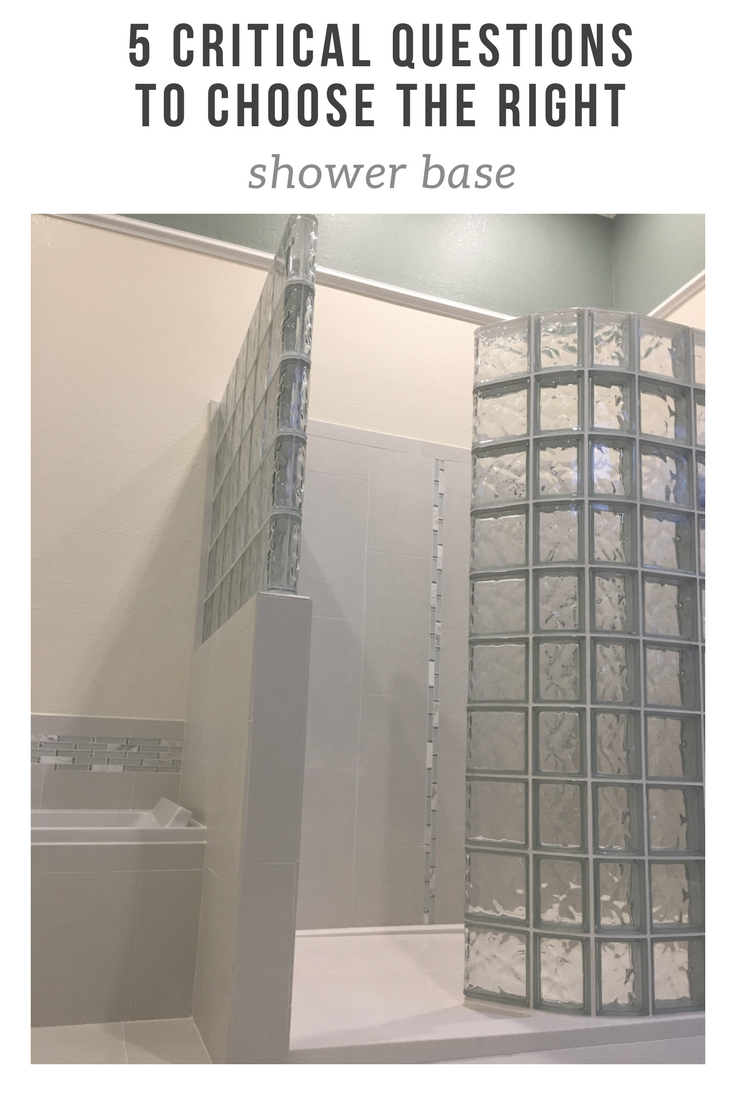 Updated October 24, 2021
Isn't it a pain trying to plow your way through the material choices and products in a bathroom remodeling project? What is the best type of shower base? Should you get a wall mounted vanity or a furniture grade unit which sits on the floor? Should you go with a single or double bowl vanity? The list goes on and on.
When it comes to remodeling a shower, I would argue the single most important decision is the shower base (or shower floor or pan as some call it). Why do I say the base is so critical? Well – the base is the foundation of the shower. Just like your home – if the foundation of your shower cracks or gets moldy "Houston, you have a big problem!"
Failure of your shower floor pan can cause leaking onto the floor below and result in needing to redo your entire shower (the glass enclosure, interior shower wall surround panels and base) and whatever additional repair work is needed in the level below. My Dad used to tell me, "Mike – don't be penny wise and pound foolish." Buying the cheapest pan you can find (or hiring somebody who doesn't know what they are doing install a site built pan for you which fails) can have disastrous results (and be penny-wise and pound-foolish as my Dad used to say).
How do you keep the bathroom remodeling project you're doing today from being a nightmare home improvement failure of tomorrow? It begins with asking the right questions. In this article, I'm going to give you the 5 critical questions you need to know to choose the right type of shower base. At the end give me your opinion which question you think is most important (and if there are other questions to add to the list).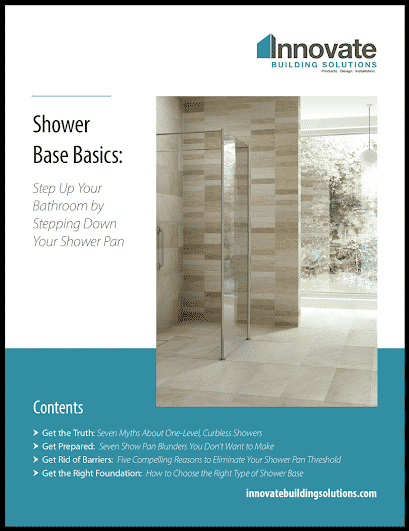 Get Our Ultimate Shower Base Guide!
Step Up Your Bathroom by Stepping Down Your Shower Pan!
Critical question #1 to choose the right shower pan – How important is the initial purchase price?
I get it when people say their budget is tight. Since I'm funding 2 kids in college starting this Fall I can feel your pain. With that being said, if you plan to stay in this home for a while going cheap with the shower base can be a big mistake and bring back the famous slogan of the Fram oil filter commercial from the 1980's "you can pay me now or you can pay me later."
How much you spend should be determined by your goals for the property, who will be using it and what looks best for you. For example, if this home is an investment property in a low-priced neighborhood you plan to flip, it can make sense to choose a cheap fiberglass standard shower base (these pans will cost $150 to $300 range). If you want a nicer base where you can even get a few color choices an acrylic shower pan is a smart option (they run in the $250 to $900 if you buy a unique shaped acrylic pan).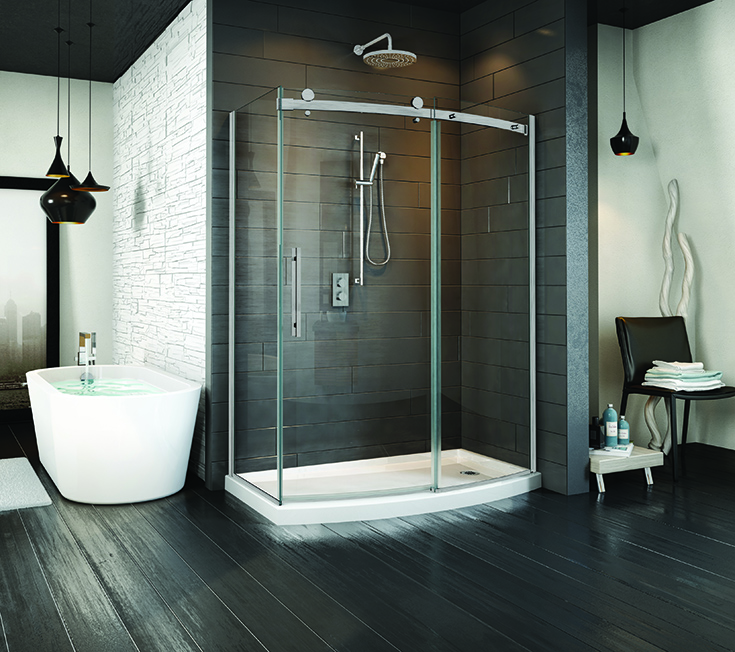 The next level up is a cultured marble or solid surface shower pan (these units will range from $600 to $1,500 in standard sizes). For the custom sized cultured marble pans you can expect to pay between $800 and upwards of $2,500 (for a large one). To learn more about cultured granite shower pan costs read How much do custom and standard-sized cultured marble and granite shower pans cost or click on the image below.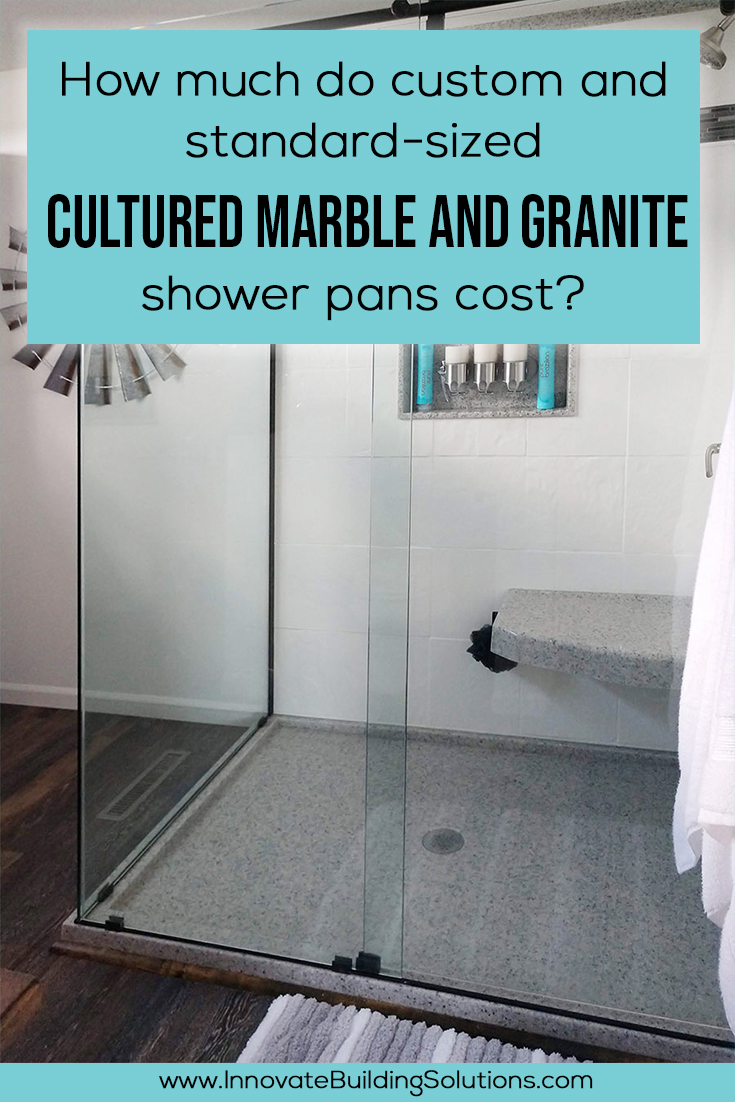 Another popular choice is a site built concrete tile shower pan. The price of tile pans can be all over the board depending on local labor costs, the tile you choose and how intricate the pattern on the floor is.
Critical question #2 to choose the right shower base – Is style important?
If you've committed to remodeling your bathroom you are already determined to improve the looks of the space – otherwise you wouldn't consider investing your hard-earned money in this project. If you want a stylish shower – with some color and shape – you won't find it in a mass produced (and low-cost) fiberglass pan. To inject style – you're going to pay more (but it doesn't have to be a lot more). Here's 3 cool ideas to get a stylish shower base without going crazy-over-the-top with your budget:
Idea 1 – Choose a shaped acrylic shower base – There are fun bases like the curved acrylic pan below which not only give you a cost-effective way to get a sleek, contemporary curved glass shower, but also add elbow room in the process.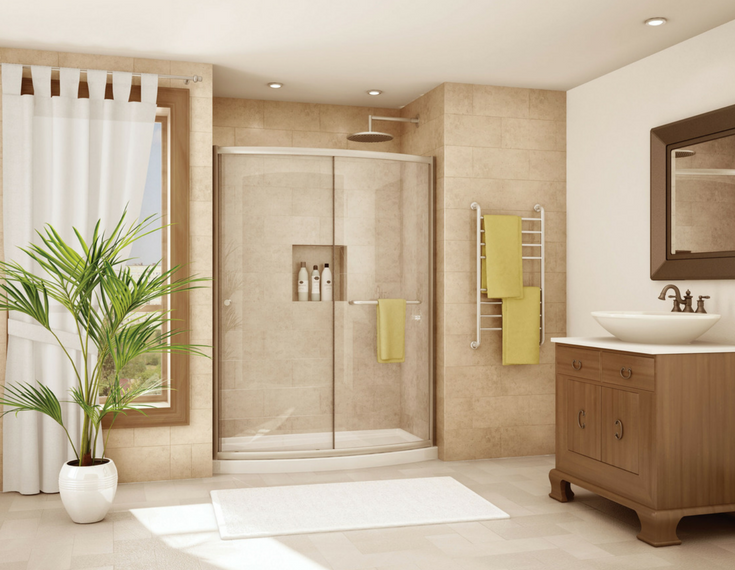 Idea 2 – Select a solid surface low profile shower pan – With decorative low profile shower pan designs you can say goodbye to boring white and beige units. Who wants to live in a boring world anyway?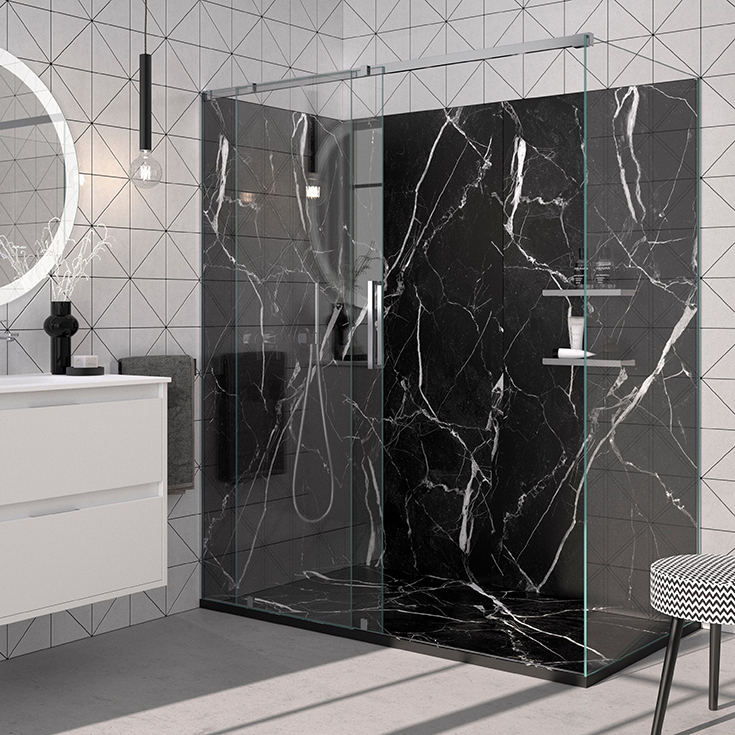 Idea 3 – a custom made tile shower base – While tile pans are a pain to clean – they offer unlimited design possibilities. Choose large format tiles for a contemporary look. Use a fun colored mosaic. Go with pebble stone for a Zen-inspired feel.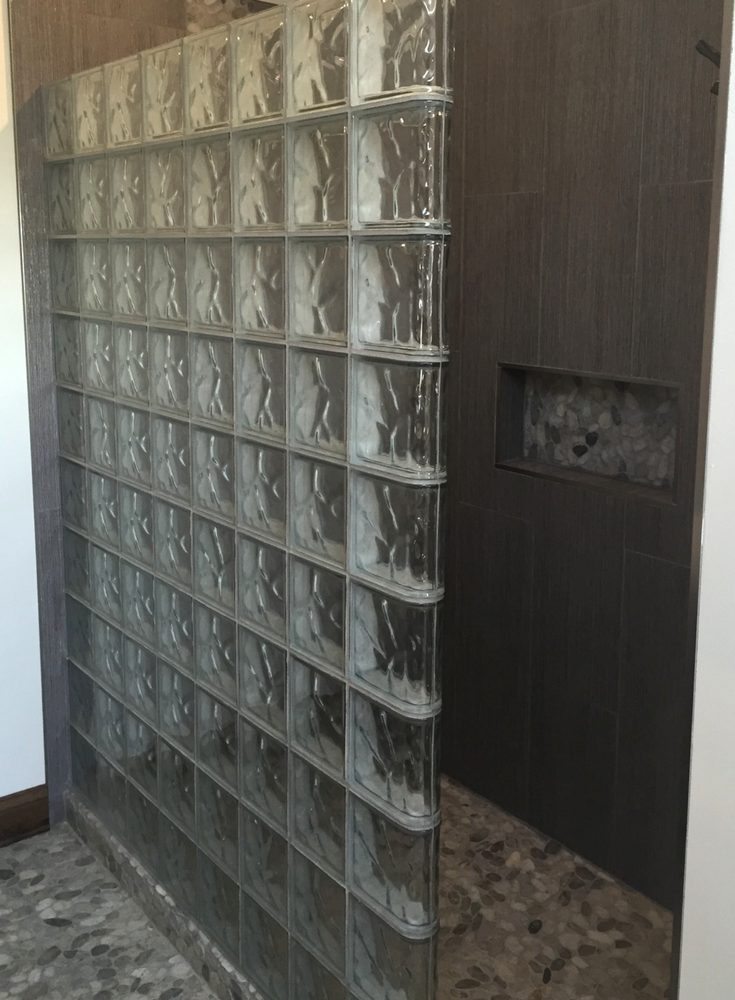 Critical question #3 to choose the right shower base – Do you need a custom size?
In remodeling you've got to work with the "cards" (or shower shape or size in this case) you've been dealt. You may go to your local big box store and see the $250 shower pans and think – cool, we can afford this project. Then you go home and figure out you don't have a standard 60 x 32, 48 x 36 or 60 x 36 shower pan where you're entering on the 60″ or 48″ side. Now what?
Well – one option if your entry is not on the common side is to use a 'flex-pan' where the flanges are added DURING INSTALLATION. This gives you the flexibility to use a standard shower pan even if you're entering on a 'non-common' side. In the image below you'll see how an acrylic or cultured stone flex-pan can use the same pan for 5 different layouts!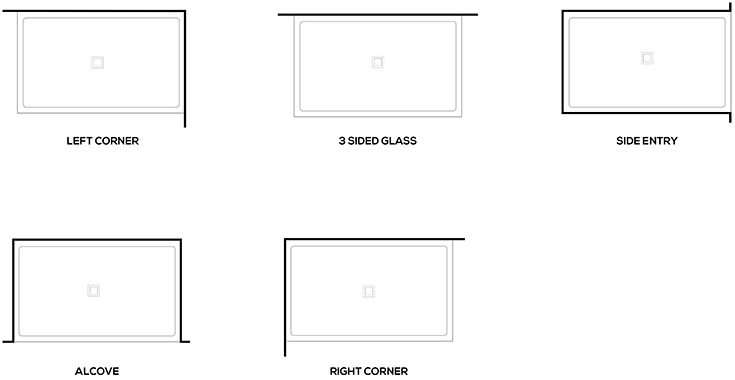 If you need a custom pan (and standard sizes just won't work) throw out standard fiberglass and acrylic pans as an option. Your choices come down to cultured marble, solid surface pans, one level wet room systems and custom tile pans. It's nice to know you can still get an easy to install pan – even if you want to DIY and you need a custom size. What you'll need before ordering a premade pan (like the cultured marble or solid surface option) is your stud to stud measurements. If you have a funky shape (perhaps a weird angled wall in the back or you need an offset shower pan because you have a stud wall in the front) – don't fret – these style bases can made to size for you.
With a custom size, you can also opt for a site built tile shower or get a premade ready for tile shower pan. The premade ready for tile pans simplify the installation, are factory made and guaranteed not to leak (that's huge). Check out the shots of one tile ready shower floor pan during (and after) the installation below.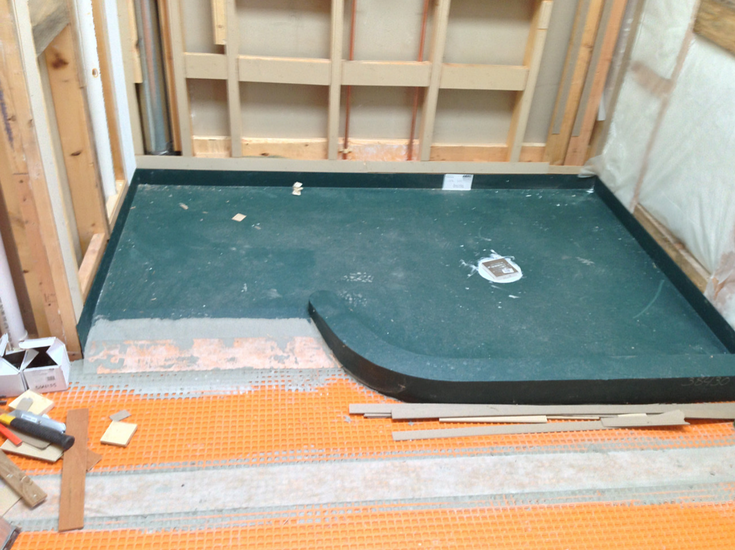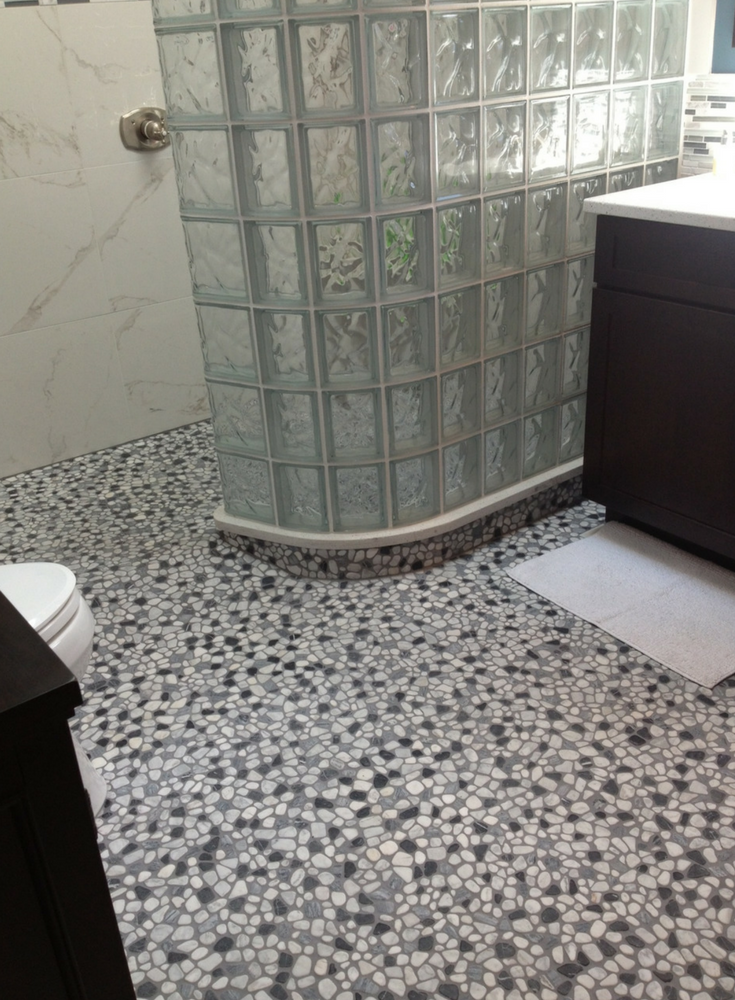 Another option is to use a manufactured custom cultured marble shower pan. While they aren't the lightest pans going, they offer you sizing options and are the ultimate in durability.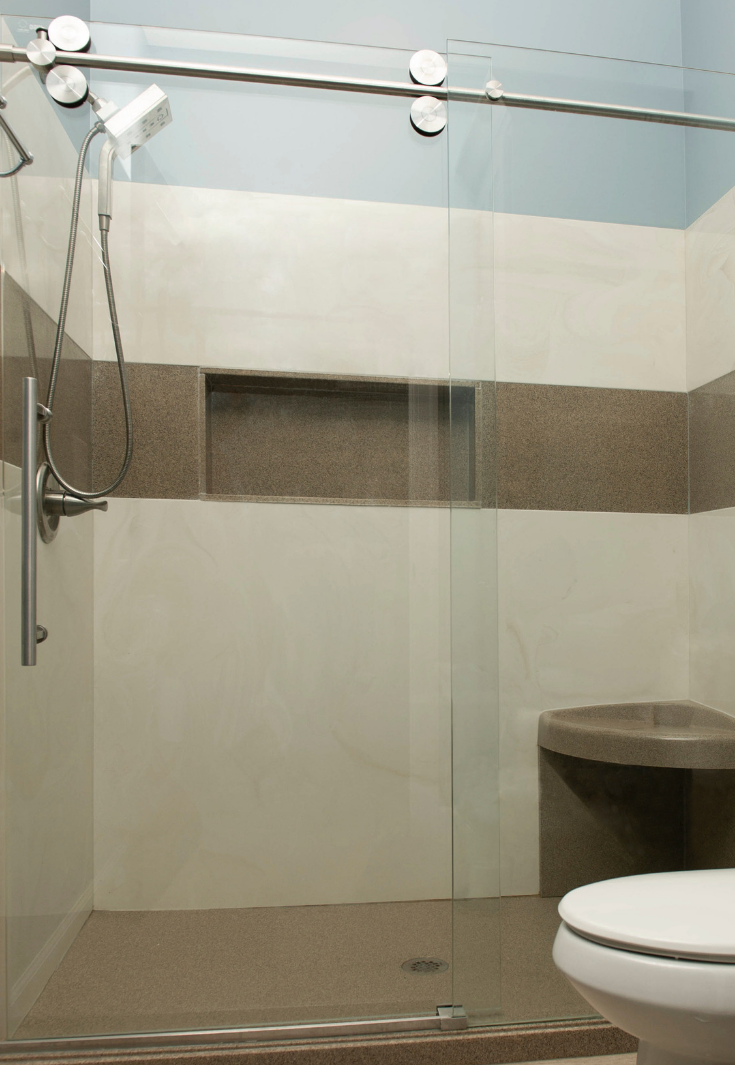 Critical question #4 to choose the right shower base – Who is going to use this shower? What type of shower entry do you need?
All shower bases are not created equal. Some have tall shower curbs. Some are designed with a lower "profile" (that's an industry term for height) curbs. Some have no "barriers to entry" (this phrase reminds me of my college economics classes – which I'm strange enough to admit I liked) where you can roll in wheelchair in or walk in without stepping over a curb.
When choosing the best base you want to make your selection with an eye on not only who is going to use this shower today – but who might use it tomorrow.
If you have elderly parents do you think it's possible they will need to live with you as they age? If so – a low profile or barrier free pan is a smart choice.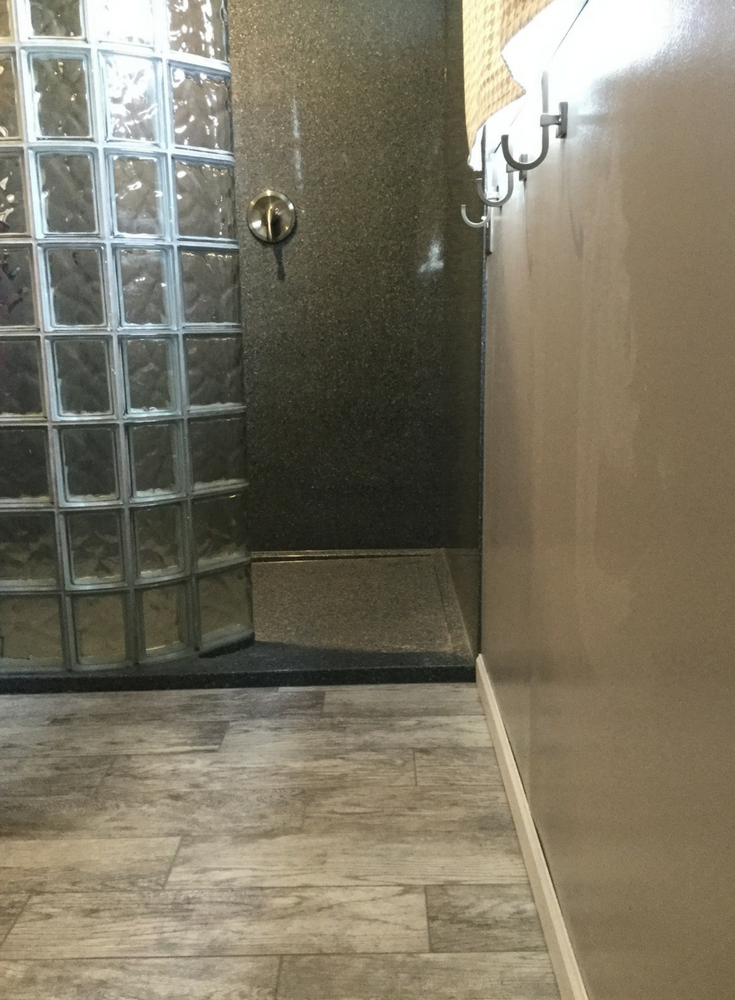 If you have young boys who will use and abuse their shower (I completely relate to this since I've got a 22 and 18-year-old sons whose bathroom is a mess until their Mom or I get on them) a durable solid surface pan will even stand up to young dudes like my sons.  If somebody using the shower struggles with their weight, I would not recommend a fiberglass pan which can flex. A better choice is a stone shower pan which is as solid like a rock. And just look at some of the fun patterns you can get in low threshold stone shower pans.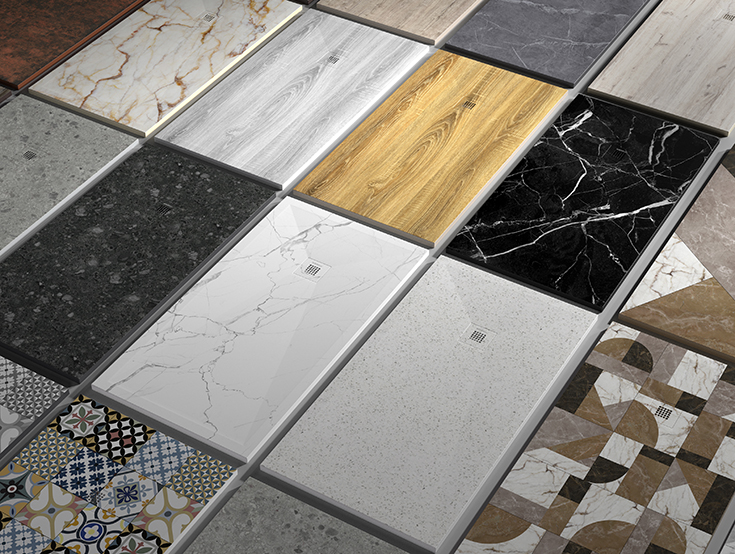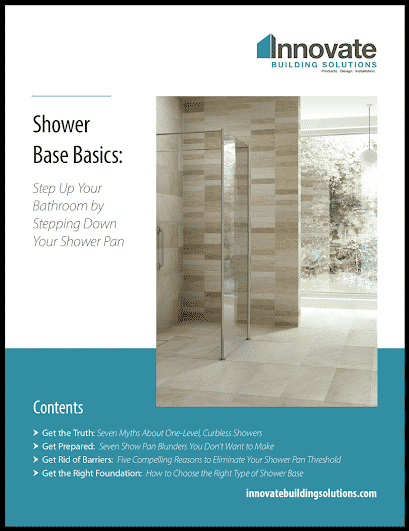 Get Our Ultimate Shower Base Guide!
Step Up Your Bathroom by Stepping Down Your Shower Pan!
Critical question #5 to choose the right shower base – Are you the one who has to clean the shower?
It's simple for members of your family who won't be cleaning the shower – EVER – to tell you let's do a tile shower. You know the problem isn't the tile. The problem is tile's unscrupulous buddy – the grout joint. You've experience the not-too-glorious-moments on your hands and knees cleaning the shower pan floor. You've said more than a few "choice" words while doing this dirty job you're not planning on repeating at church on Sunday!
If you don't want to (or can't afford to) pay a cleaning service to deal with your grout joints, you'll want to consider a grout free shower floor. Acrylic, solid surface and cultured marble bases are all sound choices.
They are easy to clean with soap and water and can add style to your shower floor. I would stay away from fiberglass pans. Once they get dirty it can be impossible to get the grime out of the bottom – no matter what cleaning product you use.
Conclusion
While the number of shower base choices is large – it's not difficult to get this decision correct. Step back and think about who(m) will use this shower (both now and in the future). Figure out how much money you need to spend to get a base which won't fail. Ask yourself if style and low maintenance are important. Finally, determine if you need a custom size.
###
How can I (or a member of my team) help you with these bathroom trends?
Don't feel you have to "got it alone" to choose the right shower base. If you need input (or a supply source) to select a base you will install yourself call Innovate Building Solutions at 877-668-5888. If you want a professional bathroom design consultation in the Cleveland or Akron area contact Cleveland Design and Remodeling at 216-658-1270. Click here for a Free Design Consultation.
If you're a remodeler or builder and want practical advice on remodeling products, industry trends, marketing and sales tips to grow your business (and cut day to day hassles), start reading my newest blog – Innovate Builders Blog. It's packed with ideas you can use now. Click here to Sign Up for the Innovate Builders Blog.
To get more remodeling tips follow me on Twitter @Mike_Foti or my company @InnovateBuild. I'm looking forward to connecting with you.
Save
---
Mike Foti
President of Innovate Building Solutions a nationwide supplier and regional (Cleveland and Columbus) remodeling contractors. Some of our product lines include glass counters, floors, backsplashes, glass blocks and grout free shower and tub wall panels
---