5 reasons you shouldn't buy a ramped roll in shower base (2 little-known better alternatives for aging parents)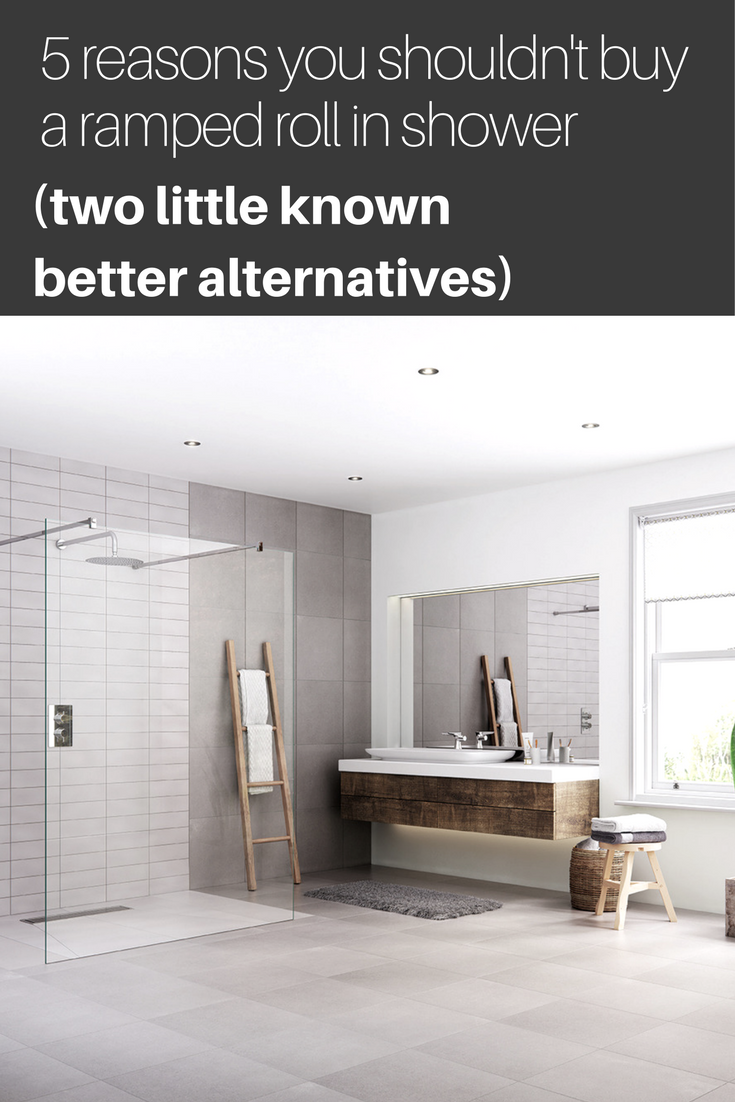 Updated January 20, 2019
The aging problem has hit your Mom and Dad's doorstep
Mom's mobility and balance isn't what it used to be (when she fell last year it created quite a scare for you and your brother Michael). Dad's knees are so bad from his years of hard work at the plant, going up the stairs to their master bedroom has become a project. You and your brother can see the handwriting on the wall (even if Dad cannot). The family home they raised you both in is becoming a big safety hazard for Mom and Dad. You're starting to do what all responsible brothers and sisters do today. The "behind-the-scenes" research and family meeting process has begun.
You're debating if Mom and Dad should move in with you or Michael's family and modify your home to fit their needs (perhaps giving them your first-floor master bedroom and you move upstairs). You know the bathroom with it's 5" high tile shower curb is just one of the challenges you'll have to eliminate IF you can get them to move in with you.
You're also discussing if Mom and Dad would benefit from a move to an assisted living facility. At a cost $3,500/month you have no idea not only how they're going to pay for this, but Dad will put up such a major fuss you can't imagine this happening. Staying in their existing home is an accident waiting to happen. Something has got to give….and soon!
The decision is made for Mom and Dad to move in with you. Let the home modification process begin!
After way too many family meetings Mom and Dad have finally agreed to move in with you, your husband Bill and 2 kids (it's not exactly how you planned your home living situation would evolve – but family has to come first). You, Bill needed got to do and know your existing bathroom "ain't gonna cut it!" The custom tile shower with the 5" step over curb to get in is not happening with Mom and Dad's mobility challenges. You've decided a ramped roll in shower is the answer… but is it really the best solution?
A ramped roll in shower has its drawbacks
While it's not my goal to be the guy who rains on your parade and home modification game-plan, there are 5 negatives of installing a ramped roll in shower (it can be a good option – but it may not be the best option) you should be aware of before buying products for the bathroom remodel. Also, there are 2 little-known alternatives you should consider before making your final choice. Read below so you don't waste money on the wrong selection for your parent's current needs and your future needs.
5 problems of ramped roll in showers
I'll tell you up front I've got no personal vendetta with ramped roll in showers (as a matter of fact my company sells both a waterproof ready for tile ramped barrier free shower pan and also a solid surface base with a ramp). However, some people don't think of the downsides of this type of shower base. I think it's best to be well informed before you make a permanent (and some expensive) choice in modifying a bathroom. Here are 5 reasons I think you may not want to buy a ramped roll in shower.
Reason #1 to not buy a ramped roll in shower –  water rolling out of the pan
Since a barrier free ramped entry base by its nature is designed to be flush with the bathroom floor there is no barrier (separation) between the shower and bathroom floor. This can cause more water to find its way outside the shower and could cause Mom or Dad to slip and fall.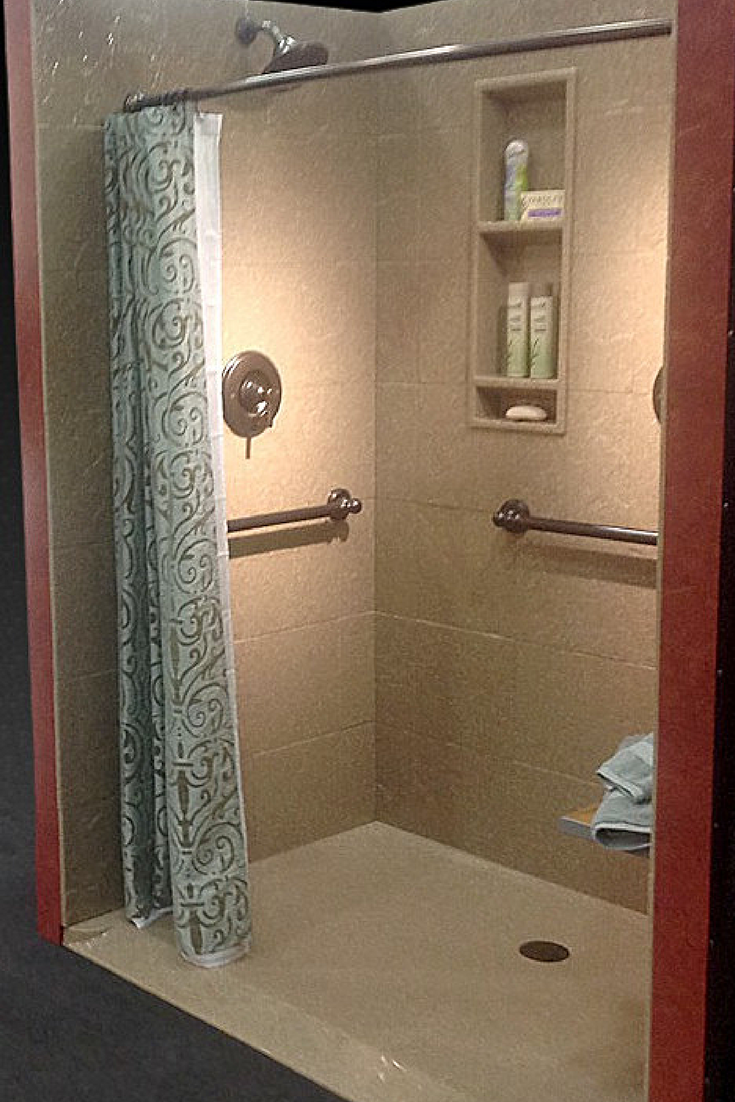 Reason #2 to not buy a ramped roll in shower – some of them look butt-ugly!
Have you seen those out of the box fiberglass roll in showers? Does anything scream ugly more than this type of shower pan? Fiberglass pans are notorious for yellowing and cracking. Cleaning the dirt off can be an impossible task. Why would you knowingly want to add an ugly builders-grade looking pan into your bathroom? Yes – Mom and Dad matter to you more than your house – but who wants to spend money on ugly???
Reason #3 to not buy a ramped roll in shower – they can kill the future sale of your home
While owning a home is a long-term investment it is not a forever place. Whether due to a job relocation, or getting your kids into a better school system, chances are you'll end up moving in your future. When prospective buyers come to view your home what will their opinion be of a cheap-looking fiberglass or acrylic ramped roll in shower in the master? They will likely say to themselves (or blurt out to the realtor) I'm not "disabled" – I don't want an ugly ramped shower. When this happens, they can blow off your home and put an offer in one down the street, ask you to remodel the bathroom before they move in or negotiate a discount off your asking price. None of these options is good for you.
Reason #4 to not buy (or do a do it yourself install of) a ramped roll in shower – they can be hard to build especially if you need a custom size
Custom tile roll in showers (especially those built without a premanufactured base system) can be tough to build. You must know not only how to get the slope of the inside of the shower built right, but also how to ramp the base into the bathroom floor properly. Many old "mud pan" (or concrete) shower floors have been built wrong and leaked onto the floor below. Now that's a disaster!
Reason #5 to not buy a ramped roll in shower – they are not good for Mom and Dad's privacy
An open shower it just that – it's open for all to see. If Mom and Dad don't exactly resemble Beyoncé, J-Lo, Ryan Secrest or name your favorite hot TV or entertainment star, they are probably just real people like the rest of us. They may not like the openness of a ramped roll in shower (and displaying their not-as-hot-as-they-would- like bodies) when they've been used to the privacy of a shower enclosure all their lives.
Two little-known better alternatives to a ramped roll in shower
While I can make some good arguments for the ramped roll in showers – I believe it's important to know all your alternatives before selecting the best solution for your family and Mom and Dad (while not screwing up the future resale price of your home). There are two little known alternatives you should throw into the mix to make this important home modification decision. Here they are:
Alternative #1 – The solid surface low-profile shower base with a removable ramped entry curb
I must admit I love this option. A solid surface low profile shower has a curb height of 1 ½" which is about 2/3 lower than a traditional step-over shower base. It is sleek and contemporary and in many situations low enough to allow Mom and Dad (or other family member) to step over because the hump to get in is low in relation to the bathroom floor.
Get Free Samples!
Click here to request free samples of our Shower Base Products.
What is also cool is you can get a removable solid surface ramp kit you set in front of the pan to make it a ramped shower base. If there comes a time when Mom and Dad no longer are living with you (maybe they end up needing full time nursing care or assisted living) you simply remove the curb extension and now you have a standard shower base so it will be easy to sell your home.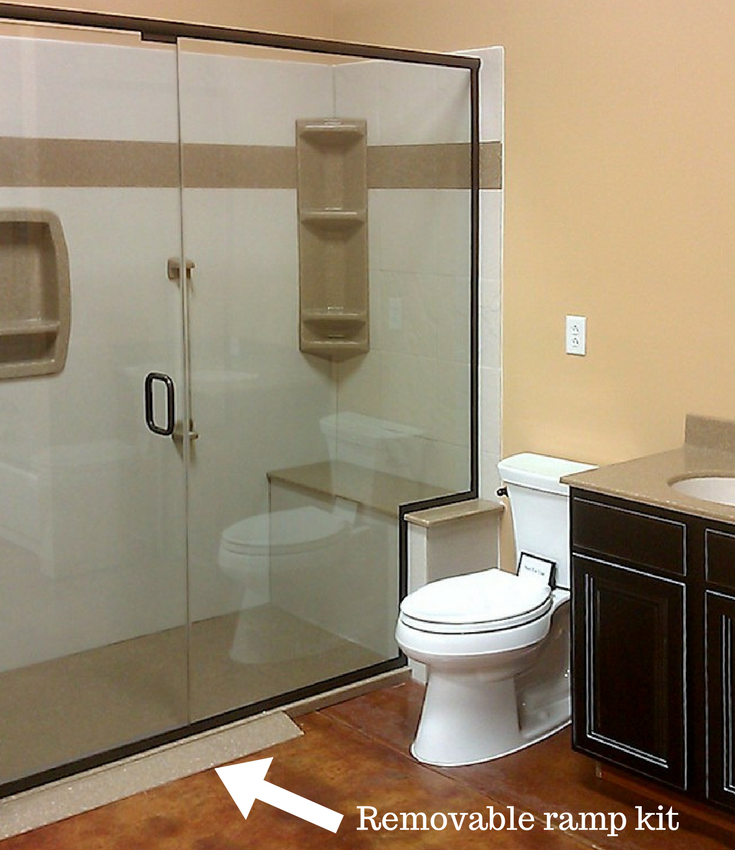 This low-profile pan is available in a wide range of standard sizes and can be customized to fit any odd shaped shower area.
Alternative #2 – The one level wet room waterproofing shower and bathroom system
This shower system is getting so hot you're seeing them (in many cases without even realizing it) in hip, contemporary downtown hotel rooms and vacation homes. It is the one level wet room. A one level wet room includes a shower base former which creates the sloped area for the drain and is set directly on the joists so the entire bathroom is at one height. It also includes a kit to waterproof the balance of the bathroom floor. This systems creates a sleek, contemporary bathroom which is 100% waterproof (not just the shower – but the entire bathroom).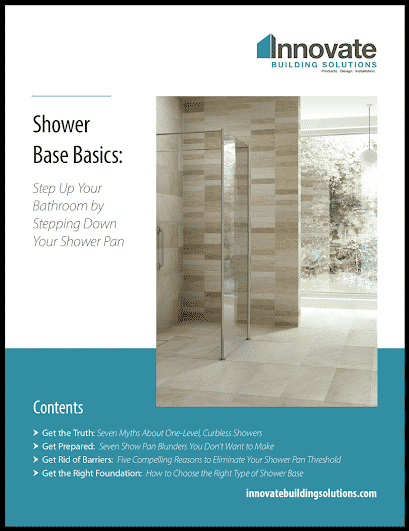 Get Our Ultimate Shower Base Guide!
Step Up Your Bathroom by Stepping Down Your Shower Pan!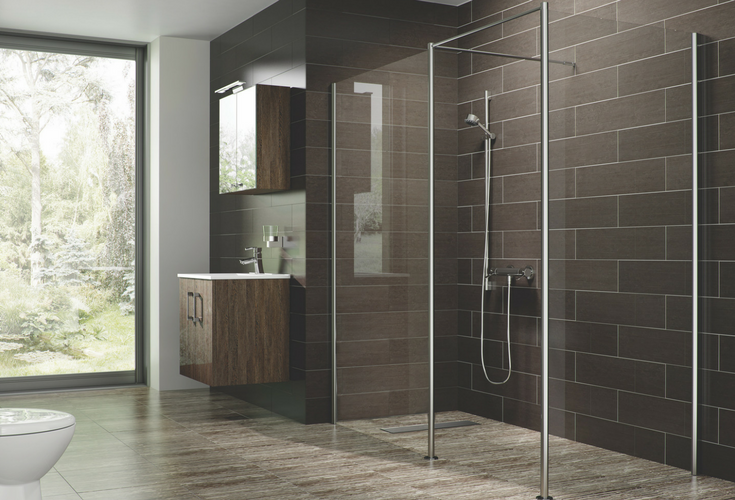 With this system, you can either do a completely open shower/bathroom space (this is popular in Europe and Asia where bathrooms are smaller than in the United States) or you can put a complete glass enclosure around the shower (a more traditional approach in this country).
Conclusion – the right shower pan choice is yours, but be an informed consumer
Whether you choose a ramped entry shower base, a low-profile pan with a curb extension or a one level wet room system there is no one right choice. The best thing is to be informed about the options and weigh the short (and long-term) positives and negatives to know which will work best for your Mom and Dad and your family.
How can I (or a member of my team) help you?
If you're reading this article you're most not likely not a remodeling expert or being asked to fill in for the Property Brothers when they go on vacation either. In many cases asking for help choosing the best system for your specific situation can be the smartest move you make.
I (or a member of my team) would love to help you in this process. If you're looking for nationwide supply of safe shower base systems for Mom or Dad or professional installation of one of these units in the Cleveland or Akron areas call us on the numbers below. It would be our honor to help you and your family make your tough remodeling choices.
###
For nationwide shower products call Innovate Building Solutions (877-668-5888) or for a local remodeling project call Cleveland Design & Remodeling 216-658-1270) or The Bath Doctor of Columbus (614-252-7294) or Cleveland (216-531-6085).
If you're a remodeler or builder and want practical advice on remodeling products, industry trends, marketing and sales tips to grow your business (and cut day to day hassles), start reading my newest blog – Innovate Builders Blog. It's packed with ideas you can use now. Click here to Sign Up for the Innovate Builders Blog.
---
Mike Foti
President of Innovate Building Solutions a nationwide supplier and regional (Cleveland and Columbus) remodeling contractors. Some of our product lines include glass counters, floors, backsplashes, glass blocks and grout free shower and tub wall panels
---