The 5 biggest shower remodeling mistakes (and how to not repeat them on your job)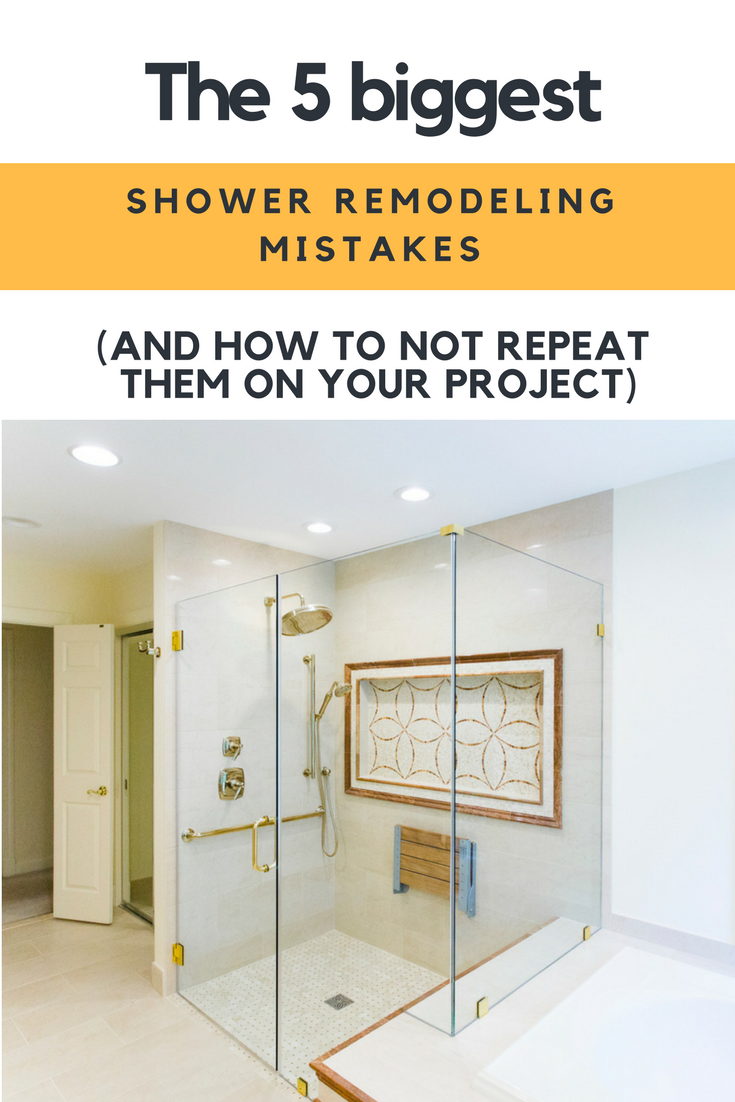 Updated August 18, 2019
Shower remodeling can be a pain. There are so many decisions to make and the cost of mistakes can be high. Here's just a few decisions you'll have to wrap your head around:
What type of shower base (or floor pan) is best?
Should you tile the walls or use a shower wall panel system?
Where is the best location for the drain? What is the optimal spot to put the shower valve to turn on the water?
Should you DIY all, some or contract out this project?
Since shower remodeling is not your 'day job' (and it's a project you may do every 10 to 20 years) it can be tough to get it right the first time. How do you make sure you don't make errors which haunt you down the road?
One way to make sure you're on the right path is to read these top 5 shower remodeling mistakes and the strategies to not repeat them on your job. I've seen them way too frequently and don't want you to fall into the same trap.
Shower remodeling mistake #1 – Not thinking long term about your choice in shower pans 
A shower base is the foundation of your project. While it's not the sexiest part of the job – if you get this wrong as they said in the movie Apollo 13, "Houston, we (or you in this case) have a problem." The 3 biggest problems I see people make with shower pans are:
Problem #1 – They buy the cheapest one they can find.
Problem # 2 – They don't buy one which will work for them (or their family members) as they age.
Problem #3 – They don't get a system which will reduce (or eliminate) the time they spend on their hands and knees cleaning (see mistake #3 for more about this).
With the first problem you don't want to be "penny–wise and pound-foolish" as my Dad used to say. Just because a $200 60" x 30" fiberglass shower pan from your big box store will fit your space and is cheap doesn't mean it's a good buy. Check out on line reviews. See what types of problems people have had with these bases. See what the manufacturers' warranty is. I've seen SO many problems with cheap, fiberglass bases I'm surprised people still buy them (they crack, yellow, you can't clean the bottom and they flex when you walk on them). Get a pan which is simple to clean, won't squeak when you walk on it, and will last – solid surface bases are one sound choice.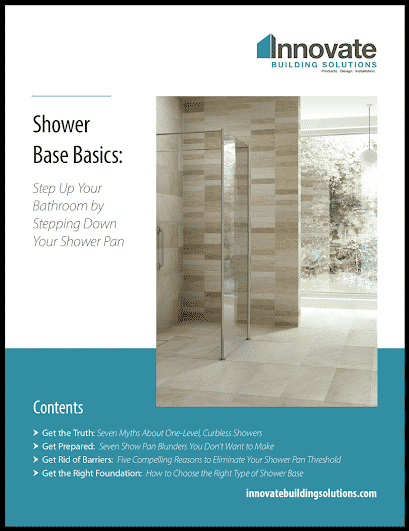 Get Our Ultimate Shower Base Guide!
Step Up Your Bathroom by Stepping Down Your Shower Pan!
The challenge with the second problem (getting a base which will work as you or a family member ages) is you and I are not Nostradamus, a "Sherpa" on use our crystal ball advising people on The Psychic Friends Hotline. We cannot predict the future. With this being said – we can plan for the future with smarter choices in shower bases. If you're in your 50's (I have to admit that's me although I am delusional and see myself as younger than my age) you will (hopefully) get older and want to stay in your home as you age.

If you get a 4-5" step over curb for your shower this can (and often is a problem) as you age and mobility goes south. Look closely at barrier free showers. Look at low profile shower bases. They not only look sleeker than the traditional 4" curb – but can accommodate someone with a mobility challenge.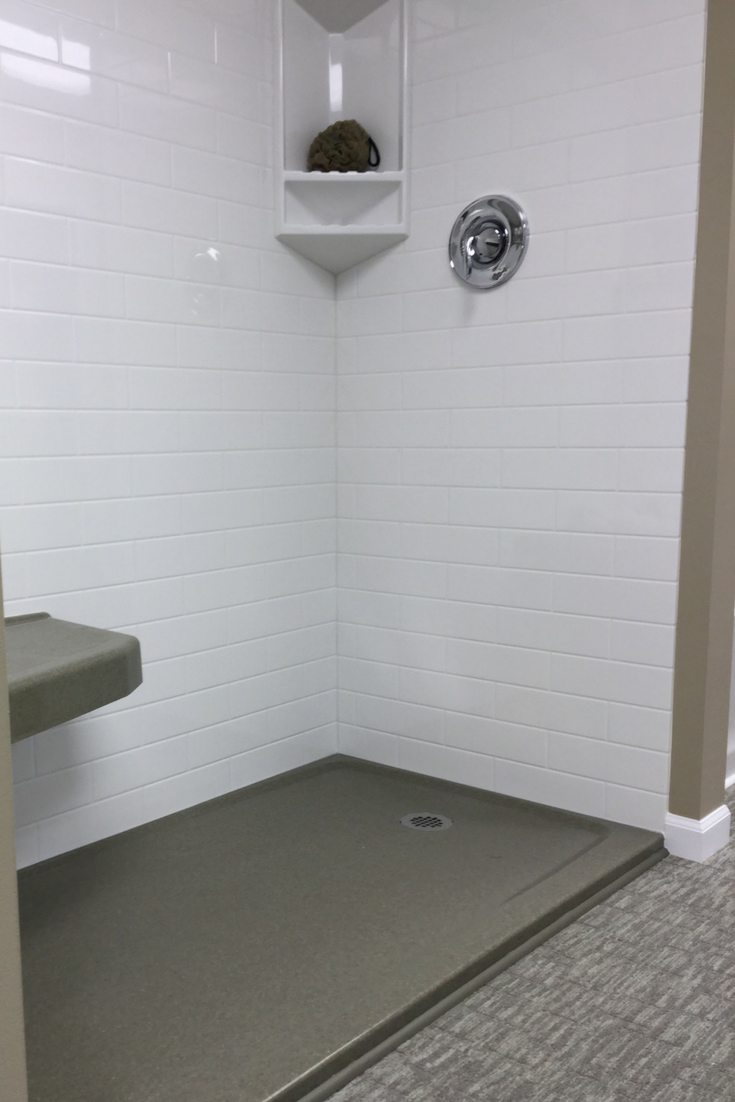 Shower remodeling mistake #2 – Not investing a few more dollars (behind the wall) while the "patient" ('er your shower is opened up)
Just like a Doctor in a surgery, it's cheaper to fix a problem when the patient (or your shower) is opened up (i.e. the bathroom is gutted). If you need to mount a safety grab bar it's simple to do it if there is wood backing installed during construction. If your shower is cold, it's no big deal to insulate the walls when its down the studs – doing it later is impossible. If your tile shower leaks onto the floor below it's a huge problem which could have been avoided if you invested a few bucks in waterproof wall backer board during construction.
Spending a few dollars behind the wall now can save you big bucks later.
Shower remodeling mistake #3 – Forgetting how much you hate tile grout maintenance
A tile shower looks great when it's done. However, who wants to get on their hands and knees with a scrub brush to clean it? That would be no one! Before you let your contractor convince you it's essential to have a tile shower do your research on grout free shower wall panels. One versatile line which is growing rapidly because it is so realistic looking are waterproof laminate wall panels. These panels come in 2′ x 8′ – simple to install sections. They can not only be used in personal residences but also as bathtub wall panels in apartment renovations.
Get Free Samples!
Click here to request free samples of our Laminated Waterproof Shower Wall Panels.
They can be used for multiple interior design styles including Modern Farmhouse, Shabby Chic and even Modern Minimalist. They are so realistic they are often referred to as 'The No Tile, Tile Shower." You'll see one example below.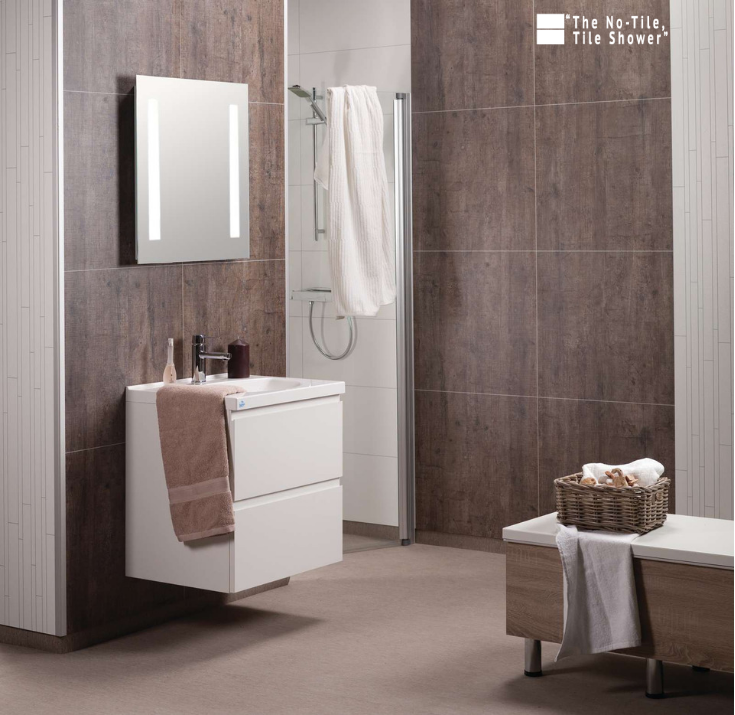 You can also see how far wall panels have gone beyond the cheap, white, wafer-thin units of yesteryear in the image below. This fun look are brightly colored optical grade high gloss panels.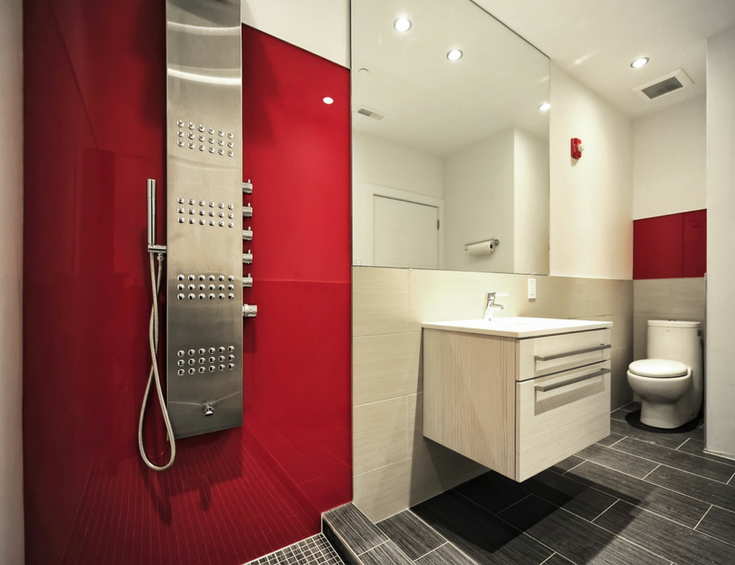 Thick solid surface units in 51 colors. Fun decorative PVC faux stone wall panels. Don't assume your shower has to be tile – even if it's a custom size.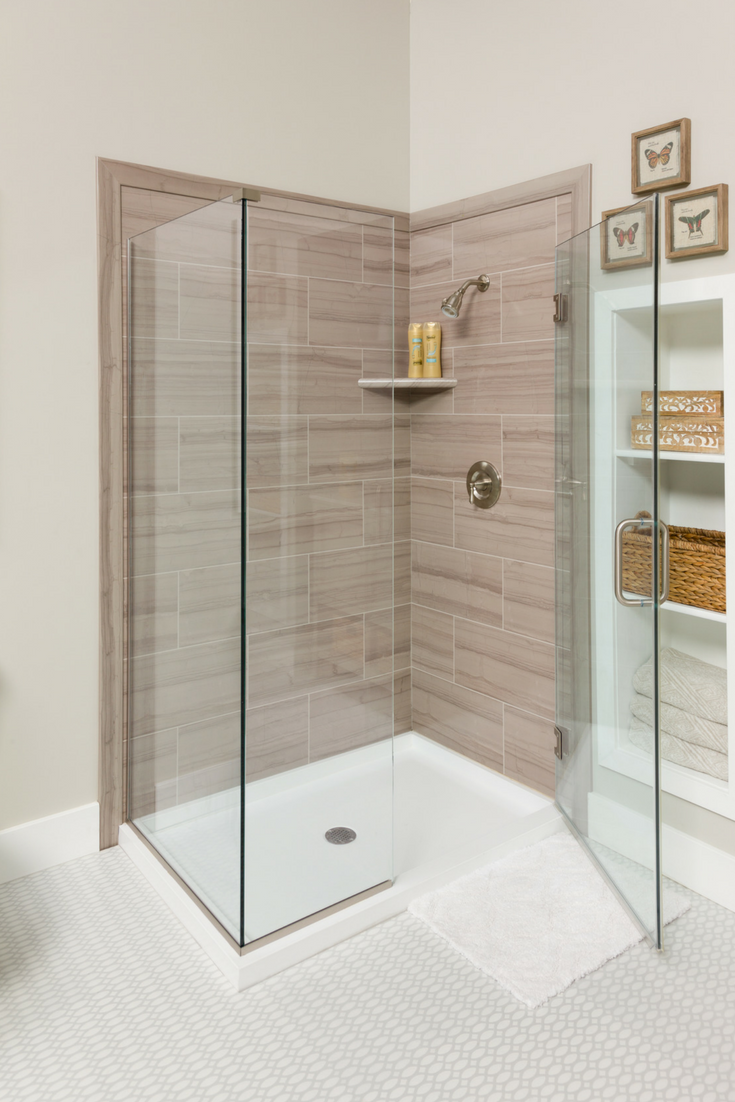 Shower remodeling mistake #4 – Not thinking about the shower drain
Now here's an exciting shower detail (sarcasm intended) – figuring out what type of shower drain you want and where it should be located. For me – I HATE standing in the middle of a shower drain when it's clogged. Water filling around my feet is nasty. The reason I have this problem (besides having 2 beautiful ladies – my wife and daughter with long hair – who use the space) is I have a 48" x 48" stand up shower where the drain is centered in the opening. Since I stand 24" away from the shower head wall my feet are located almost right in the center of the drain. This problem would have been minimized if the drain was 12" away from the plumbing wall.
When you buy (or site-build) a shower base think through your options with the drain location. Will it be comfortable for you? In addition, think about which type of drain. For example, a sleek linear drain can move water faster and allows you to use larger tiles (cutting down grout maintenance).
I know strategizing your shower drain isn't sexy – but it will result in a better functioning space with less maintenance. With the right type of shower drain and base system you can even make a shower as cool as this open concept below!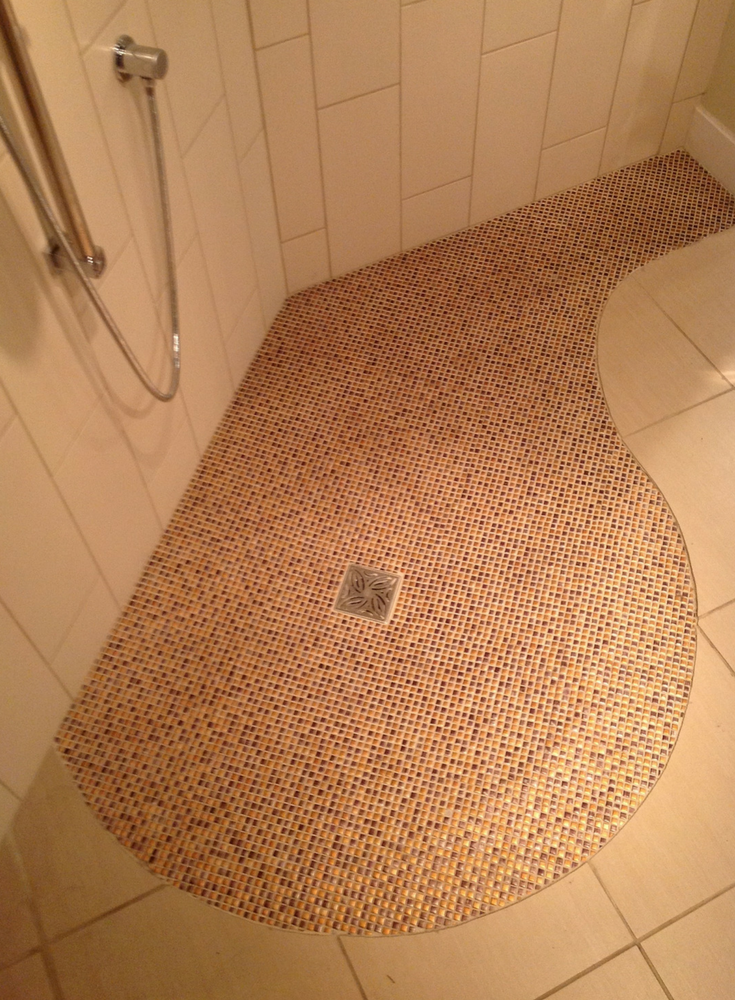 Shower remodeling mistake #5 – A wise man or woman knows what they don't know  
When I was a young business guy and my Dad would give me advice, I would think, "What does the old-man know – I'll do it my way." In many cases months later (after experiencing aggravation) I would end up using his advice. My personal stubborn streak got in the way of being effective.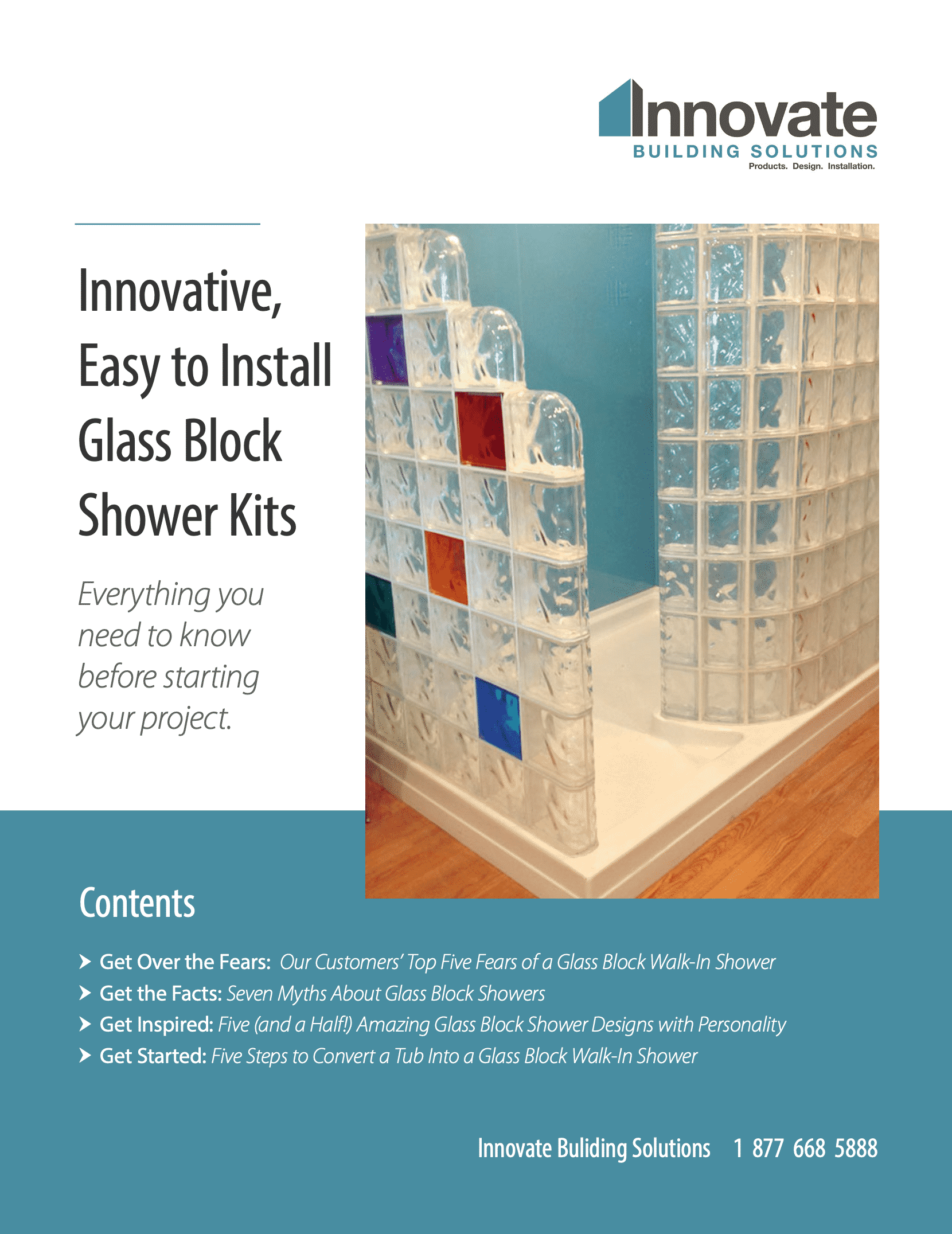 Glass Block Shower Ultimate Guide
The Ultimate DIY Guide for your Next Bathroom Remodel
Conversely, in a shower remodeling project I've seen people do it themselves (DIY) without reading the instructions or calling for advice. Then, after the job is done, they will call about a problem which could have been avoided if the installation was done properly in the beginning. Several years ago I had a customer install a glass block shower wall not on top of the curb it was meant to sit on – but outside the curb. The chance of this system leaking is so high – I'm still worried about them getting a leak into the level below. In the picture below you'll see a curved glass block shower done the right way!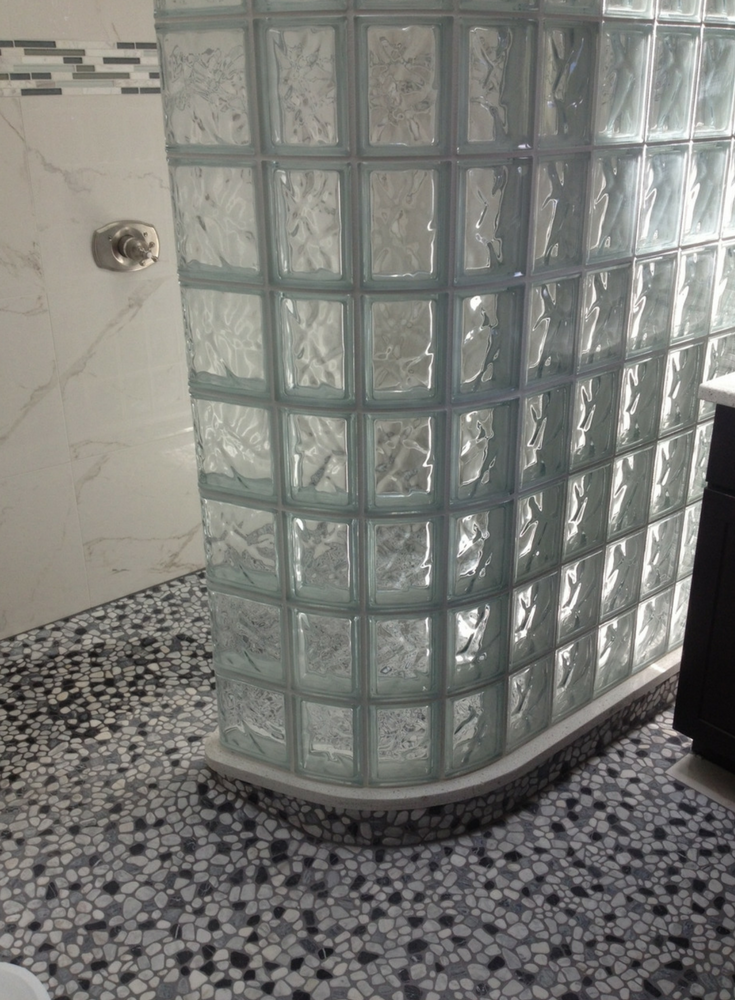 Before installing (or buying anything) seek out advice from your potential supplier. Get installation tips, videos and instruction manuals. If they are not willing to help you run, run, run as fast you can (even faster than the Gingerbread Man!). Once you get the instructions be honest about your skills and abilities. Bring in (or hire) help for portions of the remodel which will cost you dearly if you get them wrong (plumbing would be one critical area which comes to mind).
Conclusion
If you've ever had to redo a remodeling project (OK I will admit it taking me 3 times to install carpet in a small bathroom several years ago) because you made a mistake you know how frustrating this is. The key to a successful shower remodel is to learn from other's errors and minimize "investing" (that's too nice a term for blowing your own money) in them yourself.
Do research before spending money on substandard products. Make sure your shower will work for you (and your family members) as you age. Have a plan for overlooked details like the drain location. Don't take on work you are clueless about and the cost of making mistakes is high (plumbing is one example).
When you're more thoughtful and thorough, I predict a better shower remodeling project is in your future (and I'm not employed by the Psychic Friend's Hotline either).
The Ultimate Shower Replacement Kit Guide
Clear advice on bringing your bathroom to the next level
How can I (or my team) help you?
If you're looking for input on a shower remodeling project or innovative shower products nationwide call Innovate Building Solutions at 877-668-5888. For a Cleveland bathroom remodeling project call Cleveland Design and Remodeling (216-658-1290) of in Columbus The Bath Doctor (614-252-3242). Whether you own your home, or use our shower wall panels for a rental property, they are build to last.
If you're a remodeler or builder and want practical advice on remodeling products, industry trends, marketing and sales tips to grow your business (and cut day to day hassles), start reading my newest blog – Innovate Builders Blog. It's packed with ideas you can use now. Click here to Sign Up for the Innovate Builders Blog.
If you're in the building business, click here if you'd like to learn how to become a shower wall panel dealer or call and ask for Mike at 888-467-7488.
---
Mike Foti
President of Innovate Building Solutions a nationwide supplier and regional (Cleveland and Columbus) remodeling contractors. Some of our product lines include glass counters, floors, backsplashes, glass blocks and grout free shower and tub wall panels
---