7 Fun Ideas Using Glass to Jazz Up Your Outdoor Patio or Deck this Summer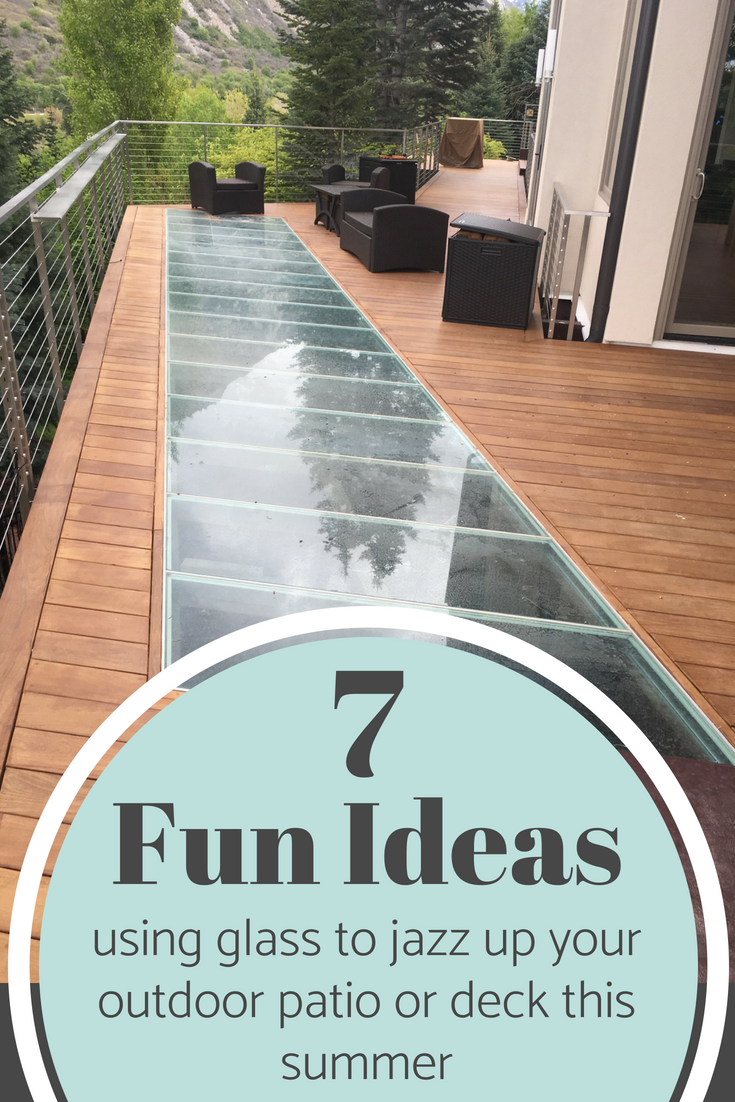 Updated March 23, 2019
Here's a question for you. What building material can do the following and still hold up?
Be subjected to water continuously without rotting or rusting?
Be set on fire, yet not burn up?
Provide a structure to walk on, yet you can see through it?
Gives the illusion of space, yet provides a barrier between spaces?
Is sustainable and fully recyclable?
I probably gave the answer away in the title of this blog post – it's glass (I'm glad I didn't bet you'd know the answer!).
I must admit I'm a 'glass geek.' I love light. I hate dark rooms. If I was an 'architectural design God' I would eliminate the North (i.e. the dark) side of all homes.
I love seeing light move through space, without losing privacy (that's a paradox in itself).
I love how glass can create 'pee-your-pants' mind-blowing experiences (have you ever walked on the glass floors at the CN Tower in Toronto, the Skywalk in the Grand Canyon, or Willis Tower in Chicago?).
I love how glass can withstand water and fire and keeps on ticking. Name another material which can do that.
Despite these cool features many people aren't aware how they can ramp up their outdoor patio, deck, staircase, outdoor table or garden using glass.
My goal with this article is simple. I want to expose you (OK, not through any clear glass or through any 60 Minutes expose to reveal your deep dark secrets), to the fun and distinctive ways to use glass. You'll see specific examples to kick up your outdoor patio, decks and staircases this summer and wow friends and neighbors.
My goal is to not only make you a glass geek like me (this might be a tough job given this short article), but to show you fun projects to add style which are timeless and sustainable. Don't settle for an outdoor space which is the same old, same old boring wood deck or concrete patio.
At the end of the article, I want you to add your 2 cents. Tell me which of these ideas are cool and which are wacky and too far out for you.
Fun glass idea #1 – Glass decking 
Bear with me here (I haven't gone crazy), but if you were a lower level patio or finished basement you would see the wood deck above you as your evil stepbrother. Why you might ask? Well, a deck is the 'ultimate SPF 50' to your patio or finished basement below. It blocks out all the light. Sure, without light your patio won't get sunburn, but it's also dark and dingy.
Without light your basement feels dark and damp. Who wants to go into a dark room (even someone with a migraine would rather be doing something else)?

Why continue to let your deck block light to the patio below? A perfect (and ultra-cool) cure for this problem is using structural glass decking. Glass deck planking can be installed into an aluminum framing system to provide 2x the structural support of a wood floor. If you're worried about the 'skirt factor' (i.e. someone looking up through the lower level below and invading the privacy of a woman on the level above), don't fear – glass floors come in obscure and clear glass. There is even a non-skid frit texture at the top, so you don't have to worry about someone slipping on the glass when it rains (or snows – oops I shouldn't have mentioned that evil word in the summer – sorry).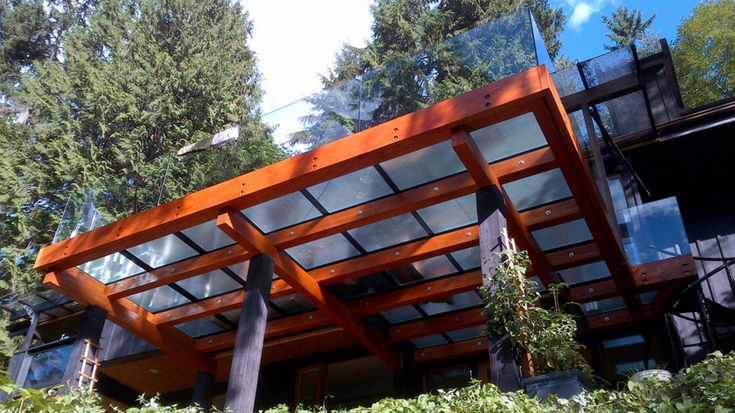 Note – if you want to add the ultimate in cool – install LED lighting on the underside of the glass floor and you'll have an illuminated floor at night. How cool would that be?
If you'd love to learn more about glass decks – they aren't as crazy-scary to figure out as you'd think, read 7 Answers Unlock the Mystery of Glass Floors and Decks.
Fun glass idea #2 – A patio bistro water table
An outdoor glass top table with water running through it. How amazing would that be?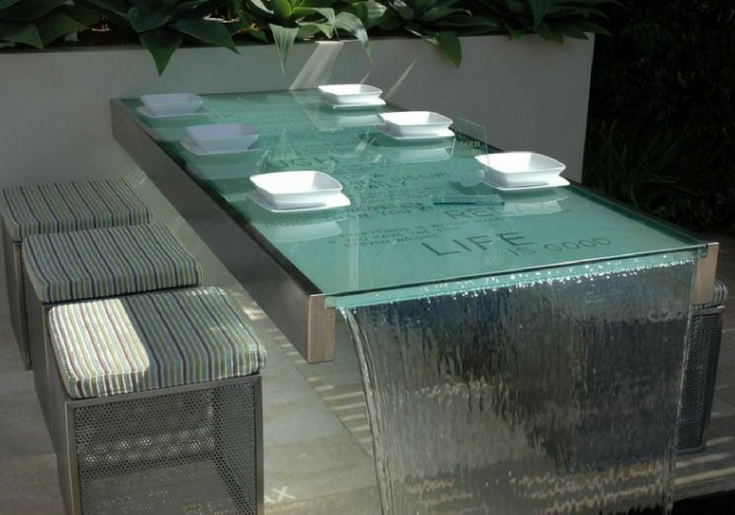 When I saw this table at Freshpatio.com I was blown away. This top has inspirational writings in the glass and the aluminum platform below has water continuously flowing through it. What a fun way to enjoy a relaxing lunch or dinner by the pool, or just enjoy the relaxing sound of water if your lot is as dry as a bone.
Fun glass idea #3 – A snail shaped outdoor glass block shower with privacy built in  
 This outdoor glass block shower and pool house was built for entertaining. The curved glass block wall was the brain-child of a grandmother who wanted her grandkids to bring friends over and enjoy her home and pool. It's private, yet open.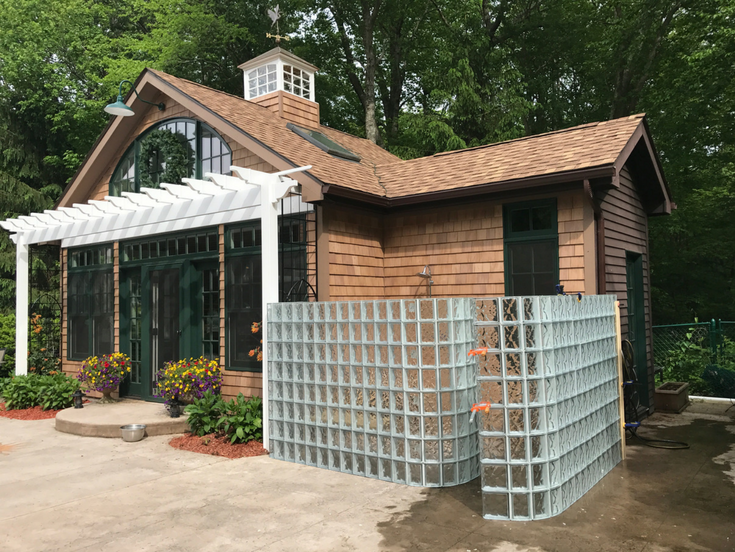 This glass block wall was shipped in prefabricated easy-to-install sections, so the owners didn't have to beg an old-time mason to lay the units up one by one (if they could even find one to put it up). This installation approach saves time and money. In addition, the prefab sections have small 1/8" grout joints, unlike a traditional block by block installation.
If you haven't seen the new glass block designs, this timeless product is making such a big comeback you'll even see them on the front of uber-fashionable Coach (handbag) retail stores.
Don't count out glass blocks as a unique, low maintenance way to add pizzazz to your poolside outdoor showers.
Fun glass idea #4 – Colored glass brick walkway
The bland wood appendage – AKA the small deck slapped up by your home builder 20 years ago, is waaaay out. Now the rage is outdoor rooms and kitchens. You'll see fancy Sub-zero appliances, pizza ovens, smokers and fire pits. The outdoors has gone high-fashion (you'll get thrown in jail by the Fashion Police if leave out those ugly plastic folding chairs Grandma gave you).
Given this trend of upgraded outdoor living, adding color and distinctive style to your exterior 'room's (AKA decks, patios and gardens) makes sense.
This is exactly what Dani Howard had in mind when she reinvigorated her small 15' wood patio. She created a 3-room space to serve as an entertainment and family time hub. I love how she combined classy bluestone pavers with solid colored glass bricks (with lighting underneath) for a showstopping edge which lights up at night.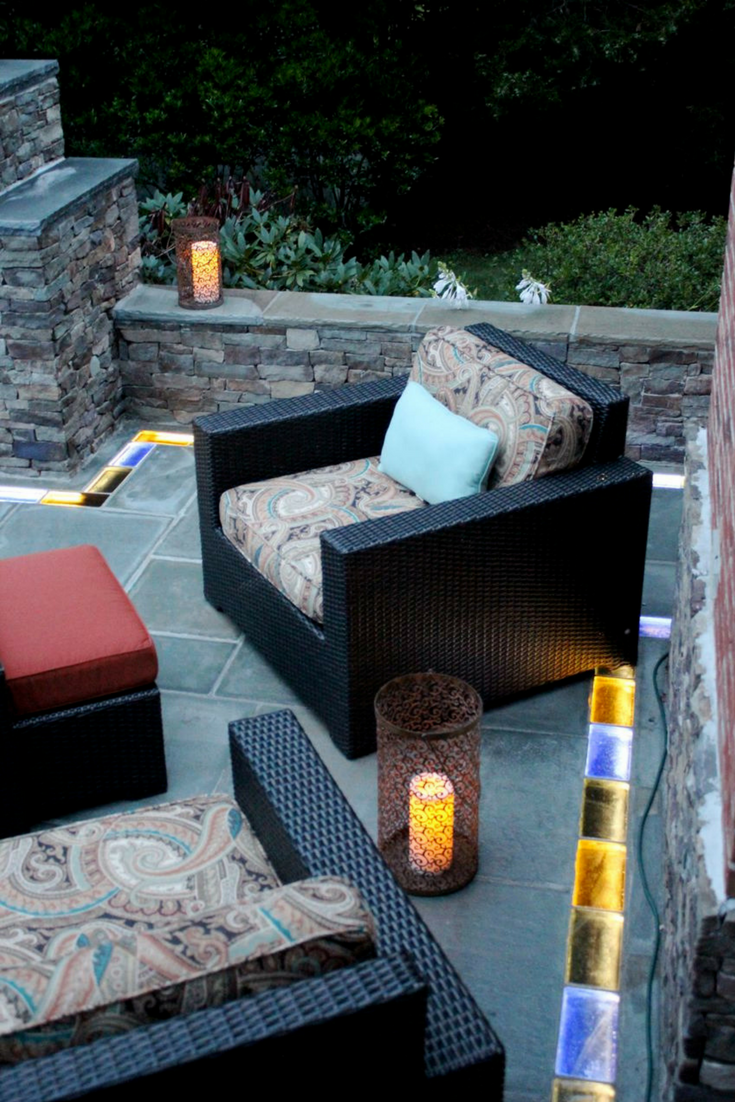 These solid glass brick pavers are durable yet illuminate the space. Fun and inventive. Read How to Add Impact to Your Landscaping with Unique Hardscaping to learn more about this project.
Fun glass idea #5 – A glass fire pit
I don't know about you, but I HATE to build a fire with wood. It's messy, time consuming and even after you've got it going you still have to 'feed the beast' with more and more wood. At the end you GET the pleasure of cleaning up. Wow – sounds like a lot of fun (sarcasm intended)!
On the other hand, fire pits with colored fire glass are right up my alley. They're not only stylish and fun by have the following benefits:
They create cool, colored flames.
You only have to turn on the gas to get things rolling – a major plus for me!
The glass doesn't need to be replaced. It's better for the environment and saves you money.
There is no clean up – love it.
You can buy pre-made glass fire pits with a surrounding table to set your favorite drinks on.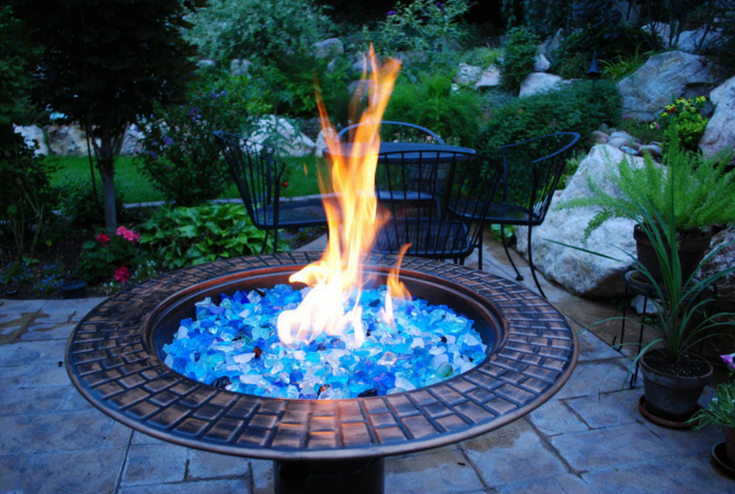 For my money and time, I've already thrown out the old wood fire pit and just love the easy way out using glass.
Fun glass idea #6 – Glass stairs over a water (or any type of landscaping) feature
Have you ever been on a glass bottom boat tour or a see-through canoe exploring and enjoying the coral reef, seat turtles, see out the coral reef firsthand (the only coral reef you see in my hometown of Akron Ohio is in a fish tank), why not enjoy the thrill of walking over (and seeing through) a water feature in your own back yard?
Whether you want to create a Koi pond or take advantage of your own water feature there is something calming (and exhilarating) about running water (unless you have to go to the bathroom, but I digress). Take it a step further like Rusty McClure of Columbus Ohio. Rusty loves cool and unique. He took his rushing water and rock feature and kicked it up adding structural glass stair treads. These treads not only allow you to look through the glass – but are safe to walk because they have a ceramic glass frit top surface and sturdy side-supporting aluminum brackets.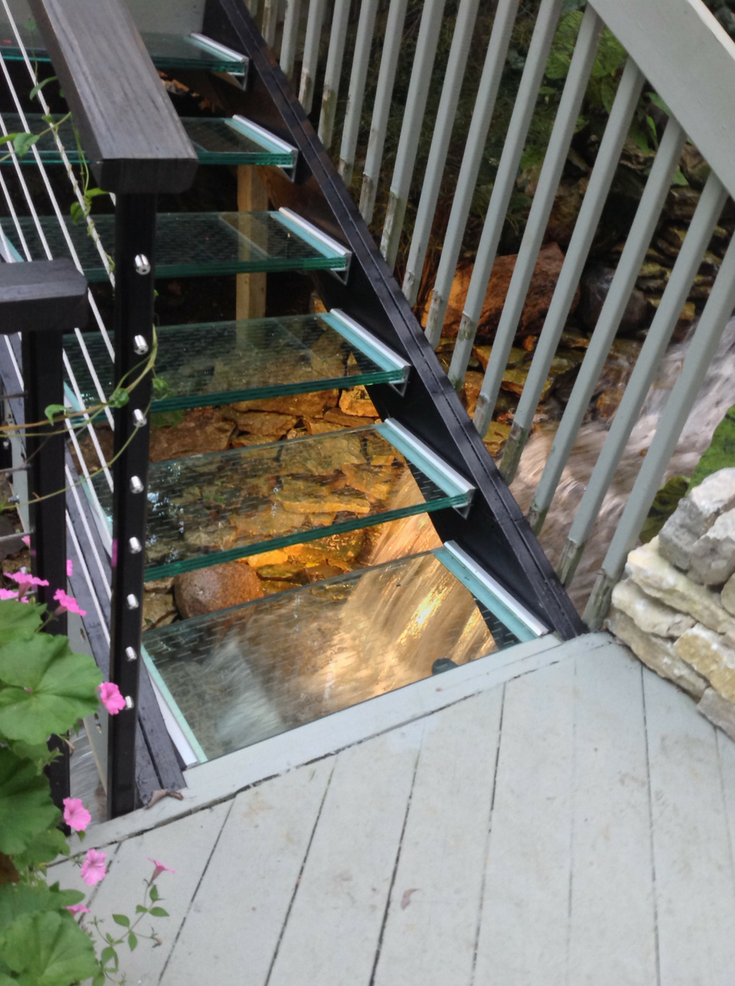 Rusty wanted to blow the minds of his guests. He certainly accomplished this goal using glass stair treads. Learn more about Rusty's project by reading Glass Stair Treads Add Impact to a Dramatic Landscape Water Feature.
Fun glass idea #7 – Photovoltaic glass pavers use solar power to add light at night and save money
If protecting our planet – yet not 'settling for' a dark patio or walkway, matters to you this is a fun idea you've got to check out. It is a photovoltaic glass paver. These units can be set inside a stone wall or paver patio. During the day the power from the sun is captured inside a lithium battery in the paver. At night the solar glass paver lights up.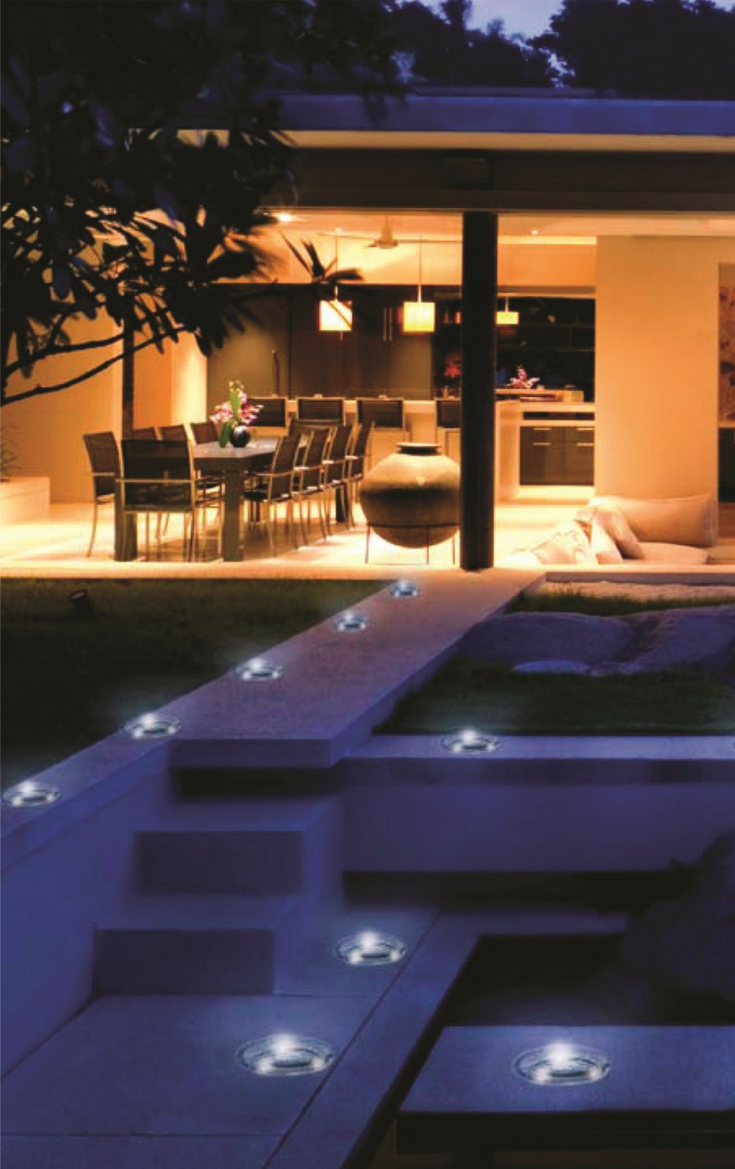 The result is an illuminated patio, walkway or garden which does not need an external power source. It's not only simple for you, it's sustainable and good for the environment.
Conclusion
 Thanks for checking out these 7 fun ideas to use glass in your outdoor deck, patio, staircase or garden. Which ideas intrigue you? Which are you saying, "Mike, you've got to be nuts – I would never put THAT glass feature in my home?"
Please comment below or call me (or a member of my team) if you'd like to use glass to ramp up your backyard – but need help along the way.
How can I (or my team) help you?
For assistance building, designing or getting factory-direct supply of glass stairs, glass decking, an outdoor glass block shower or solar glass pavers nationwide call me and my team at Innovate Building Solutions at 877-668-5888. For a local installation service and supply contact Columbus Glass Block at 614-252-5888 or Cleveland Glass Block at 216-531-6363.
If you're a remodeler or builder and want practical advice on remodeling products, industry trends, marketing and sales tips to grow your business (and cut day to day hassles), start reading my newest blog – Innovate Builders Blog. It's packed with ideas you can use now. Click here to Sign Up for the Innovate Builders Blog.
---
Mike Foti
President of Innovate Building Solutions a nationwide supplier and regional (Cleveland and Columbus) remodeling contractors. Some of our product lines include glass counters, floors, backsplashes, glass blocks and grout free shower and tub wall panels
---