7 Steps to Create a Contemporary Bathroom Which is Easy to Clean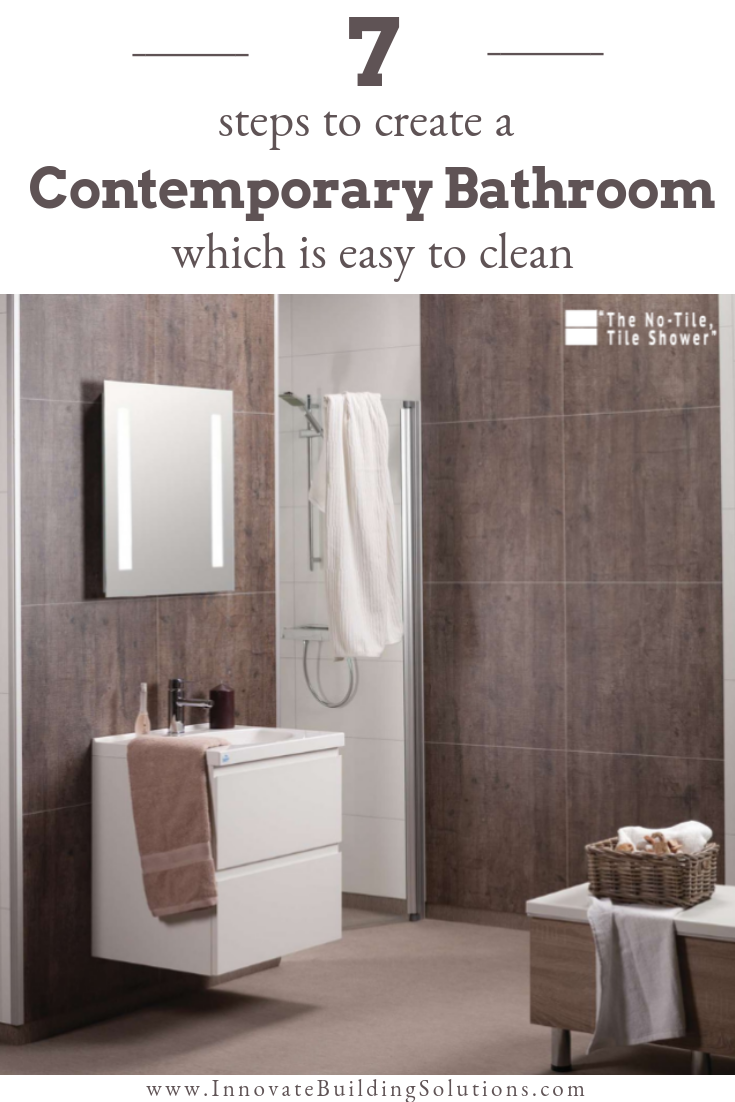 Updated March 24, 2019
If your bathroom is stuck in a Brady Bunch (or worse yet, Leave it to Beaver) time warp, I totally understand your pain. Here is a small sampling of the problems I hear from customers and see on project sites:
Little mosaic tiles on your shower floor which look as dirty as your dog after rolling around in the mud.
Cheap vanity cabinets with dated swirly marble tops and doors half falling off.
'High quality' (sarcasm intended) framed sliding glass doors sitting on your tub. They're not only hideous but can cause a slip and fall and be an ER visit if your mobility is not the greatest.
Let's face it, your bathroom hasn't aged gracefully. It looks OLD and dated!
And to capture the famous words of your Mother, "You've had it up to here (wherever 'here' is exactly) with your outdated, hard-to-clean bathroom. You're determined to transform it into a contemporary space – if it's the last thing you do.
The challenge is – where to begin? What products should you use? What products should you avoid like the plague?
In this article, I'm going to dish out 7 steps to create a contemporary bathroom which is not only stylish, but simple to clean. After all a cool looking space which is hard to keep up, eventually becomes a pain in your butt. I'll also let you in on a secret. I'm going to use this 7-step process to help my wife Rose and I plan for the 'empty nester' home we're beginning to think through (I can't believe almost old enough to be an empty nester. How did that happen?).
Step #1 – Don't buy 'dumb products'
What's the old saying, "Fool me once shame on you, fool me twice shame on me." While in your head this saying is simple, practically I've seen people repeat the errors of the past in bathroom remodeling projects. I'll give you 3 examples:
Example #1 – You 'settle' for a tile shower because that's what your remodeler installs.
Shower grout joints are 'the Joker, the Penguin and the Riddler' (i.e. the enemy for those of you not old enough to pick up the Batman analogy) of a shower stall. They're evil. They need to be avoided.
However, your bathroom remodeling contractor may 'force' you into doing tile. Here's why. It's what they do all the time, and they have subcontractors to install the tile as well.
Your problem is after the remodeler has left, you're the one holding the bag (or should I say the scrub brush) cleaning those doggone tile joints.
Don't 'settle' for tile. Skip to step 3 for a strategy to get a stylish bathroom and blow up the need for tile (at least on the walls).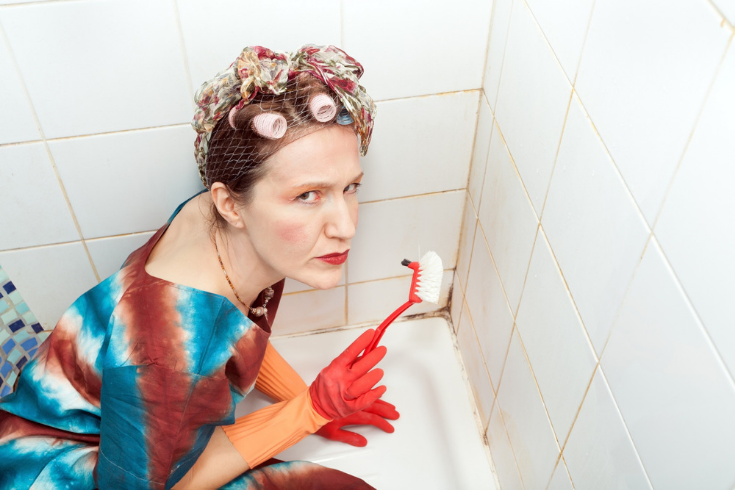 Example #2 – You use a traditional 4" to 5" tall step over shower curb
Since most of us won't claim to be psychics or prophets (and if you do claim to be either of these, I'm not drinking any of your Kool-Aid!) we have no idea what the future holds. Our health is not in our hands. As a 58-year-old guy who runs 1 hour a day and didn't have any real health challenges I can tell you I was surprised when I had a heart attack 2 years ago.
When designing your contemporary bath, think beyond today. Ask, 'will my shower work if my mobility or health takes a turn for the worse?"
If you agree to using a shower pan with a 4" high step over curb it can be the reason you end up removing your entire shower system in later years. Jump to step #2 for ideas to stay away from the need to 'remodel your remodel' (i.e. spend money twice).
Example #3 – Only using a stationary shower head
There is nothing wrong with a stationary (i.e. the one you  see attached to the wall) shower head unless you want to create a contemporary walk in shower in a small space, or a simple way to clean your shower. Here's why stationary shower heads aren't the end-all, be-all.
Stationary heads are inflexible.
Stationary heads sprays gusts of water directly at you which can move water where you don't want it to go in a walk-in design.
Take a peak at smarter shower head options in Step #6.
Step #2 – Keep your shower floor on the 'down-low'
In today's fashion-forward contemporary bathroom designs the keys are simplicity, clean lines and flawless functionality. You want design which is uncluttered. You want design which works.
So, if you start (literally) from the bottom of your bathroom – with the floor and shower pan –you'll want to create a space which is simple to get around and clean. Here's two ideas to move towards this goal.
Install a one level bathroom (aka a wet room). In a one level bath your entire floor (including the shower pan) is at one level. The advantage of this system is it's safer to get into the shower, it eliminates seams and makes cleaning easier. The biggest reason contractors and owners aren't doing one level rooms today (IMHO) is simply a lack of knowledge.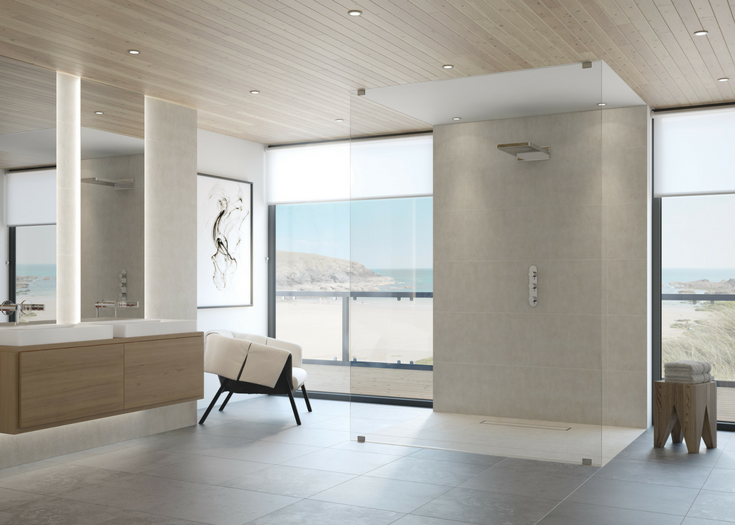 Go modern and minimalist with a low threshold shower base. Modern shower pan designs have clean lines, are lower to the ground and hide the ugliest element (the shower drain). An ugly bulky shower pan doesn't fit contemporary designs. Don't settle for the first shower base your contractor grabs out of a big box store.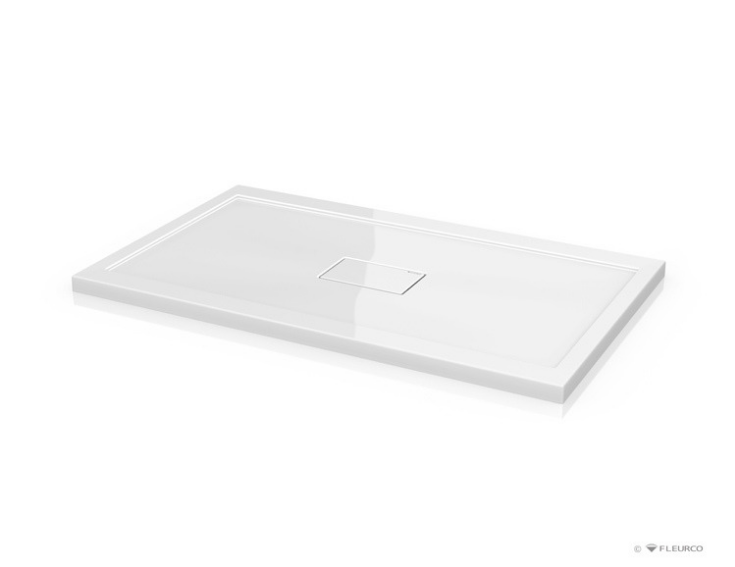 Step #3 – Use high-style contemporary bathroom wall panels   
Do you love contemporary, modern, minimalist or Mid-Century tiled bathrooms but also HATE grout? You're not alone.
The question is…how to have a contemporary bathroom and blow up grout joints?
The answer is….'The No Tile, Tile Shower.'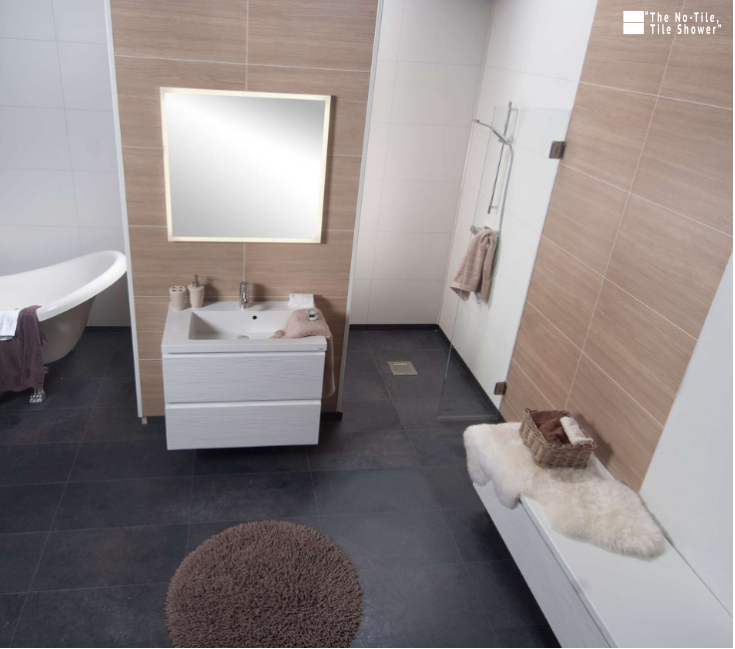 Using 2' x 8,' simple to install, tongue and groove bathroom wall panels you'll get a contemporary tile look AND can chuck your scrub brush. These panels come in tile, stone and high gloss designs.
Enjoy your tile look, chuck the grout joint.
Step #4 – Choose glass which isn't a pain in the *ss
For those who know me well, you know I stopped swearing 15 years ago (that's why I couldn't spell out the 'a' word in the headline of this step). The reason I stopped swearing is I heard it makes you sound dumber. I need to avoid sounding dumber at all costs. You see, I lost too many brain cells in college with my Kappa Sigma brothers at Carnegie-Mellon University (sorry to digress, now back to helping you).
Many old bathrooms have rusted, pitted or stained chrome or brass framed showers stalls. They're not only hideous, they're a royal pain to clean when hair and dirt find their way into the bottom shower door track (can you relate?). Cleaning the shower track isn't something you'd wish on your worst enemy (although you may wish it on your most despised politician!).
Choosing an easy to clean, contemporary glass shower system visually opens up the bathroom and allows you to show off your cool bathroom wall panels (or tile job). The question is, what glass systems aren't a pain in the *ss to clean? Here's 2 to put on your list:
3/8" thick clear frameless glass enclosures with glass surface protection – Clear frameless glass minimizes metal and makes your bathroom feel bigger. Use a glass surface protection coating (one product is called Microtek) so cleaning is simplified.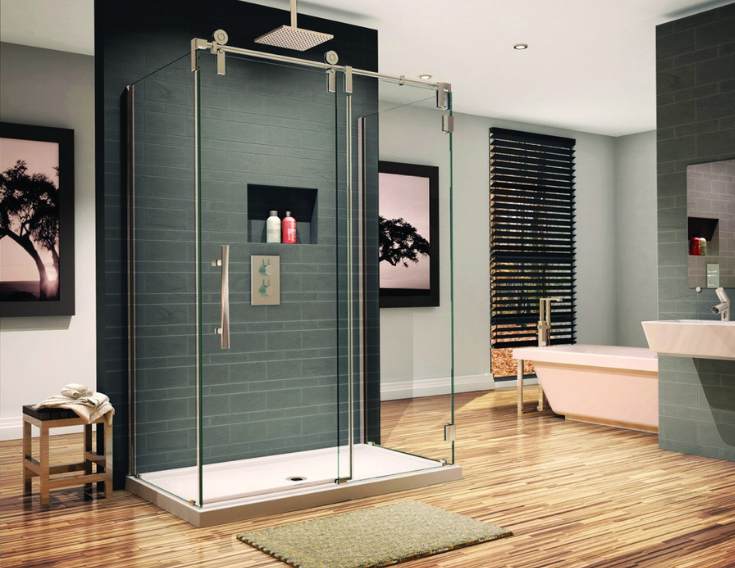 Modern glass block walls – I know what you're thinking, "That's an old-school material." My answer is – yes and no. When you get one wavy block stacked on another it is traditional (and doesn't fit contemporary designs). However, when you see new-age blocks used in chichi boutique hotels (see below), you'll see this isn't your Fathers glass blocks any more.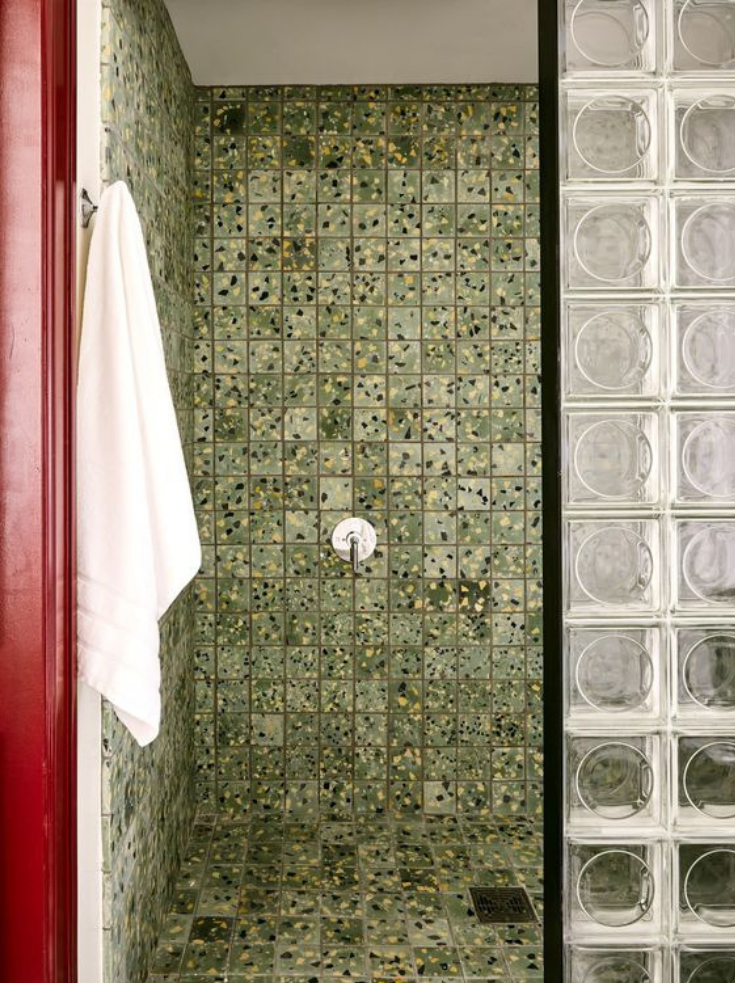 Step #5 – Remember to hang stuff up   
I can still hear my Mom say, "Michael, hang up your coat. Quit dropping crap on the floor." Then she would sarcastically say, "The maids are on vacation today."
While Mom's advice to me I viewed as parental nagging when I was growing up, it's actually smart thinking when it comes to contemporary bathroom design today. If you're confused where this analogy is leading, I'll lay it out. Today if you have a vanity cabinet or toilet resting on the bathroom floor, it's not only difficult to clean around, but in some cases the bottom of the particle-board based cabinet is deteriorated as well.

To eliminate these problems (and get a cool clean-looking shower) consider my Mom's (and I bet your Mom's as well) advice and 'start hanging your things up." Hang up your vanities (also called a floating vanities). Hang up your toilet (AKA a wall hung toilet).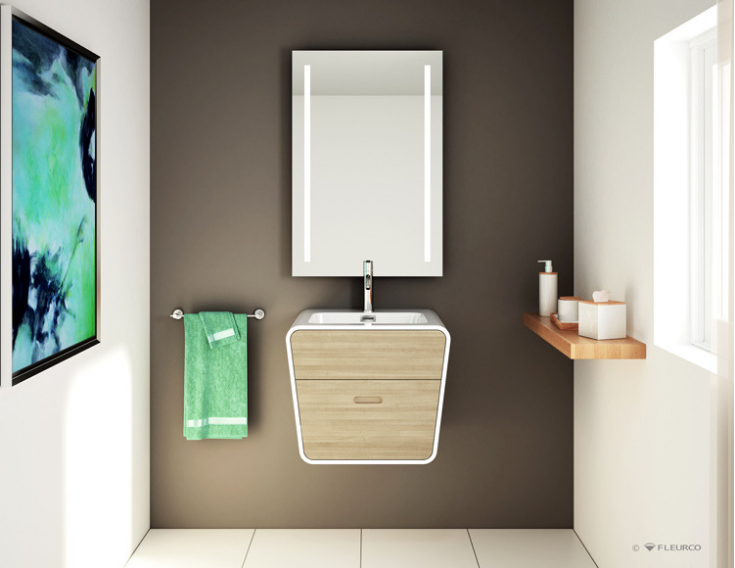 They're modern and simpler to clean underneath. They're stylish. They make your bathroom look bigger.
Step #6 – Expand your thinking about shower head options
You want flexibility. You want options. Whether you're dealing with people – or shower heads – being as inflexible as a nutty participant on the Dr. Phil show isn't a good look.
When you think of showers the standard fixed wall mounted shower head isn't very flexible. It blasts water at you in a straight line.
Often the straight blast of water works perfectly (for example when you need to get ready quick in the morning in a shower enclosure). However, it's a bad idea when you have a small walk in shower – and water comes rushing out on the bathroom floor. Or it's a bad idea if you want the relaxing spa-feeling of water 'raining' on your head.
To add flexibility to a contemporary bathroom, and get upgraded usage out of your shower head systems, you'll want to 'mix things up.'
The first way to mix things up is to use a diverter with a hand-held shower and a fixed shower head. Switch to the hand-held fixture to clean in tough to get to spots (note – this can be helpful for someone who is mobility challenged), to clean the shower itself and/or to clean the Fido (or insert your dog's name here).
A second way to gain flexibility and mix things up is to add a rain head. When you're not rushing to work, you can enjoy a relaxing shower with the feeling of rain coming down on you. Who doesn't deserve some pampering?
Step #7 – Top off your vanity the right way
Vanity tops with vessel bowls used to be the rage. That was UNTIL you figured out, they're a pain to clean. Using a toothbrush to clean between the bowl and the countertop isn't fun (not to mention trying to wash your hair in a vessel sink isn't pretty).
Contemporary bathroom design is about cleanliness and simplicity.
Get a clean look by simplifying your countertop. One way is to make sure the top and the bowl are one integrated unit. You need to think differently than 'back in the old days.'
For example, back in the 'old days' (the late 1980's) when Michael Douglas (playing Gordon Gekko) in Wall Street uttered the famous line, "Greed is good," that aggressive business philosophy some believed was the right way to think. In today's contemporary bathroom design I would argue the operative design catch-phrase needs to be 'simplicity is good.' When it comes to vanities – simple is where you want to be.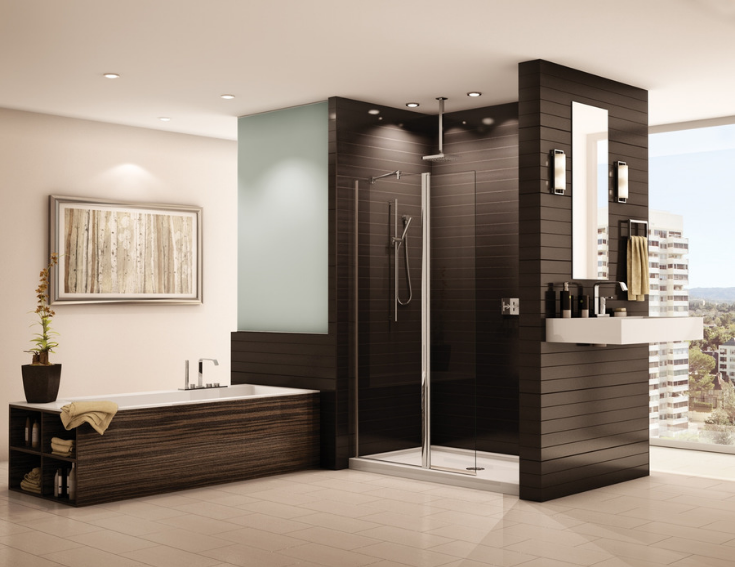 Conclusion
My hope is this article gave you 2 things. The first is hope. The second is the beginning of a plan for a contemporary bathroom.
I want you to have hope there is a cure for your outdated bathroom.
I want you to have hope you can cut maintenance and get a cool, contemporary design.
I want you to see a plan which will allow you to enjoy a relaxing bathroom, which doesn't force you to your knees cleaning it.
If you want more input on contemporary products for your bathroom (items like shower wall panels, wall hung vanities, one level wet rooms, and frameless glass enclosures), or design and installation expertise call us at the numbers below or click here for a free design consultation. Me and my team would be glad to help.
###
For Nationwide supply of tub and shower wall panels, shower enclosures and shower bases call Innovate Building Solutions at 877-668-5888. For a remodeling project in Cleveland contact Cleveland Design and Remodeling at 216-658-1270 or in Columbus The Bath Doctor at 614-252-7294.
If you're a remodeler or builder and want practical advice on remodeling products, industry trends, marketing and sales tips to grow your business (and cut day to day hassles), start reading my newest blog – Innovate Builders Blog. It's packed with ideas you can use now. Click here to Sign Up for the Innovate Builders Blog.
If you want more advice (or like wacky humor) follow me on Twitter @Mike_Foti or my companies @InnovateBuild or @InnovateHomeOrg.
---
Mike Foti
President of Innovate Building Solutions a nationwide supplier and regional (Cleveland and Columbus) remodeling contractors. Some of our product lines include glass counters, floors, backsplashes, glass blocks and grout free shower and tub wall panels
---