7 Essential Tips to Design an Easy to Clean Modern Farmhouse Bathroom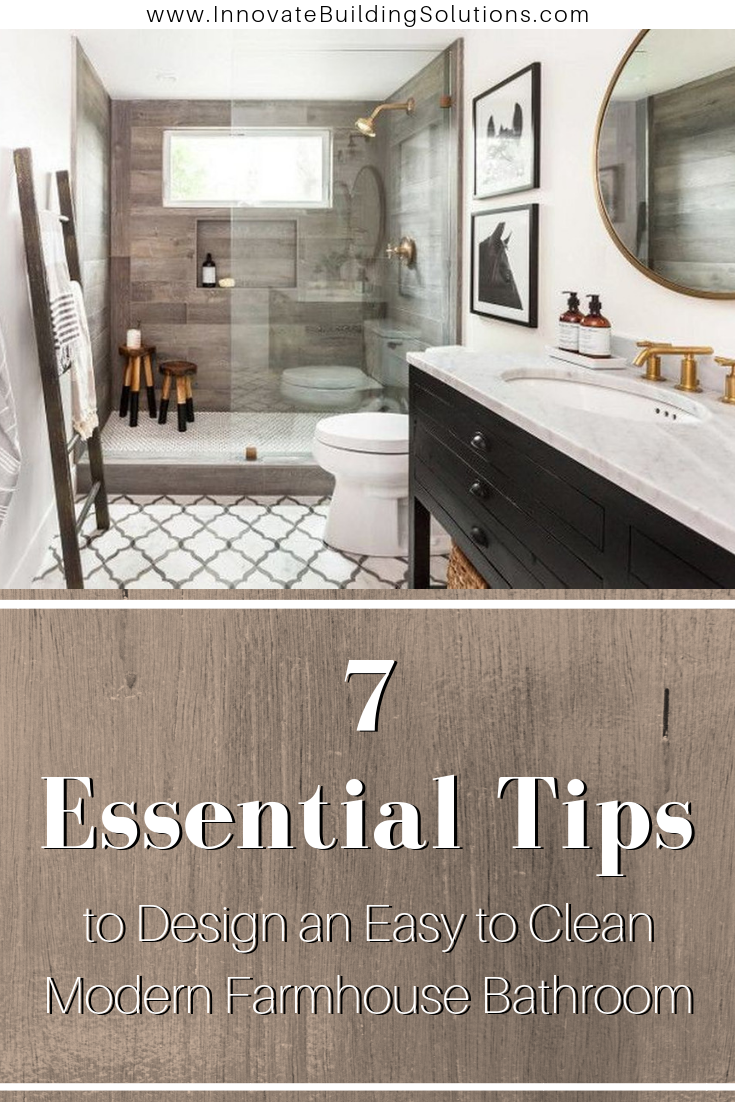 Updated March 31, 2019
Warm, cozy, relaxed, vintage and inviting. All qualities associated with a Modern Farmhouse bathroom.
Nowhere in these 'good qualities' are the downsides associated with vintage, distressed and older elements in a bathroom. These negatives would be scrubbing, re-painting, replacing old wood or moldy tiles. The reality is, if you're not smart designing your Modern Farmhouse bathroom, you'll end up with a high-maintenance space as moisture and dirt invade.
Vintage and rustic are good. Old, worn and rotten are not.
Here's your challenge. How do you get the best of both worlds – a vintage, rustic look AND a bathroom which cuts down time-eating maintenance?
In this article my goal is to move you towards the best of both worlds. Modern farmhouse old-world rustic charm with easy cleaning. After all you live in a time-starved world. Towards that end I'm dolling out 7 essential tips to get you there. Let me know which tip helps you the most, other tips you'd like to add, and additional questions you have. Let's get to the ideas.
Tip #1 – Get the distressed modern farmhouse look without 'de-stress' of shower walls which are a cleaning nightmare  
Arguably the most difficult place to clean in a modern farmhouse bathroom (or any bathroom for that matter) are the shower walls. After all your shower stall is the 'business' part of your bathroom. It's wet. It's dirty. Grout joints in tile walls and shower floor pans can be dark, moldy and disgusting.
Sure, your tile shower surround walls 'looked' wonderful the day they were installed. However, how do they look a year, or two or ten later? While you want a distressed, rustic vibe – dirty grout joints aren't what you had in mind.
So, how can you get a charming barn feel without the big-time maintenance of 'old' tile shower walls? It may sound like the impossible dream. It's not. Here's how.
Enter modern farmhouse shower panels. These laminated wall panels simply click, seal and lock together. They're not only simple to install (they come in modular 2' x 8' panels), they're also a 'summer-breeze' to maintain. Just clean them off with soap and water.
With fun textured faux-tile patterns like antique gray and rusted copper, you'll get the farmhouse warmth with ZERO maintenance.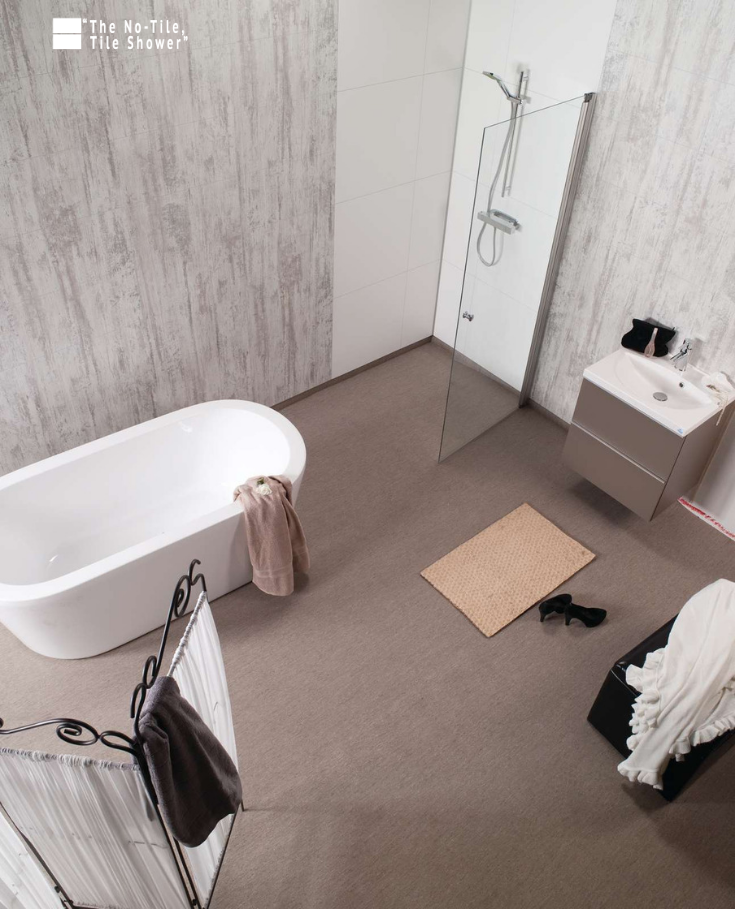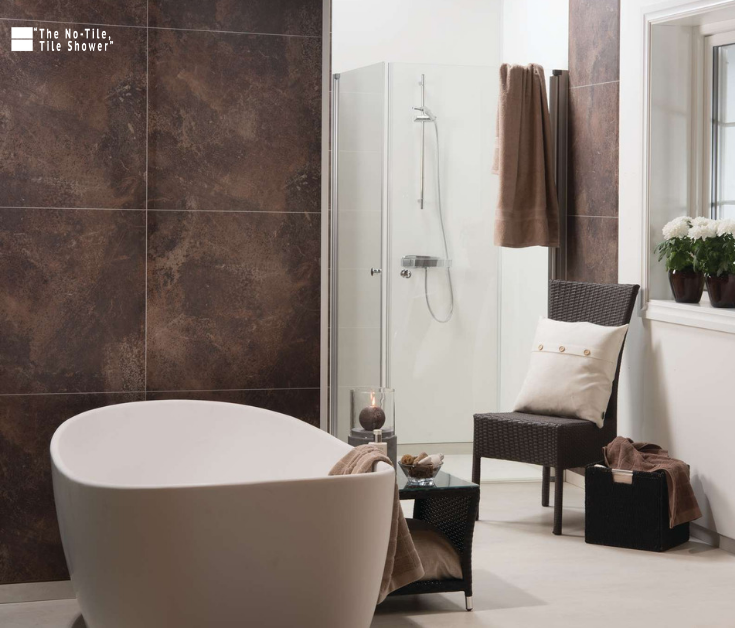 Tip #2 – Eliminate shower floor 'humps' which go bump in the night (or day)  
A clean Farmhouse bathroom is a simple bathroom. A simple bathroom is safe to use. A simple bathroom keeps your scrub brush tucked away – where it belongs.
One hard to clean, and unsafe part of the bathroom, most people don't notice (until it's too late) is their shower curb (AKA the threshold you step over as you get into the shower). The curb exists so the shower floor pan can be sloped, and water moves towards the drain (not onto your bathroom floor).
Most shower bases are equipped with ugly, bulky 4" to 5" high shower curbs. If someone in your family has mobility problems, you know how devasting a fall in the shower can be. Bulky shower curbs are an accident waiting to happen. Also, if the shower pan is tiled over – like most in Modern Farmhouse designs – cleaning around the crevices of this threshold is no fun.
The question is, is there a way to (a) eliminate the shower curb and/or (b) design it to cut down maintenance? The answer is yes and yes. Here's how.
First, eliminate your curb using a one level wet room system. Learn more about them by reading 5 Compelling Reasons You Need to Eliminate Your Shower Pan Threshold.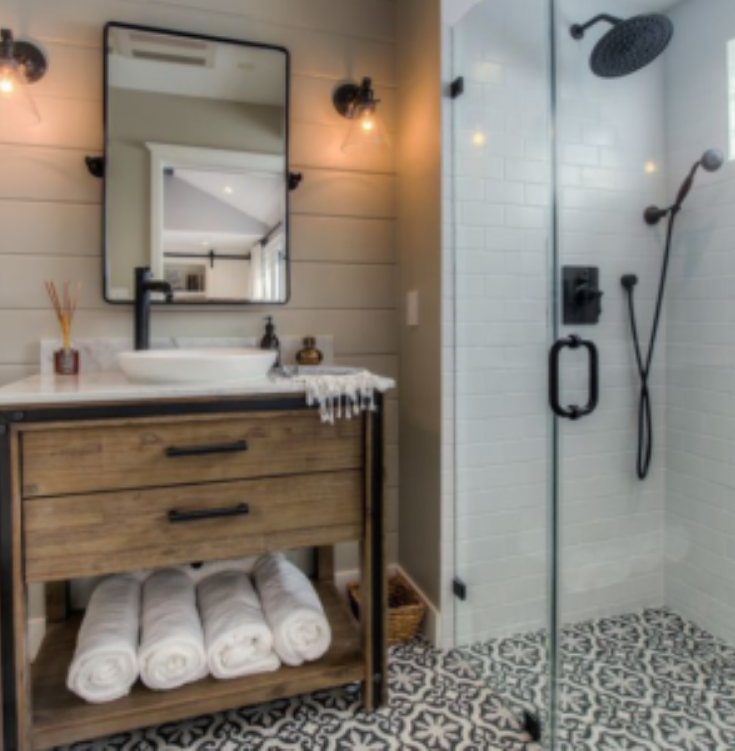 Second, you can blow up the maintenance of the shower pan by ditching the tile shower floor. One option is a low-profile cultured marble shower pan. They can be designed with lower curb heights (from 1 ½" to 2 ¾"). It makes them safer to get in, and stone floors are a cinch to clean.
Tip #3 – Use laminates, not wood for your bathroom floor
While nothing beats the look and warmth of natural distressed wood, using it on a bathroom floor in wet spaces is expensive and impractical. The question is how to create a distressed weathered look, at a good price, which holds up to water? Here's how:
Use reclaimed laminate flooring.
Some farmhouse design styles of laminate flooring include matte finishes and a wire-brushed textured look. Others are whitewashed wood-looking planks or marble tile designs. You'll get a cool style. You'll get your floor done for a reasonable price (or DIY it to save more). You'll get a product which withstands water. Sounds like a winning combination.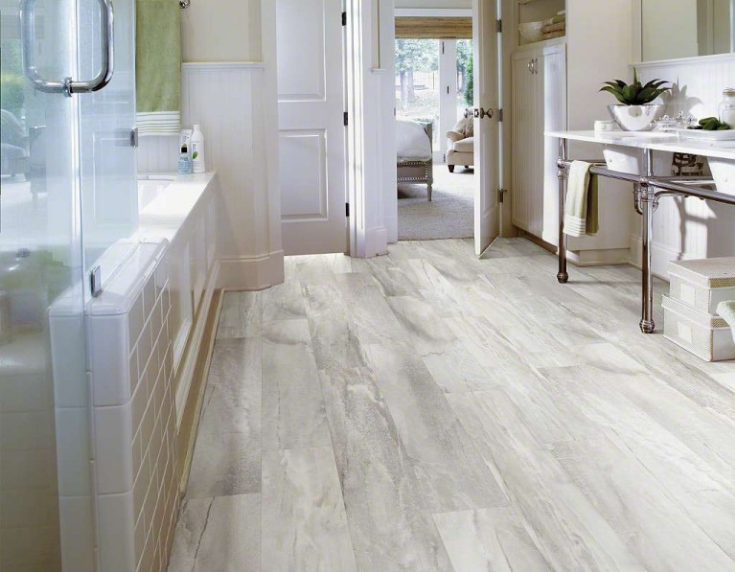 Tip #4 –Choose a paint type which is easy on you (and the planet)
If you're like most, you sweat as much as a 350 lb. Sumo wrestler in the ring choosing the paint color to decorate your Farmhouse bathroom. Chip after chip. The colors start running together. Don't ask your partner for their input either. They'll just stare back with a glazed and confused look.
While the paint color is critical for your decorating choices, the type of paint (i.e. whether it's matte, gloss, water or oil-based) is equally as important. After all, you want to make a selection which is simple to clean, easy to put on and won't be harmful to the planet or your family's health (i.e. it has a high VOC content).
When it comes to cleaning your bathroom the type of paint is more important than color. You want the barn feeling, not the barn maintenance. So, what's best?
While I won't claim to be a paint expert, the product which is consistently shown to be easiest to paint on is water-based latex. It's also the simplest to clean. It gives off the least amount of VOC's. That's a triple bonus!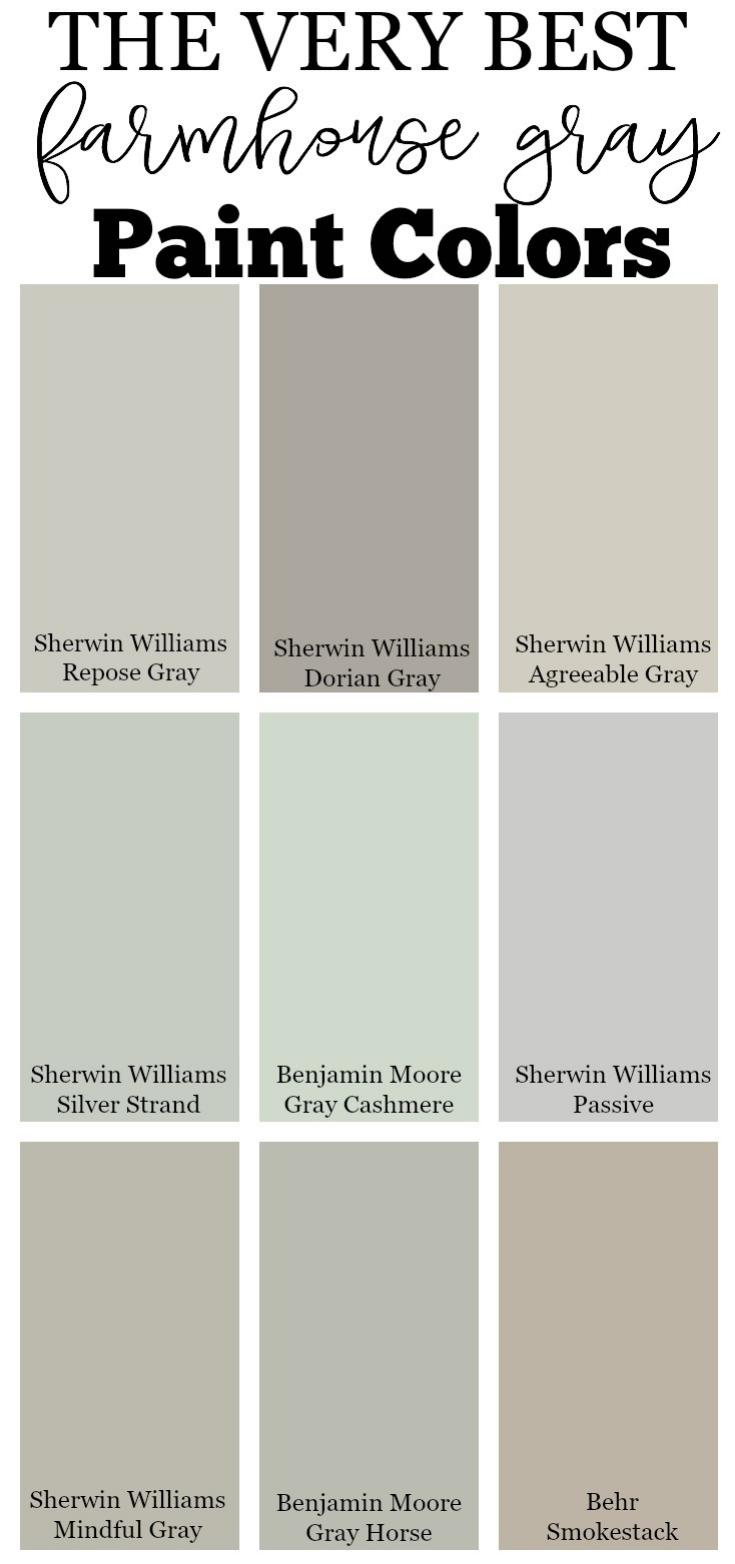 Tip #5 – Make sure your vanity top is as durable and simple (but hopefully more beautiful) than those old trucks parked outside a country barn
It might be nice (in theory) to use a wood vanity top with a vessel sink. However, these are bad choices because your farmhouse bathroom has to do battle. Battle with what, you may be asking?
A vanity top must battle against hot curling irons. It battles against cosmetics which stain. It battles against remnant puddles of water your husband or daughter leave behind as 'special gifts' for you.
You want a stylish countertop, but it's got to be durable and simple.
How can you get durability, simplicity and easy cleaning all in one? This will happen through the design and type of material you use.
If you've got a bigger budget natural quartz and marble are wonderful options. If you need a budget-friendly alternative cultured marble or cultured granite countertops will do the trick.

Top off (pun intended) your selection with an 'all-in-one' design having the vanity bowl and countertop as a one-piece assembly. You'll have a winning combination.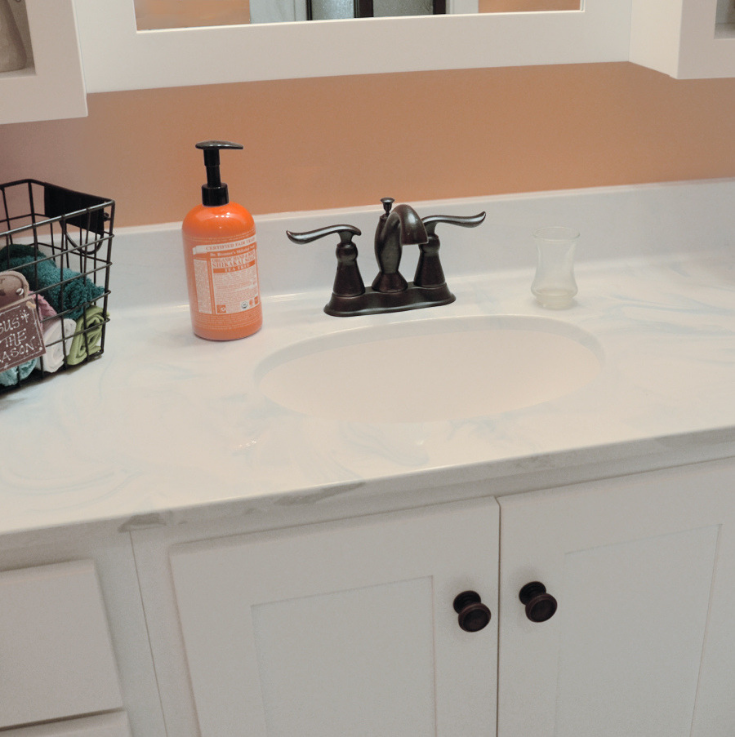 Tip #6 – Include this simple feature to beat the evil 3 M's – mold, mildew and moisture
It's hard (OK -it's impossible) to use a bathroom without water and steam. The problem is, it's that doggone water and steam which gunk's (that's my technical word of the day) things up. Water is the fuel for its evil stepbrothers – mold, mildew and moisture.
There's a simple 2-step process (even if you don't have the benefit of a bathroom window) to get control over the 3 M's. It's not a high-tech idea. Do the following:
 Step 1 – Install an exhaust fan which doesn't sounds like your Dad's '65 Chevy or his 1970 Plymouth Barracuda.
Step 2 – Turn on the fan (note – when my wife reads this she'll say, "Mike really, really, really needs to take his own advice").  
Tip #7 – Keep your light bulbs simple and your lighting fixture simpler
Do you have a lighting fixture in your house which brings out your 'inner Old Man Parker' from a Christmas Story (you know, the one which makes you start swearing up a storm)? You fight cleaning it. Changing light bulbs is a major pain in the butt.
In my house it's the hall light which brings out the 'Old Man Parker' in me. I have to 'try' to put 2 hands around the globe and twist it off while standing on a 6' ladder. It's an accident waiting to happen. I would never, ever let my Mom (AKA Grandma Carmie) attempt this feat!
In your farmhouse bathroom it's smart to look for a lighting fixture which is simple in design, and simple to clean. That's why I liked this DIY unit on the Liz Marie blog. It's straightforward. It uses standard bulbs which are easy to replace. It's simple to clean. It's the KISS method (Keep It Simple, Stupid) personified.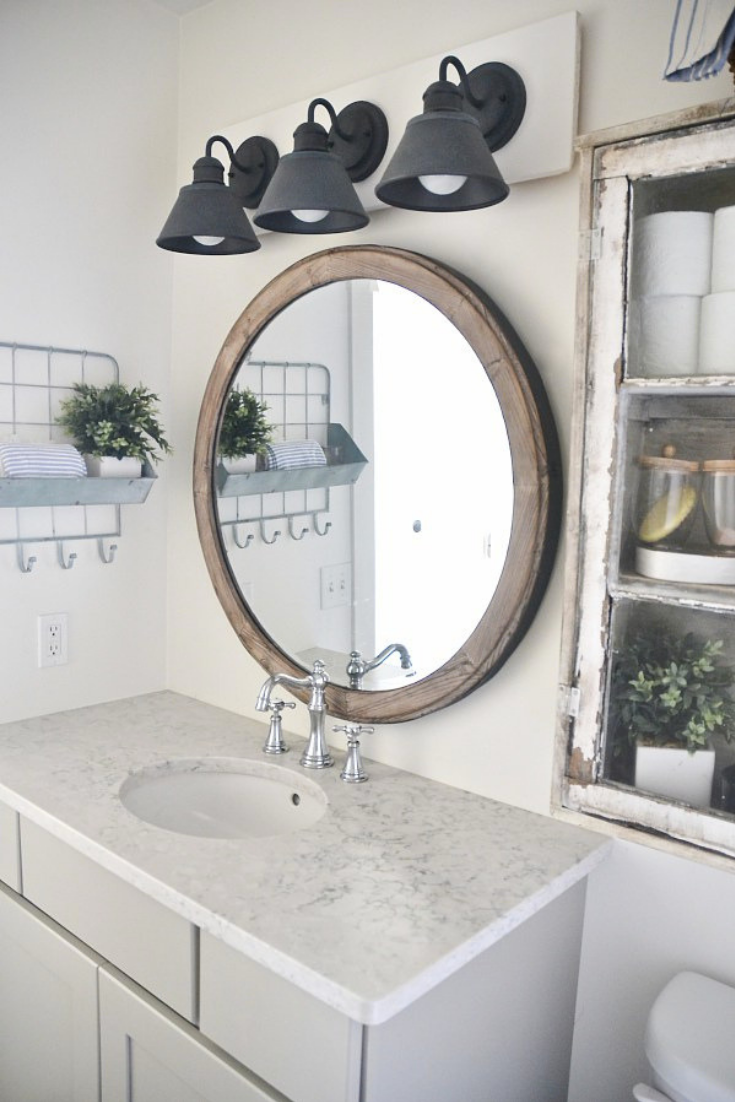 Conclusion
You want your farmhouse bathroom to look distressed. You don't want it to cause you stress.
You want your farmhouse bathroom to be rustic. You don't want it to be ratty.
You want your farmhouse bathroom to look natural. You don't its wetness to make it nasty a few years later.
I hope you've seen in this article it IS possible get the relaxed, distressed look of a farmhouse without resorting to real farm living and needing to wake up at 4 AM to clean it!
If you're looking for low maintenance shower walls, shower pans or vanity tops for your farmhouse bathroom anywhere in the U.S. of A call at the numbers below. If you're looking for a contractor in Cleveland or Columbus Ohio to make your farmhouse motif a reality, click or call the numbers below.
We're looking forward to helping you.
###
For Nationwide supply call Innovate Building Solutions at 877-668-5888. For a remodeling project in Cleveland contact Cleveland Design and Remodeling at 216-658-1270 or in Columbus, The Bath Doctor at 614-252-7294.
If you're a remodeler or builder and want practical advice on remodeling products, industry trends, marketing and sales tips to grow your business (and cut day to day hassles), start reading my newest blog – Innovate Builders Blog. It's packed with ideas you can use now. Click here to Sign Up for the Innovate Builders Blog.
If you're in the building business, click here if you'd like to learn how to become a shower wall panel dealer or call and ask for Mike at 877-668-5888.
If you want more advice (or like wacky humor) follow me on Twitter @Mike_Foti or my companies @InnovateBuild or @InnovateHomeOrg.
---
Mike Foti
President of Innovate Building Solutions a nationwide supplier and regional (Cleveland and Columbus) remodeling contractors. Some of our product lines include glass counters, floors, backsplashes, glass blocks and grout free shower and tub wall panels
---