The Pros and Cons of Shower Wall Panels vs. Ceramic Tile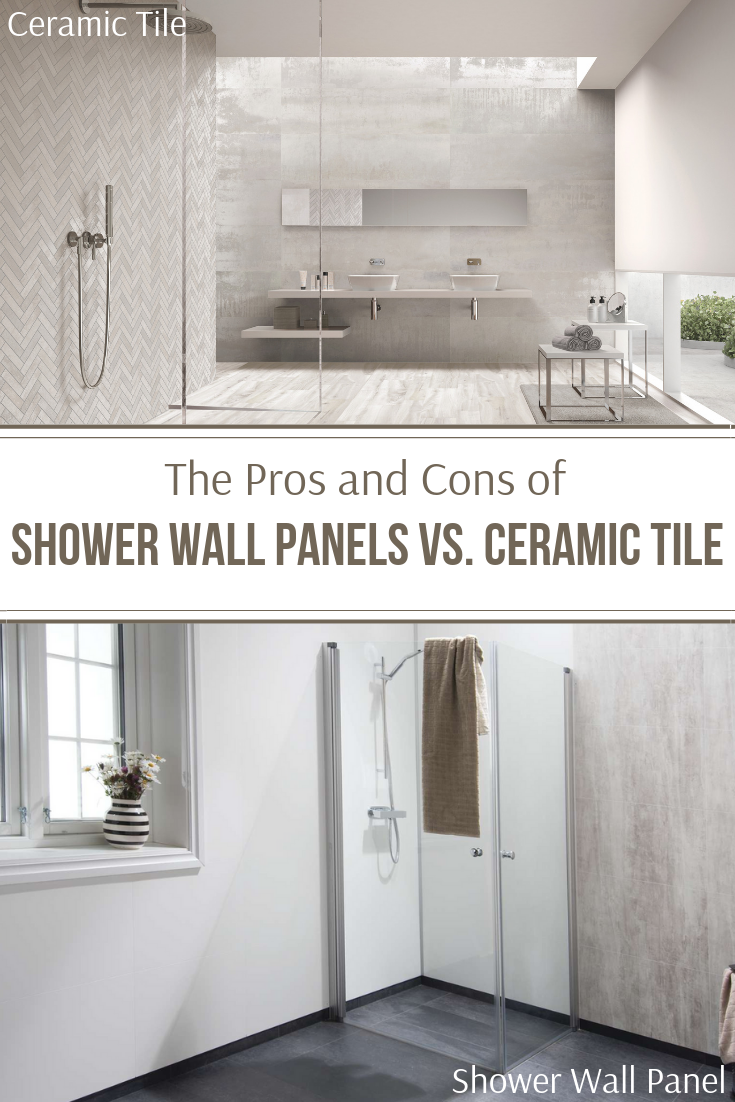 Updated January 28, 2023
You're tired of debating the subject with your husband Steve. You've argued whether it's better to use a waterproof, grout-free shower wall panel system or opt for a completely customizable ceramic tile shower. You want the wall panels (after all Steve's never picked up your way-too-used scrub brush) and he thinks the ceramic tile shower is far more stylish.
The question is, how can you end this debate? Do you and Steve really know all the points (and counterpoints), the positives and negatives of both choices? How can you wrap your arms around this debate and FINALLY get something done? You want to make a purchase and get on with your bathroom remodel.
In this article my goal is simple. It's to give you the pros and cons of shower wall panels vs. ceramic tile. Sure, I'll fess up and tell you I do have my favorite (and will reveal it at the end). However, there are things to like (and dislike) about each choice. Now, without further delay, let's take a look at the pros and cons of shower wall panels vs. tile.
The Pros (Advantages) of Shower Wall Panels Over Ceramic Tile  
(Advantage #1 of wall panels) No grout, no grout…and did I mention no grout?
Most people love the look of tile. Most people HATE the maintenance of grout joints. If you've got time on your hands (that's NOBODY these days) and enjoy a good round of scrubbing grout joints (or think the guy from your local Grout Medic franchise is cute and love to have him over for a service call) then ceramic tiles are for you.
If not, shower and bathtub wall panels will keep The Grout Doctor (and your scrub brush) away.
Get Free Samples!
Click here to request free samples of our Laminated Waterproof Shower Wall Panels.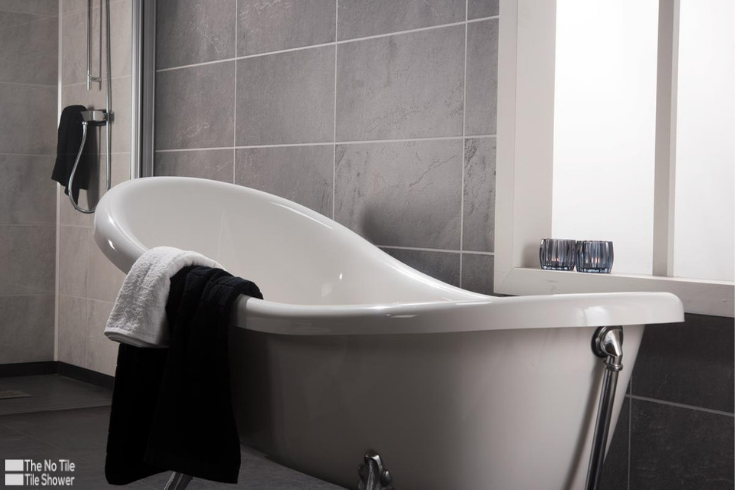 (Advantage #2 of wall panels) – Far quicker installation
Even if you LOVE DIY projects, wouldn't you rather be playing golf or tennis or enjoying time with your kids or grandkids than working away at a tile setting project? Tile showers can be a pain to install. Think about the steps involved:
First, with tile you have to put up heavy cement board underlayment (although you can also use lighter waterproofing systems like Wedi and Schluter – but they aren't cheap). Then you have to apply thin set, cut tiles and grout the wall.
In short, this process is a PAIN IN THE BUTT, time consuming, dirty and expensive!
No matter what wall panel system you choose the process is simpler. With many wall panel systems like acrylic, cultured stone, decorative PVC composite shower panels and high gloss you simply do the following:
1) Put up moisture resistant drywall
2) Apply adhesives to the wall panels or drywall
3) Hang the sheets up and seal the joints.
Get Free Samples!
Click here to request free samples of our DIY Shower and Tub Wall Panels.
You can even have a simpler process than this with laminated wall panels where the panels are attached to a low cost OSB board, sealed, trimmed and you're done.
If you want to spend more time remodeling your bathroom, choose tile. If you want to get in and out, shower wall panels are the choice for you.
(Advantage #3 of wall panels) A cleaner installation
If you're like me, when you go out to dinner you HATE getting dirty. That's why – although I love crab legs, I seldom order them because they're too much work (although I have to admit I think I look hot in those stylish white and red bibs they give you. Yes, I'm lying!).
With all kidding aside – some DIY remodeling installation are messy and dusty. Cutting tiles (whether its for your shower pan or wall surrounds), working with thin set and tile grout certainly belongs on the messy list.
Products like the PVC composite wall panels can be cut with a carpenter's knife.
With the laminate shower wall panels, you can use common woodworking equipment like a jig saw or circular saw (or track saw if you've got it).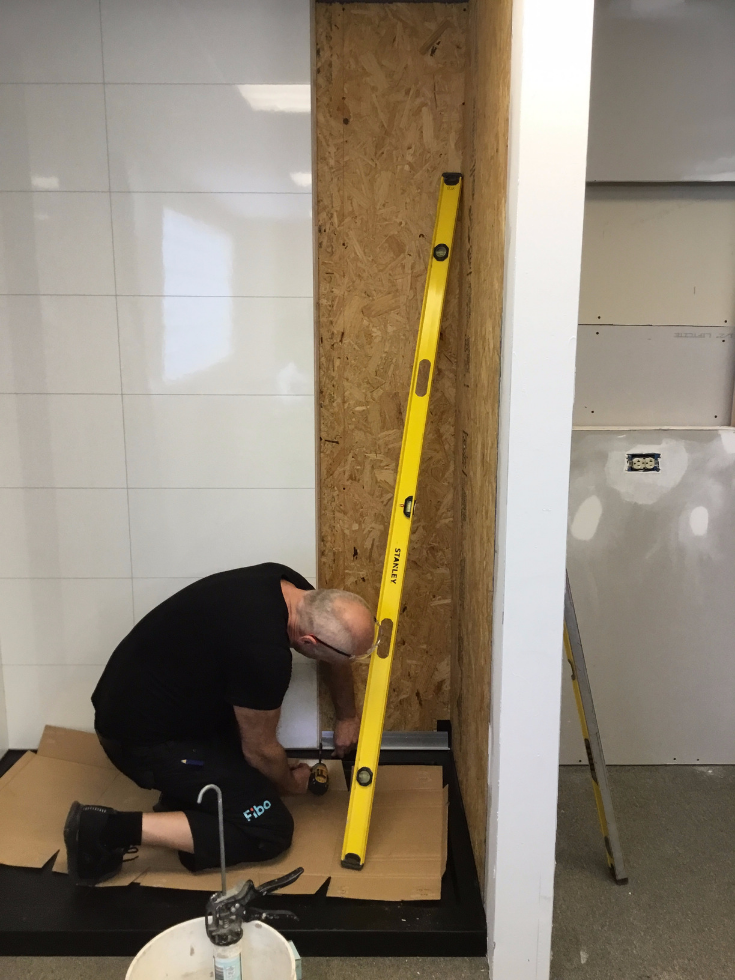 Bottom line – if you want less mess stay away from ceramic tile and the dust and cement-like adhesives which come with it. And if you want to make your life R-E-A-L easy – get rid of grout for the wall panels AND the shower floor pan with a grout free shower replacement kit.
(Advantage #4 of wall panels) Shower wall panels fit today's crazy, busy lifestyle
If you're like me (and my wife) you're running like a madman/madwoman. Picking up the kids. Taking care of elderly parents. Trying to keep up with your 'day-job' (which stretches into the night and weekends). Trying to squeeze in a little time for a quiet dinner alone.
The last thing you want to do is spend time cleaning your shower each morning. Since shower wall panels – by their nature – are non-porous, they can be simply wiped down IF you're a fanatic and like the clean the walls when you're done.
If you're like most people, with shower wall panels you can shower and get the heck out of there to get about your day.
With ceramic tile, if you do nothing to clean the walls, you'll eventually see visible soap scum, get dark and moldy joints. It won't take long for things to look YUCKY.
(Advantage #5 of wall panels) You'll (mostly) save money with shower wall panels vs. ceramic tile
If you've got boat-loads of money and can pay a professional high-end contractor to do a custom-tile job (and a grout company to clean it) more power to you.
However, for most people in the 'real world,' finding cost-effective products matters. This is where shower wall panels come in. They're often cheaper than tile.
Get Free Samples!
Click here to request free samples of our Laminated Waterproof Shower Wall Panels.
Now, I will tell you the prices of shower wall panels vary greatly. At the bottom – if you want cheap prices – you'll find fiberglass and acrylic panels. Sure, they look plasticky (IMHO), but if you want a quick-fix, or have a property you're looking to flip in a low-rent neighborhood, they're perfect for you.
If you want mid-priced wall panels (which will be slightly less costly than tile – depending on what tile you pick), decorative PVC wall panels, solid surface panels and laminate wall panels are sound choices. To get more input on sharp-looking shower wall panels in this mid-priced range read (or the click the image below) for the 5 Best DIY Shower Wall Panels You Can Buy Under $1,750.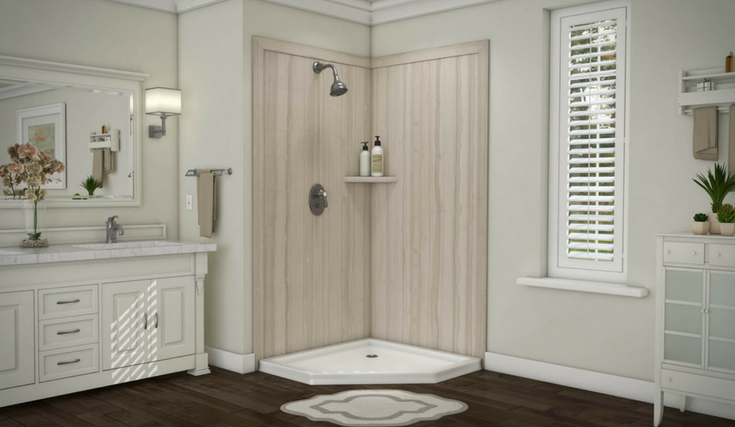 Lastly, if you're looking for an uber-sleek all glass look you can't get with tile but will give you the modern motif, then fork out the bucks for high gloss wall panels. They may be more expensive than the initial purchase price of tile (depending on what tile you choose), but they look waaaay cool, and you'll save maintenance costs down the road.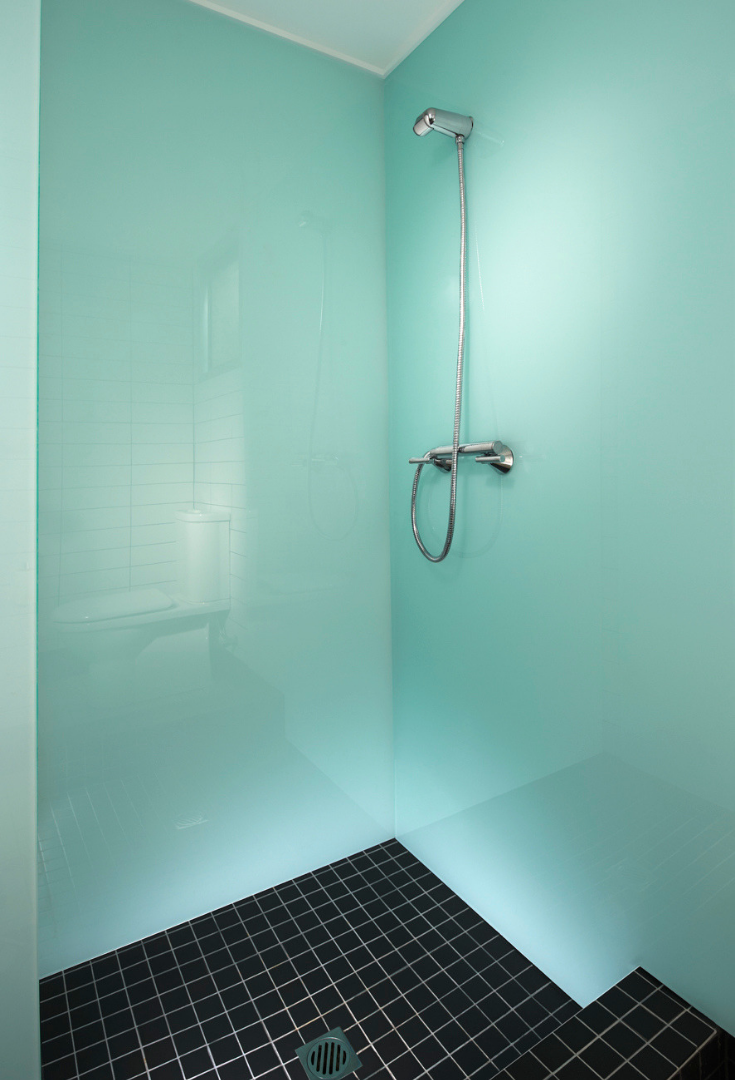 (Advantage #6 of wall panels) Shower wall panels can 'travel' well
Perhaps you're looking for a low maintenance wall surface for a tiny home. Or you want a lighter, simple to install shower surround for your houseboat or RV which won't fall off when your home is moving. In these instances, there's no doubt shower wall panels will kick the pants off ceramic tile.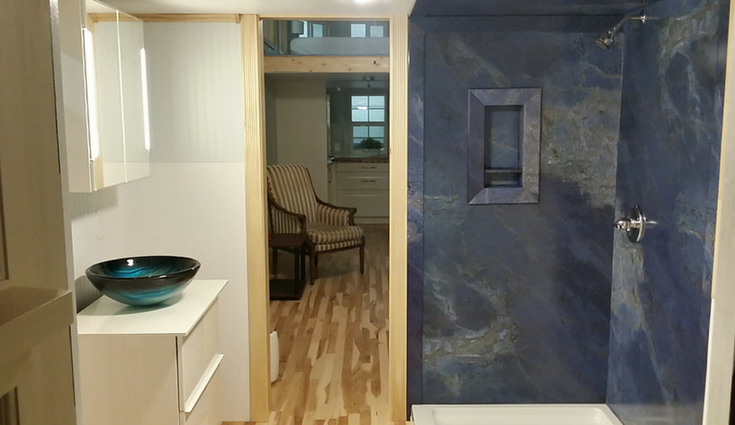 For these projects smart choices include the (low cost) acrylic or fiberglass. If you want more style and a realistic look the decorative PVC wall panels or laminate wall panels makes sense.
(Advantage #7 of wall panels) With shower wall panels you don't have to sweat 'springing a leak'
Grout joints in ceramic tiles absorbs moisture. I know what I just said isn't rocket science. You know this if you've lived through wet, spongy, moldy tile or shower walls you had to take down (or caused a leak onto your kitchen floor or expensive dining room table below).
Since shower wall panels are non-porous you can sleep well without worrying about leaking and spending money for a VERY expensive redo which not only includes ripping out and replacing the shower, but also your ceiling, subfloor and furniture below.  
The Pros (Advantages) of Ceramic Tile over Shower Wall Panels  
(Advantage #1 of ceramic tile) Some shower wall panels with 'faux grout joints' look as fake as the mold they were cut out of
When you see a plasticky acrylic wall panel which is 'supposed' to look like real subway tile, are you fooled?
When you see a cultured stone shower panel which is 'supposed' to look like real stone, do you say, 'this stuff looks better than the real thing" and brag to your friends about it?
I bet not. Molded shower wall panels with 'tile and stone' looks don't fool many people.
Ceramic tile is ceramic tile. It's the real thing.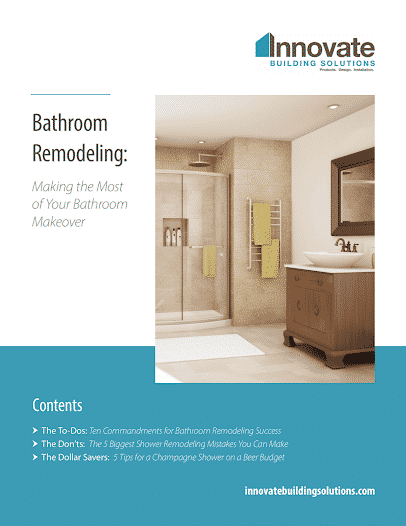 Bathroom Remodeling Ultimate Guide
Making the Most of Your Bathroom Makeover!
However, there is one shower wall panel – which in my opinion – gives you the realistic tile or stone look. It's laminate shower panels (also called 'The No Tile, Tile Shower'). These units have realistically indented grout joints – which have different colored faux grout joints than the 'tile surface.'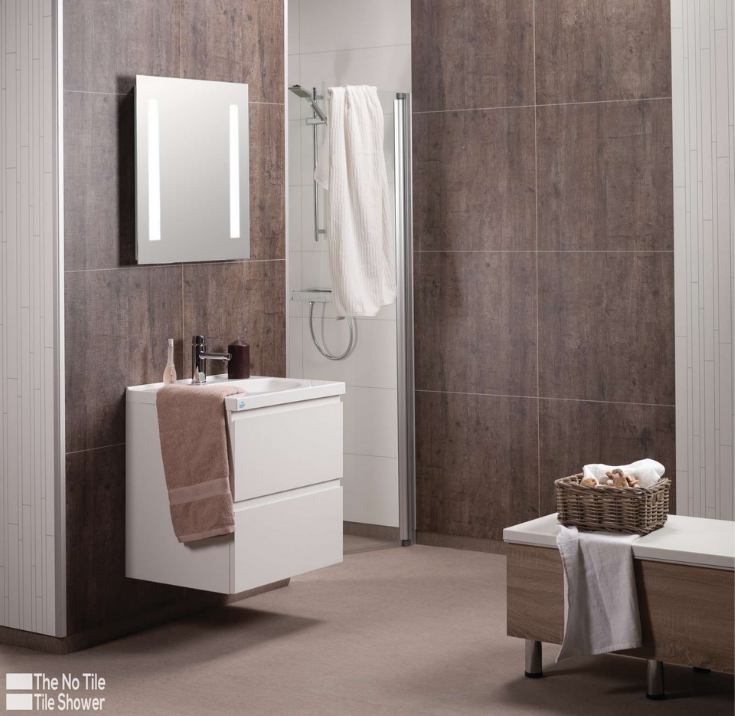 Of course, you know if you want an actual tile joint, you'll have to go with ceramic tile and manage the maintenance which comes with it.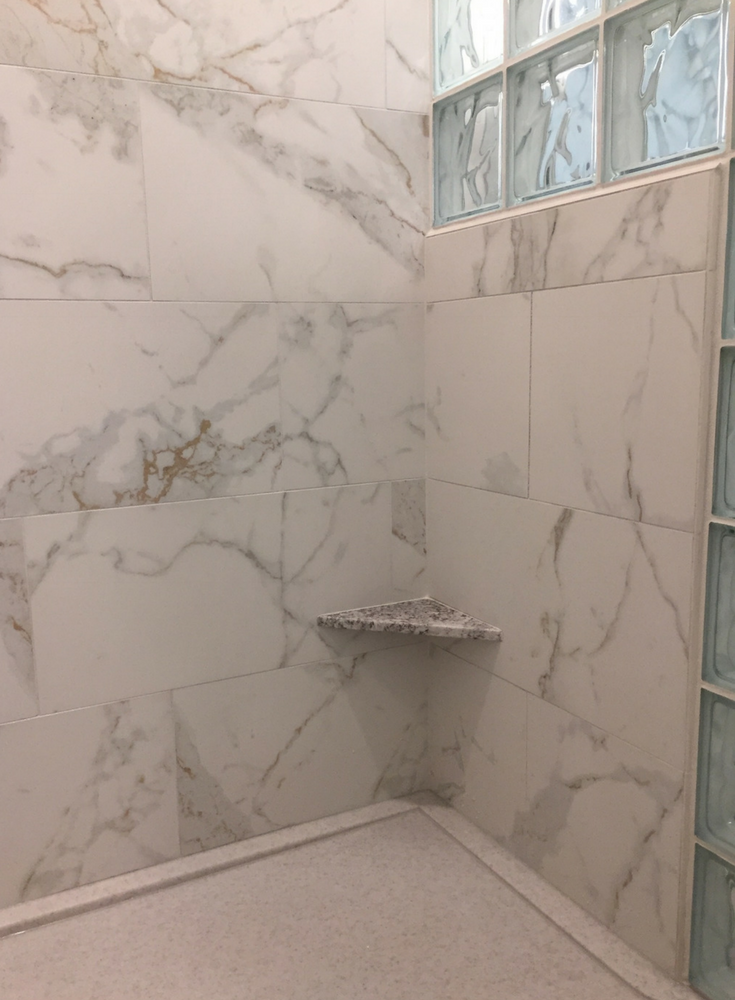 (Advantage #2 of ceramic tile) With ceramic tile shower you can always get what you want
If you're looking for a one-of-a-kind design – which is as distinctive as you, you can't beat ceramic tile. You can mingle infinite tile patterns together. You can put in-lays to capture a specific design period. You can add borders.
Ceramic tile is fully customizable. It can be cut and installed to your heart's desire.
Sure, you'll pay for this customization, but why are you hording your money anyway? Live a little. Enjoy your bathroom. Why leave all your money behind for your heirs? Go a little 'Burger King' and have it your way!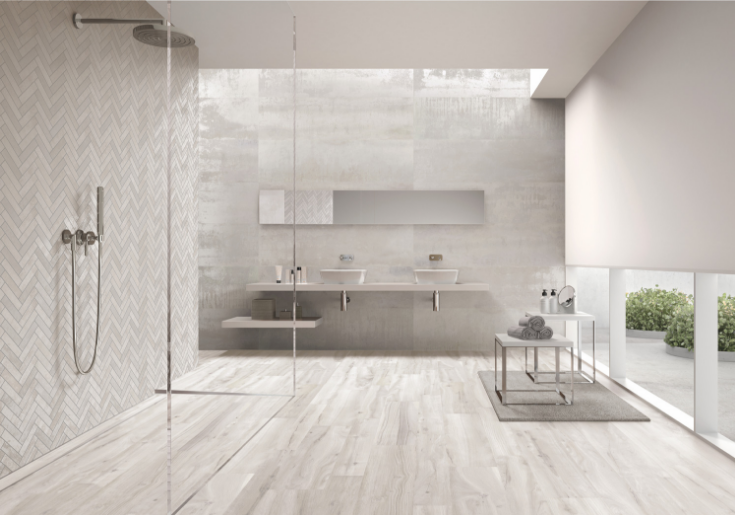 (Advantage #3 of ceramic tile) Some wall panels are heavy and a pain in the rear to get into the room
If you've ever lifted a 130 pound, 60" x 96" cultured stone shower wall panel, brought it up 2 flights of stairs, and tried to install it onto the back wall of a tiny 5' x 3' shower surround with a window, you know certain types of wall panels can be a pain to install.
When you've got tight spaces, it's simple to bring up boxes of tiles and cut them to fit. Sure, large shower panels are nice when they aren't too heavy (note laminate or PVC wall panels are simpler – and lighter- to install than cultured stone). However, if you're using solid surface walls or cultured stone, be prepared to eat your Wheaties.
On the other hand, when you're working in small spaces with lots of angles and cuts – tile (while time-consuming to install) will get the job done, quite nicely.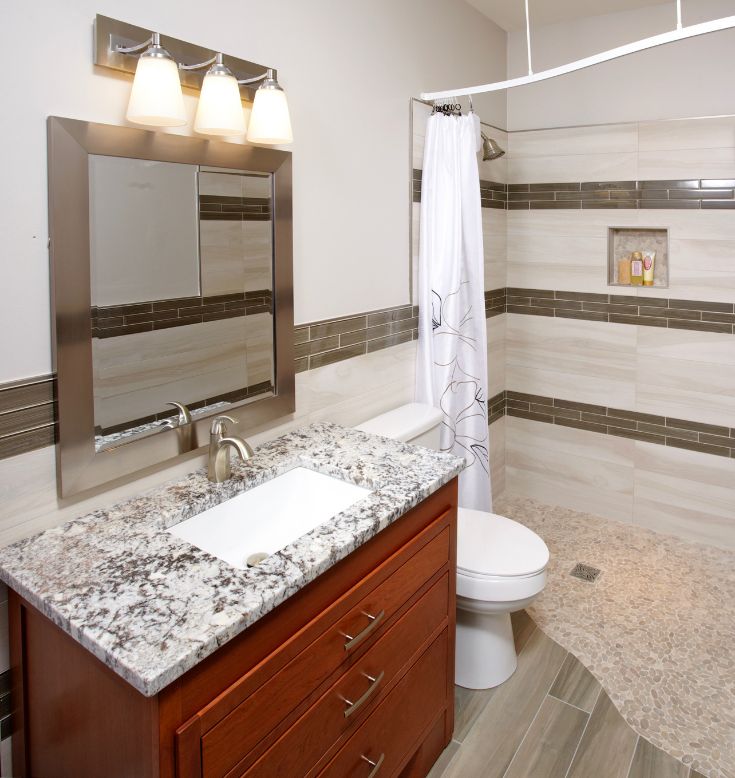 (Advantage #4 of ceramic tile) Some shower wall panel systems play 'hard to get' with consumers
Let's say you've decided in order to save money, you'd like to use the acrylic wall panels. Then you TRY to source these bad-boys. You'll find it's like negotiating with a monopoly. Local contracting companies and franchises who control these lines will refuse to sell them direct to you. They'll insist on scheduling a free in-home estimate. Their high-pressure Tin-Men-Esque salesman will brow-beat you to BUY TODAY an installed project before the sale is gone!
You just wanted to DIY your shower and save a few bucks.
With the ceramic tiles I swear you can literally go anywhere and find them (OK – the gas stations haven't started carrying ceramic tiles yet. However, you may see some boxes in the future next to their prepackaged sushi!).
You should note, not all wall panels play hard-to-get with consumers who want to DIY. Cultured stone panels are sold at home centers. Laminated wall panels can be purchased through authorized distributors who will ship them directly to your home.
(Advantage #5 of ceramic tile) Some shower wall panel systems look 'old school.' New tile patterns are coming out continuously
You want the latest Mediterranean mosaic tile design. You want super-large format tiles. You want a fish scale design. You want a vertically laid aqua-colored glass tile.
Since tile is such a HUGE market, and can be produced in small lot quantities, your desire for a niche style (no matter how weird it is) is out there for purchase.
Ceramic tiles can be as distinctive as you.
Now – don't completely discount shower wall panels as 'behind-the-times.' In the laminate line you can get Modern Farmhouse shower wall panels (or Transitionalist or Minimalist) which will get the Joanna Gaines seal of approval for their authenticity.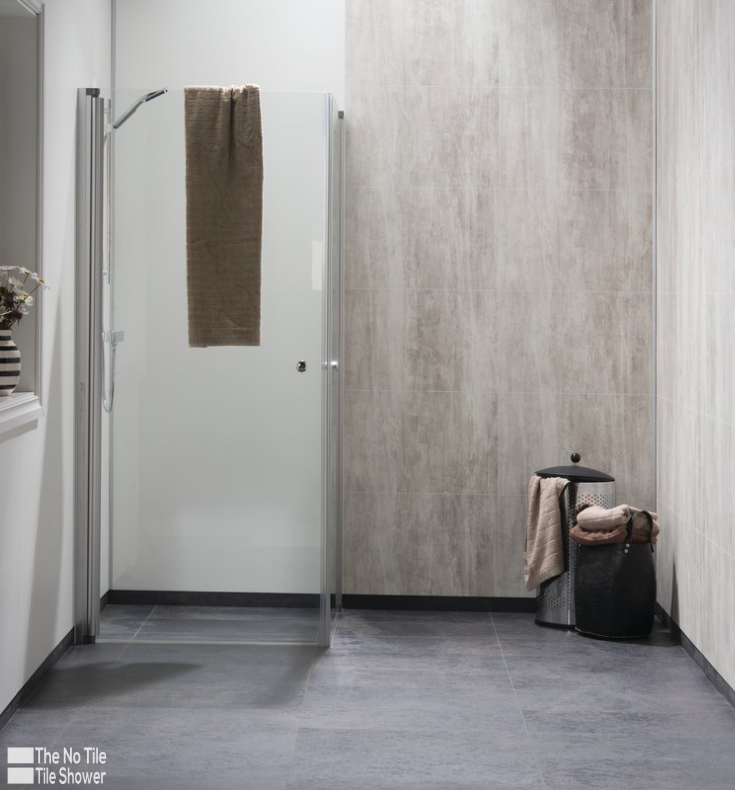 (Advantage #6 of ceramic tile) It's easier to work around a curved wall
While there aren't a lot of curved walls in showers, when there are (like in the case of a snail-shaped shower) they can be a dramatic. Mosaic tiles can easily be positioned to work around the curvature.
The only wall panel which has the ability to work around a curve are decorative PVC walls. While the curvature of these panels has its limitations, they can also add style without the maintenance of tile grout joints.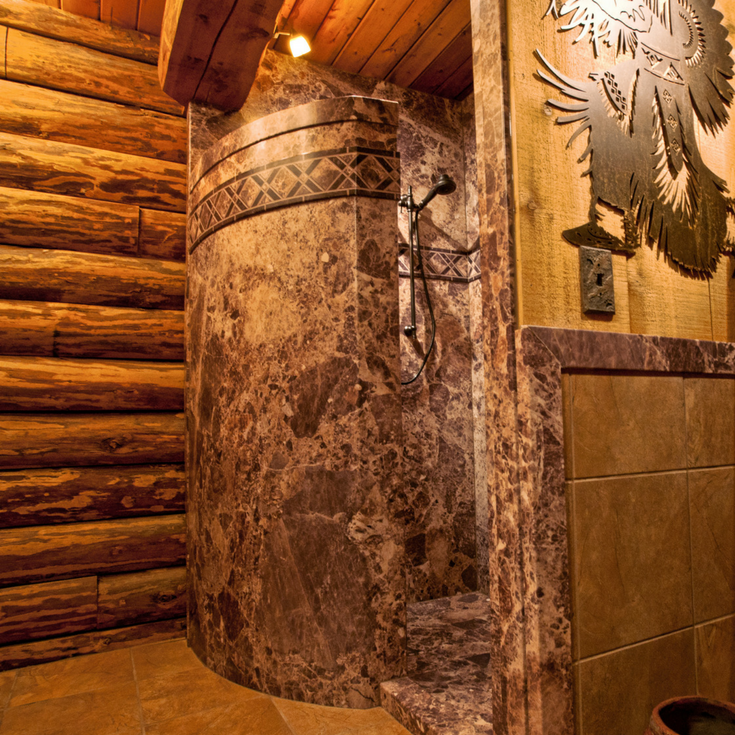 (Advantage #7 of ceramic tile) It's eco-friendlier than many of the shower wall panels
You're doing your best to make smart decisions for the planet. Natural building materials (like glass and ceramics) are a good place to start. Ceramic tiles and glass walls are smart choices for their durability and organic roots.
Wall panel products like one-day-acrylic shower walls and one-piece fiberglass surrounds aren't exactly the most green-friendly options for our planet.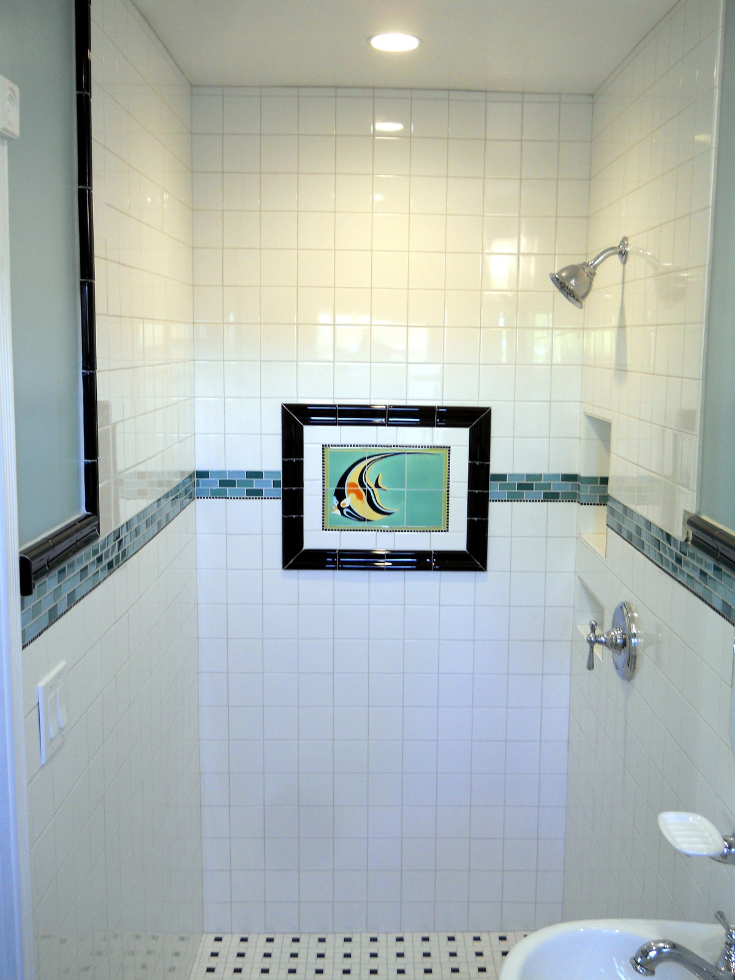 Conclusion
Now that you've sifted through the pros and the cons, and advantages and disadvantages of shower wall panels vs. ceramic tile is there one clear-cut winner to you?
I told you at the beginning I'd share my favorite. Since I'm a 'bit' (I'm being generous here) on the lazy side when it comes to my desire (or lack thereof) to do home maintenance projects, I'd go for the shower wall panels. I'll also admit my favorite shower wall panels are the laminate and PVC ones because they look cool and are simple to install. Acrylic and fiberglass are at the bottom of my list. They're too cheap and plasticky for my wife Rose and I to want to use them in our home.
Whatever you choose, it's always best to know the pros and cons of your possible options.
If you need help deciding between shower wall panels and ceramic tile, we'd love to help. Call the numbers or click the links below.
###
For Nationwide (or local) supply of shower wall panels, shower enclosures and shower bases call Innovate Building Solutions at 877-668-5888 or The Bath Doctor at 614-252-7294 in Columbus. For a remodeling project (using either tile or shower panels) contact Cleveland Design and Remodeling at 216-658-1270.
If you're a remodeler or builder and want practical advice on remodeling products, industry trends, marketing and sales tips to grow your business (and cut day to day hassles), start reading my newest blog – Innovate Builders Blog. It's packed with ideas you can use now. Click here to Sign Up for the Innovate Builders Blog.
If you're in the building business, click here if you'd like to learn how to become a shower wall panel dealer or call and ask for Mike at 877-668-5888.
If you want more advice (or like wacky humor) follow me on LinkedIn @MikeFotiLinkedIn or on Twitter @Mike_Foti or my companies @InnovateBuild or @InnovateHomeOrg.
---
Mike Foti
President of Innovate Building Solutions a nationwide supplier and regional (Cleveland and Columbus) remodeling contractors. Some of our product lines include glass counters, floors, backsplashes, glass blocks and grout free shower and tub wall panels
---