Top 5 benefits of contemporary high gloss acrylic walls for backsplashes and bathroom walls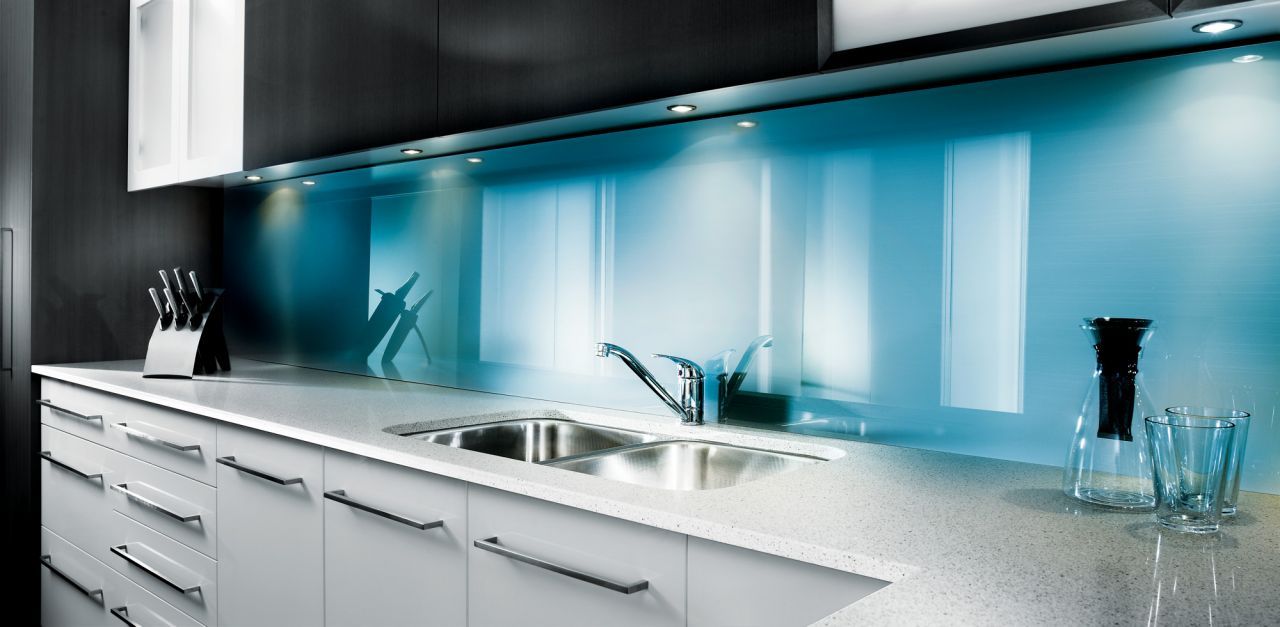 Kitchen backsplash in blue atoll color
If you're tired of the look and maintenance hassle of ceramic tile and grout joints you're not alone! While tile is still very popular, for those wanting low maintenance, contemporary kitchen and bath designs are steering towards new choices like high gloss acrylic walls. Learn more below about this product and its top 5 benefits.
What are high gloss acrylic walls and where are they used?  – High gloss acrylic wall panels are 5/32" thick, have a high gloss mirrored finish (much like back painted glass) with an integrated fused color layer. This material is coated with a micro-hard coat outer layer for scratch resistance and comes in a variety of sizes (including 39" x 96" x 60" x 72", 36" x 60" and 42" x 60"). They are used most frequently in kitchen backsplashes and tub and shower wall surrounds.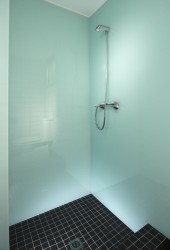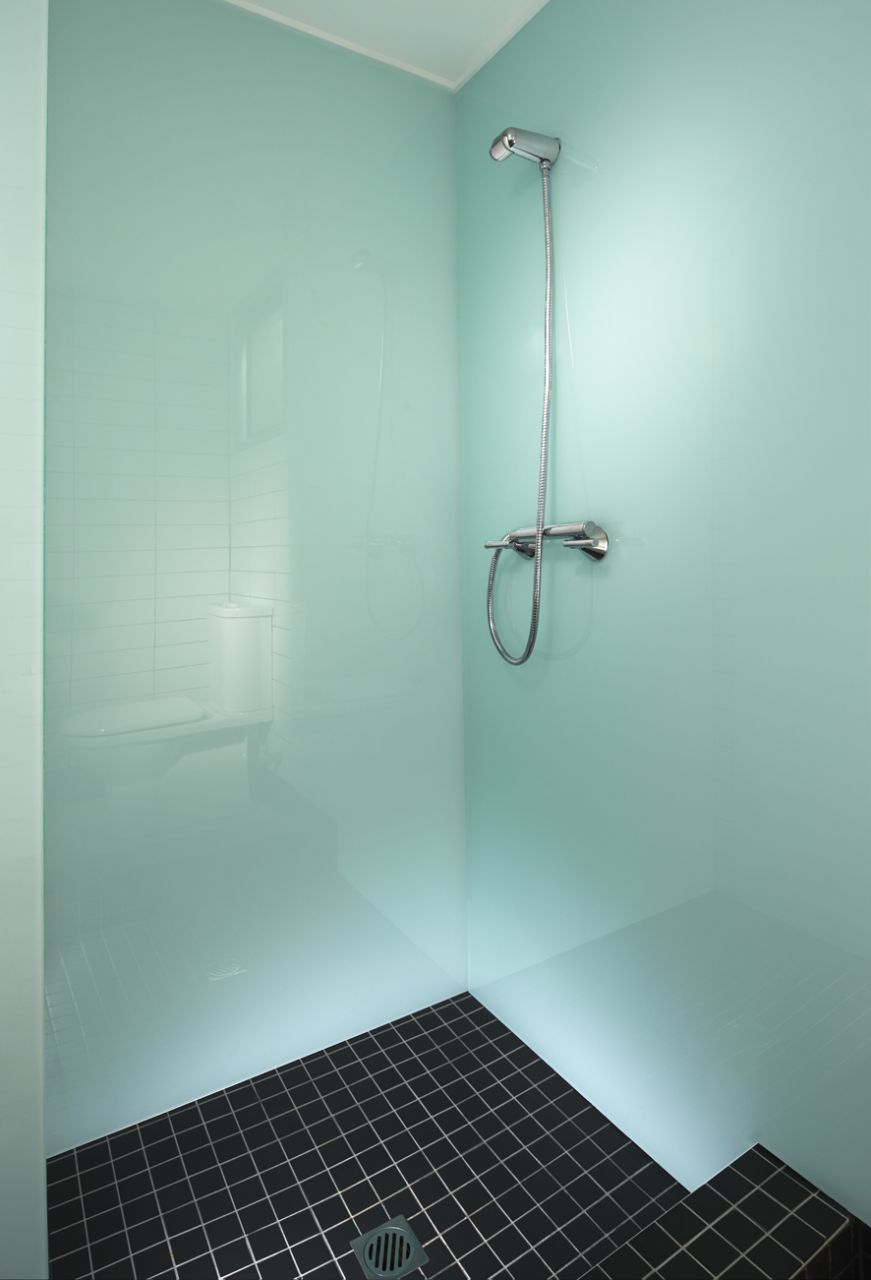 Top 5 benefits of high gloss acrylic wall
These walls panels have many benefits but I'll outline the top 5 here.
1 – Creates a glass look with the benefits of acrylic – High gloss acrylic panels are 25 times stronger than glass, less expensive than glass and are easier to work with (cut, drill etc.) on the job site. These panels are also warm to the touch.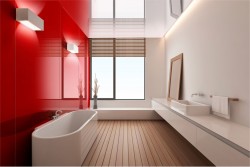 2 – 100% waterproof – Since this material is 100% waterproof you don't have to worry about mold, mildew or the failure of the shower or tub wall system due to water penetration.
 3 – Clean, contemporary look –Sleek and contemporary, streamlined lines are all the rage in kitchen and bath remodeling today and high gloss acrylic walls will help you to take advantage of these design trends.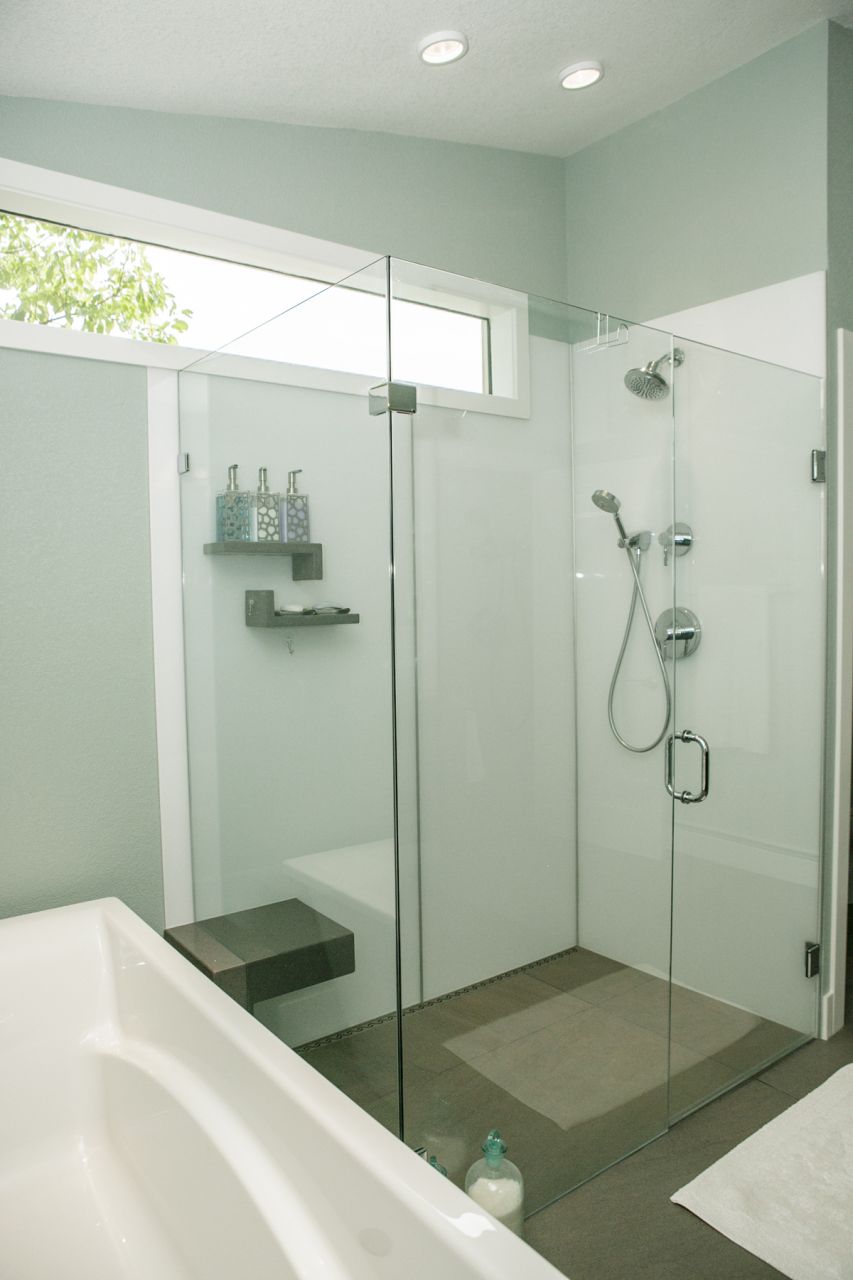 4 – Unique colors with a pop of style – Imagine a cool "blue attol" shower surround, a "red rouge" kitchen wall or a "mocha" bathroom surround – very cool colors indeed.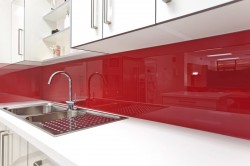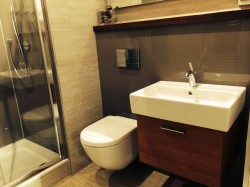 5 – Easy to clean – These smooth acrylic panels can be simply cleaned with warm water and a soft cloth. There is no need for scrubbing and abrasive chemicals to clean your tub, shower or kitchen backsplash. You can say goodbye to the hassle of grout joints forever!  
 What do you think about high gloss acrylic walls? Do you like them or traditional tile wall better? Please comment below.
 If you're looking for more information or an estimate on high gloss walls call The Bath Doctor of Cleveland (216-531-6085) or Columbus (614-252-7294).For nationwide direct product sales on these (and other) shower wall surrounds, bases and more Innovate Building Solutions (877-668-5888). For complete bathroom remodeling contact Cleveland Design & Remodeling (216-658-1270).  
---
Mike Foti
President of Innovate Building Solutions a nationwide supplier and regional (Cleveland and Columbus) remodeling contractors. Some of our product lines include glass counters, floors, backsplashes, glass blocks and grout free shower and tub wall panels
---