4 Design Options in Grout Free DIY Shower & Tub Wall Panels
Laminated wall panels have a tile look and feel – but there are NO actual grout joints
Updated November 6, 2019
If you're in the process of remodeling a shower or tub surround or vacation home rental shower and want to eliminate the hassle of grout or get rid of a dated and dirty looking fiberglass unit you're not alone. However, it's important to choose a DIY panel system which matches your budget and sense of style. The article below will profile 3 hot options which provide different design styles, price points and options. The common thread with all 3 systems is they are easy to clean and easy to install!
Don't put up with your tired scrub brush any longer!
Option 1) Decorative faux stone tub and shower wall panels
Natural stone has a look many people cannot resist. To achieve this style at a cost effective price consider using a ¼" thick PVC backed DIY faux stone wall panel system. This product incorporates an advanced digital imaging process and is available in 20 stone patterns with a full array of corner seats, recessed niches, accent strips and decorative trim options.

The most cost effective way to purchase this product is with a standard tub or shower kits which are 60," and 80″ and 96″ high respectively. The standard tub kit starts out at $985 and a standard 3 wall shower kit is $1,120. Their smooth surface makes them a breeze to clean. Since they are made of 1/4″ thick PVC they are simple to install and cut.
Option 2) Laminated wall panels in simple to install 2′ x 8′ sections
Why does it seem like the cool wall panel innovations come from Europe?
This laminated wall system (which comes in both matte and gloss finishes) using a modular 2′ x 8′ x 3/8″ thick wall panel system which clicks, locks and seals together. With popular patterns like Modern Farmhouse and Modern Minimalist (which can really create a sleek look for a modern hotel shower) you'll see that wall panels don't have to be the dated behind-the-times cheap plastic looking things you see at Home Center stores or from 'Bath-in-a-Day' companies. Style and simplicity and low maintenance can come in one package. Check out a couple of design options here: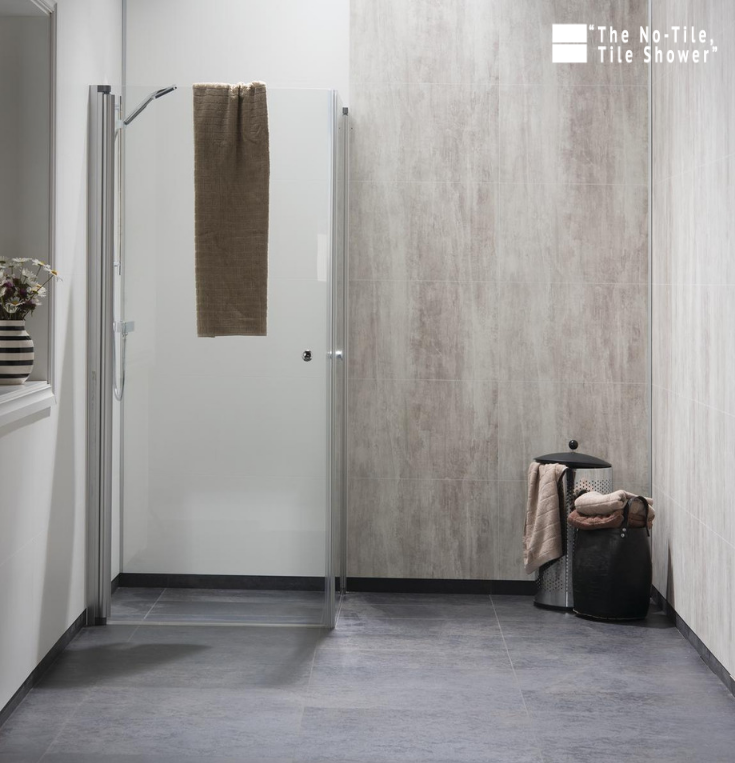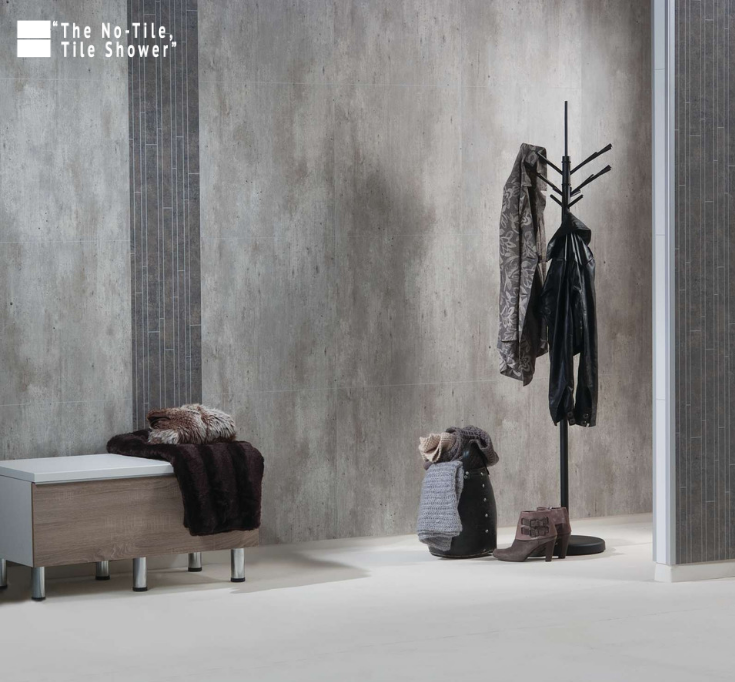 Option 3) The understated elegance of traditional solid surface (also called cultured granite) shower and tub wall panels
While the patterning of the PVC faux stone walls can be dramatic some people prefer a more traditional look for their bathroom surrounds. Given this objective the 3/8" thick solid surface wall system not only is a good fit with many home styles – but it also offers the widest variety of color and finish options than any of the 3 options discussed in this article. There are over 60 color options and 5 finishes ranging from gloss (which is shiny smooth surface), matte (for an understated look) to tile, slate and stone patterns. The tile, slate and stone finishes are molded to look like the real materials but have no actual grout joints to clean! This subway tile shower panel looks bright and is simple to take care of.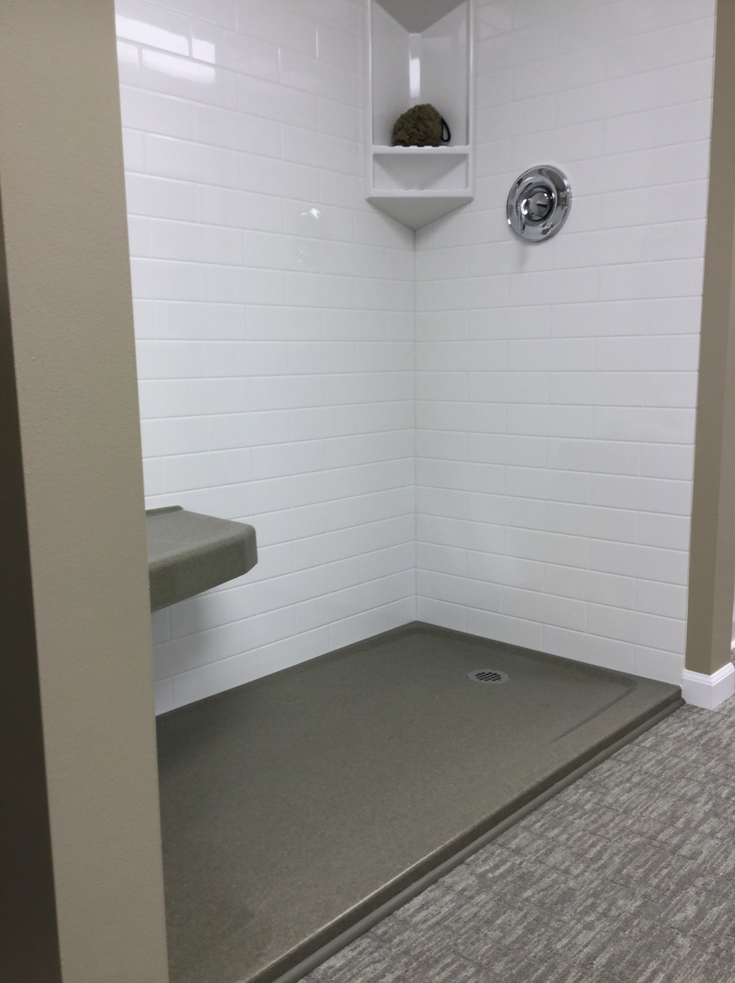 These panels come in standard sized tub and shower kits (which are most cost effective) and start out at $1,050 for a tub and for a 3 wall shower system $1,820. If you need a custom size it's nice to know the panels can be made as large as 144" x 100" with no seams (wow!). Accessories range from corner caddies, recessed niches, bench and corner seats, various trims and a full array of shower bases.
Option 4) Sleek contemporary optical grade high gloss acrylic panels
For a modern, clean Euro-look you'll want to check out high gloss acrylic wall panels. This product comes in 6 fun colors (including arctic white, glacier, blue attol, mocha, carbon and the vibrant red rouge) which can make a statement in a contemporary shower or bathtub. They are available in 39" x 96" and 60" x 96" sizes and are easy to cut and drill with common woodworking equipment.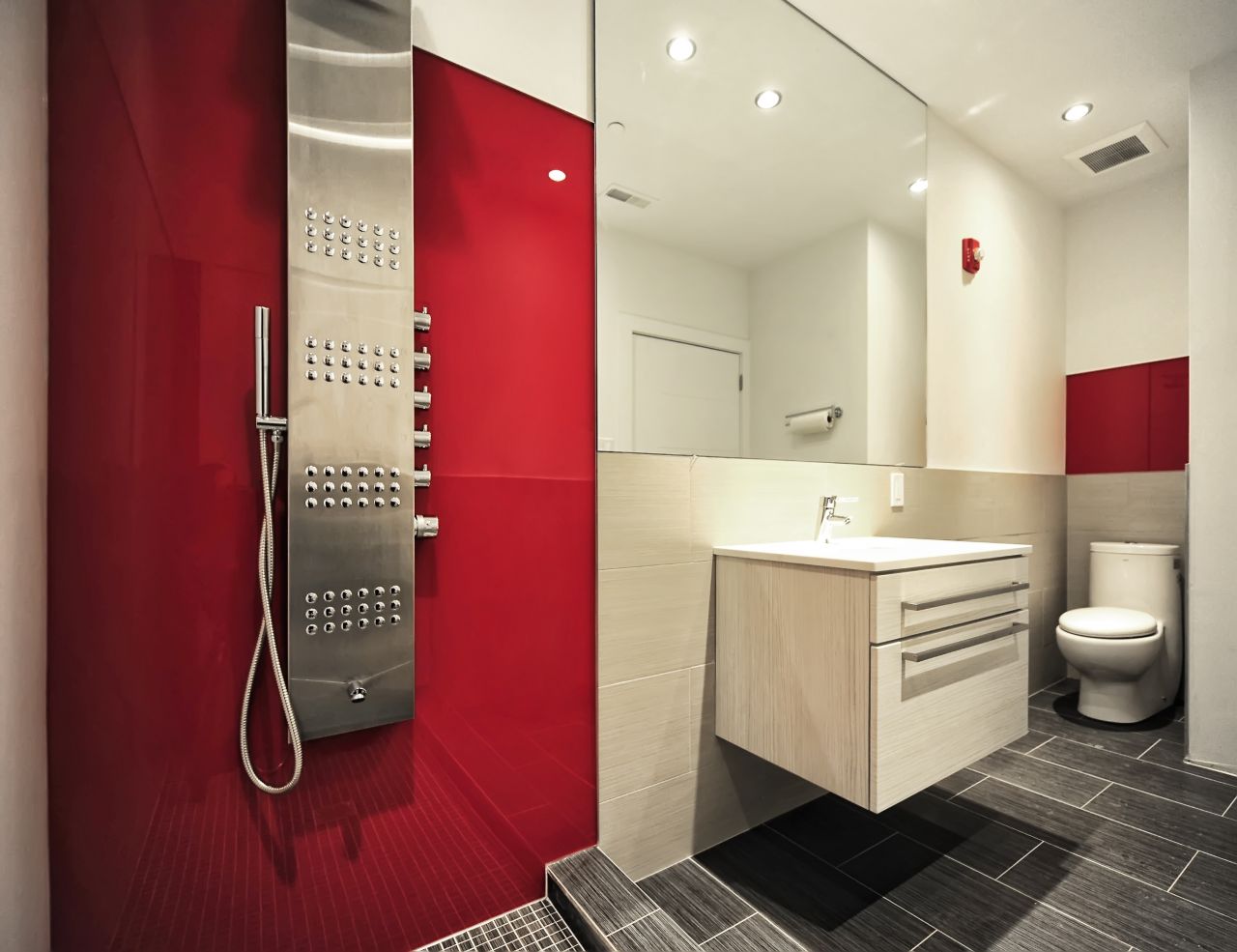 Prices for a standard 3 wall shower system would be $3,330 – it's not cheap, but it's so cool!.
Which system do you like the best? Please comment below. Not sure which system will be best for you? Call us at the numbers below.
If you're looking for more information or an estimate on remodeling a shower or building modular home showers or nationwide material supply for the 3 various wall panels mentioned above call The Bath Doctor in Cleveland (216-531-6085), Columbus (614-252-7294) or for nationwide supply Innovate Building Solutions (877-668-5888).
If you're a remodeler or builder and want practical advice on remodeling products, industry trends, marketing and sales tips to grow your business (and cut day to day hassles), start reading my newest blog – Innovate Builders Blog. It's packed with ideas you can use now. Click here to Sign Up for the Innovate Builders Blog.
If you're in the building business, click here if you'd like to learn how to become a shower wall panel dealer or call and ask for Mike at 888-467-7488.
---
Mike Foti
President of Innovate Building Solutions a nationwide supplier and regional (Cleveland and Columbus) remodeling contractors. Some of our product lines include glass counters, floors, backsplashes, glass blocks and grout free shower and tub wall panels
---