Advantages and Disadvantages of a Curbless Walk in Shower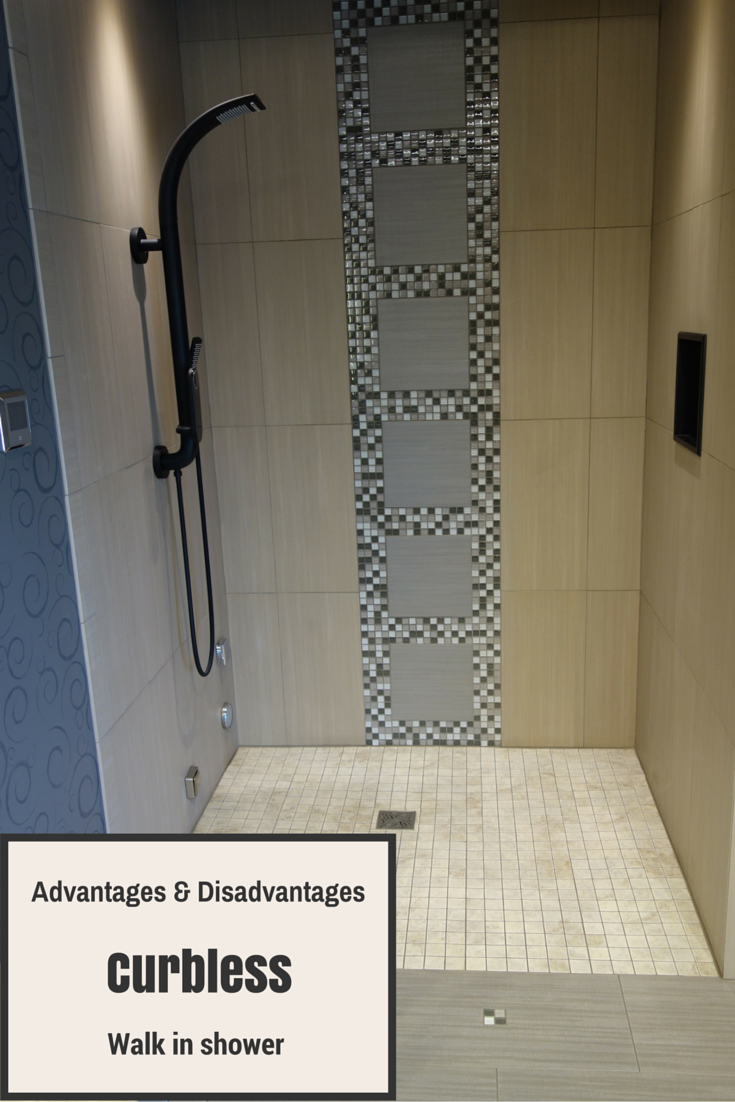 Updated January 12, 2019
Curbless walk in showers are becoming all the rage in bathroom remodeling today but the real question should be, "Is a curbless shower the best option for your bathroom?" While some clothing products are marketed as "one size fits all," this is not the right strategy for choosing a shower. From my experience as an owner of a remodeling and national construction products supply company I have lived the debate of a curbless vs. a standard shower pan with a curb countless times.
My goal with this article is to not only provide you with the advantages and disadvantages of a curbless shower, but also to offer some product selection tips to make a long-lasting shower you'll enjoy using and looking at. Now – let's take a look at the pros and cons of barrier free showers.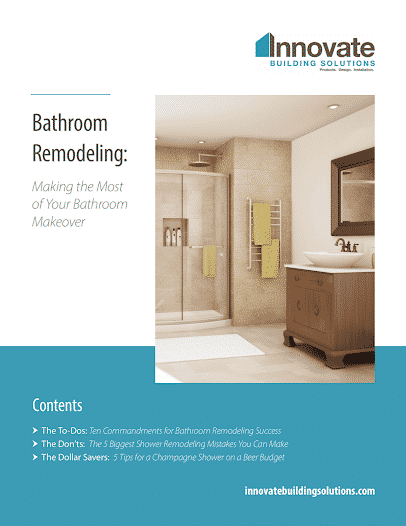 Bathroom Remodeling Ultimate Guide
Making the Most of Your Bathroom Makeover!
Advantages of Curbless Walk in Showers
Functionality for everyone from grandkids to grandparents – As health care costs continue to skyrocket and multiple generations living under the same roof is a growing reality for many American families, it is more important now than ever before to have a bathroom which will work for all members of the family. A 4" tall shower curb which is a cinch for a teenager to step over can be a mountaintop for their grandmother. Eliminating a curb makes the shower an "equal opportunity" space.
• Product selection tip – An easy (and waterproof) way to make a one level shower possible is by using a shower base former and wet room system. This system can be installed directly on the joists of the home.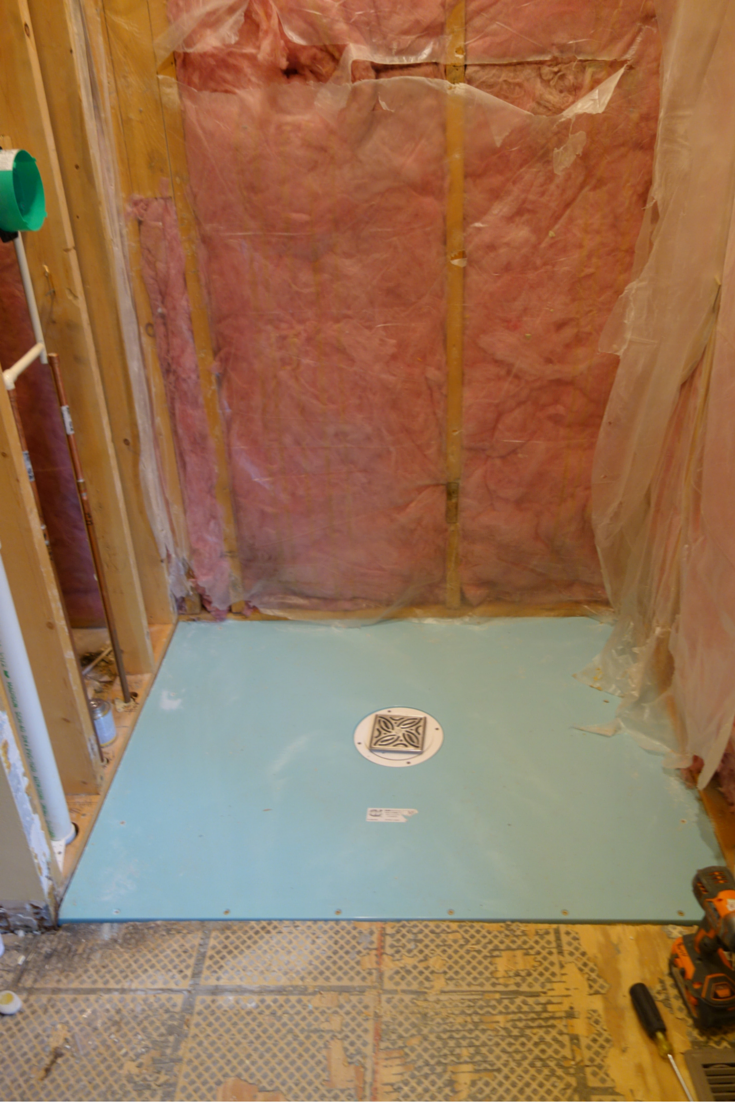 Easier to clean than a shower enclosure – Cleaning a small corner or alcove shower enclosure can be a difficult elbow-bruising experience. After eliminating a curb the shower space is effectively opened up to the bathroom making it easier to reach in and clean.
• Product selection tip – A hand held shower with a hose can make cleaning easier and reduce the need to bend over as well.
Show off your cool looking shower – A shower enclosure with a curb and a door physically cuts off the view to intricate stone, tile or decorative wall panels. An open barrier free shower provides sight lines into the wet area which can show off a luxury shower.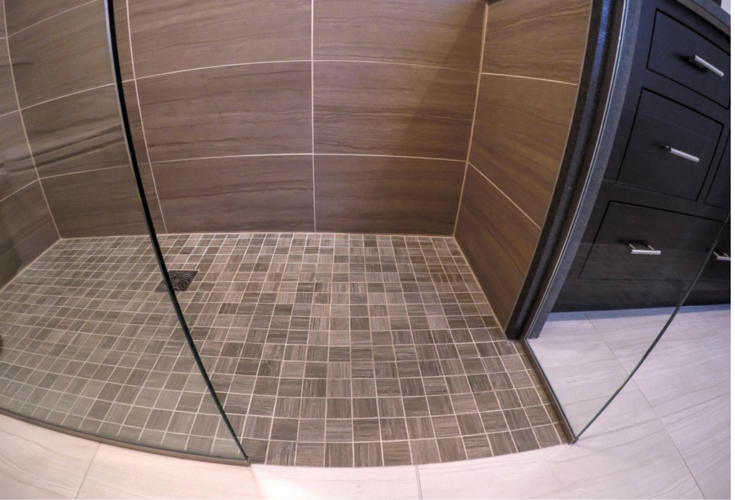 Maximize every square inch – My wife's grandfather in Italy had a curbless one level shower in a bathroom which only measured 4' x 6'. This utilitarian space did not have a separate space for a shower. The room simply had mounted to the walls a shower head, vanity and a toilet. While your shower doesn't need to be this basic – it's nice to know in small bathrooms you can increase the effective use of space by eliminating the barrier of an enclosure and a curbed shower base.
Eliminates the cost and hassle of a shower door – Cleaning shower doors can be time-consuming and the cost of shower doors is not cheap. A curbless walk in shower gets rid of the need (and cost) of the shower door.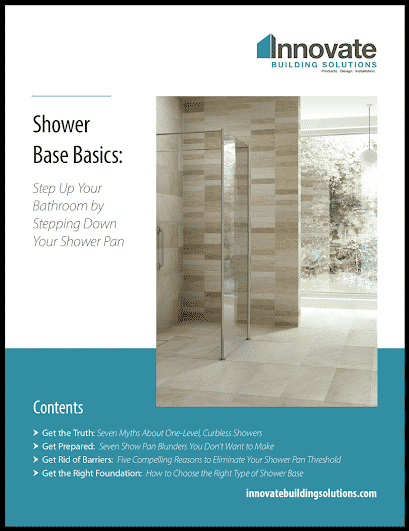 Get Our Ultimate Shower Base Guide!
Step Up Your Bathroom by Stepping Down Your Shower Pan!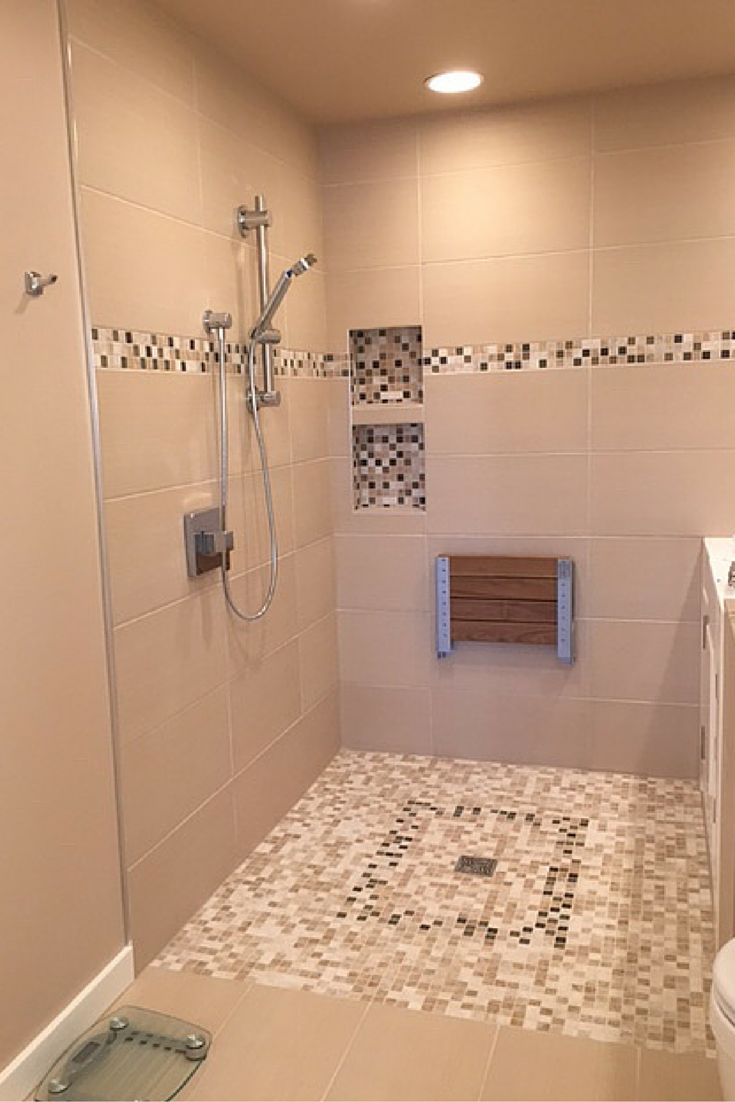 They can be put in small spaces- While it's nice to have a large shower, not all us have the space we'd like. However, just because you want (or need) a curbless shower doesn't need you have to have the space you'd find in a million dollar home. The acrylic roll in shower below shows how this is possible in a small area.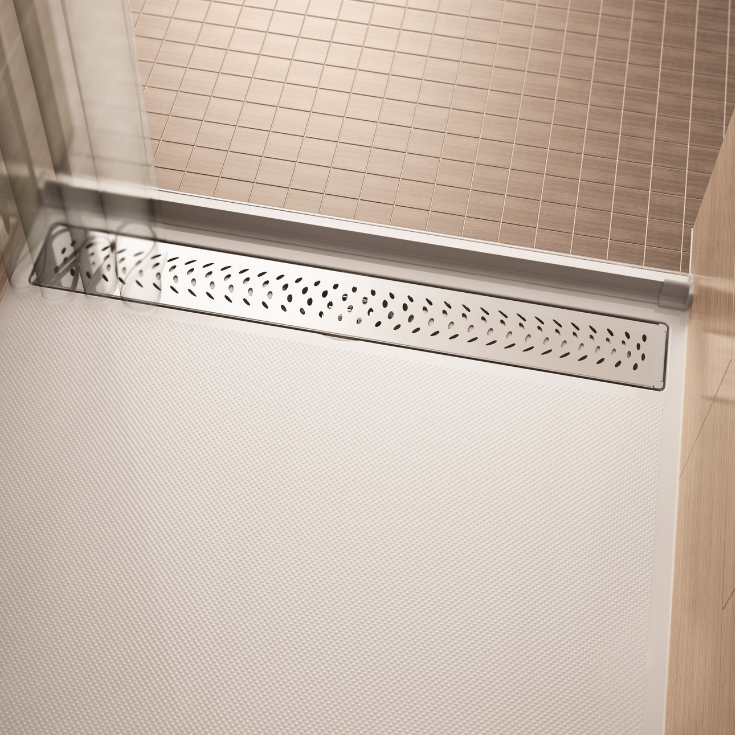 Disadvantages of a Curbless Walk in Shower
Too little privacy – Since a curbless shower is open it does not offer as much privacy as a shower enclosure. It is possible to minimize this problem by using obscure glass, glass blocks or curtains.
Water can get out – A challenge with a curbless shower is there is no curb to hold the water into the wet area. This problem can be lessened by finding the right product(s) to make an open shower work.
• Product selection tips – Here are 3 products which can help to keep the water in:
1. A curved glass block shower wall – The bend in the glass block wall will move water back to the drain.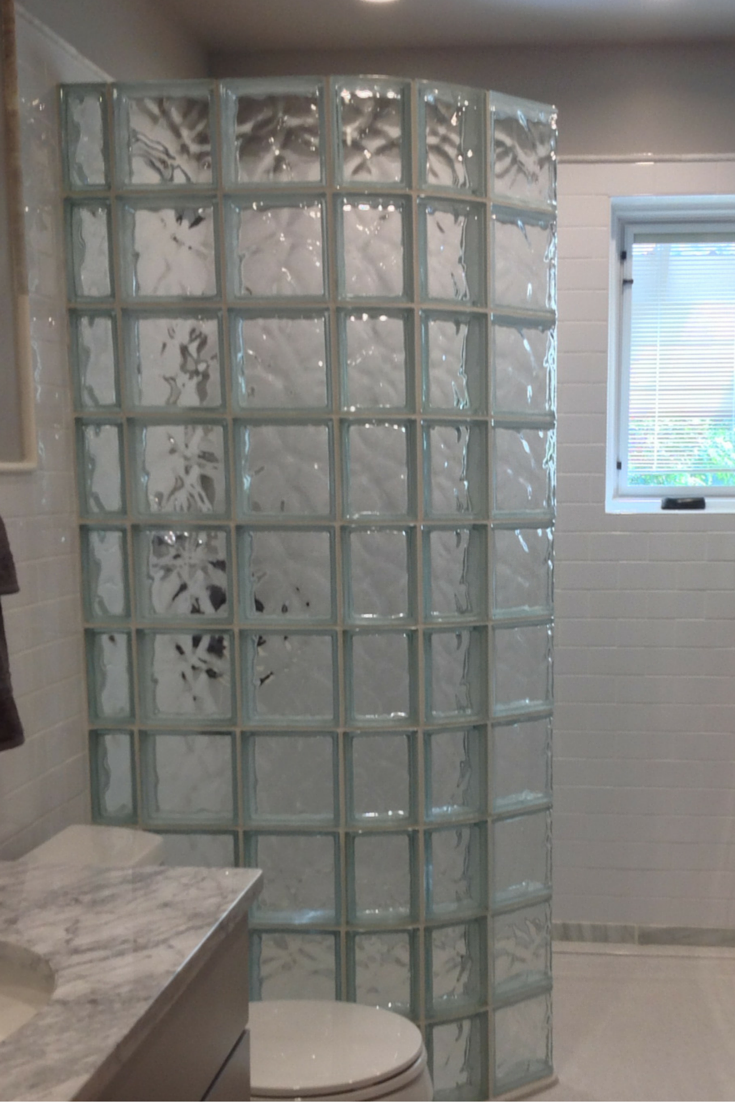 2. Pivoting shower screen – A shower screen can have a door which pivots both inside and outside the wet area. This pivoting door can be slightly tilted to the inside to keep water in while showering and can be pivoted outside when getting out.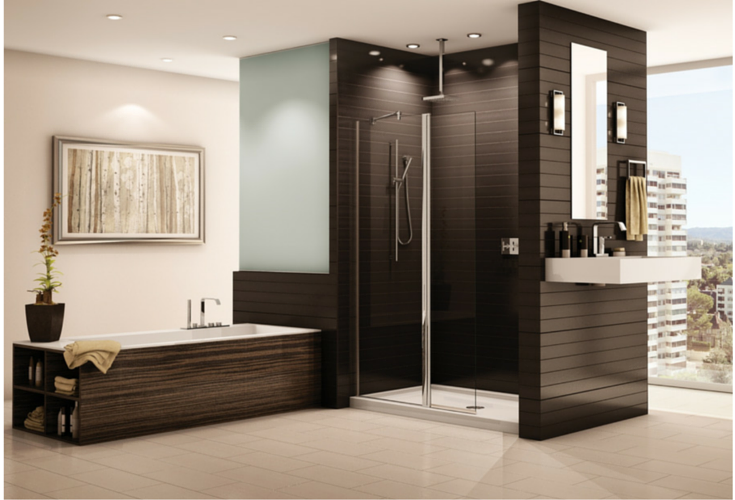 3. Rain head – The rain head keeps the water in a more concentrated spot vs. a wall-mounted shower head (note- the pressure on rain heads has improved vastly since they were first introduced).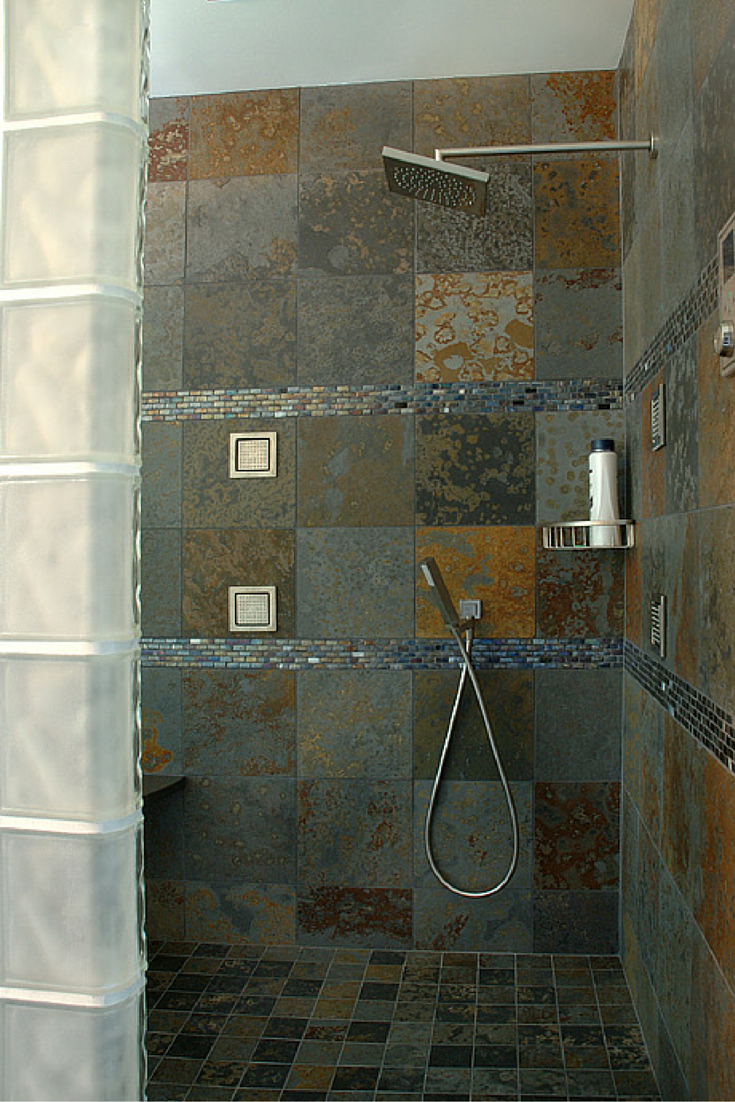 Heat will escape the shower making it colder – This is certainly a drawback since there is an opening in a shower without a door. A way to keep the space warmer is to use heated flooring.
Given these advantages and disadvantages what do you think about a curbless shower for your home? Are you a friend of foe of this type of project? Please comment below or call for a free design consultation or for information about products to make a curbless shower a reality.
Nationwide supply on shower wall panel systems is available through Innovate Building Solutions (877-668-5888) or regional installation The Bath Doctor in Cleveland (216-531-6085) or Columbus (614-252-7294).
If you're a remodeler or builder and want practical advice on remodeling products, industry trends, marketing and sales tips to grow your business (and cut day to day hassles), start reading my newest blog – Innovate Builders Blog. It's packed with ideas you can use now. Click here to Sign Up for the Innovate Builders Blog.
Follow the author on Twitter @Mike_Foti or his company @InnovateBuild.
---
Mike Foti
President of Innovate Building Solutions a nationwide supplier and regional (Cleveland and Columbus) remodeling contractors. Some of our product lines include glass counters, floors, backsplashes, glass blocks and grout free shower and tub wall panels
---