5 Hot Bathroom Design Trends You Need to Know from the 2018 Columbus Parade of Homes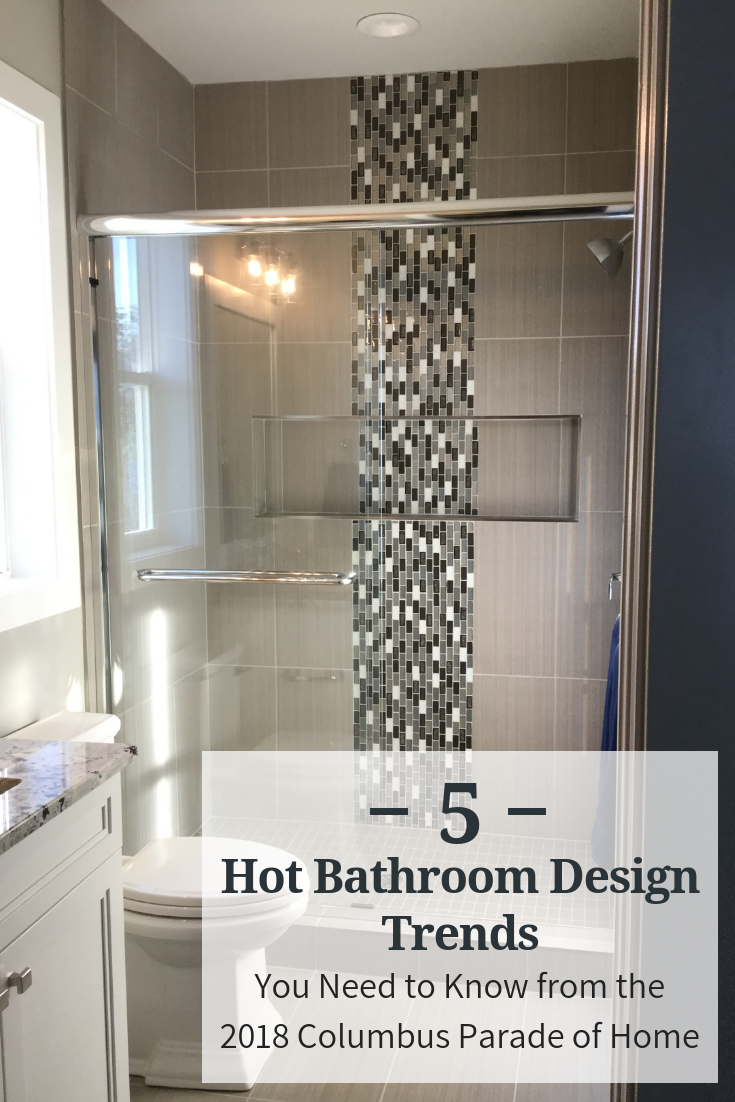 Updated March 24, 2019
If you've got a bathroom which is long in the tooth (OK – if we're being real, its as old as the Partridge Family or The Brady Bunch) and in desperate need of remodeling, it's difficult knowing where to start first. As you begin to get your arms around this remodel you may be asking:
What finishes are in style? You know the pitted brass framed shower door in your fiberglass shower has seen its better days.
What tile trends are hot today? What you know for sure is the 4" x 4" pink and gray tiles in your current bathrooms aren't HOT (unless you're the reincarnation of June Cleaver or Carol Brady – if you know who they are)!
How can I get my bathroom to function safely for me and my family over the next 15 to 20 years? You're not getting any younger (even after maxing out your Botox treatments). With your husband Michaels' arthritis, he's not finding it any easier climbing over the tub to take a shower either.
How can I add impact and style without the bathroom looking over the top?
What should I include in my bathroom? A larger shower? A freestanding bathtub? A smaller shower and a tub? You don't have unlimited space – it is a bathroom after all. How can you find room for everything you want?
The questions are simple, it's the answers to these questions which are tricky.
A way to get a head start on the right solutions (and answers) is to see live and in person the latest and greatest in bath design. One place this can be accomplished is by attending a local Parade of Homes. Even if you're not building a $1,000,000 luxury custom home (unless you hit the lottery) the 'best of the best' designers and trends are in display in these homes. You can 'steal' (OK -not literally) some great ideas from them.
Top builders and interior designers are all in one spot to showcase what's hot in home (and bathroom) design. I took my annual pilgrimage to the Columbus Ohio Parade of Homes to check out these trends myself.
Since I'd consider myself somewhat of a B.D.G. (Bathroom Design Geek) – and if I'm being honest I'm over-the-top obsessed with the topic), I wanted to report back to you 5 hot design trends I saw from this years (2018) Columbus Parade of Homes which will help you no matter if you're building a new home or remodeling. I will also share 3 additional trends I'm seeing which weren't at the Parade (after all there is only so many things these builders can pack into 7 homes – and they already packed in a ton – IMHO).
At the end of the article let me know which trends are a must-have for your next bathroom remodel or new home, and if there's any you can do without (thank you very much).
5 Hot Bathroom Design Trends from the Columbus Parade of Homes
Bathroom trend #1 – Black is where it's at 
Whether its black window trim, black shower doors, or black fixtures, what's obvious is black is waaaay back.
I loved the bold black window frames and grids in this Parade Entry from 3 Pillar Homes. They pop against the unique vertical white tiles in this master bathroom. This design naturally moves you eye upward to the high ceilings in this expansive bathroom.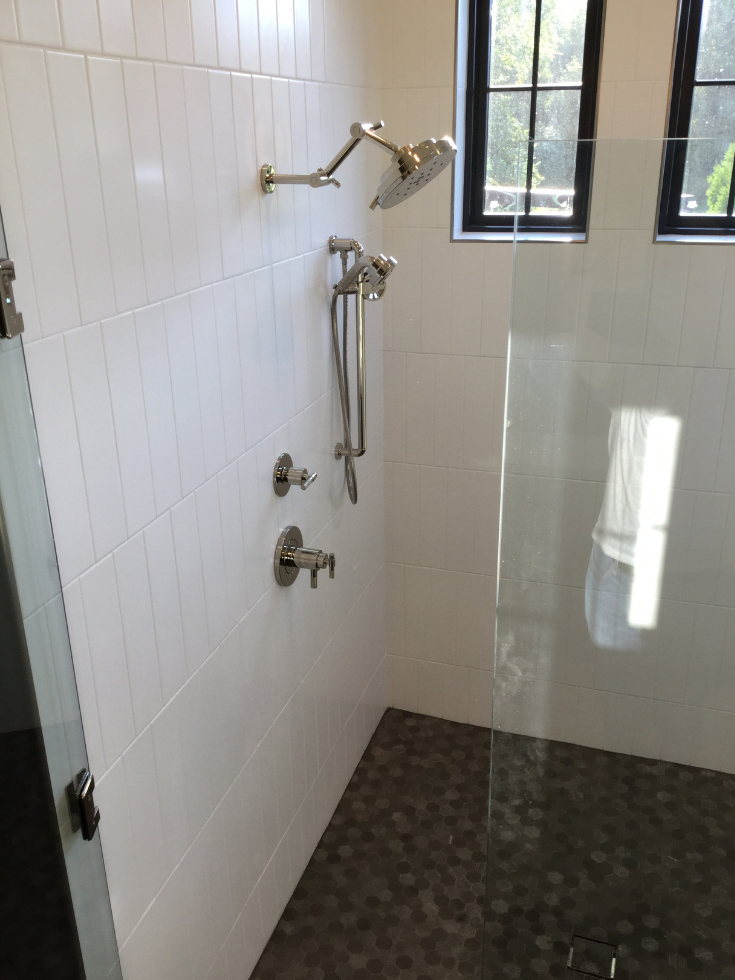 In addition, the black fixtures in a second bathroom in this same home provide a stark contrast to the 3 dimensional (also vertically laid) uniquely shaped subway tiles. Once again, this black and white contrast is bold – without being over the top.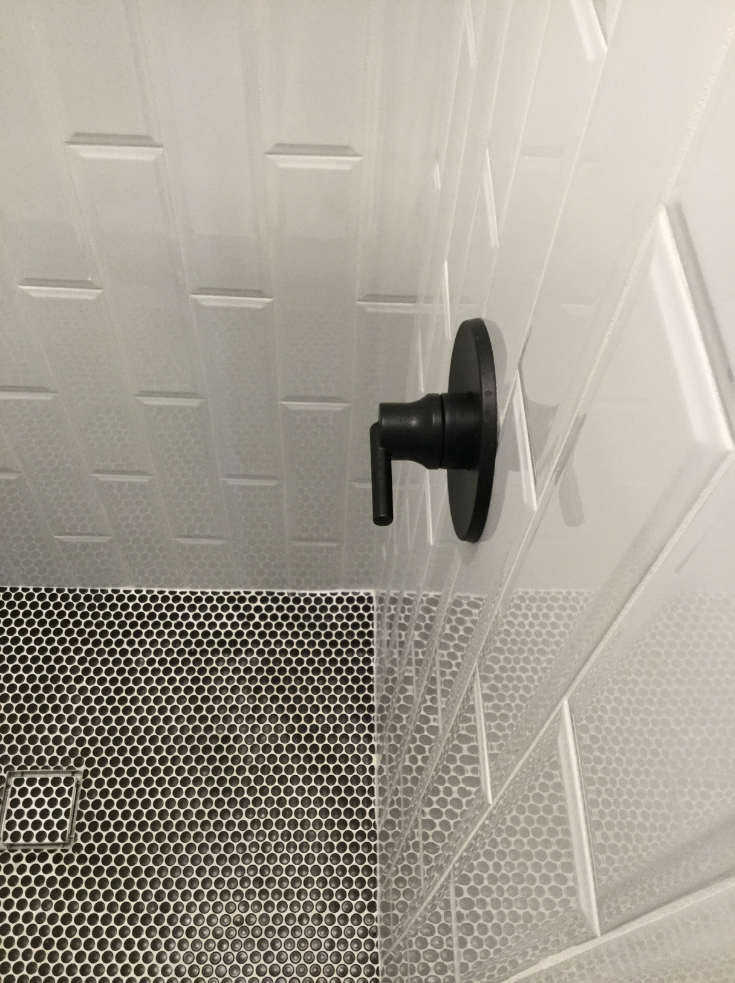 Lastly – these black framed shower doors make an impact in this organic bathroom by Bob Webb Custom Homes. They go to show – shower doors don't have to disappear (as in the case with clear frameless glass doors). They can be a bold part of a design.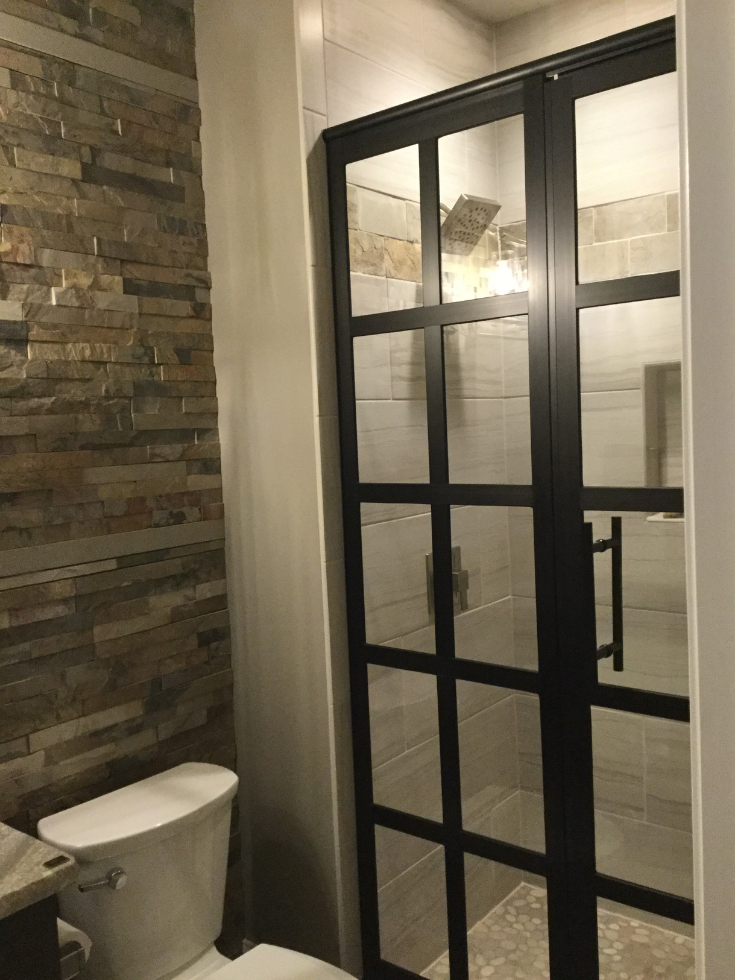 Bathroom trend #2 – Exotic tiles – there's no way you saw at Grandma's house or in your first fixer-upper– are in
I remember when my wife Rose and I bought our first home. A 1960's ranch with lovely (sarcasm intended) pink and gray bathroom tiles with a bold black stripe. Pink (in addition to mint, yellow and baby blue) was hot back in the days our first home was built. They were so hot – the builder even used grouted ceramic tile for our vanity top (how could we get so lucky?).
Since we bought this home from a couple in their 70's – I'm sure this ugly bathroom tile looked good to them. To Rose and I – it was a disaster.
The reality is, just like in fashion trends – bathroom tile trends can and do change. Printing advances, textured tiles, and imaginative designers are some reasons why tiles are getting more interesting all the time. Many exotic designs were on full display at this year's Parade. Here's 3 cool examples:
Example #1 – Some fun tile geometry
If the word geometry gives you the sweats in a crazy flashback to 8th grade math class – I get it. However, trust me these geometry designs are actually fun – and best of all don't require you to take a pop quiz either. Check out the black, white and gray hexagon tiles in the first-floor powder room from Memmer Homes. They add punch in this small space.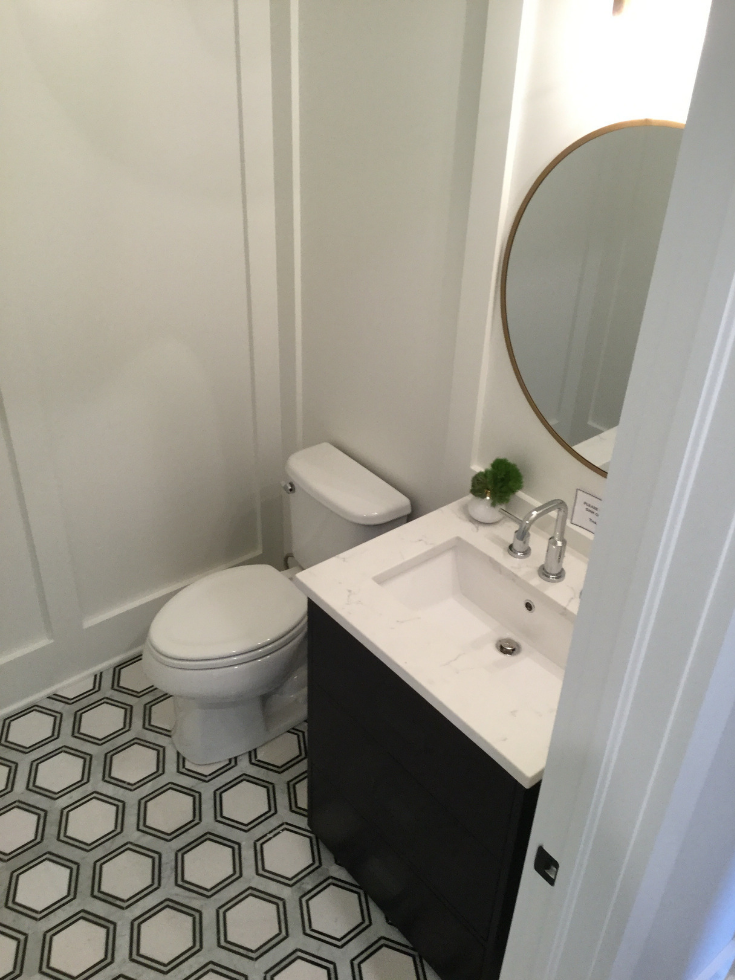 On the other hand, this monochromatic hex pattern is understated – yet elegant – in a second floor Jack and Jill bathroom from 3 Pillar Homes.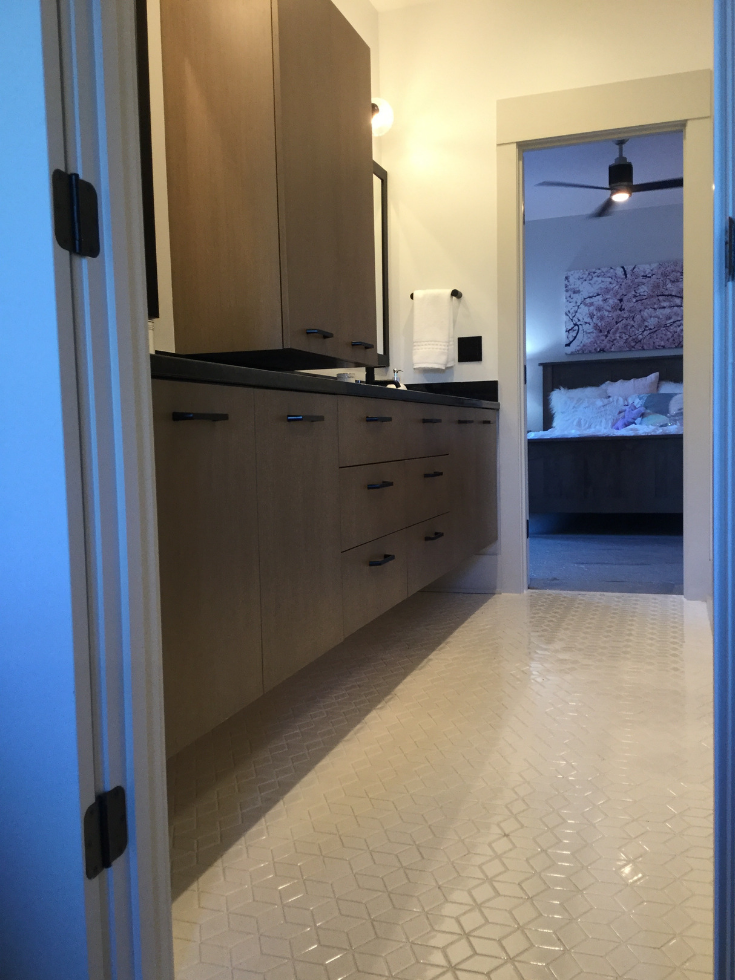 Example #2 – You're not living in Kansas ('er Columbus) anymore. Put an end to boring beige
Some people like to blend in with the crowd. Others don't. Let's face it, most homes in Columbus could be renamed 50 Shades of Beige.  They blend in. They're boring.
This small bathroom from Bob Webb homes throws the concept of generic right in the trash can (and I love it!). These fun fabric-looking vertically laid tiles say wow. They move your eye. They dare you to ignore them (but you won't be successful).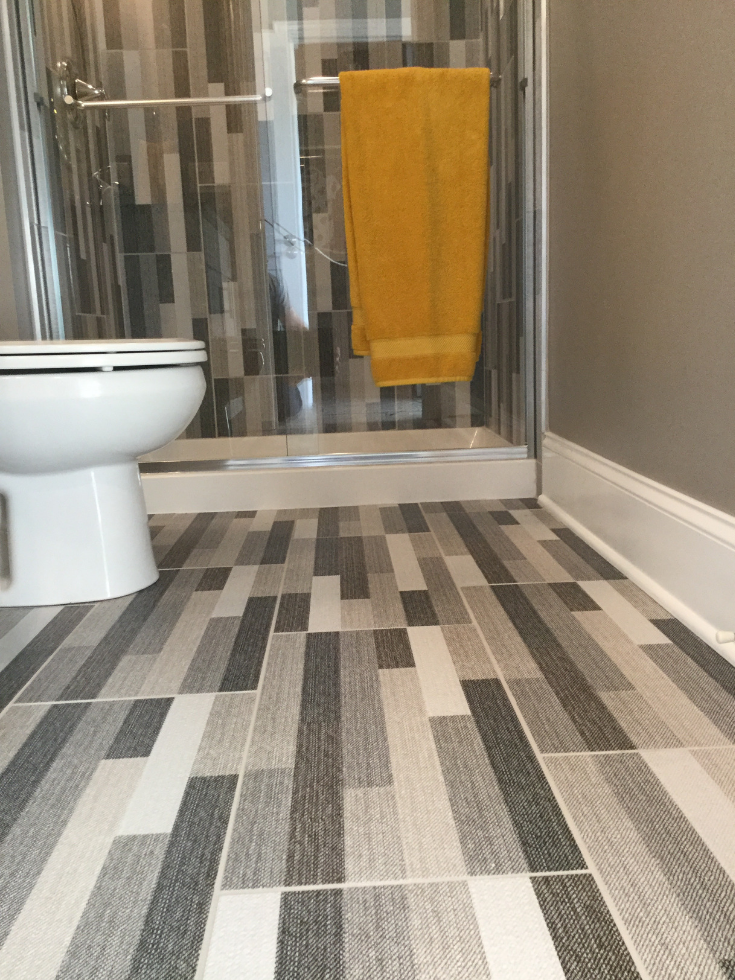 Example #3 – There's something fishy about these shower tiles
Improved manufacturing technologies have made uniquely shaped tiles affordable. One shaped tile catching on are fish scales. In this home from Arthur Rutenberg Homes they notched up fish-scale by alternating the color of the pattern in the recessed niche. It's a smart detail. In addition, niches are practical and give you more room for your soap, shampoo, loofas (and maybe your partner will have room for a bottle or two for his stuff too!).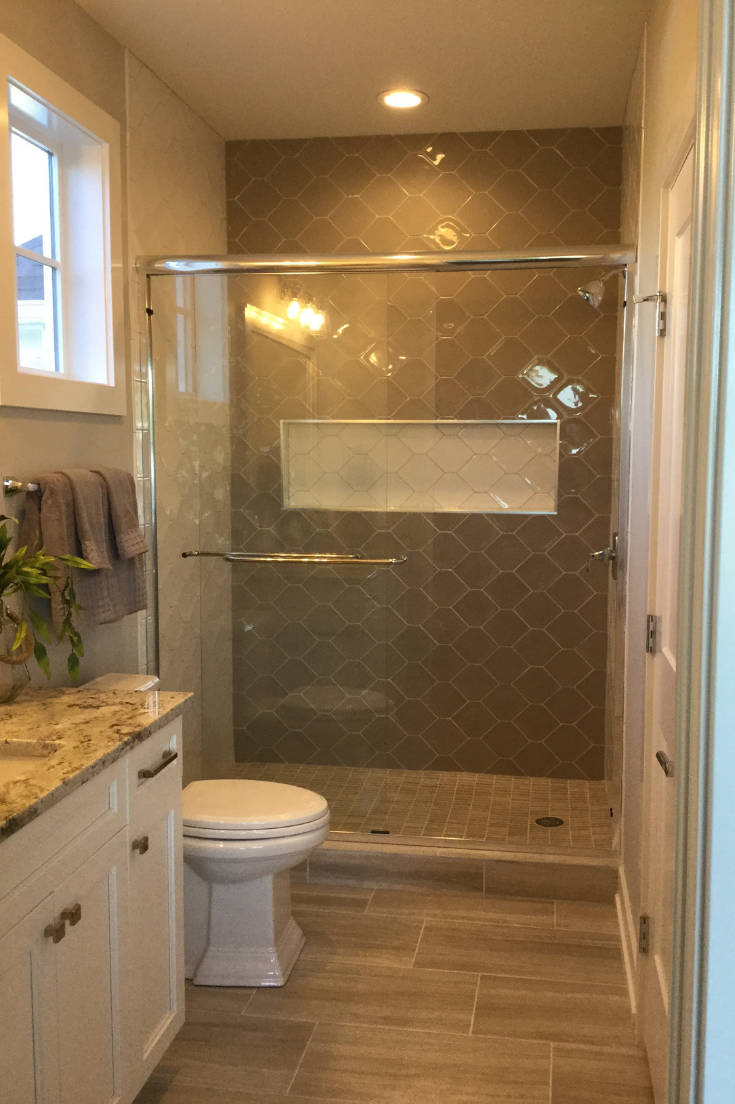 Bathroom trend #3 – Make sure your bathroom and shower work for the long run
Whether you're building a $1,000,000 home (like this year's Parade), or just remodeling a way-too-tight 5' x 8' master bathroom in your modest home so you can 'age in place' (love the concept, hate the term), difficult to step over shower curbs are dangerous and an 'old-school' design. Progressive Columbus custom builders have gotten the memo on the need for barrier free showers.
In 3 Pillar Homes master bathroom you have no curbs to slow you down. The bathroom and shower floor flow seamlessly (without a 4" step over curb). If a family member becomes mobility challenged the owner of this home will not need to pay a remodeler to pull everything out and start again. Smart design ideas lead to lower life-cycle costs.

Manor Homes also incorporated this easy entry shower concept in a guest bathroom.  They used a simple white acrylic shower pan with a sliding glass door. They showed accessibility doesn't have to be expensive – or only available in large master bathrooms.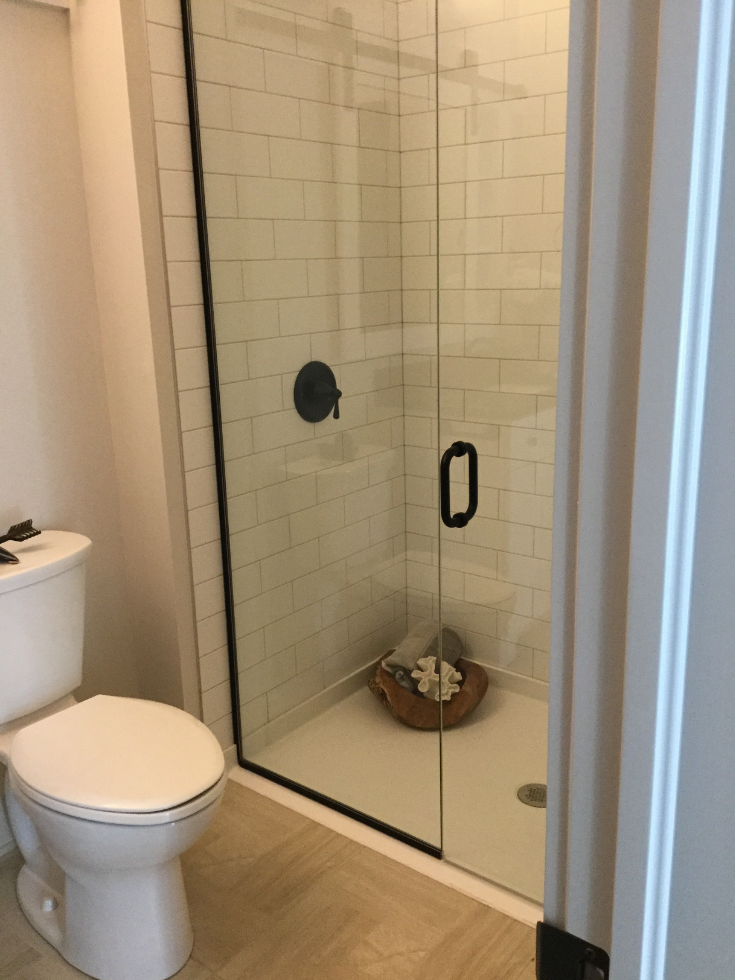 Bathroom Trend #4 – 3D features aren't exclusively for the movies anymore
While its fun putting on funky 3D glasses at the movie theater, I'm not sure how much they'll help you to enjoy the three-dimensional feature wall in this shower. With that being said – the concept of the 3D feature wall adds fun to any bathroom design. I loved this inventive shower from Arthur Rutenberg. These dark, textured, eye-popping tiles create a uniqueness you won't forget.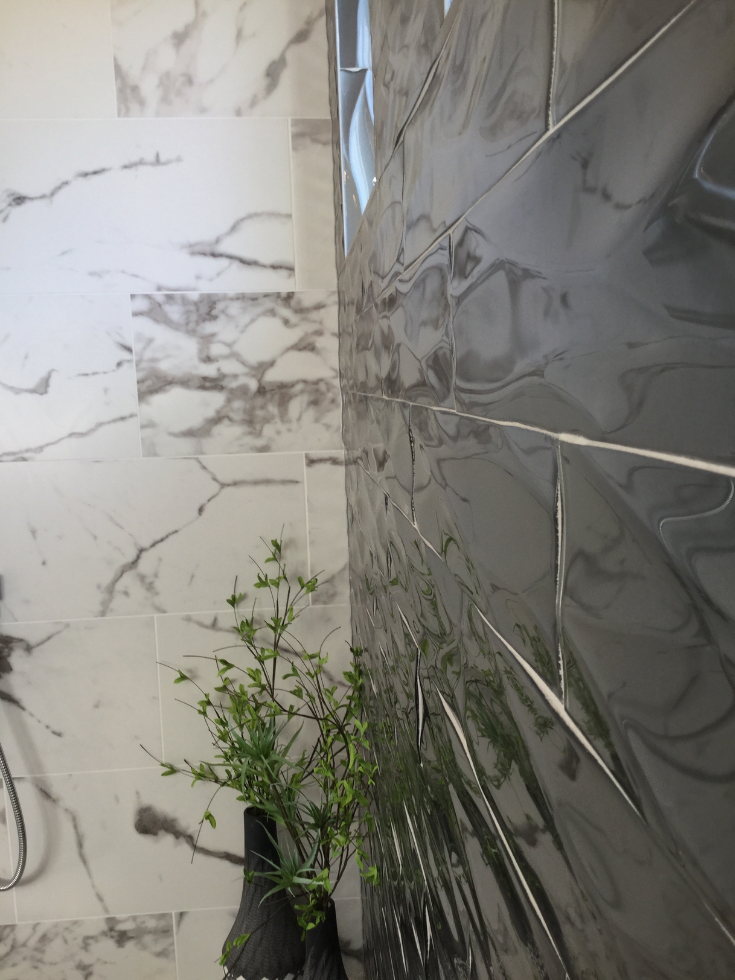 Bathroom Trend #5 – The freestanding tub is hot
 The freestanding tub is all the rage, especially in larger homes like those in this year's Parade. They give you the opportunity for a relaxing, candlelight bubble bath after a long work week.
One of my favorites in this year's show was in the Bob Webb home which showcases a dramatic wall with mirrored glass tiles.
If you'd love to have a freestanding tub but think there's no way to fit one in – here's a trick to consider. Look at combining the tub insider the shower space. This idea is Euro-chic, and space-efficient. While it wasn't shown at this years' Parade – its a sound idea to consider.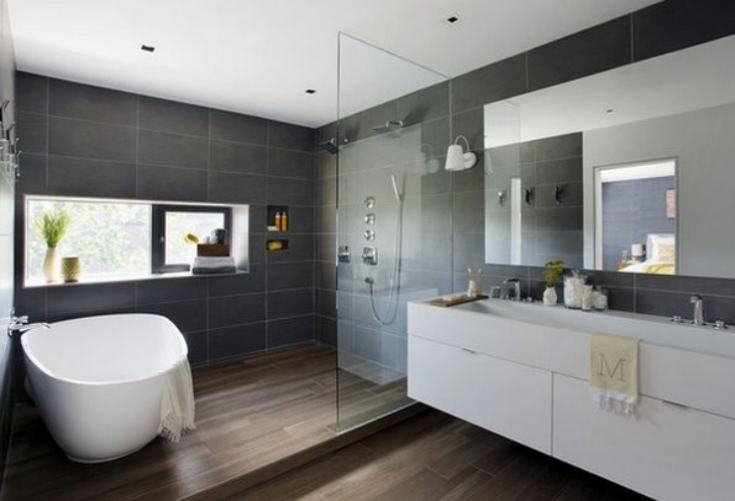 3 Additional Bathroom Trends Not shown in This Year's Parade   
I thought this year's Parade of Homes builders did a bang-up job adding fashion-forward bathroom design (exotic tiles, freestanding tubs and 3D walls) and safety features (the one level wet rooms and low curb showers come to mind) to these big homes.
However, since these homes were huge (they averaged over 5,400 square feet), stylistically similar in design (mostly transitional) and likely owned by people with a lot of money who will be paying others to maintain them – they're not always practical for the average Columbus homeowner. Here's 3 popular trends I've seen in the general market (not shown in year's Parade) which can be embraced by owners of any income level (whether you're building or remodeling).
Additional Bathroom Trend #1 – The average homeowner (who hates tile) wants to eliminate grout.
Most people reading this cannot afford to own a $1,000,000 Parade Home. An amazing conclusion – I know – but true. Yes – you may love features of these luxury homes – but since you don't have a 'staff' or the funds to call a contractor to maintain a big house like these – some products in them are not practical for your crazy-hectic day to day life.
Take for example the inventive tile bathrooms in trend #2 above. Yes – they are beautiful to look at initially (before they are used). However, they will eventually be used and get dirty. If you're the 'lucky' one (sarcasm intended) who gets to the clean the tile grout you know that's a job you want no part of.
With this challenge in mind, a major trend I'm seeing is a shift away from tile to grout free shower panels.  They aren't the ugly stepchildren (no offense to stepchildren) like the plasticky panels lurking in your old basement or kids' bathrooms today.
One very cool new option are laminated wall panels (AKA the 'no tile, tile shower). When you see this product up and close and personal you'll swear its real tile – but it's not. These will be introduced nationwide in 2 months.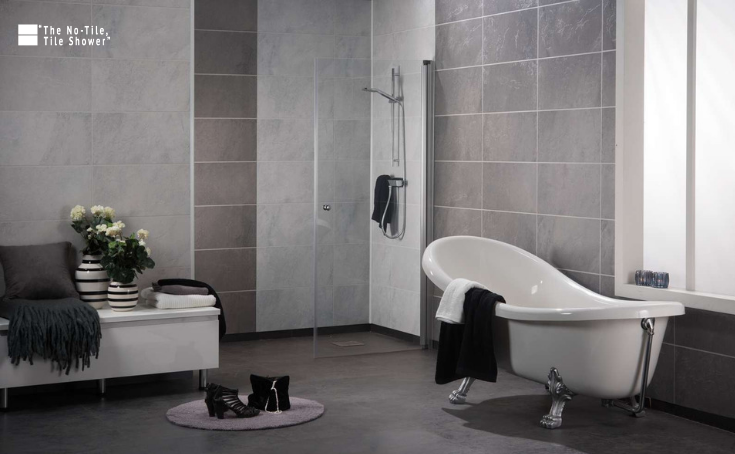 Additional Bathroom Trend #2 – Get me more storage – please
This year's Parade home had few storage expanding features (there were some though like the cabinets placed on top this vanity in the 3 Pillar Homes Jack and Jill bathroom). However, for the most part who needs to worry about bathroom storage when you've got 200 to 250 square foot master bathrooms with 10' long vanities?
If you're master bathroom doesn't come close to 200-250 square feet (and more closely resembles the common 5' x 8' – 40 square foot – variety) – you know how desperate you are for more storage. Some simple tips and product trends to leverage this need for more storage I didn't see in the Parade (except for tip 3) include:
Tip 1- Add a floating shelf above your toilet.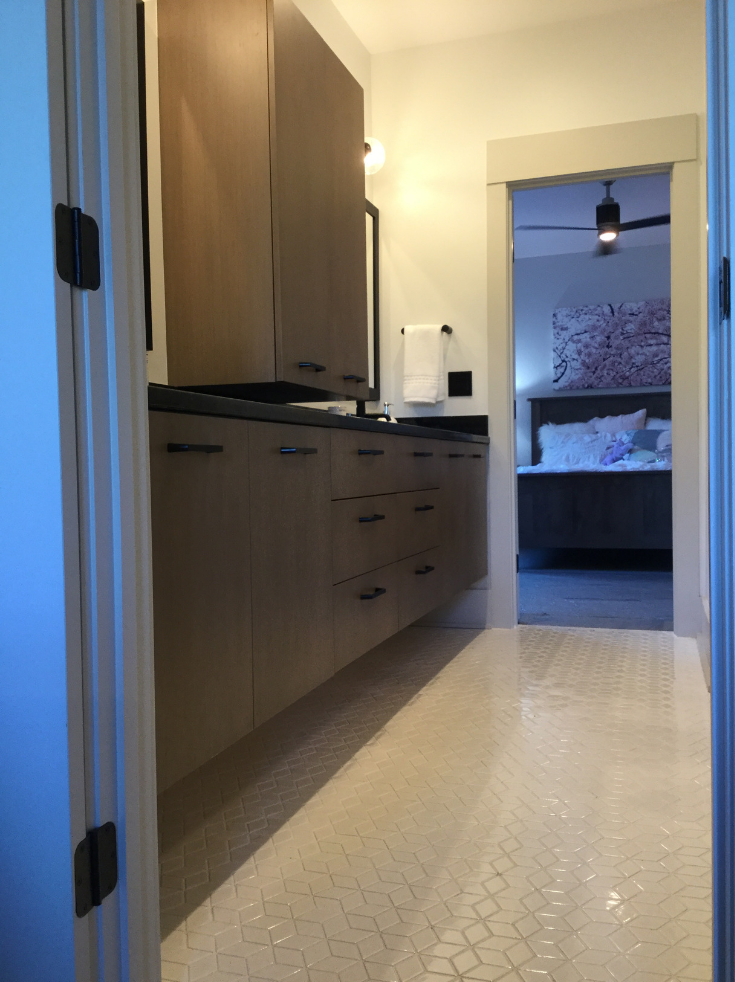 Tip 2 – Buy a mirrored medicine cabinet with hidden storage.
Tip 3 – Build shelving niches into your walls.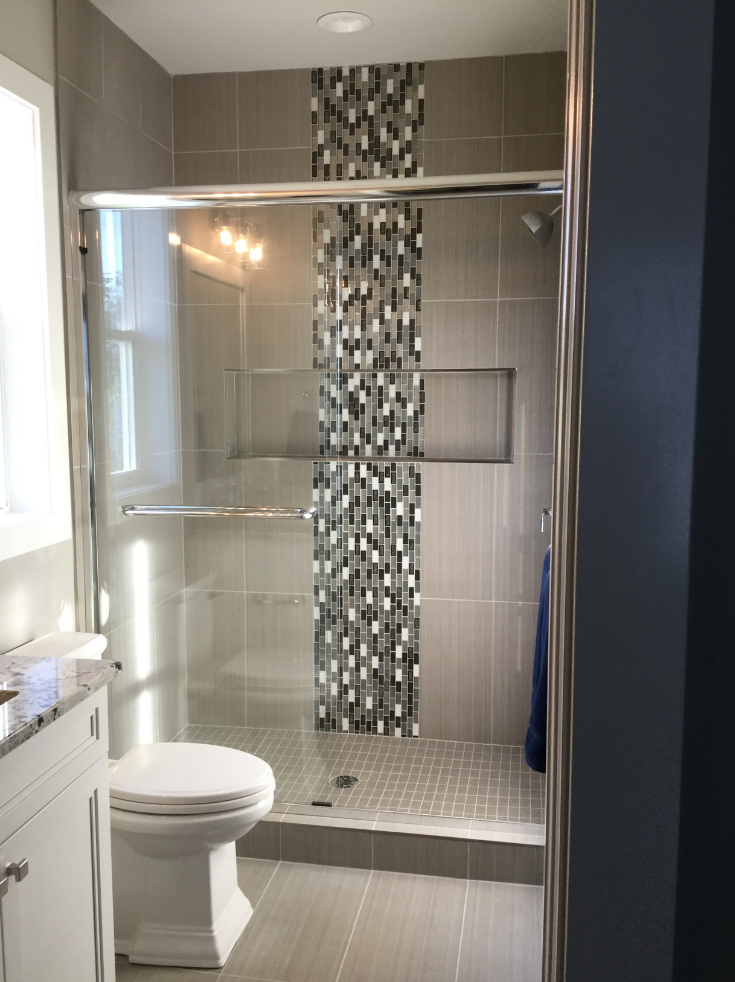 While none of these tips are mind-boggling – they answer an important need, which is to make the most out of every square inch of space (this is exactly what people grabbing onto the tiny or container home movements know all too well).
Additional Bathroom Trend #3 – Modern minimalism is in
When you're a custom builder sticking your 'financial' neck out constructing a $1,000,000 home in a market like Columbus without a buyer – you want to build what you believe 'most' of the market wants. After all – after the bloom of the Parade is long-gone you still need to fork over the mortgage payments until this home is sold. In Columbus – most of the owners want transitional homes – so that's what the custom builders, build.
However – even in Columbus there is a growing demand for clean, minimalist and contemporary (if not for the entire home – at least in the bathrooms). So why not design a bathroom with a modern minimalist look?
Since this trend is growing (even if it was underrepresented in this years' Parade) I'm seeing an increased used of concrete countertops, wall mounted vanities and contemporary high gloss shower wall panels. This look is hot in fashion-forward U.S. bathrooms – even if it was underrepresented at this year's Parade.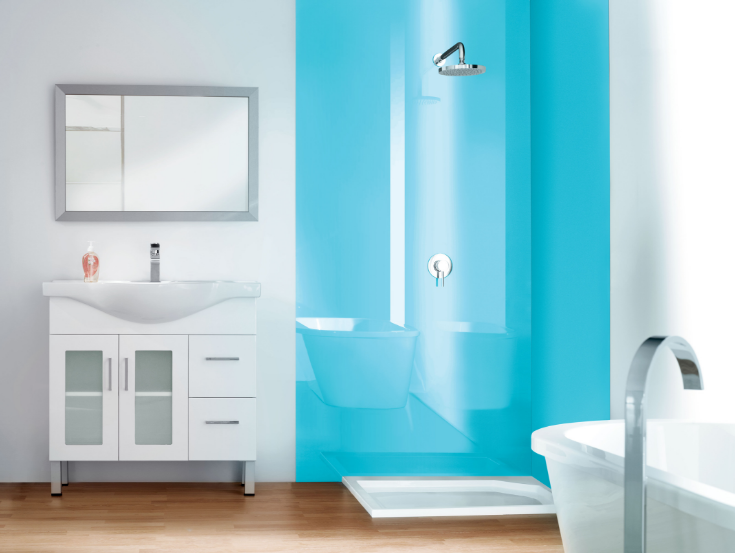 Conclusion
I know these 8 trends (5 included in the Parade, and 3 which were not) are a lot to take in. The reality is you won't be able to incorporate them all in your next bathroom remodel or new home. However, as you process these ideas I would suggest no matter you remember the following.
In the end a bathroom (or an entire home for that matter) should be all about you and your family. It's not about being 'trendy' or 'fashion-forward' for that matter (unless that appeals to you).
It's your hard-earned money. Spend it the way you like. If anybody gives you flack about your choices remember in the wise words of New Yorkers to tell them to just – Fuhgeddaboudit!
How can I (or a member of my team) help you?
If you need help with a bathroom design, contact The Bath Doctor in Cleveland at 216-658-1270 or in Columbus at 614-252-7294.
If you'd like to save money with nationwide factory direct supply on barrier free shower bases or grout free wall panels (like the "no-tile, tile shower) contact Innovate Building Solutions at 877-668-5888.
If you're a remodeler or builder and want practical advice on remodeling products, industry trends, marketing and sales tips to grow your business (and cut day to day hassles), start reading my newest blog – Innovate Builders Blog. It's packed with ideas you can use now. Click here to Sign Up for the Innovate Builders Blog.
If you're in the building business, click here if you'd like to learn how to become a shower wall panel dealer or call and ask for Mike at 877-668-5888.
If you're looking for a quality new custom home in Columbus
If you want more information on these Parade Homes call 3 Pillar Homes (614-845-6055), Bob Webb Custom Homes (614-530-4926), Memmer Homes (614-793-2383) Arthur Rutenberg Homes (614-657-8843) or Manor Homes (614-841-1800).
---
Mike Foti
President of Innovate Building Solutions a nationwide supplier and regional (Cleveland and Columbus) remodeling contractors. Some of our product lines include glass counters, floors, backsplashes, glass blocks and grout free shower and tub wall panels
---