5 ½ Little Known Secrets to Design a Handicap Accessible Shower Which Doesn't Look Ugly!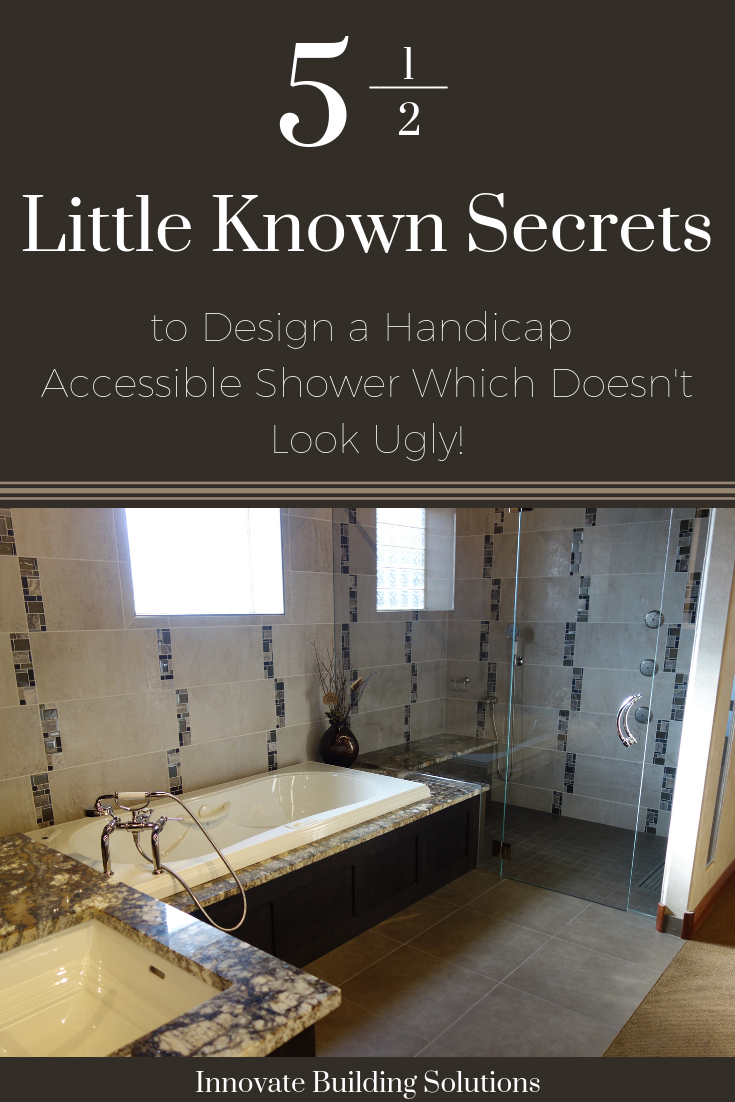 Updated March 24, 2019
You and your husband have had 'the talk' about Mom moving in. You both know it's the right thing to do. It certainly won't be simple. Since Dad passed away 2 years ago Mom's mobility has been headed in the wrong direction.
You worry about her living alone.
If only she would wear the panic-alert necklace you bought her last year.
If only you didn't have to worry about her climbing over the tall tub rail. Entering a slick bathtub is an accident you don't want to see happen.
If only she didn't live 40 minutes away. Then you could check on her more often.
As Mom is aging – you're aging too quickly also just worrying about her.
You and John have come to the conclusion Mom moving in with you the kids is the right plan. Mom has finally (after many long-nights of conversation) agreed. Giving up her completely independent lifestyle is not an easy thing to do. Now you need to make your home safe for her (since this is a key reason you're making this move in the first place). You know the bathroom is the first place she's at risk of falling. You know your one-piece fiberglass shower on the first floor isn't any better than what Mom has today.
The 'ADA showers' you've seen look like a bad flashback to when you visited Mom in the hospital – yuck! You and John are looking for an answer to the question of how you can create a stylish accessible shower which doesn't scream out 'Mom or Grandma lives here!'
In this article my goal is to give you 5 1/2 practical (and little-known) secrets to design a contemporary and stylish accessible shower. At the end I'd love to hear your feedback which ideas can help your next project and other ideas you have I haven't mentioned. Let's check out these secrets.
Little Known Secret #1 – Don't even think about using an ugly white fiberglass roll in shower pans. Use a wet room or a solid surface shower pan.
If you've had the 'pleasure' (sarcasm intended) of attempting to clean the bottom of the fiberglass shower pan in your kid's bathroom you know it's impossible to get the brown crud off the bottom. Nothing (and I mean nothing) get those stains out. So why use a standard fiberglass roll in shower pan when you know it's going to look lousy shortly thereafter?
The good news is there's two better options.
#1) A one level wet room finished with a tile floor. Wet rooms are one level bathrooms. There is no curb for Mom to step over. They are completely waterproof. Without the 'lip' to step over they will work well if she needs to get in with a wheelchair or a walker. If you want to get 'style bonus points' – use a linear drain system so you can use large format tiles. These big tiles are hot, hot and hot in design today – and cuts down the number of grout joints. That's a double bonus.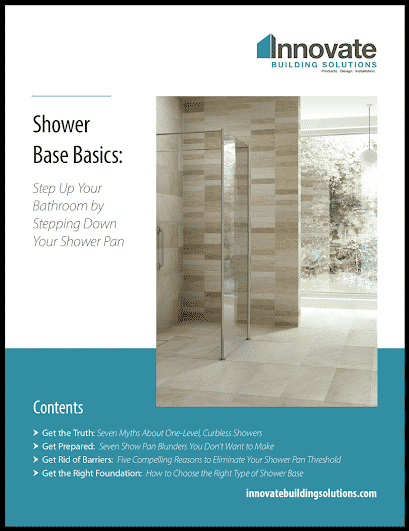 Get Our Ultimate Shower Base Guide!
Step Up Your Bathroom by Stepping Down Your Shower Pan!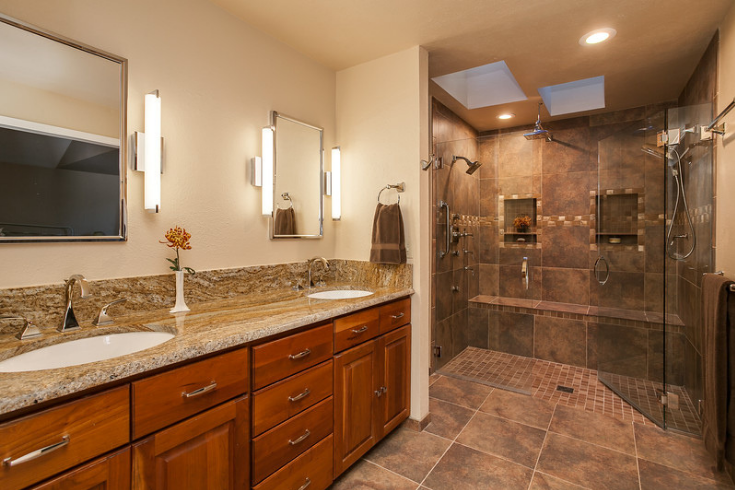 #2) A solid surface shower pan with a low profile curb and ramp extension kit – On the other hand, if the thought of grout (and cleaning grout) makes you break out in hives use a solid surface shower pan. There are ramped versions (which unfortunately shout out to me – wheelchair) or you can go with a 'low-profile' (which has a small 1 ½" curb height) and add a ramp extension kit you can remove at any time. With this option you get a nice-looking base which doesn't have a permanent ramp.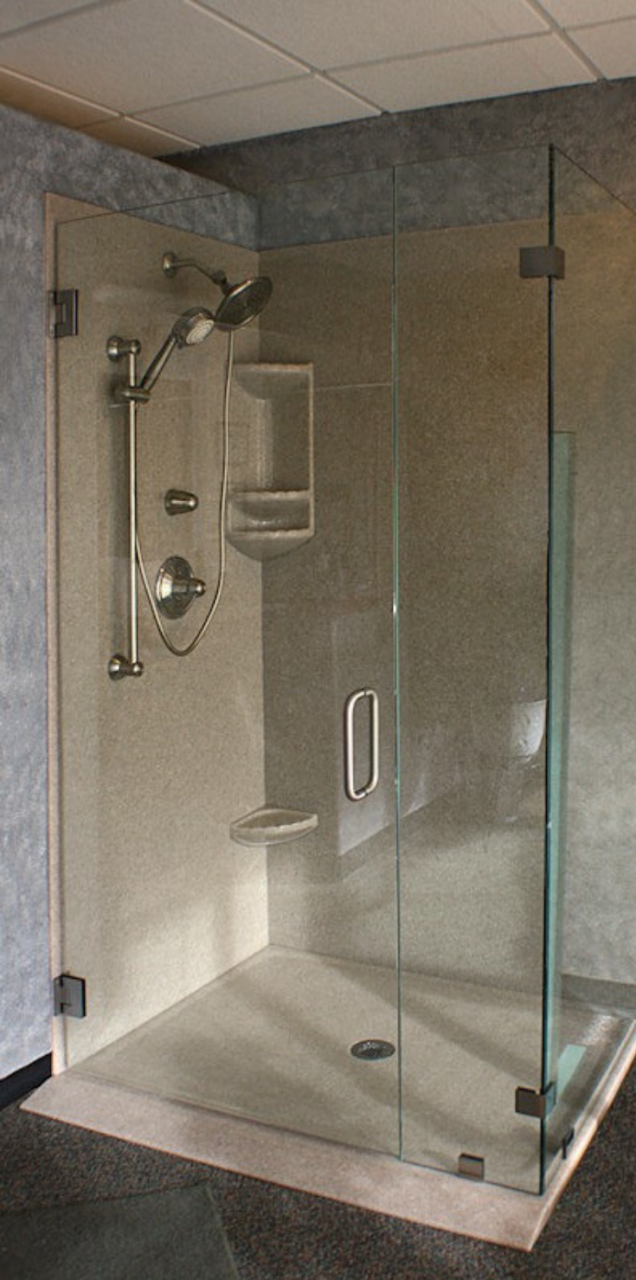 Little Known Secret #2 – Use stylish wall surrounds with zero maintenance. The "No-Tile, Tile Wall"
The reason you're having Mom move in is to enjoy time with her and keep her safe. The problem is if your time gets sucked up helping maintain her new space (and shower), it doesn't allow you time to spend with her.
One time-consuming (and nasty) maintenance nightmare in bathrooms are tile grout joints. Most people LOVE tile. They HATE cleaning grout joints. I'm going to share with you a new way to enjoy the look of tile without grout joints.
Enter the "No-Tile, Tile Wall."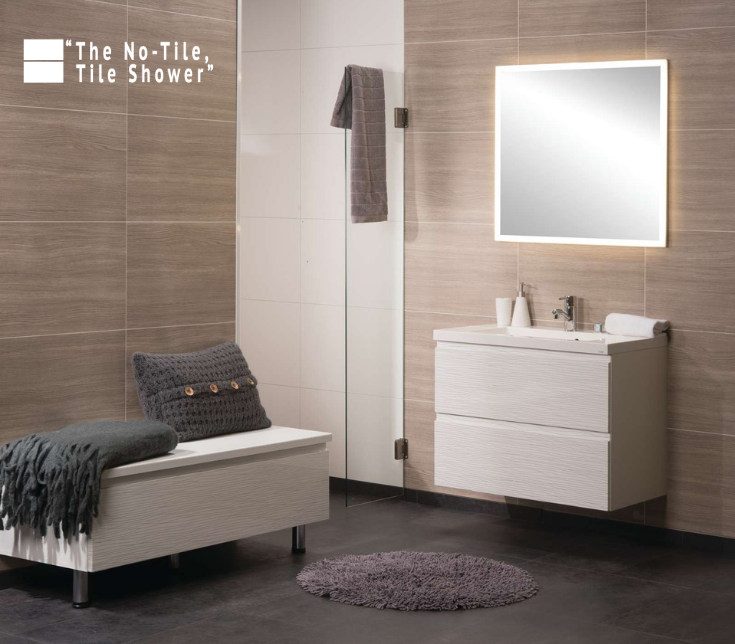 Get Free Samples!
Click here to request free samples of our Laminated Waterproof Shower Wall Panels.
Not sure what a no-tile, tile wall is? Well – it's a high-pressure laminate shower wall panel system which is 100% waterproof and looks exactly like tile. The laminate is applied onto a 3/8" thick sturdy marine grade plywood which is attached to your studs.
What's cool is you can install them yourself with snap-together panels which click and seal to each other (like a floating floor system). This DIY friendly system can be essential if finding a competent contractor in your town is like a needle in a haystack.
These panels are contemporary, stylish and come in different 'tile' (OK – actually non-tile) sizes, patterns and textures. The "no-tile, tile wall' is the tile look minus the maintenance hassles.
There are choices in this line to create a Farmhouse, Contemporary high gloss or even a Modern Minimalist look. How cool is that?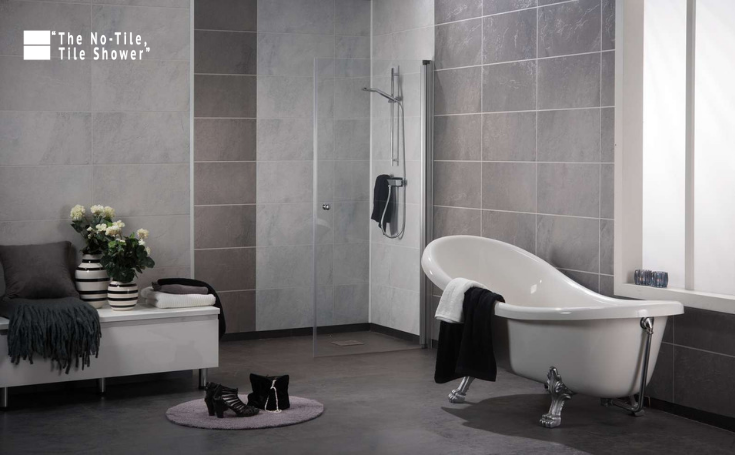 Little Known Secret #3 – A little thought into shower heads can make an easy to use (and safer) shower
We're all used to the stationary shower head with controls underneath to mix the water temperature. However, this traditional setup can be a ridiculous design for your Mom if she's in a walker or a wheelchair. She certainly won't want to roll in to turn on the water when the shower head is too high for her to reach and gets blasted with cold water before the water's heated up? Here are 3 possible water source changes you can do to make life simpler for Mom and make it easier to use this accessible shower:
Change #1) Relocate the shower controls – Instead of having the controls directly under the shower head move them close to the entrance of the shower. This way she can turn the water on, and let it get warm, before she enters.
Change #2) Install a rain shower head – The technology of high-pressure rain heads has allowed them to progress beyond the 'wimpy' water source of yesteryear. What's nice about rain heads for an accessible shower is they direct the water in a more compact location, so it won't spray all over. This can be helpful for a shower which only has curtains or caregiver doors on it.
Change #3) Use a hand-held shower – This can be an essential for someone who needs to be seated while showering. The hand-held units not only allow someone to clean hard to reach places, but it also comes in handy to clean the shower floor or walls (or your pets).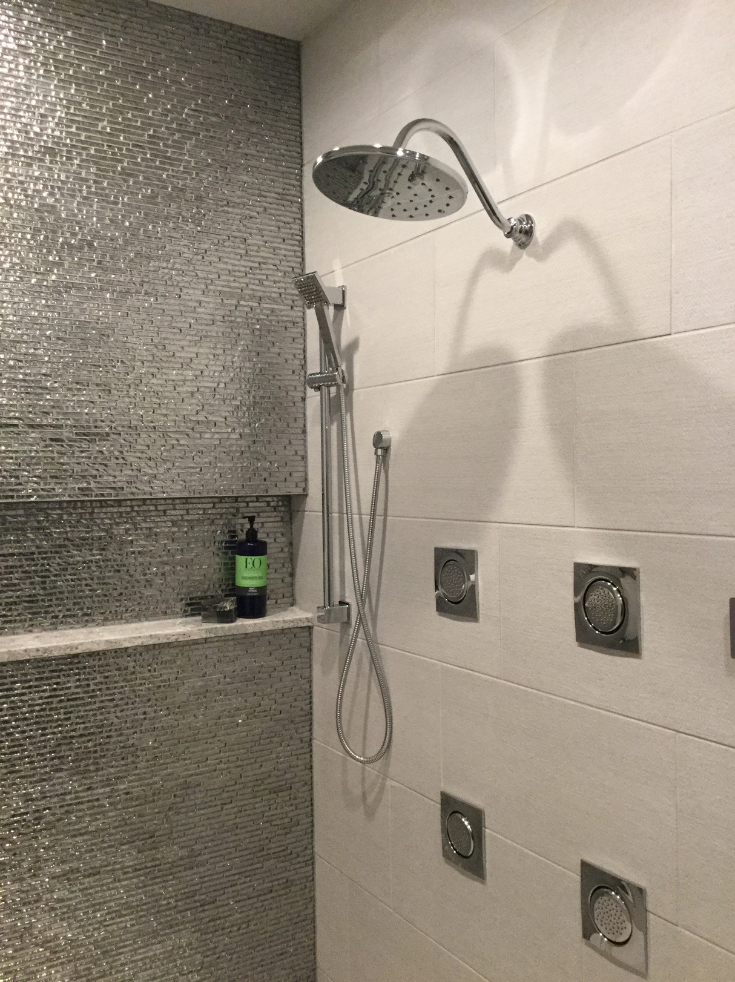 Little Known Secret #4 – A flimsy framed shower door is a bad idea. Frameless glass, semi-frameless glass or glass blocks are the way to go.
Since Mom's balance isn't what it used to be, and you don't want the maintenance hassles cleaning nasty hair and dirt-infested bottom tracks of a thin framed shower door system, you'll want to upgrade the glass in your accessible shower.
There are many options to choose from. First, you'll want to decide if you want to go doorless (having part of the space open to roll or walk into) or choose a full glass enclosure. If you go doorless some sturdy, safe and stylish options include a glass block shower or a frameless shower screen (either with or without a pivoting door).
If you use a fully enclosed space, 3/8" thick frameless glass or ¼" thick semi-frameless glass are sound ways to go.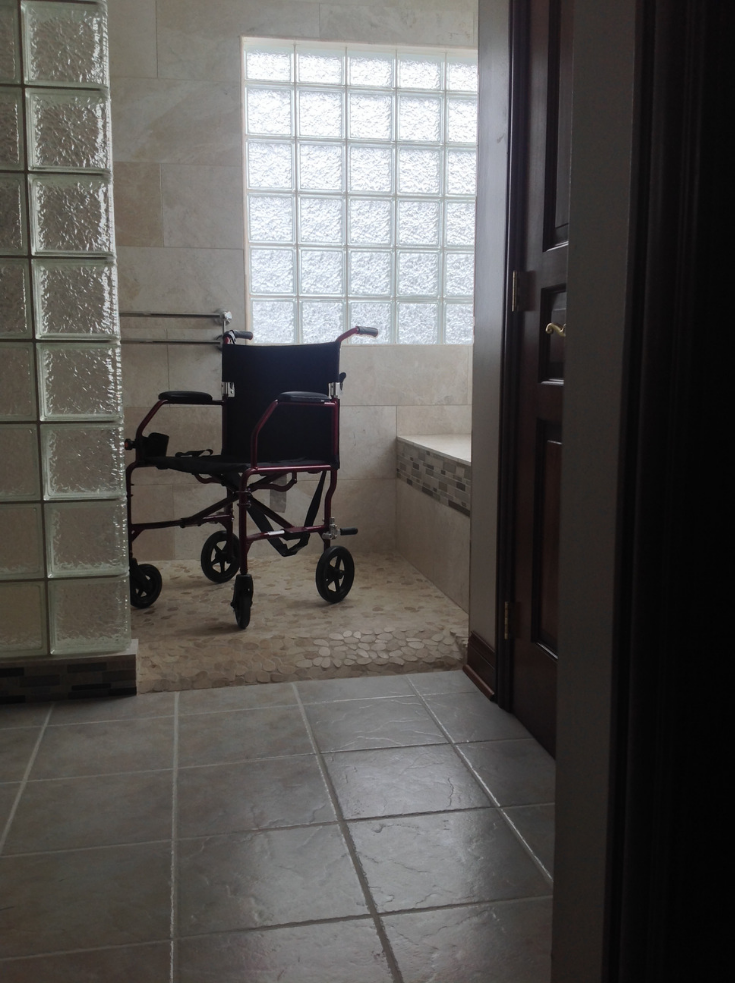 Little Known Secret #5 – Accessories (and their placement) and wall hung cabinetry will turn your accessible shower into an enjoyable experience
Just like accessories make the dress, it's also true accessories make a shower. When a family member is mobility challenged, the right accessories in the right location are even more critical. If Mom can't safely sit down, can't reach her soap and shampoo without straining or doesn't have something sturdy to grab onto you'll have an accident waiting to happen on your hands. Here's two tips to design your accessories right the first time:
Tip #1 – Avoid buying wall panel or enclosure systems with the accessories already built in – Prebuilt shower wall surrounds with pre-made ledges or flimsy support bars are built with everybody (and I would contend nobody) in mind. This is a tragic design flaw for an accessible shower. You'll want to determine (and be able to control) where your grab bars, seats and recessed niches are placed. If Mom has a weak left arm – think about where it's best for her to enter. Put grab bars in the best location for her. Conversely if she's using a shower chair how high up from the floor should a shampoo niche be placed so she can reach it without assistance or straining.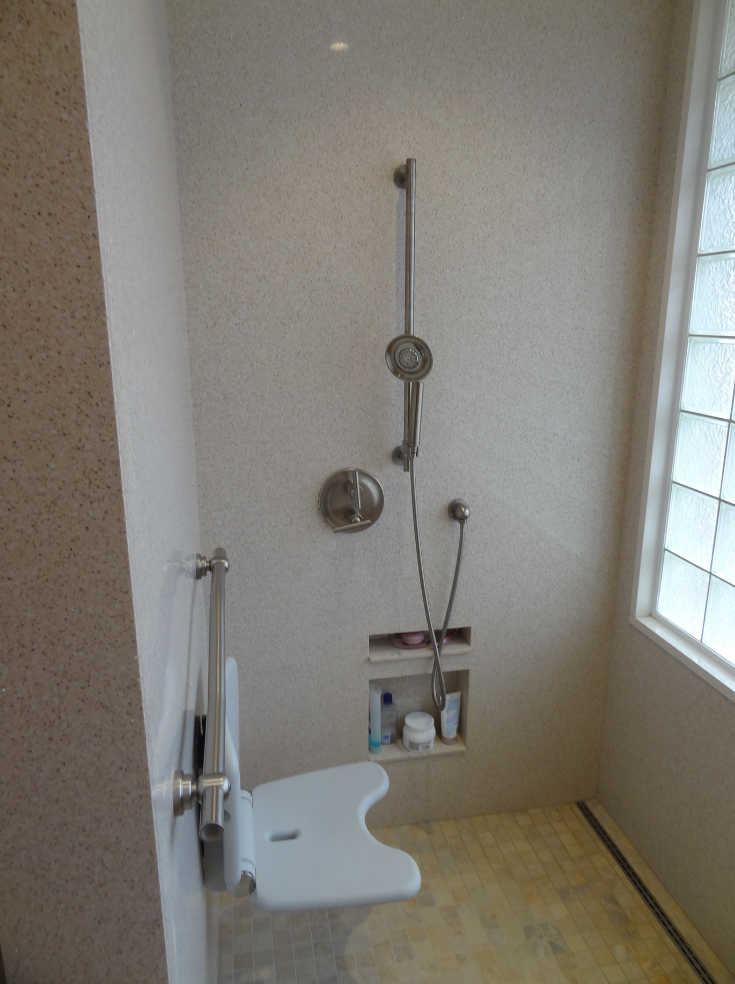 Tip #2 – Don't settle for ugly accessories – In the old days the only grab bars available looked just like the ones you see in a hospital room. This is no longer the case. There are decorative grab bars. There are teak fold down seats. There are stainless steel shower trays with removable inserts which make cleaning a breeze. Accessible accessories (say that fast 5 times) don't need to be agonizing to look at.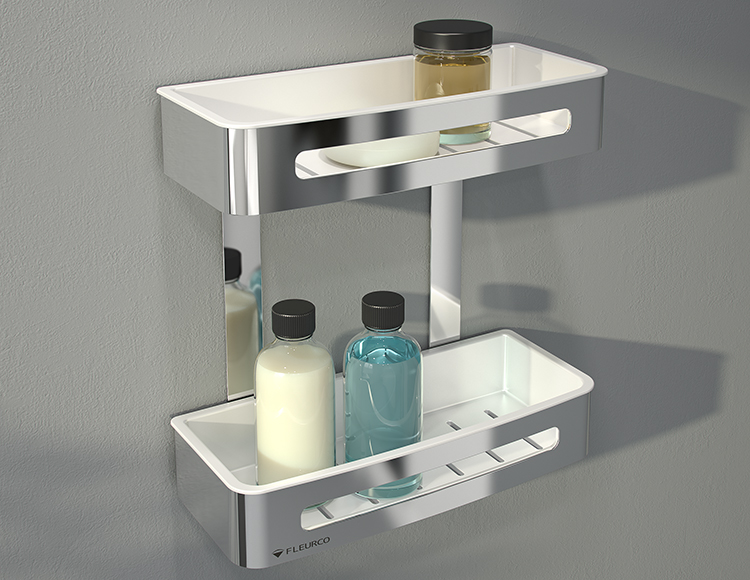 Tip #3 – Hang up your bathroom vanity – It's nice to locate your vanity at the perfect height to you – without having to purchase a custom unit). This wall hung vanity below makes it easy to roll under and easy to clean.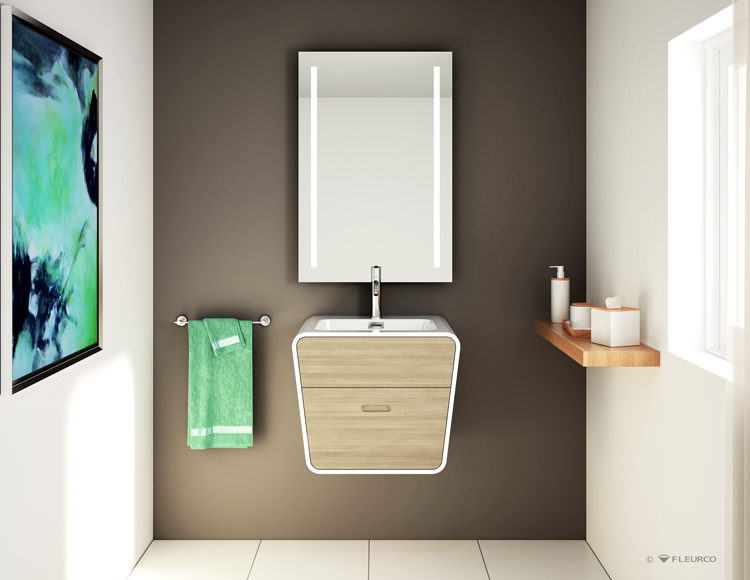 Little Known Secret #5 1/2 – CAPS are not only useful to keep liquid in a bottle. Get the help of a CAPS – a "Certified Aging in Place Specialist."
When you think about caps you wouldn't associate it with an accessible shower – but I'm going to argue you should! You see there are experts around the country (yes – I'm one – but you won't find me on the top of a Pepsi bottle) who are called Certified Aging In Place Specialists (or CAPS) (although, I like a friend of mine's term which is Living in Place Specialist better). CAPS are trained to design spaces for people who want to stay in their homes (not Assisted Living Facilities) longer.
There is a lot to think about bringing Mom into your home (and making sure the bathroom is safe for her – yet looks nice). It can be overwhelming. After all you're likely not a construction and design professional. So – I would recommend, even if you're doing your own research, to seek out a CAPS certified contractor or designer. They will be more knowledgeable than your average contractor about accessible spaces and will help you to save money on design and construction decisions which are new to you.
Conclusion
Bringing Mom into your home is an emotional experience for you, for her and your whole family. There is a lot to manage and often too-many decisions to make.
If she's needs an accessible bathroom I would recommend digging into the systems, products and certified professionals discussed above. They will save you time, money and make a fashionable (yet safe) space.
How can I (or a member of my team) help you?
For assistance and factory-direct product supply of grout free shower wall panels, wet room systems and glass partition walls nationwide contact Innovate Building Solutions at 877-668-5888. For an accessible bathroom remodeling project in Northeast Ohio call Cleveland Design and Remodeling at 216-658-1270 or The Bath Doctor in Columbus at 614-252-3242.
If you're a remodeler or builder and want practical advice on remodeling products, industry trends, marketing and sales tips to grow your business (and cut day to day hassles), start reading my newest blog – Innovate Builders Blog. It's packed with ideas you can use now. Click here to Sign Up for the Innovate Builders Blog.
If you're in the building business, click here if you'd like to learn how to become a shower wall panel dealer or call and ask for Mike at 877-668-5888.
If you want to connect with me and/or learn more about remodeling, follow me on Twitter @Mike Foti, or my companies @InnovateBuild or @InnovateHomeOrg.
---
Mike Foti
President of Innovate Building Solutions a nationwide supplier and regional (Cleveland and Columbus) remodeling contractors. Some of our product lines include glass counters, floors, backsplashes, glass blocks and grout free shower and tub wall panels
---