5 Euro Bathroom Design Trends You Should Use Right Now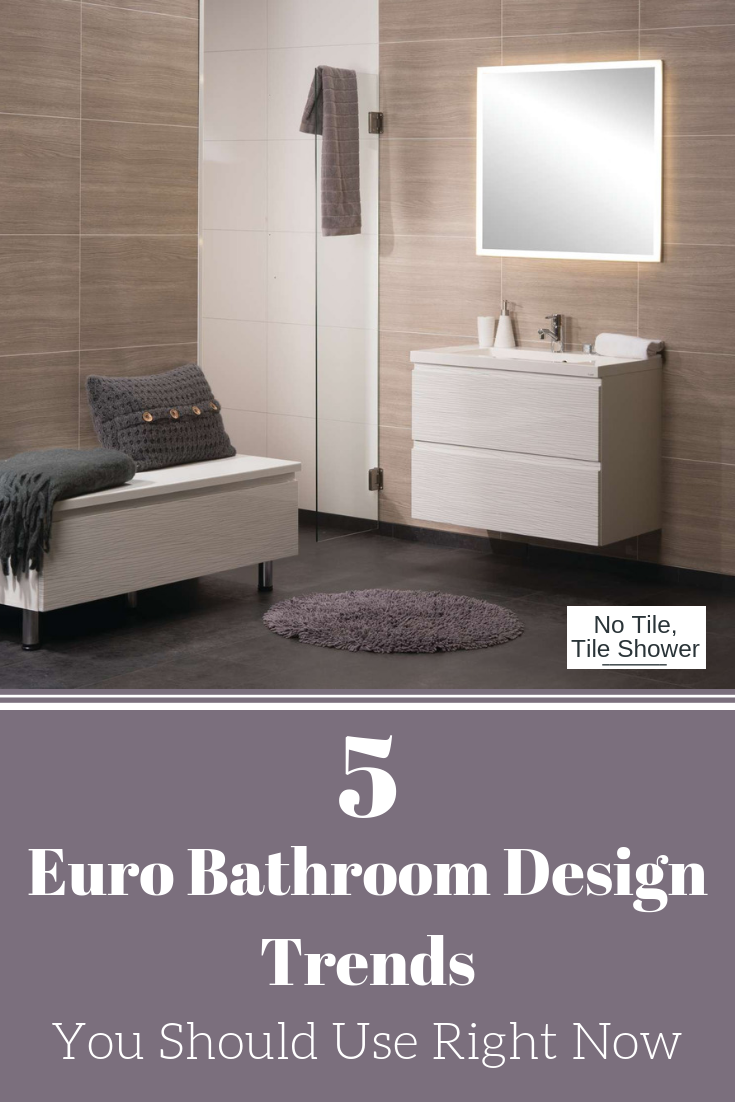 Updated March 24, 2019
If you remember the song Smoke on the Water and can think back to when it was HOT to have a cassette player or 'car phone' (my first car phone cost $795 and boy was I cool), you know how quickly trends change.
Just like in music and technology, bathroom trends have evolved greatly over the last decade. You know this is true if you're currently staring at 4" x 4" mauve colored tiles in your shower which are as up-to-date as the 'Charlie' perfume or Calgon bubble bath your Mom used to use. While your spouse may be OK with this time-warped bathroom, they're not trying to clean the dirty, dingy, moldy tile grout joints. As a matter of fact, they don't even notice the chipped-up porcelain bathtub either.
If you've 'had it up to here' (now, you're even thinking like your Mother!) with This Old Bathroom you owe it to yourself to not only spruce up this tired space, but to design it to work flawlessly over the next 25 years as well. After all you know the problems an outdated bathroom has caused your Mom and Dad who are mobility challenged today. The question becomes, where do you begin tackling this project?
Even though I love our country as much as the next person, I will make the argument the place to start your journey to an updated bathroom is 'across the pond' – in Europe. You may be asking, "Mike, why Europe?" Here's 3 reasons why:
Reason 1 – Europe has been setting the fashion bar – whether it's designer dresses from Milan, fun fashion-forward tiles from Spain or Italy, or Scandi-chic cost-effective furniture from IKEA in Sweden.
Reason 2 – Europeans are used to living in smaller spaces. Since their homes and apartments are tighter they're already 'on-it' designing bathrooms which work in little areas.
Reason 3 – Europeans realize a less complicated life is a good life (that's why many countries in Europe have 1 month off for vacations). In bathroom design their designs are simpler and organic.
In this article I'll show you 5 Euro bathroom design trends you need to consider in liberating your bathroom from its time-warped past (or at least, hopefully it's past). Let's look at these trends.
Trend #1 – Kill the tiles, replace them with 'click together' grout free shower, tub and bathroom wall panels  
When I saw a dramatic, contemporary and stylish new line of laminate shower wall panels from Norway at the trend-setting 2018 International Builders Show I was blown away. I would swear these panels (even though I don't swear) look exactly like tile. The catch though – is they have ZERO (nada, niente, null) tile joints. The 'faux joints' in these panels are a high-pressure laminate applied to a marine grade plywood sub-surface with an integral moisture barrier. They literally 'click together' like a floating wood floor (although they also use waterproof sealant between panels).
Although these panels are beautifully engineered, what really surprised me was they are actually more popular than tile in Norway. This statistic blew my mind!

In the United States, it's tile, tile and more tile. When you build a custom home – the builder gives you two choice. A cheap fiberglass surround or a luxury tile shower. Although tile jobs look fantastic initially, it's the eventually which gets you. Eventually you'll be on your hands and knees with a scrub brush and nasty chemicals. This 'eventually' will make you curse your decision to use tile. And when you're cleaning tile your builder, remodeler, or spouse for that matter – are no where to be found. This tasty job is yours and yours alone.
Why put up with this crap anymore?
Be like the Euros (and Norwegians in this case) and blow your tile up. Install grout free wall panels which look like tile. Call it your 'no-tile, tile shower.' It can be your little secret. You don't have to mess with shower and tub wall grout joints ever again. (note for other ideas to get rid of grout read How to Eliminate Tile Grout Joints in Your Bathroom).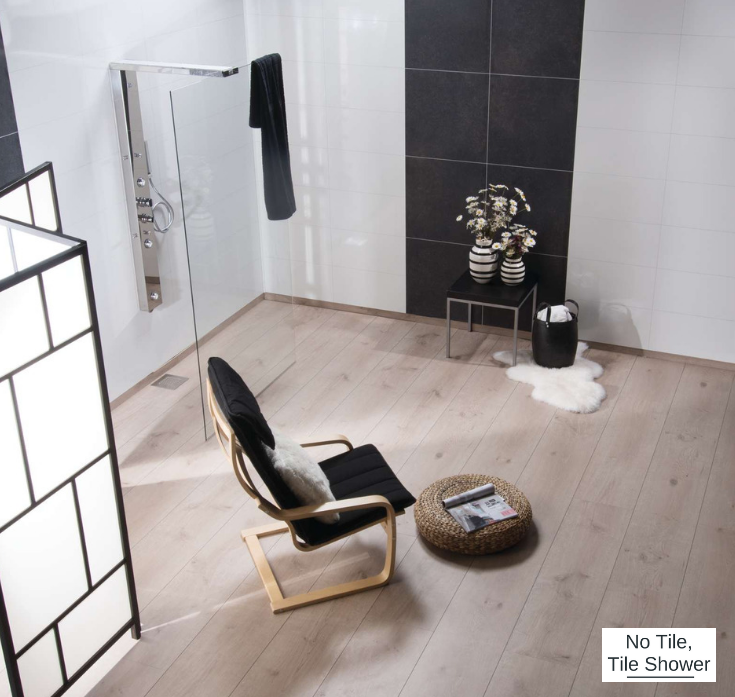 Trend #2 – Stop breaking up your space with an 'enclosure.' Using a one level wet room
The word 'enclosure' even sounds confining. Most bathrooms have shower enclosures. It could be a 3' x 3' phone booth sized stand up shower (next to a large soaking tub which just gathers dust). It could be a 'spacious' 5' x 3' space separated from the rest of the bathroom by ugly, pitted brass hardware and an old-style, flimsy framed shower door. It screams out – I'm-behind-the-times.
European bathrooms are generally not confined by enclosures (in some cases because there flat-out isn't enough room to separate space like this). What owners in apartments and condos in cities like Rome and Milan have are one level bathrooms without barriers between the shower and the bathroom floor.
You may be wondering how does that work? Wouldn't all the water on the bathroom floor leak onto your floors and furniture below?
Using standard building practices done by most contractors in the United States this leaking problem could happen. But there is a better way to build a bathroom. That better (and safer) way is….
The One Level Wet Room
If you're not sure what a wet room is, it can be defined as creating a bathroom (and shower) area which is at one plane. No 'curb' (or threshold) to step over to get into the shower. A product called a shower base former is used to create the slope of the shower (and it has the drain as the lowest point in the room). Since the entire floor in a wet room is waterproofed, water outside the main showering area is not a problem.

Not only are wet rooms efficient, they also get rid of the step-over shower curbs which can cause falls, expensive hospital stays or moves to assisted living facilities (and if you have a family member in one of these facilities you know they're not cheap).
Make a more stylish bathroom. Make a safer bathroom. Blow up the shower enclosure and go with a wet room.
Trend #3 – Keep your bathroom visually open. Use shower screens, glass blocks and internal transom windows 
If your bathroom feels old and tired it may be because your walls create a closed-in cramped, claustrophobic feeling. Perhaps you have walls separating your 'water closet' from the bathroom. Perhaps you have tiled walls separating your shower from your bathroom. These walls don't allow light to move from one space to another. Darker spaces contribute to falls (not a good thing).
What the Euro's know (and we are rapidly learning) is open-concept living is freeing. Eliminating visual barriers is a good thing. Right now, you may be saying, "Mike – we're talking about a bathroom here – not a kitchen/dining room. I like my privacy when I'm on the 'throne!" I get it. However, there are ways to have a more open bathroom without sacrificing privacy.
One cool product used in Euro-inspired bath designs is a pivoting shower screen. A shower screen is a door which can move in and out (for an open walk shower) but can still be made of with a high privacy obscure glass.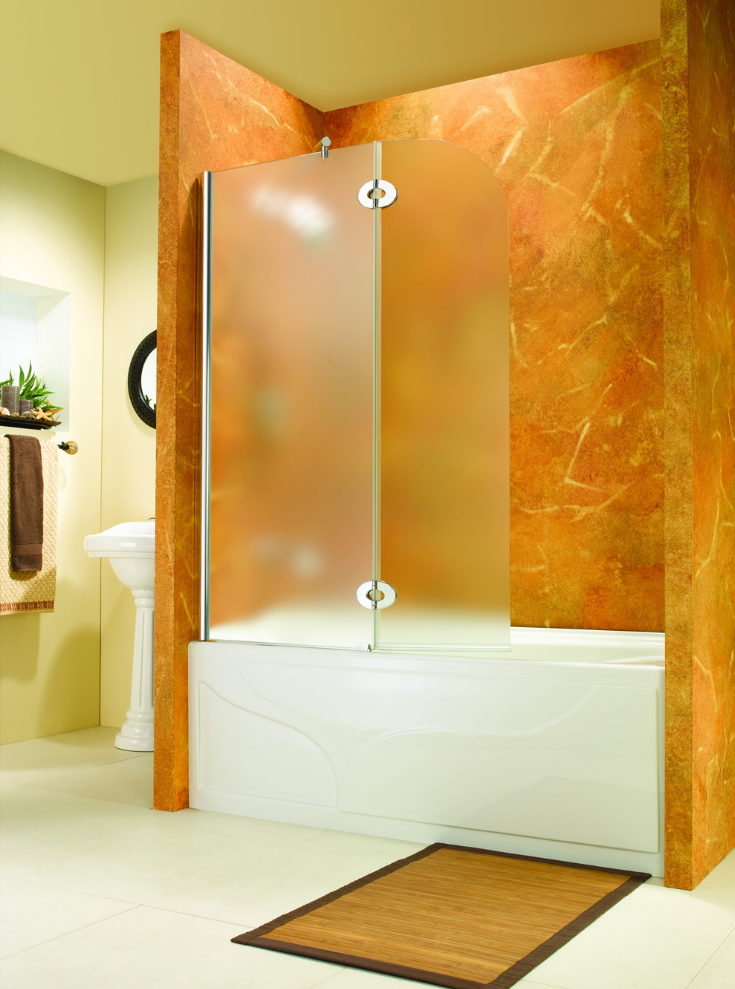 Another fun idea for your water closet is to use a high privacy glass block window inside the stud walls. Using this idea, you'll still be able to have your 'moment of privacy' – but the space will be light-filled, and it will be easier to read as well (and we all know there is no better place to read than on the 'throne.').
Another fun idea is to use an eclectic glass block wall to move light through your bathroom space, while adding a touch of style.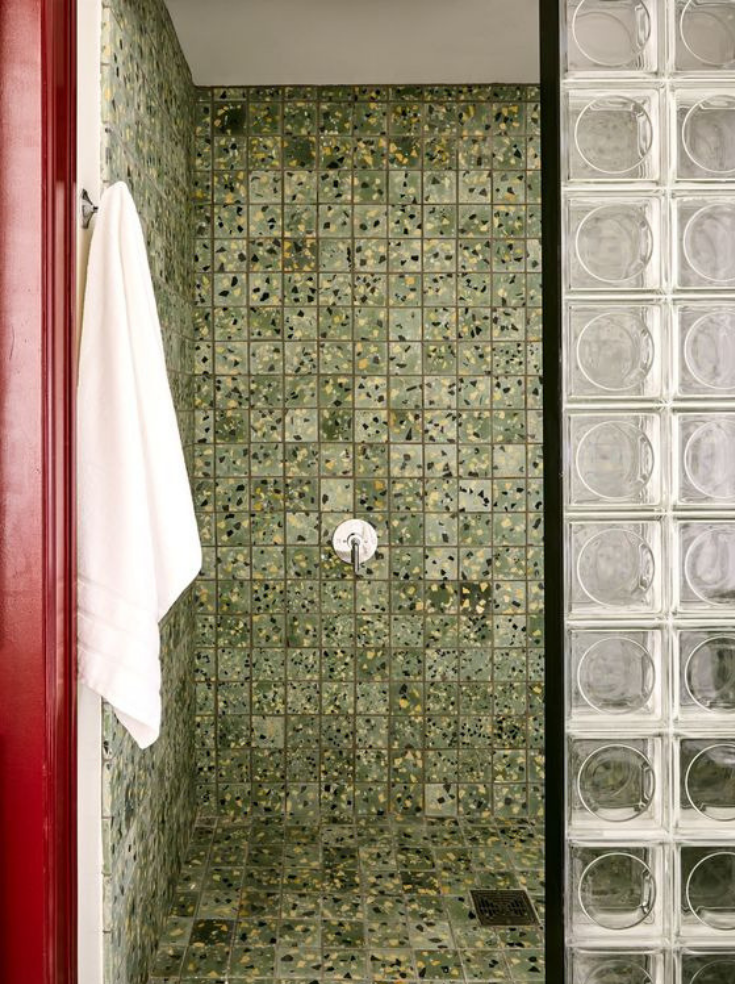 Trend #4 – Getting more bang for your wet space buck. Put your tub inside your shower.
The size of bathrooms makes it tough getting everything you'd like in them. You may be dreaming of a walk-in shower and a stylish freestanding tub but can't figure out how to make them both work in your small bathroom.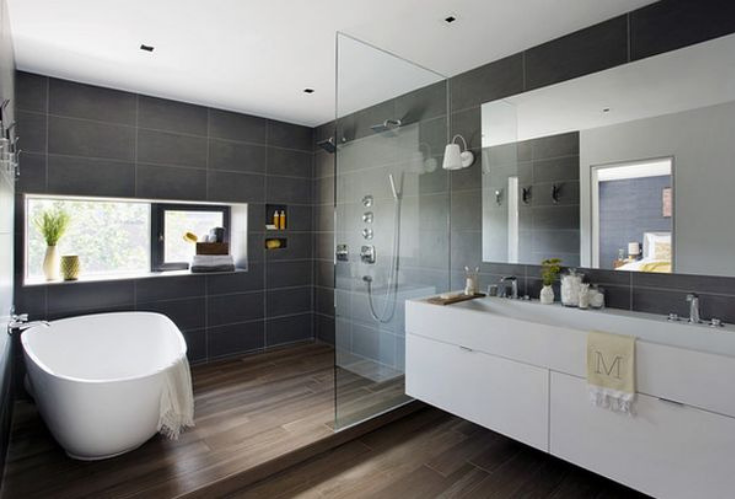 Here's an idea we can take from our friends across the pond. Why not combine both into one space?
When you create the open concept wet room (see trend 2), you've created one continuous area where both your shower and a relaxing free-standing tub can live together. It's like a 'BOGO' deal for your bathroom.
Trend #5 – Bring nature and the outdoors in. Using natural materials (or ones which look natural) in your bathroom.
In your parent's era a bathroom was simply a place to get clean…a washroom. Given our stressful lives you and I expect much more from our bathrooms. We not only want the space to function well, we want it to be a place to relax from a crazy-stressful day.
An excellent way to accomplish this (as I've seen in some fun rustic bathrooms in Greece) is to design your walls with a simpler look, then use your decor elements for infusions of color. These elements can be lush green plants, or an old wooden ladder repurposed into a towel stand or a colorful paint or tile inlay. It can be to have a feature wall which look like concrete for a clean minimalist look.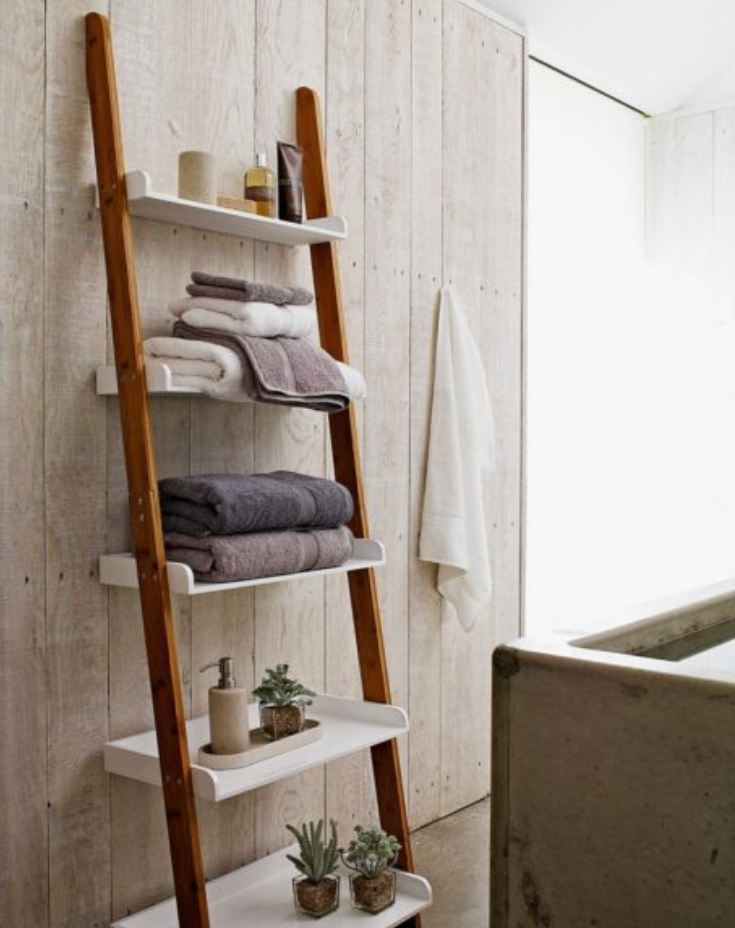 Don't allow your new bathroom to be boring. Can you use some of these Euro décor tricks to dress it up?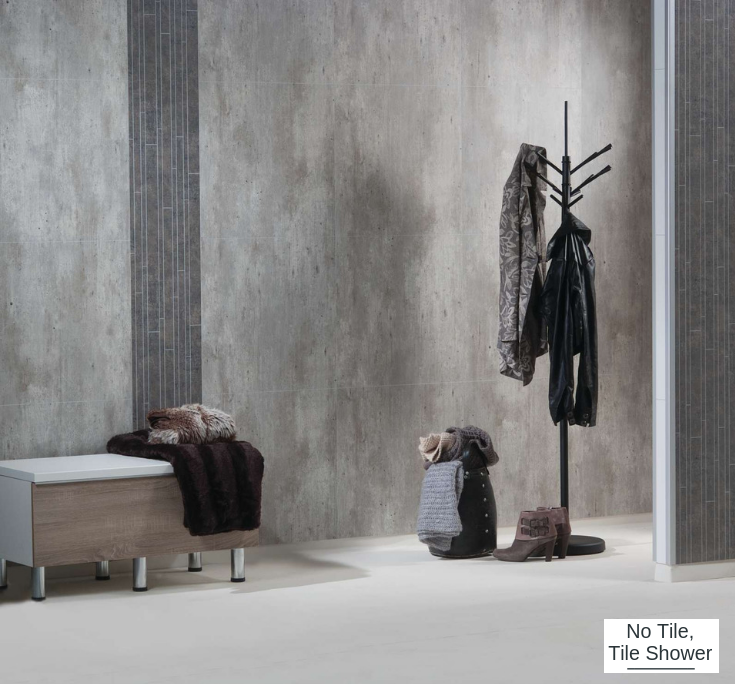 Conclusion
While I love the creativity and ingenuity of the design community in the United States, I still think when it comes to bathroom products and design there's a lot we can learn (and adopt) from the Europeans. If you're struggling with an out-of-date, not very safe, high maintenance bathroom you wish had more space – can you benefit from these European bathroom design trends above?
If you're struggling with how to pull together a cohesive design concept in your small space, we would love to help. Check out our lines of grout free shower and tub wall panels, one level wet room systems and glass partition walls and windows. Click on the links below or call to get free assistance and move your bathroom out of its time warped past.
How can I (or a member of my team) help you?
For assistance and factory-direct product supply of grout free shower wall panels, wet room systems and glass partition walls nationwide contact Innovate Building Solutions at 877-668-5888. For a bathroom remodeling project in Northeast Ohio call Cleveland Design and Remodeling at 216-658-1270 or The Bath Doctor in Columbus at 614-252-3242.
If you're a remodeler or builder and want practical advice on remodeling products, industry trends, marketing and sales tips to grow your business (and cut day to day hassles), start reading my newest blog – Innovate Builders Blog. It's packed with ideas you can use now. Click here to Sign Up for the Innovate Builders Blog.
If you're in the building business, click here if you'd like to learn how to become a shower wall panel dealer or call and ask for Mike at 877-668-5888.
If you want to connect with me and/or learn more about remodeling, but don't want to put up with my wacky humor (I get it). Follow me on Twitter @Mike Foti, or my companies @InnovateBuild or @InnovateHomeOrg.
---
Mike Foti
President of Innovate Building Solutions a nationwide supplier and regional (Cleveland and Columbus) remodeling contractors. Some of our product lines include glass counters, floors, backsplashes, glass blocks and grout free shower and tub wall panels
---