The No-Tile, Tile Shower & Bathroom Wall Panels – 5 Reasons You Need to Check Them Out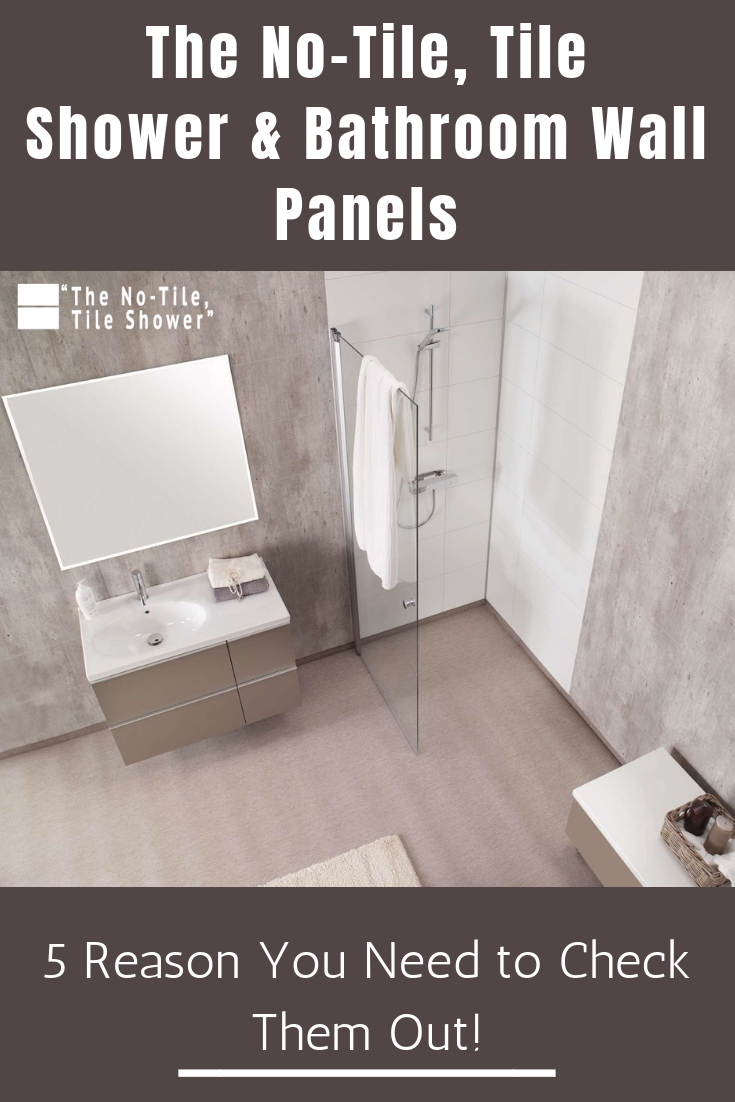 Updated September 21, 2019
I had to laugh when I saw the following blog comment from Bobbi about our upcoming introduction of laminate wall panels (also called 'The no-tile, tile shower).' She wrote,
"Mike, you've mentioned the 'No Tile, Tile Shower' so many times, but it isn't available in the U.S. yet. Now it's time to cough up the goods! You've been teasing about this product for ages. I have multiple clients this would be ideal for."
Bobbi – had a right to 'call me on the carpet' for this one. I've been writing about these laminate panels since they blew my mind when I saw them at the International Builders Show in February of this year.
I had never seen a shower and tub wall panel system with the realistic look and feel of tile before (and as many of you know from reading my blog, I've seen quite a few grout free wall panel systems in my day).
Well – the time has come Bobbi for me to 'cough up the goods!'
I've finally chosen  21 different laminated wall panel patterns I think will fit the United States market. There are styles to fit traditional, transitional, contemporary, modern minimalist, shabby chic or even Modern farmhouse designs.
I've finally got the wall panels on order and coming from Norway to our warehouse in Cleveland Ohio (they are due to arrive in late November).
I've finally got our laminate wall panel web page launched so you can see (and get a deeper explanation of what Bobbi told me I've been teasing about for too long).
In this article I'm going 5 reasons you should not only 'give a hoot' about these panels – but should seriously not only consider them to replace your ugly fiberglass one-piece surround or moldy tile shower – but also to use them ALL the walls of your bathroom as well.
Below – I'll explain to you what all the fuss is about. At the end of the article let me know if you agree with my excitement (and Bobbi's as well) over these panels or whether (in your humble opinion) you think I've been smoking something wacky!

5 Reasons to Check out Laminate Wall Panels (AKA – The 'No-Tile, Tile Shower)
Reason #1- The realism of tile without the hassle of grout joints  
I loved the look of our tile shower after our custom home builder turned the keys over to my wife Rose and I twenty three years ago. Since that time my love affair with our tile shower has gone out the window (or should I say out the stall in this case?). Here's why:
We've had countless trips from the 'Grout Doctor' to clean out the joints (although most of the time the joints just look dark and ugly before Rose or I get around to calling 'The Doctor'). The bummer is, grout cleaning companies don't work for free (imagine that!). So, this tile shower keeps costing  more and more money, time and aggravation.
Some of the floor tiles had to be replaced – even though the tiling subcontractor did a doggone good job.
The 8" x 8" tiles we chose are now dated. Large format tiles with smaller joints are in. Pulling everything out and retiling will be a major expense.
What's nice with laminated wall panels is I can get the realism of tile and blow up the additional costs and time of maintenance. With these panels you can get larger format tile sizes (24" x 12', 24" x 24", 24" x 18" and 12" x 16" sizes with small 1/16" and 1/8" faux grout joints you never have to clean -or pay someone to clean).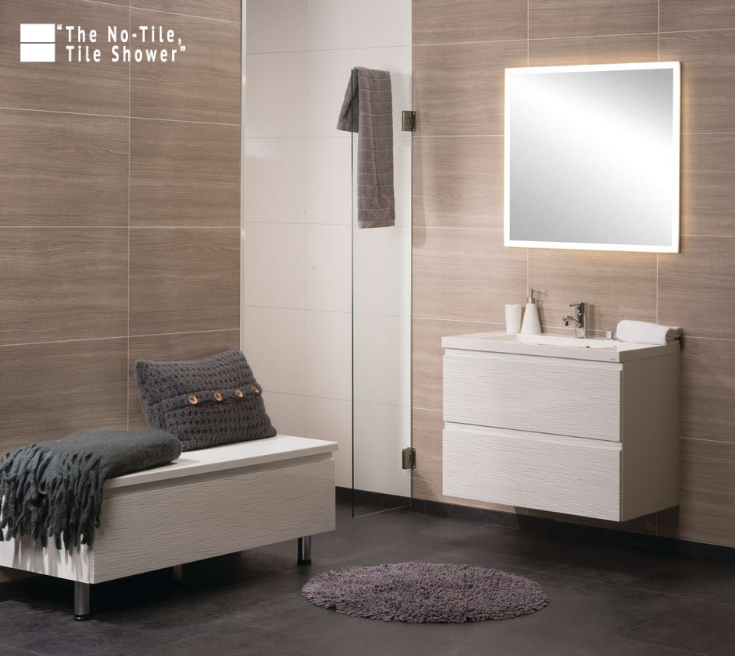 Stylish 'tile.' No hassle. Enough said.
Reason #2 – You're no longer at the mercy of primadonna contractors. Simple to DIY waterproof laminated wall panels      
Perhaps you're experiencing this pain today. You can't find a reputable contractor who isn't booked for months. Then when you tell them you want to install grout free bathroom (shower or tub) wall panels. They tell you they only do tile or fiberglass showers.
You say to yourself, "what's so hard about installing wall panels? I'm sick of maintaining this tiled shower."
Contractors know they're in demand. This 'supply/demand' imbalance has them telling customers no to 'special requests' and not worrying you'll take your business elsewhere.
So, what can you do if you want grout free bathroom or shower wall panels but can't line up a contractor to do it?
Simple. Blow off the contractor and do the installation yourself.
In the past DIY'ing a shower wall panel system was a pain. If you could find a nice-looking wall system, they were cumbersome to put up (imagine trying to haul a 60" x 96" x 3/8" thick solid wall panel up to a 2nd floor bathroom and put it into place by yourself! It ain't happening!).
What's wonderful about the laminated (no-tile, tile shower) system is the panels are approximately 2' x 8' (the actual size is 23.6" x 94.4") and can be installed by one person. If you want to use a contractor they'll like the modularity of these waterproof wall panels and the ability to get into and out of your job before the tile grout dries (oh – I forgot you won't have any tile grout to dry!).

Reason #3 Wall panels should add to (not take away) from your desired look. Styles to suit your tastes
Most wall panels are BORING. Consider these examples:
White acrylic wall panels (don't they remind you of a hospital?).
Dull dirty-brown fiberglass panels (they scream out cheap!).
Cultured marble panels (they're a throwback to the 80's).
When you're upgrading your bathroom you're not looking for boring. You're looking for a fresh new look. You don't want the simple utility of a 'wash room' as your Dad used to call it. You want a place to relax and take the stress off. You want a place as individualized as you are. You want a remodeled bathroom with style.
With today's fashion-forward waterproof laminate wall panels this is completely possible.
If you want a modern minimalist 'cracked' (without the actual cracks) concrete look, you can get it (without pouring concrete walls). Whether you're remodeling a single family home or putting in new shower panels in manufactured homes, you'll get a unique style – without spending a lot of money.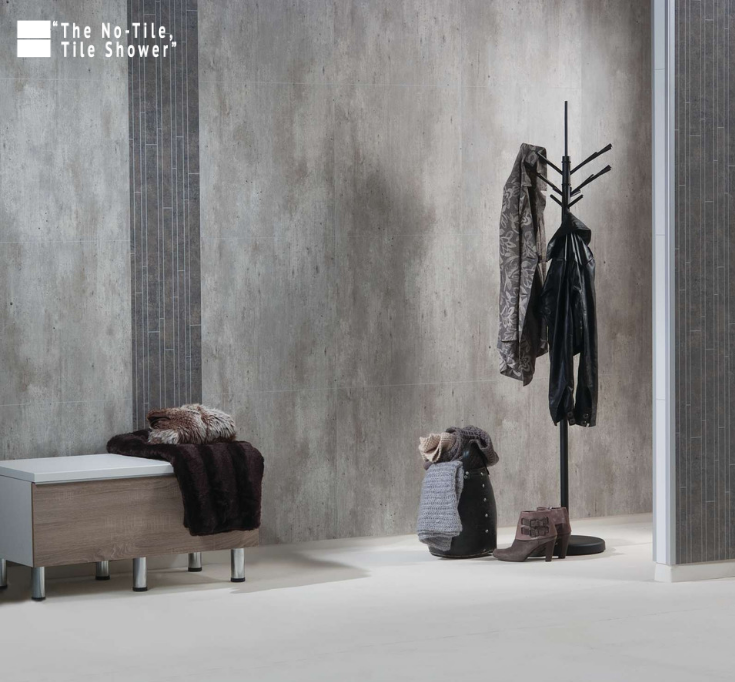 If you want an organic feel, add 'rough wood' wall panels in the design for a rustic-shabby chic look.
If contemporary and bright colors are your vibe, how about a high gloss sea-glass wall panel?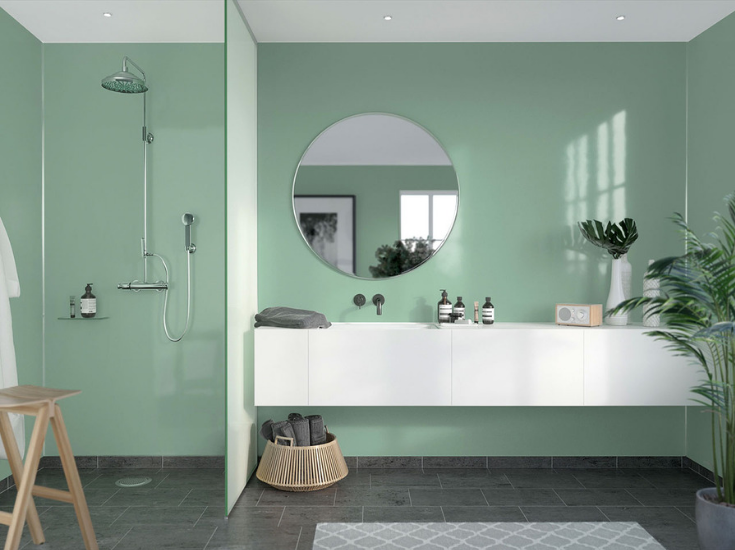 There's no reason to settle for boring wall panels anymore.
Reason #4 – You need to know you've got a waterproof wall panel system which will stand the test of time
I've taken phone calls from homeowners who were practically in tears when their bathroom wall panels or shower base leaked. Experiencing damage to expensive wood furniture and antique rugs in rooms below is a bad day, month or year.
A shower or bathtub which leaks is not only an expensive proposition – it's a major imposition on your life.
When you're installing a new shower, tub or bathroom wall, you need to know the system you use (whether it's tiles or wall panels) is engineered to last.
With this line of laminate shower wall panels, you can rest assured it's been engineered to not leak. Since it's development in 1997 the system is as common as 'white bread' in Europe. With it's patented click and seal locking system it's even approved for use in full wet room systems and comes with a 15-year guarantee.
Knowing your wall panels are not only nice-looking – but even more importantly waterproof, will have you resting soundly.
Reason #5 – It takes 1/5th the time to install laminate panels vs. tile  
Let me take a wild guess. If you're a DIY homeowner or an owner of an Airbnb, you're rather be golfing with 'da boys or enjoying a day at the spa with the ladies than installing your shower? And if you're a contractor you'd rather be moving on to the next job (who already is breathing down your neck to get started) than waiting for the tile grout joints to dry (and/or worrying about after installation service calls due to bad tile joints).
Why put yourself through the time-consuming process of installing tile (which BTW is not over after the job is done) and maintaining tile joints also)?
Laminate wall panels install in 1/5 the time vs. tile and you NEVER have to regrout them. That's a double bonus for you!
Conclusion
I'm so glad Bobbi decided to 'call me on the carpet' to quit teasing her about 'The No-Tile, Tile Shower' and get this puppy introduced. I'm  excited (probably even more so than Bobbi) to get this 'ball moving' in the United States.
It's been 6 months of planning. I truly believe the United States market will love this product. And why shouldn't they – it looks like real tile. It's simple to install. It's a proven waterproof bathroom wall panel solution.
Would you like to see what all the fuss is about?
Call us.
Let me or my team (note: they're even smarter and better looking than I am anyway – OK – that's not hard to imagine!) explain why we're SO excited about laminated wall panels.
Get your name on the ever-growing list of people who we'll be rushing product samples to when our air-freight sample shipment arrives.
How can I (or a member of my team) help you?
If you live anywhere in the United States, Innovate Building Solutions is happy to serve as your bathroom and shower design consultant. We can wholesale this line of laminated wall panels (as well as shower pans to go with your wall) directly to you or your contractor. If you're in the Cleveland or Columbus Ohio areas, we can professionally install this product for you.
If you want to learn more call us nationwide at 877-668-5888. For help with a local bathroom installation project call The Bath Doctor in Cleveland at 216-658-1270 or in Columbus at 614-252-7294.
If you're a remodeler or builder and want practical advice on remodeling products, industry trends, marketing and sales tips to grow your business (and cut day to day hassles), start reading my newest blog – Innovate Builders Blog. It's packed with ideas you can use now. Click here to Sign Up for the Innovate Builders Blog.
If you're looking for shower panels for a boutique hotel or bathtub surrounds for a rental property, we'd be glad to help you. Call 888-467-7488.
If you're in the building business, click here if you'd like to learn how to become a shower wall panel dealer or call and ask for Mike at 888-467-7488.
---
Mike Foti
President of Innovate Building Solutions a nationwide supplier and regional (Cleveland and Columbus) remodeling contractors. Some of our product lines include glass counters, floors, backsplashes, glass blocks and grout free shower and tub wall panels
---