Maybe Shower Wall Panels aren't a Crazy Idea After All…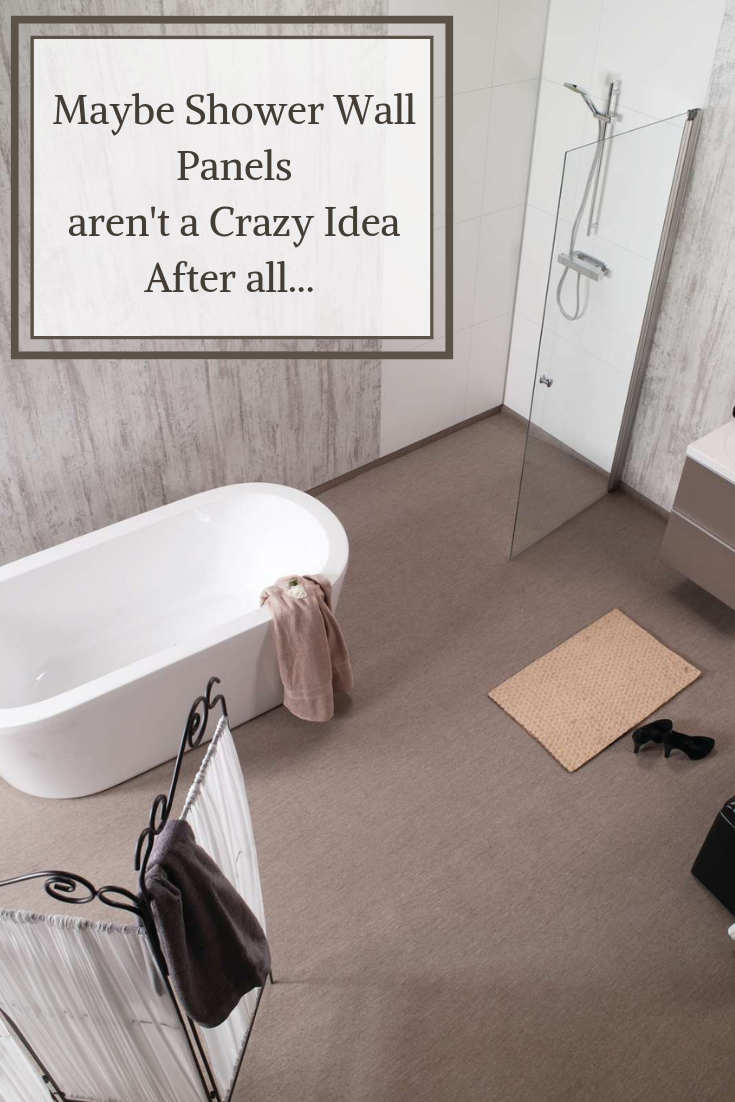 Updated March 24, 2019
Patty came into my office to look at a glass enclosure for a new tile shower she and her husband Mark were installing in their upcoming bathroom remodel. The appointment was going well until I said to Patty, "Have you ever considered using grout free shower wall panels instead of tile?"
Patty looked at me like I had a third eye.
She said, "Mike – you're either a little crazy or you're filming me for the next episode of America's Funniest Videos. I told you, Mark and I are designing this bathroom to be the LAST to be the last one we do. This bathroom is going to be stylish. It's going to work for us until they wheel us out of this place. Why would I even think about putting in colorless, plasticky, cheap and hard to clean (oh – and did I mention ugly) shower wall surrounds?"
I thought to myself (sarcastically), "Well – that idea went over well!"
The reality is Patty is right on the money with how most people think about shower wall panels. They're thin. They look like cheap plastic. They're boring. They'd hard to install. And lastly – and maybe most importantly – you can't keep them clean.
There's nothing more embarrassing than a 'white shower' which is now a dull gray or yellowish-brown color. That's just one reason you've kept those ugly high-privacy curtains on your hall bathroom with the fiberglass tub/shower surround. You're hoping no one will see how bad the interior shower wall surrounds and pan look behind the curtains.
In this article I'm going to give you 5 reasons why people don't want to use grout free shower wall panels in an upgraded bathroom remodel. Then I'll serve up new information to expand your knowledge (and possibly change your thinking) about why shower wall panels are a smart option instead of tile.
5 Reasons You Don't Want to Use Grout Free Shower Wall Panels (and some new information which can change your mind)
Reason #1) Shower wall panels are thin and cheap
Shower wall panels like FRP (Fiberglass Reinforced Plastic) are wafer-thin. Can you say.045, .060 and .090 thicknesses? This is basically the thickness of one thin dime. As George Benson might say if he was singing a slightly new version of the song On Broadway about a shower, 'How you gonna enjoy some time (in your bathroom), if you're panels are as thick as one thin dime?' When you can buy Fiberglass Reinforced Panels panels for $75 to $95 per sheet – what do you expect- a thick quality product?
You can go one 'tiny' notch up and use fiberglass or acrylic walls. They're .125 (1/8") thick and slightly better, but nothing to write home to Mom about (and if you're a guy did you ever write home to Mom anyway?).
Not all shower wall panels are thin and cheap
Yes – FRP and fiberglass panels (IMHO) are flat-out junk. If you're looking to flip a rental-unit you want to sell in a not-so-great section of town, they may be good enough. But there's no way you want to put that type of wall panel into a shower you plan to enjoy for years to come. Here's 2 thicker – high quality alternatives to put on your remodeling research list:
Option #1 Solid surface or cultured granite wall panels
Solid surface panels are 3/8" thick, available in 51 colors and come in a wide variety of textures. The color is consistent throughout and they come with a lifetime guarantee. Cheap and thin they're not. Durable and dense they are.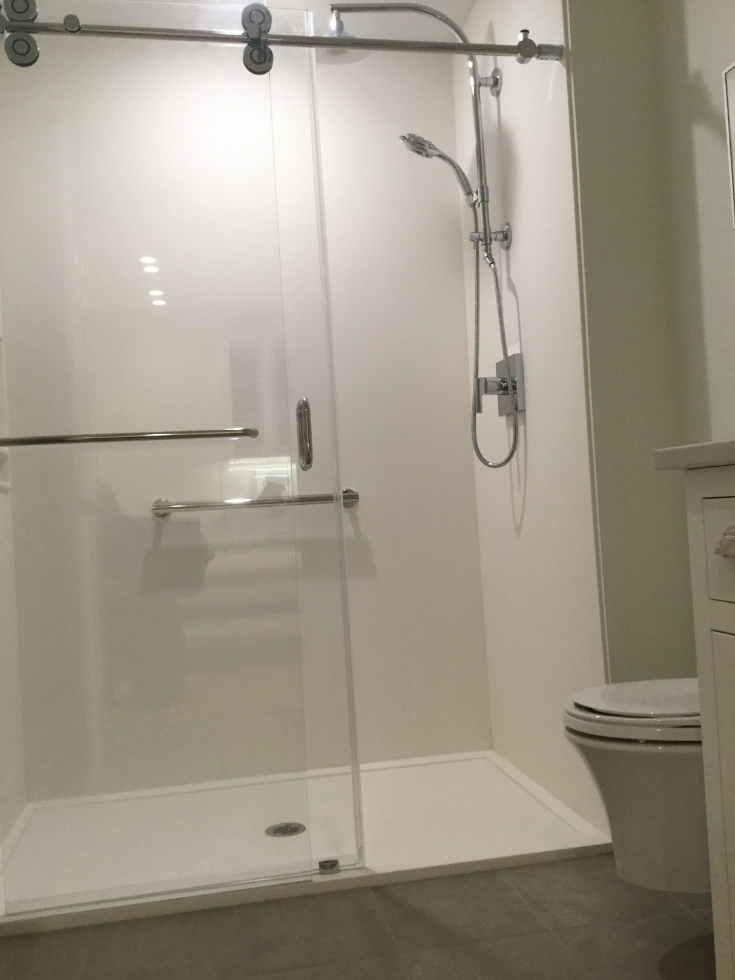 Option #2 – Laminated shower wall panels. 'The no tile, tile wall.'
I totally understand your love-affair with ceramic tiles. They're interesting. They come in larger sizes (which allow a small bathroom to feel bigger). You can lay them in different directions. But you know the downside to tile. They come joined at the hip with those evil grout joints. They're a pain in the backside to clean. They grow mold. They can pop off the wall.
What if I told you, you can now enjoy tile and blow up the grout joints all together? Your bathroom, your shower or even your bathtub walls will have the realistic feel and look of tile without the maintenance – FOREVER!
Enter "The No-Tile, Tile Wall." These laminated wall panels (which have been used in Europe for over 20 years) will be available in the United States in November of this year. They have crisp, clean 'faux-grout' grout joints. You'll swear they're tile – but they're not! They have a durable laminate top layer over a marine-grade plywood subsurface.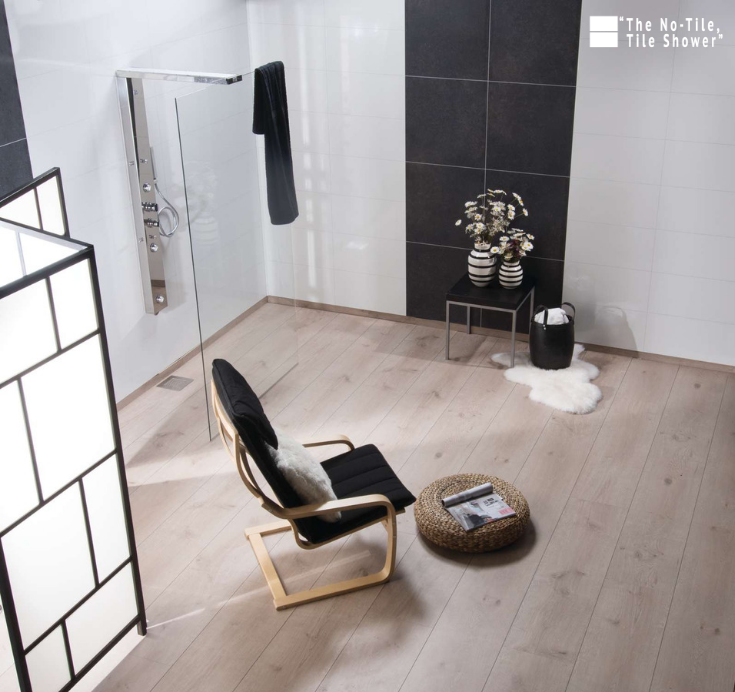 Get Free Samples!
Click here to request free samples of our Laminated Waterproof Shower Wall Panels.
Reason #2 – Wall panel systems look 'plasticky' and pre-molded     
It's not hard to tell a cheap shower wall surround. Its white, made of some type of plastic product (usually fiberglass) with pre-molded sides for soap and shampoo. It doesn't even reach to where the shower head comes out. It's got a cheap, builders-grade look.
In a bathroom remodeling project – a pre-made, pre-molded one-piece unit isn't even a possibility (good for you). That's because you can't get them into the door like the builder did when your home was being built (before your finished walls were in place).
If you're looking for something which doesn't look anything like plastic check out 3 fun grout free wall panel options which look like concrete, glass and even natural wood (yet – are all low maintenance).
Wall panel options which don't look anything like plastic. Killing it with concrete, glass and natural wood looks
The minimalist concrete look
If you like the sleek, minimalist look and want to 'vibe' (as your daughter says) with a Euro-designed bathroom how about the look of concrete (without having to worry about cracking)? If you think a concrete look is out of the question, (without building concrete walls), think again. These laminate (click-together) shower wall panels give you the urban-loft concrete look and they're simple to install.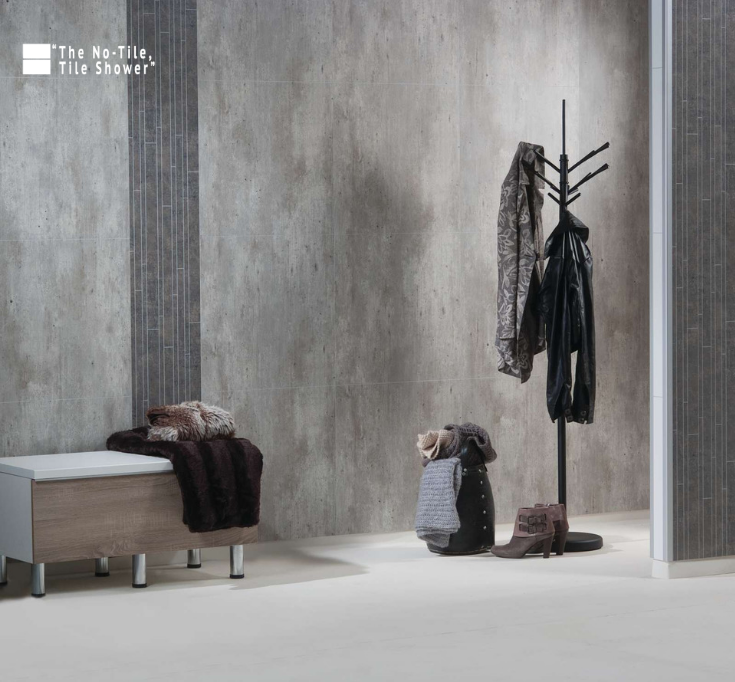 The all-glass look
I must admit to being partial to glass. These high gloss wall panels have a shine to brighten up even a bathroom with no natural light and they look just like glass (even though they made of a hard-coat optical grade acrylic). Popular colors include glacier, artic white and blue atoll (this light-blue color would be fun for a beach-themed room – don't you think?).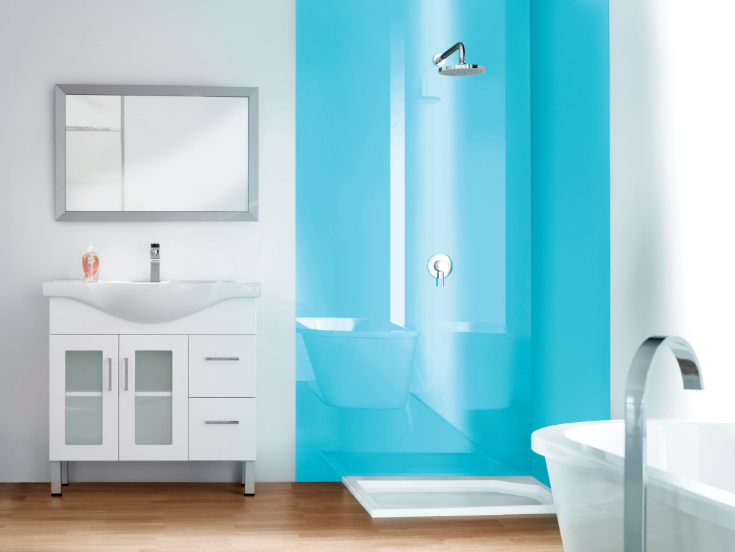 The rustic wood or Farmhouse look
Ceramic tiles which have the wood look are all the rage. However, you still have to battle the grout joints which come with them. Eliminate the grout joints – yet still get this wood look – with the snap-together wood look shower wall panels. You can use these for the entire shower or simply create a wood feature wall. They'll give your space an organic, relaxed, spa atmosphere.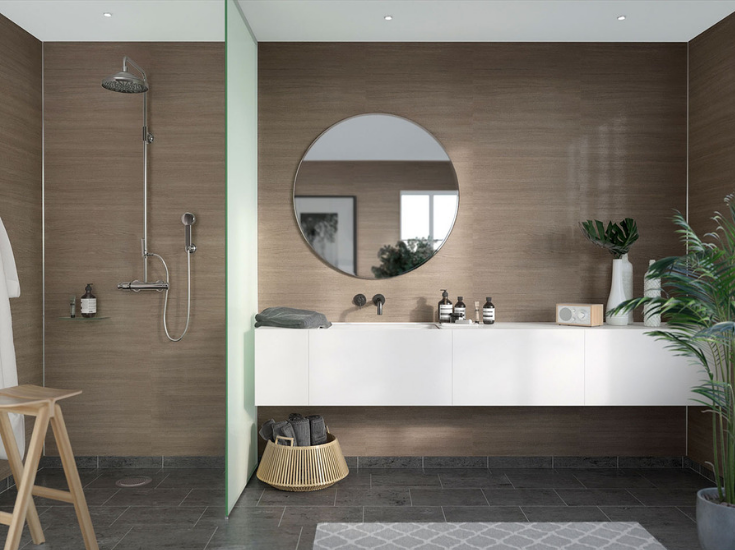 Reason #3 Shower wall panels are all white or 50 Shades of Bone. They're boring.
At certain stage of life, you want to go a little 'Burger King.' You want to have it your way. You've lived in the generic production home. You've showered in the phone-booth-sized white fiberglass one-piece shower. You lived the stamped-out of a box life and you're done with it.
With the kids finally (or almost) out of the home – it's time to add pizzazz and style in this (hopefully last) bath remodel. So, when someone says, why not consider shower wall panels – your immediate reaction is 'no way.' I'm going to get what I want this time. Something with color and style like ceramic tile.
This thought process makes total sense. But what if you could get a sense of style and color without having to deal with the maintenance of tile? It is possible to have your cake (a colorful, stylish shower) and eat it too (a low maintenance shower). Here's how:
Use shower and bathroom wall panels which pack punch
One fun – and decorative shower wall panel option is to use faux stone wall panels. This product is digitally printed with the exact replica of real stone, without the maintenance (or water penetration) concerns of the real thing. They're smart looking, cost-effective and give you time to enjoy your life vs. maintain your shower.
Get Free Samples!
Click here to request free samples of our DIY Shower and Tub Wall Panels.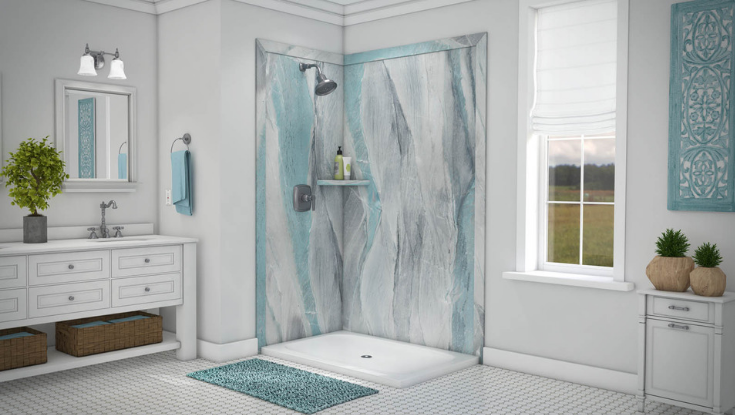 A second fun option are the high gloss walls mentioned above. If you're adventuresome how about a bold fire engine red bathroom wall panel? Or how about a cobalt black wall for drama?
Bathroom wall panels don't need to be boring.
Reason #4 – You can't find anyone to install shower wall panels. It's much simpler to find a tile setter  
Finding contractors of any type (let alone ones who know what they're doing, show up on time and actually communicate with you) is a pain in the butt. Finding someone to install a grout free wall panel system, if they haven't done it before, in a high-demand remodeling market, can be difficult.
Yes, it's simpler to find a tile setter (although not easy) than a contractor willing to learn something new if they haven't installed a grout free wall panel system. However, there are ways to combat this hard-to-find-contractor problem.
Use easy to install, DIY friendly shower, tub and bathroom wall panels
Some early (and still popular) versions of shower wall panels are a pain to install. If you try to install standard 'bath-in-a-day' style acrylic wall panels, you'll know what I'm talking about. They're a pain to cut and are prone to shrinkage. This makes cutting and sizing panels difficult.
The good news is all wall panel installations are not created equal.
For example, with the PVC composite panels they're so simple to install you can cut them with a carpenter's knife.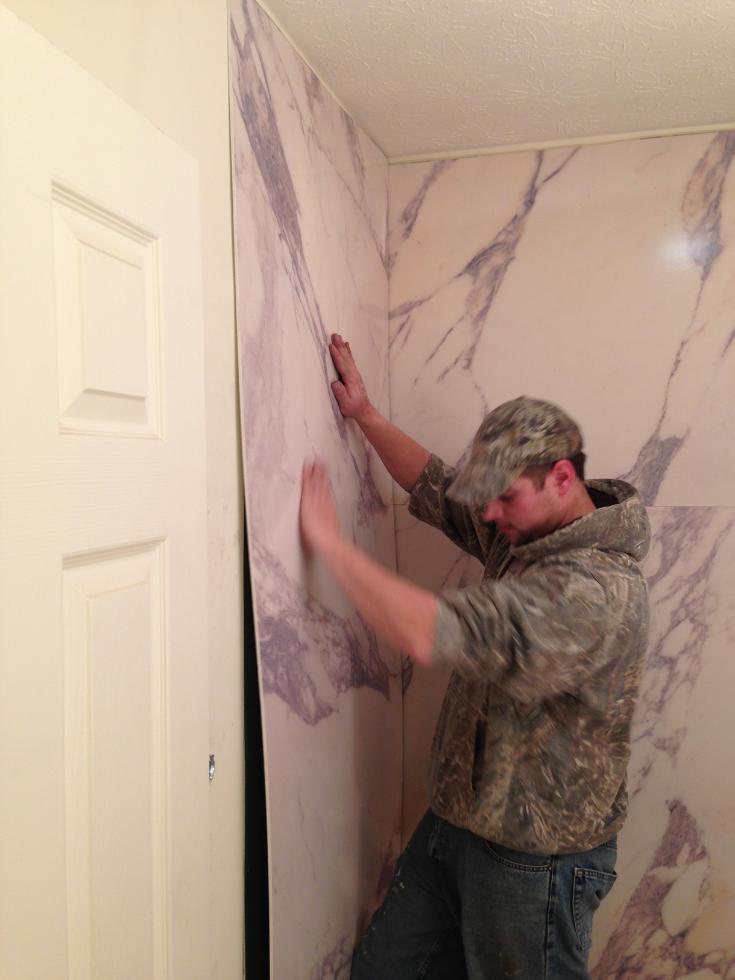 With solid surface wall panels, even though they're 3/8" thick, they can be cut with standard woodworking equipment.
And if you want a third simple idea, imagine wall panels which are smaller in size (about 2' x 8') which simply click together after you put the waterproof sealant in between them (this is the system used with the laminate wall panels).
You can get wall panels which aren't a pain to install. If you have a stubborn contractor unwilling to install new products, with these systems you can take the bull by the horns and just install the product yourself.
Reason #5 – You can't get shower wall panels clean
If you can't get your shower walls completely clean, it's a disaster. I can't tell you how many fiberglass shower walls and pans I've seen with customers who practically want to scream because of their frustration seeing a dirty or yellowed surface.
This cleaning issue is not a problem with 'shower wall panels in general,' it's a problem when you have the wrong shower wall panel (note – usually cleaning problems with panels are associated when fiberglass is used.
Your solution is to ditch the fiberglass and use something better. What are those easy cleaning choices, you might ask? Consider these options:
Low maintenance shower wall panels
Almost anything is better than fiberglass to clean but my favorite choices are the panel types talked about above. The PVC composite, laminate and solid surface units are all simple to work with. They can be cleaned with non-abrasive cleaning solutions – or just use soap and water to wipe them down. They won't yellow or get dirt caked in them you can't clean.
Conclusion
I can tell you from first-hand experience I'm seeing a HUGE shift in the market (especially from homeowners who've 'been around the block and tell me this isn't their first-home-remodeling-rodeo anymore) who are switching to wall panels from tile. They understand you don't have to put up with the hassles of tile to have a luxurious bathroom.
Sure, there are wall panels which look thin, plasticky, colorless and are a pain to clean – but you don't have to settle for those.
If you're open to new ideas check out what many Europeans already know today – there's a lot of value (both in style and lower maintenance) switching away from tile into today's stylish grout free wall panel systems.
What are you waiting for?
Get off your hands and knees cleaning tile and call (or click through) to learn more about inventive shower wall panels. Then you'll start saying …. maybe grout free wall panels aren't so crazy after all.
How can I (or a member of my team) help you?
If you need help designing or selecting the best option in grout free shower wall panels (including laminated panels, high gloss walls, solid surface surrounds or decorative faux stone panels), contact Innovate Building Solutions at 877-668-5888 for nationwide supply. For help with a local bathroom installation project call The Bath Doctor in Cleveland at 216-658-1270 or in Columbus at 614-252-7294.
If you're a remodeler or builder and want practical advice on remodeling products, industry trends, marketing and sales tips to grow your business (and cut day to day hassles), start reading my newest blog – Innovate Builders Blog. It's packed with ideas you can use now. Click here to Sign Up for the Innovate Builders Blog.
If you're in the building business, click here if you'd like to learn how to become a shower wall panel dealer or call and ask for Mike at 877-668-5888.
---
Mike Foti
President of Innovate Building Solutions a nationwide supplier and regional (Cleveland and Columbus) remodeling contractors. Some of our product lines include glass counters, floors, backsplashes, glass blocks and grout free shower and tub wall panels
---