9 Hot 2020 Bathroom Design Trends Which Aren't Only for the Rich and Famous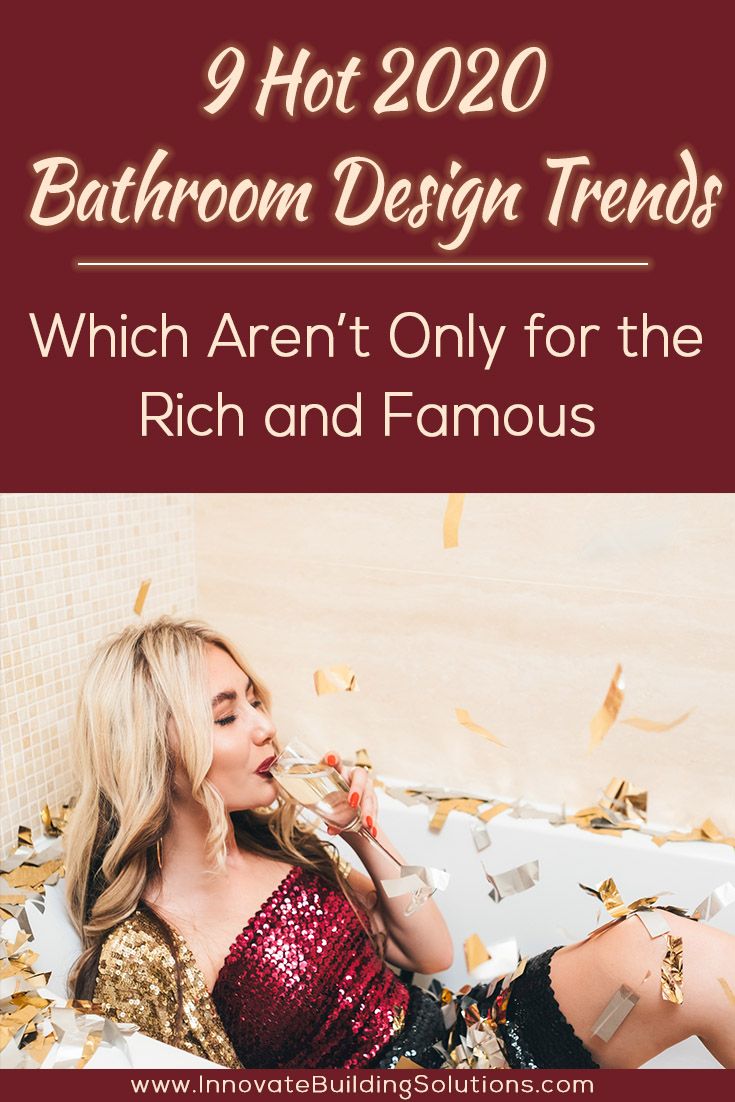 I don't know about you, but the 'Bathroom Design Geek' in me loves reading hoity-toity Interior Design magazines. I love drooling over bathrooms created for the rich and famous.
You know the projects I'm talking about. They have so much space – the bathrooms are as large as your master bedroom. These projects were birthed in the minds of high-end designers. They're built by the most-expensive, finest general contractors in town. These bathrooms 'live' in neighborhoods where the cars in the garage are worth more than your house.
If only you had the money for this type of luxury. Wouldn't that be special???
OK – now back to reality.
You love, love, love these fashion-forward looks, but also know (after the slap of reality hits you across the face), you have neither the space nor the budget to make these designs work for you.
The key question is (as it always seems to be), how can you get a champagne look with your 'Budweiser-like' budget?
You know your bathroom today is a complete disaster. It has dirty grout joints, dated tiles, yellowed fiberglass wall surrounds and tired plywood-based vanities the original home builder slapped in. To make matters worse your spouse is oblivious to your current (bad) state of affairs.
You'd like to transform your 'ugly duckling' into a hot, trending, 2020, bathroom design. However, you can't drain every dollar out of your still way-too-thin kid's college fund either. So, how can you get a cool remodel or bathroom addition on a tight budget?
In this article I'll look at 9 fashion-forward 2020-bathroom design trends you can take advantage without completely draining (OK – that's a bad bathroom pun, I know) your wallet. Let's look at the trends.
2020-bathroom design trend #1– Wide open spaces. The one level bathroom    
Bathrooms are small to begin with (you're probably saying, "Captain Obvious, tell me something I don't know!"), so cutting them up into small boxes should be declared 'dangerous to your bathroom design.'
When you 'cut up' a bathroom by creating a 'walled-off shower,' 'boxed in glass enclosure,' or 'curtained-off' tub surround you're not doing your small bathroom any favors.
A design trend which is already hot (and getting hotter) is the 'one level bathroom.' Walk in showers which are built on the same level as the bathroom floor not only look sleek and minimalist – but work better if Mom or Dad come to live with you. Bathrooms can be accessible and stylish (not usually words you see in the same sentence).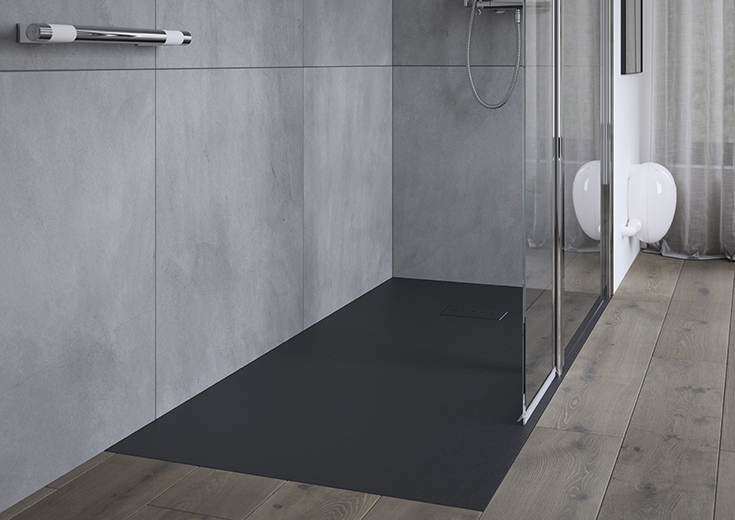 2020-bathroom design trend #2– Matte or brushed finishes are hot (and simpler to clean)     
Remember when bathrooms were all about 'bright-shiny objects?' Polished chrome fixtures were all the rage. These bathrooms looked perfect in the model home you visited (where faucets weren't running, and soap scum wasn't ever present from kids you're still trying to train to clean up after themselves).
Maybe the bathroom design gods have gotten smarter (or maybe enough spouses aggravated cleaning spots off chrome fixtures have rebelled). In any event, the market has made a 'full-throttle' shift to matte finishes.
You'll see stylish matte black shower door hardware.
You'll see brushed brass coming on strong this year.
You'll even see matte finished shower wall surrounds pushing out the glossy acrylic wall surfaces which are becoming as dated as your Junior High bell-bottom pants.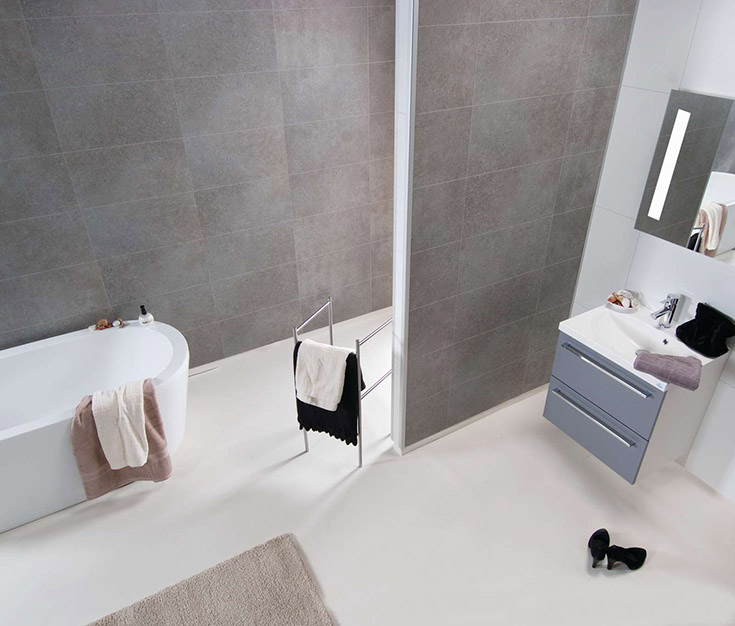 2020-bathroom design trend #3– If you've got the room, free-standing tubs are hot
This is one bathroom design trend which is very hot (if you have enough room) and gets an A+ for looks. However, IMHO it often delivers a D+ for functionality. This design trend is the free-standing bathtub.
For a mid-sized bathroom, you'll likely locate your tub against the wall to have enough room. These tubs look beautiful. You'll dream about times when you're relaxing in them.
In my opinion, it's a hot feature – but for most on-the-go-lifestyles it's seldom used.
If money is at a premium and you love this trend, go with an acrylic free-standing tub which is lighter on the budget.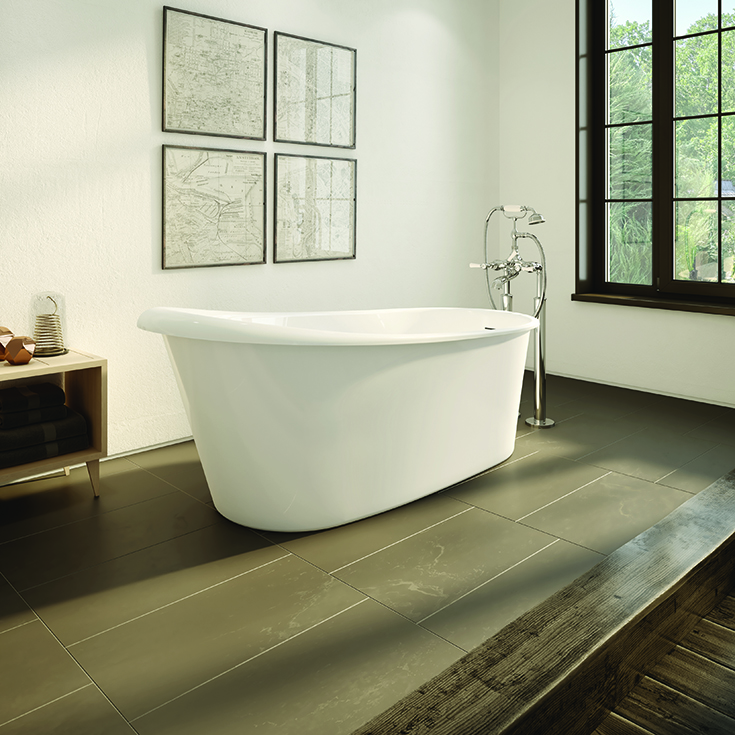 2020-bathroom design trend #4– Connecting 'nature' in order to 'nurture' the most important person…. YOU!  
I'll admit when I started seeing this new trend (which some refer to as biophilia), I thought it might be some type of communicable disease (I had NO IDEA what this word meant)! However, I learned biophilia is the love of nature and in a bathroom, it's connecting nature (bringing the outdoors in) in order to 'nurture' ('er pamper) you after a tough day.
Bathrooms are (or should I say should be) places to relax. A visual connection in bathroom design to the outside is soooooo welcome after you come home from the day from H-E-Double-Hockey sticks (as you used to say to your kids when they were little, before you exposed them to the 'art' of 'finer' language!).
Anyway, a bathroom design trending in 2020, is combining nature into your bathroom using ideas like these:
Adding indoor plants like the fiddle leaf fig, orchids or ZZ plant (no – they're not named after the band ZZ Top!).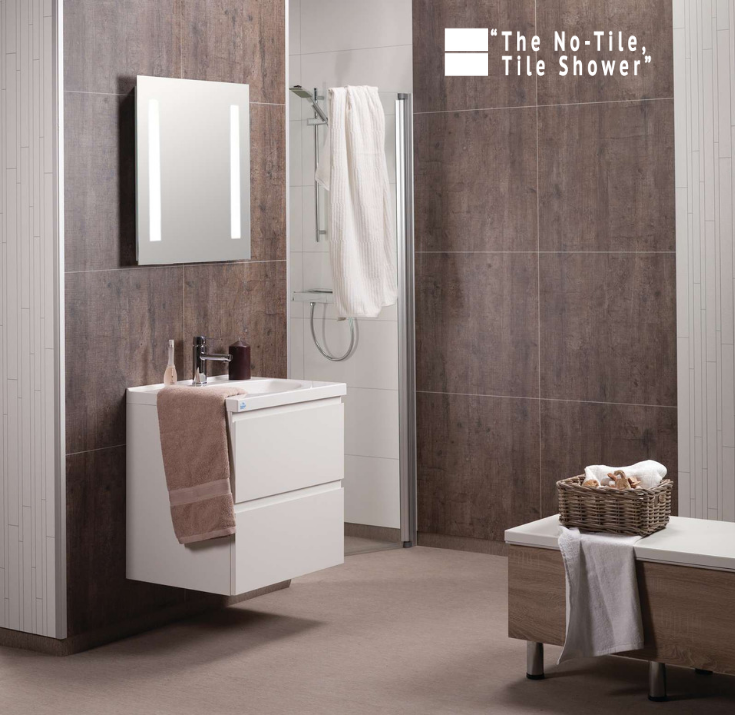 Using a live-edge bathroom vanity top for a modern, yet-rustic look (note – these tops aren't cheap, but they're a cool place to splurge).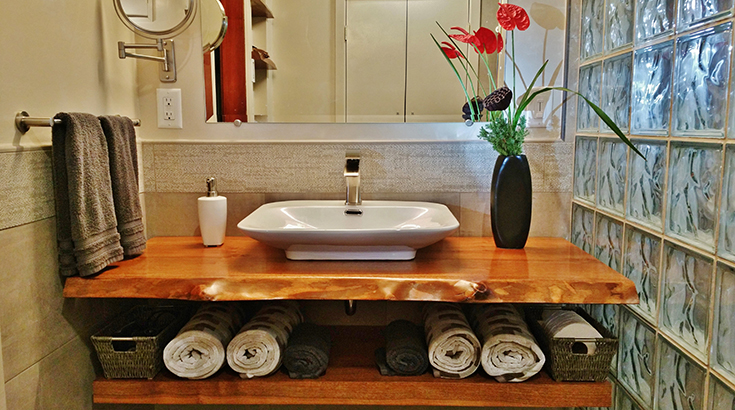 2020-bathroom design trend #5– The minimalist design
In storage spaces, Marie Kondo is inspiring you to Spark Joy (and move towards the concept of a less complicated life) through modern minimalist design and reduced clutter.
In bathroom design the same concept is true. Less (design) actually is more.
Improve your look and leverage today's trends by embracing simplicity. Make this happen with clear glass enclosures. Or make your shower floor more appealing with 'disappearing' linear drains. Or open up space with a wall hung vanity.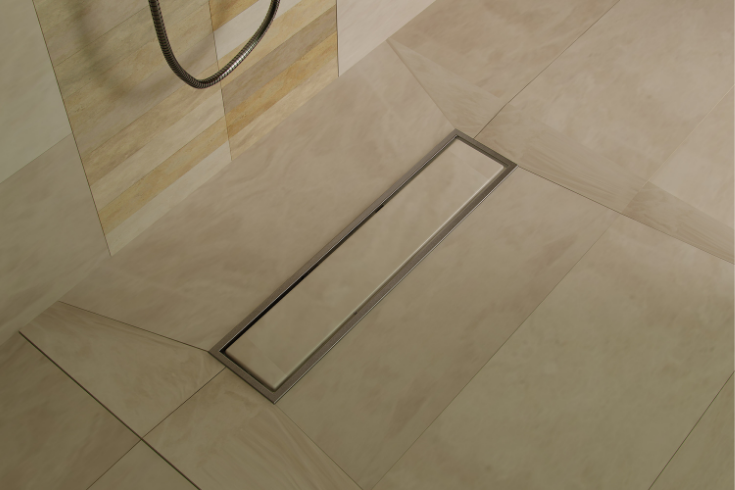 Less truly is more – especially for a hot 2020-bathroom design.
2020-bathroom design trend #6– Retire your scrub brush. Lower maintenance truly is hot!
Here's a question for you….
Who likes cleaning their bathroom?
If you answered NO ONE – you're the official grand prize winner (now – I just need to come up with a grand prize – ha! Ha!).
As Mom used to 'I've had it up to here' cleaning tile grout joints. Finally building material manufacturers are taking notice.

Fashion-forward shower wall panels are giving evil grout joint tiled-showers a run for their money. Stylish products like laminate wall panels and marbleized wall surrounds are not only fun, but their 'no-grout' designs allow you to throw out your nasty scrub brush once and for all.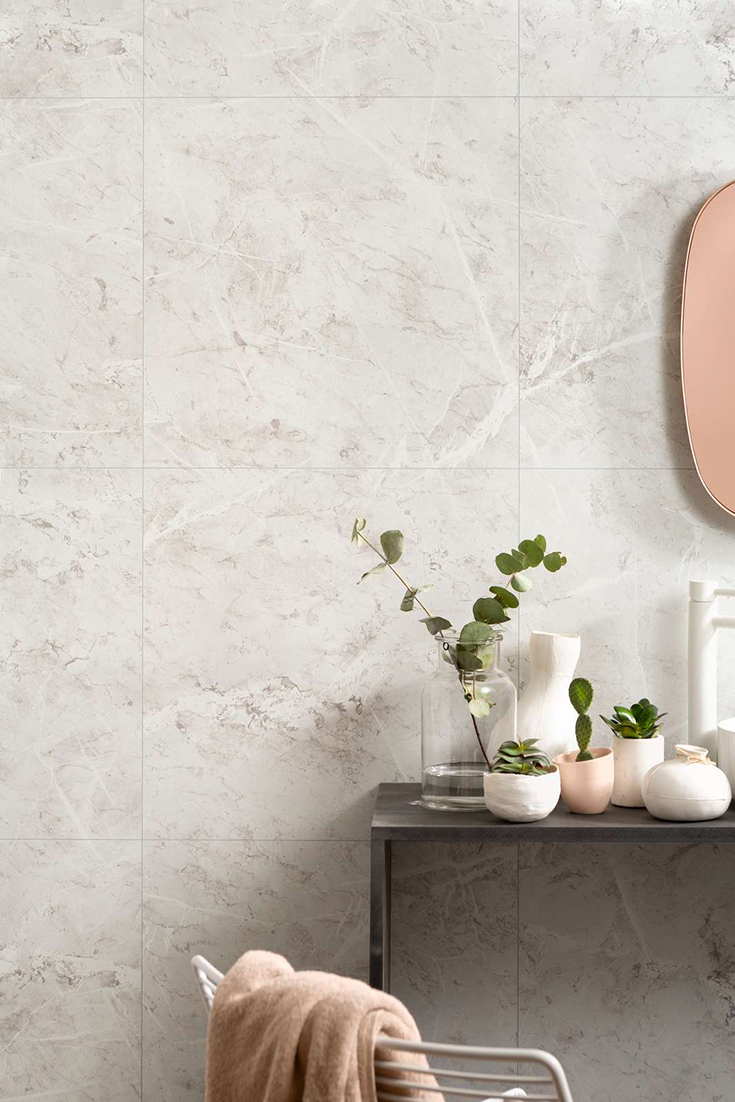 2020-bathroom design trend #7– When you use tile, use fun designs. Boring is out.  
Have you ever felt if you saw ANOTHER bathroom with white subway tile you'll need to throw up?
Sure – classic is nice. However, classic used over and over and over makes you feel you're living in a time-warped design from George Orwell's book 1984. There's some designer 'Big Brother' in control of the remodeling and building universe (or is it every designer copy what they see the other designers doing?).
Tile designs today are trending away from the 'stamp-it-out' sameness of another white subway tile design. Fun hexagons, scallops and shaped tiles are where it's at. In 2020 don't settle for boring floor or wall tiles any more.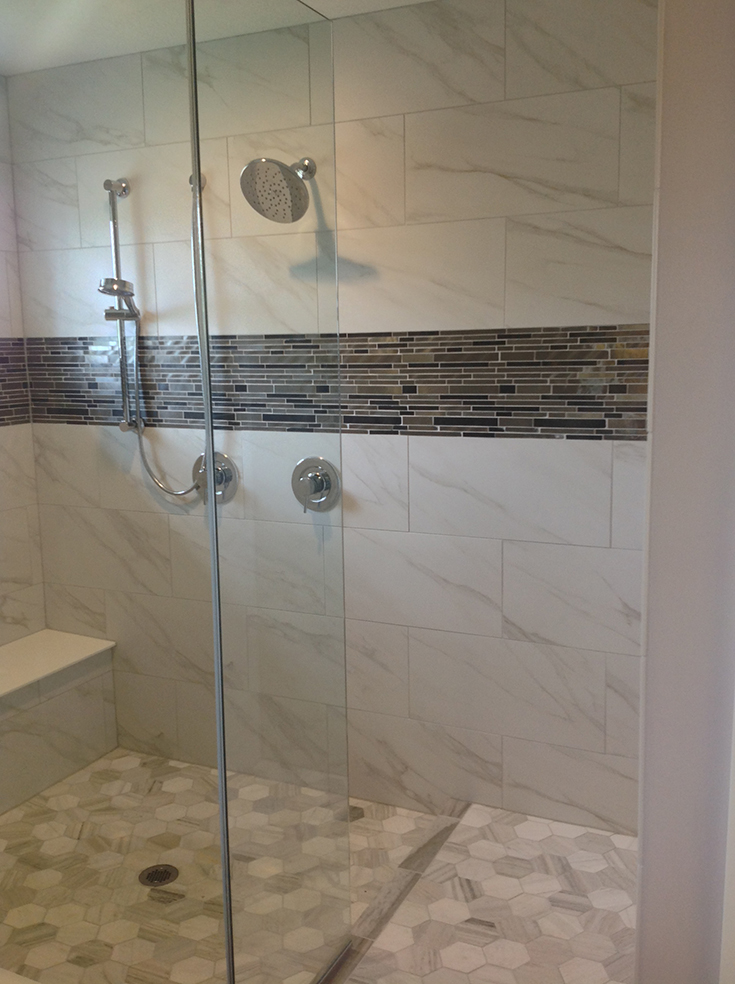 2020-bathroom design trend #8– Use every inch with smart storage
If you live in a hot real estate market (hot is the code word for it's going to cost you and/or your partner an arm and a leg to afford) you know every last inch of your space is critical. Big bathrooms are not a universe you're living in any time soon (unless you hit the lotto).
Real estate prices and shrinking bathroom sizes are driving this next bathroom trend. This trend is maxing every inch of storage space.
Do this with smartly designed contemporary recessed niches in your shower.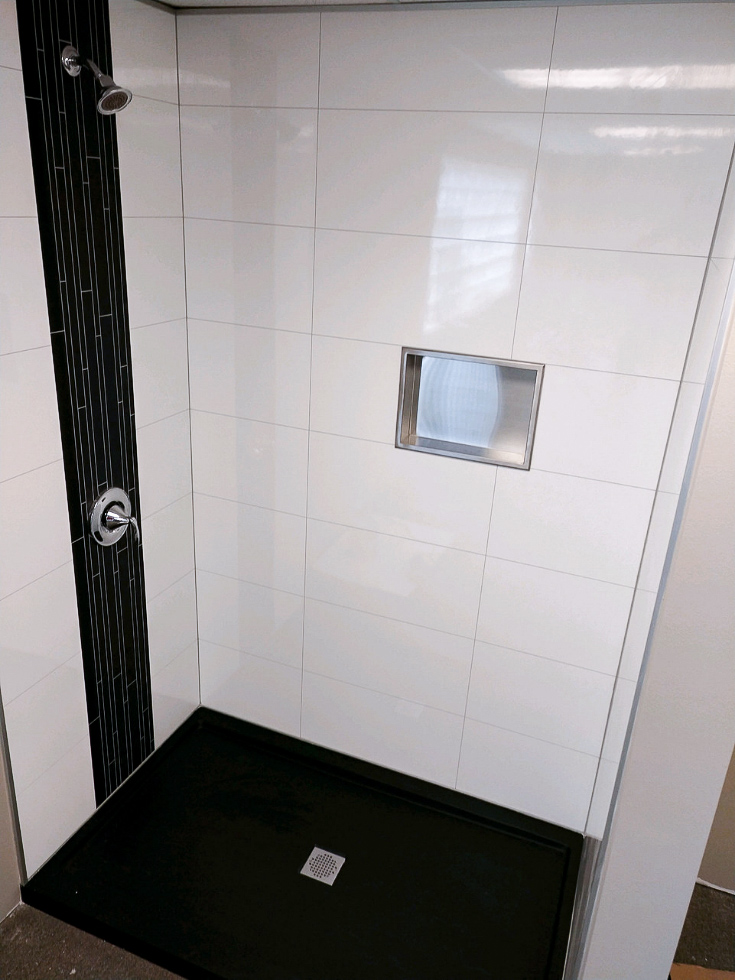 Do this with thinner wall hung vanities.
Do this with custom niches for towel storage carved into your bathroom walls.

The bottom line is smaller bathroom spaces demand smarter storage solutions. Be smart. Use every inch.
2020-bathroom design trend #9– Fashion-forward, yet quicker-to-install bathroom building products are on the rise
While stylish bathroom products are fun to look at, if you (A) can't find a reasonably-priced bathroom remodeler and (B) can't get on their schedule any time soon to install them, these cool products do you no good.
This PAINFULLY OBVIOUS lack of qualified contractors is having a tremendous impact on the products you'll want to choose – whether you decide to roll up your sleeves and DIY part of your remodel or find a qualified contractor to do it all for you.
The trend in all remodeling (and bathroom remodeling is no exception) is towards simpler to install materials – which in many cases perform better than the 'actual thing.'
In bathrooms you'll see more tongue-and-groove laminate and luxury vinyl floors.
You'll also see click-lock-and-seal waterproof shower wall panels.
Ease and speed of installation – will become HUGE as the 'pool' of contractors gets smaller and smaller and smaller. There will be a price to be paid (literally) for too many 'sons and daughters' going into tech vs. 'the trades.'
Bathroom design product trends will shift towards options which take less time and are easier to install.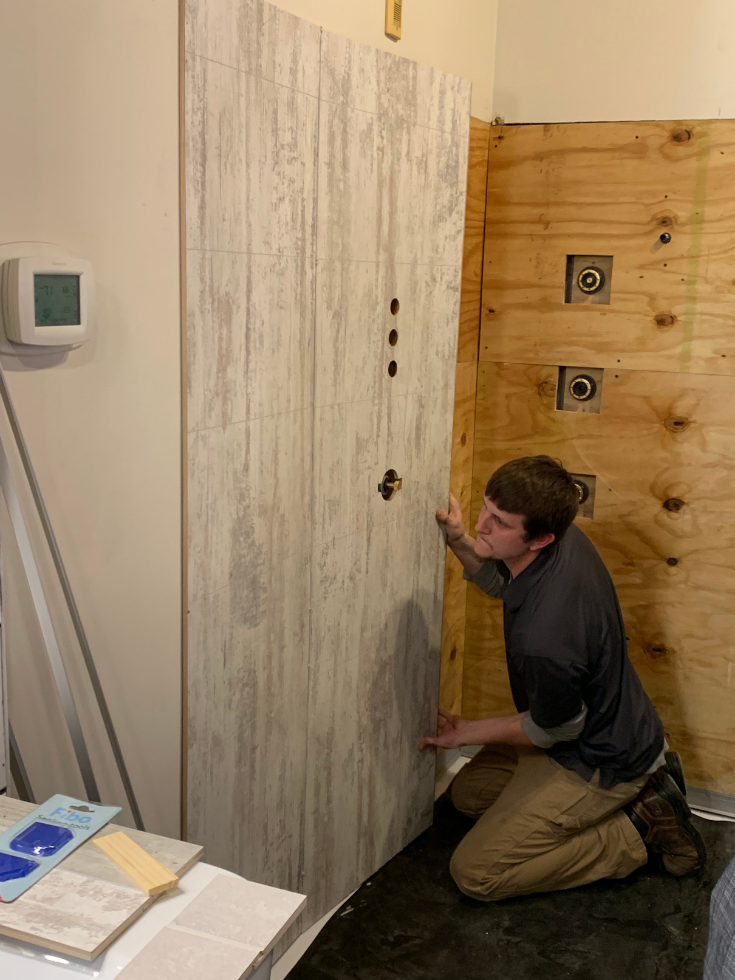 Conclusion
So, now that you've read the 9 hot 2020-bathroom design trends which ones make sense for your next bathroom remodel or new home build?
I know design (and bathroom and shower products) can be confusing. That's where me – and my team – would love to help.
Call us at the numbers below. Email your questions. Comment in this post. We're knee-deep in the bathroom products and installation world and would love to help you.
How can I (or a member of my team) help you?
If you'd like to save money with nationwide factory direct supply of grout free wall panels (like the "no-tile, tile shower), a one level wet room systems or contemporary shower accessories contact Innovate Building Solutions at 877-668-5888.
If you need assistance with a bathroom design and installation, contact The Bath Doctor in Cleveland at 216-658-1270 or for product supply in Columbus call 614-252-7294.
---
Mike Foti
President of Innovate Building Solutions a nationwide supplier and regional (Cleveland and Columbus) remodeling contractors. Some of our product lines include glass counters, floors, backsplashes, glass blocks and grout free shower and tub wall panels
---