Your bathroom remodeling project – Be Inspired!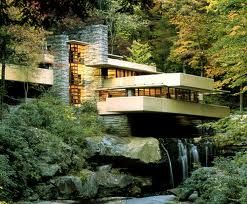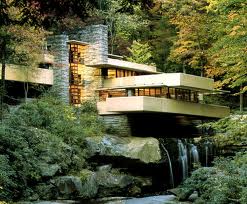 On a recent trip to Nemacolin Woodlands (a fantastic vacation spot) my 11 year old son met another boy his age from New Jersey. After talking to the boy I learned that he motivated his parents to drive him all the way from New Jersey to this vacation spot in Pennsylvania (about a 10 hour drive) because he wants to be an architect and wanted to see Fallingwater (the famous home designed by Frank Lloyd Wright). I thought to myself how cool is it that an 11 year old boy would be excited enough about home design to be able to get his parents to take him this far just to see a house!
This young man should be an inspiration to us all. Why settle for a boring bathroom remodeling project when you can design something with a sense of wow and/or a feeling of tranquility? Why "settle" for a bland bathroom when with a little planning you can have something extraordinary? Here are some ideas to inspire your bathroom remodeling design:
Stop living in a monochromatic world – How many white or beige colored bathrooms do you see? When you ask people why they choose the color (color being singular) they say they wanted it to look good for resale! Why create a bathroom design to look "acceptable" for the next owner? Do something that looks cool for you. Even if you have the walls, bathtub or shower stall in neutral colors add in bold color accents to make the room pop.
Don't choose a "sticks & bricks remodeling contractor" – Let's face it – some bathroom remodeling contractors might be good builders but they have no imagination or insight when it comes to design. Look for a bath or shower remodeling contractor that is up on the trends and new products available. Ask what national trade show(s) their company attends. Look at their web site to see if their projects have new design elements or are you seeing the "same old same old" (or worse yet their site looks like it was designed 5 years ago and has never been changed). Choose a qualified contractor with design expertise. Watch to see if the contractor get excited when they are talking to you about the project (it's impossible to get an inspired design without passion).
Select a style of architecture – Consider designing your bathroom with an architectural style that inspires you. Do you like Craftsman, Colonial, Art Deco, Victorian, Prarie etc.? Design your bathroom with this style in mind.
Add cool bathroom accessories – A bathroom remodeling project is just like buying a dress – you need the right accessories to make things rock. Fortunately bathroom accessories have come a long way so you don't have to sacrifice function and safety to get high style. Choosing the right towel bars, soap dishes, shower doors, cabinetry or even – can you imagine – a high fashion grab bar will make a huge difference.
Are you looking to remodel your bathroom and need some input or advice? If so – I'd love to help. Or if you're already an "all-pro" post a comment to share what you've learned with others.
###
If you need any assistance or a design or estimate on a bathroom remodeling project visit Cleveland Design & Remodeling (216-531-6085) , Columbus Design and Remodeling (614-252-7294)or the Bath Doctor (513-742-6679)of Cincinnati and Dayton.
Related Articles
---
Mike Foti
President of Innovate Building Solutions a nationwide supplier and regional (Cleveland and Columbus) remodeling contractors. Some of our product lines include glass counters, floors, backsplashes, glass blocks and grout free shower and tub wall panels
---