Small Bath Remodeling – Size Doesn't Matter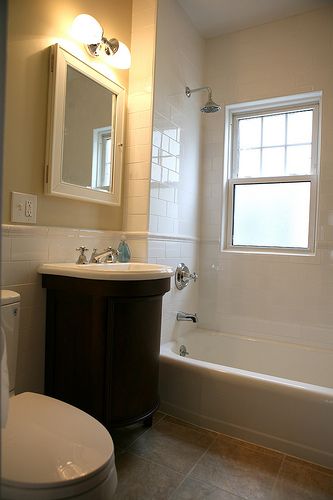 In the 2000's it was the bigger the better in bathroom remodeling projects – large soaking tubs, bathrooms the size of master bedrooms were all the rage. Well those days are long gone. We have a new economic reality in the United States and as we're all discovering you've got to learn how to do more with less. Fortunately cool and functional does not have to be related to size when it comes to small bathroom remodeling project. Learn these 5 ½ steps to make your small bath project shine:
Step 1 – Think matching and crisp design – Small baths are not the place to mix and match a bunch of different elements. Because everything is seen at once make sure to use the same manufacturer for all bath and shower accessory lines. Also make sure to use bath cabinets with clean lines (the bathroom will look sleeker and will also be easier to clean).   
Step 2 – Light it up – You need to make the smaller space feel bigger and also make sure the bath is functional as well. The best way to do this is to add plenty of light and be generous with the use of mirrors.   
Step 3 – This space is stolen from… Every inch of space counts…but even with that said you may still lack the space you need in the current "footprint" (size of the bath). Here are some ideas to grow your bathroom space:
Built in storage – Put medicine cabinets, recessed soap and shampoo niches between the studs.
Consider a sink/cabinet combo – Use a small bathroom cabinet with your sink to gain a little bit of storage.
Think multi-function – Purchase bathroom accessories with more than one function. You might consider a decorative towel bar/grab bar combo, or a toilet paper holder that doubles as a grab bar.
Gain space from another room – Look at the spaces surrounding the bath. Can you use space in the master bedroom, a closet?
Step 4 – Get rid of the soaking or Jacuzzi tub – A small bathroom is no place for infrequently used soaking or Jacuzzi tubs. One option might be to convert the tub into a glass block walk in shower – very cool and easy to clean. Another option might be to create a curb free wet room – this creates a very slick European type design and there is no curb to have to step over (an excellent option for increase accessibility).
Step 5 – Don't forget to add cool elements – Since you're not making the bathroom bigger you'll have more money to make it cooler. Some popular options include heated floors, hand help showers, multiple spray shower heads, upscale flooring and countertops, and rain heads to name a few.
Step 5 ½ – Call in help – Sometimes a bathroom remodeling project can be tough to get your arms around. Don't be afraid to call in an expert. Look for a design/build contractor who can design and construct the project with your budget in mind.  
Are you considering a small bathroom remodeling project and need some assistance? Have you done a small bath recently and can share any of your words of wisdom?
###
If you're looking for design assistance or an estimate on a small bathroom remodeling project visit Cleveland Design and Remodeling (216-531-6085), Columbus Design and Remodeling (614-252-7294)or the Bath Doctor (513-742-6679) of Cincinnati and Dayton.
Related Articles
---
Mike Foti
President of Innovate Building Solutions a nationwide supplier and regional (Cleveland and Columbus) remodeling contractors. Some of our product lines include glass counters, floors, backsplashes, glass blocks and grout free shower and tub wall panels
---