Glass Block Bathroom Window Design – Mix Up Sizes to Make Your Project Pop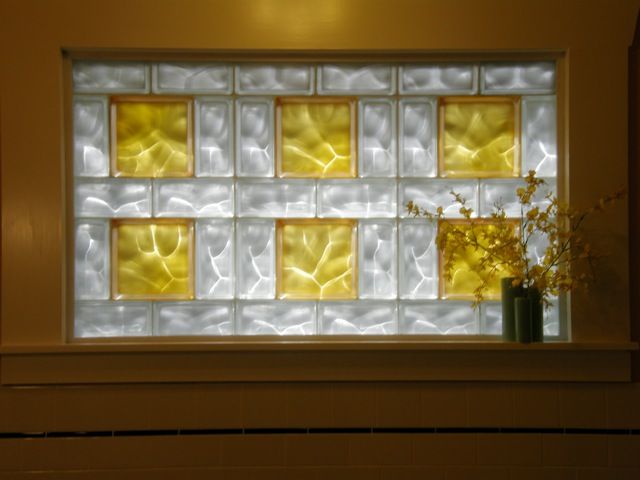 Vinyl framed glass block window using 6″ x 6″, 6″ x 8″ and 12″ x 12″ sizes clear and colored glass blocks
Why settle for a boring glass block bathroom window when you can be unique? Let's face it most glass block windows look the same – one clear cube of block stacked on top of another. Mix up the sizes, add color or frosted designs – why design "inside the box" when you can design "outside the blocks?" Use these 7 points for a unique glass block design:
Point 1) Size does matter– If you're doing a replacement bathroom window figure out the rough opening size first. See if it's possible (with your budget in mind) to change the opening (the more flexible you can be with the opening the more design options will be possible). If you're building a room addition or new home design your window first and then tell your builder/remodeler what size to make the opening.  
Point 2) Choose the best combination of glass block sizes – Some sizes works better together. Look at combination design of 4" x 8" & 8" x 8" sizes or consider using 6" x 6" glass blocks with 12" x 12" sizes.
Point 3) Select the right privacy pattern –  If the window is in the shower you'll generally want the highest privacy pattern (Icescapes is usually preferred here). If your bath window is in the bathroom area a moderate privacy (Wave) pattern will work.
Point 4) Jazz it up with colors and frosted glass blocks – Add splashed of color to the window – available in jewel tones, earth tones and kitchen and wine series. The cool thing is you can mix and match different colors within the same window design. For a softer more muted look the frosted glass block can provide privacy and a relaxing look.
Point 5) Framed or frameless – that is the question – A framed glass bathroom block window is perfect for new construction or room additions. A frameless glass block bath window is usually best for remodeling.
Point 6)  Order a premade window – For improved quality, ease of installation and time savings get a prefabricated window that can be set in place as one unit.
Point 7) Mix up glass block sizes in other areas – Unique sizes and designs should not be limited to the bath or shower window. Consider using the same design approach in a shower wall, basement or garage window – basically anywhere around your house of commercial building you're looking to dress up.
Do you need help with a bathroom window design? If so – comment below. If you've got some words of wisdom to share – fantastic! Share your thoughts.
###
To get help with your glass block bathroom window or remodeling project visit Columbus Glass Block (614-252-5888), Cleveland Glass Block (216-531-6363) or Mid America Glass Block (513-742-5900) of Dayton and Cincinnati and Eastern Glass Block (973-777-8989)of New York and New Jersey.
Related Articles
---
Mike Foti
President of Innovate Building Solutions a nationwide supplier and regional (Cleveland and Columbus) remodeling contractors. Some of our product lines include glass counters, floors, backsplashes, glass blocks and grout free shower and tub wall panels
---