Project Spotlight: Adding a Front Porch Roof for Safety, Style, & Function – Cleveland Ohio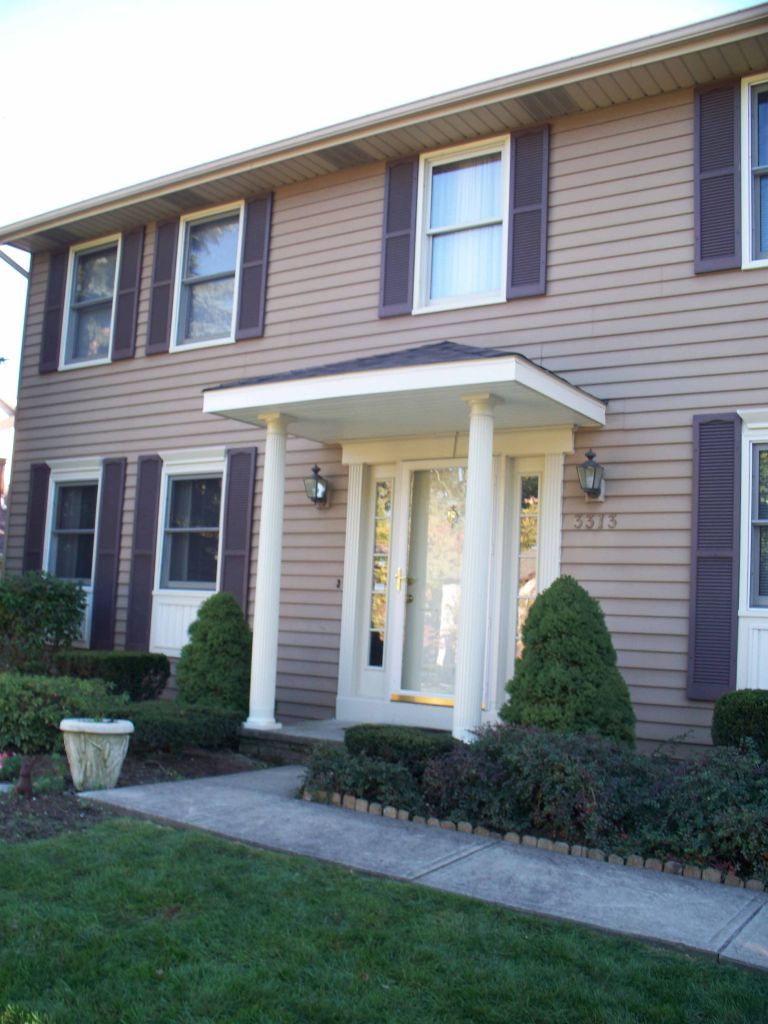 The problem: Rich (a homeowner in Cleveland Ohio) had a problem – the lack of a front porch roof caused the concrete stoop to get icy and unsafe in the winter, the front entry door was hard to open, and the look of the front entrance was not as nice as Rich would like. Rich wanted to make sure to do this project with low maintenance materials to minimize time he might need to spend maintaining the roof and porch structure.
The solution: Steve Vlk (Project Manager from Cleveland Design & Remodeling) designed a hip style front roof which was attached to the existing home. Steve recommended materials for the project to compliment the architecture of the home and to keep the structure as maintenance free as possible for Rich. Here are the specific decisions Rich and Steve made to achieve a safe, stylish, and better functioning front porch design.   
Improving Safety, Function and Keep Costs Down
Use a hip style roof – This choice will help to keep water away from the stoop (to lessen water and ice build up), make it easier to open (and protect) the front door and it saved Rich money because only one downspout was needed (a gable design would have required 2 downspouts and more excavation labor time).
Adding Architectural Style that Fits the Neighborhood
Fluted columns were used to hold up the roof – Since the surrounding front door had fluted millwork Steve suggested fluted fiberglass columns to architecturally tie in the new structure to the existing home. The fiberglass columns can support over 10,000 lbs of weight.
Plans were presented to the building department – Most front porch additions will require approval from your local building department to make sure the look and scale of the porch design fits with the surrounding homes and the structure is safely built.
Reducing Long Term Maintenance Time and Costs
Fiberglass columns were chosen over wood to minimize the frequency of future painting.
Vinyl soffit chosen over wood bead board so this difficult to paint area would not need maintenance in the future.
Do you have any questions about the design of your front porch? Have you completed a project like this and would like to share your lessons learned? Please comment below.
###
If you're considering a front porch project visit Cleveland Design and Remodeling (216-531-6085) or Columbus Design and Remodeling (614-252-7294).
Related Articles
---
Mike Foti
President of Innovate Building Solutions a nationwide supplier and regional (Cleveland and Columbus) remodeling contractors. Some of our product lines include glass counters, floors, backsplashes, glass blocks and grout free shower and tub wall panels
---