5 Simple Tricks to Design a Walk in Shower for a Tiny Bathroom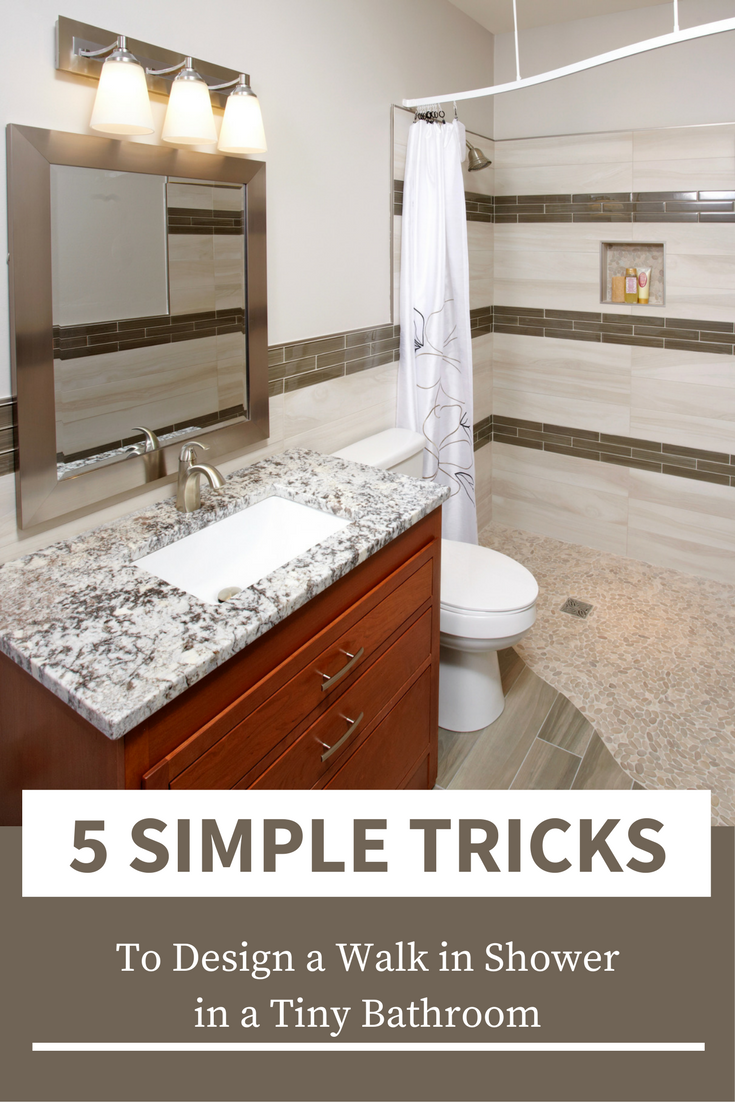 Updated January 2, 2022
You're strolling through Pinterest enjoying a rare quiet moment on your den computer. You feel bathroom envy bubbling up. Your mind starts to wander. You think about expansive luxury walk in showers, separate free-standing bathtubs, and beautiful chandeliers gracing the wide-open spaces. What would it be like to have a bathroom like that, you think. Then your 17-year-old son barges in and says, "Mom, what's for dinner?" Now you're grounded back into the reality which is your life.
You don't have an expansive bathroom. You have a tight 5' x 8' space like most suburban Cape Cod, ranch or 2 story homes.
You don't have space for both a free-standing tub and a shower (unless you can figure out how to bolt the tub in upside down on the ceiling and determine how to have water suspended in mid-air – that's a bit crazy).
A chandelier also isn't happening. You would probably walk into it with your 8' high ceilings.
You want the luxury, style and low maintenance features of a walk in shower. You realize you're stuck with a 5' x 8' space unless you get creative. Maybe you could blow out the wall into your son's bedroom and make him sleep in the basement? That's an idea. OK, maybe it's not too practical.
The challenge becomes how can you design a walk-in shower which will work in your 5' x 8' suburban bathroom (or tiny loft apartment or cramped historic home or Air BNB rental for that matter)? In this article I'm going to give you 5 simple tricks to make a cool walk in shower possible even if you don't have the benefit of the mega "Pinterest-esque-sized" bathroom you wish you had. And to help you even further, I've added a 6th 'bonus trick' which will make your small shower more stylish, more durable AND simpler to maintain (all without breaking the bank).
Small walk in shower trick #1 – Stop thinking like an American – think like a European
10 years ago, I visited my Sister in Law Helen and 2 grown nieces (Roberta and Allesandra) in Italy. As a bathroom remodeling geek, I was amazed to see how tiny the bathrooms were in their Italian homes and apartments. My wife's Grandfather (when he was alive) used a 4' x 6' bathroom – complete with a shower head, vanity sink and toilet. Now that's tiny. My niece Roberta owns a small flat in Rome (it's almost impossible to find parking around her apartment). She would think she hit the jackpot if she had a 5' x 8' bathroom (what we consider tiny in the U.S.). So, how do the Europeans make these smaller spaces work?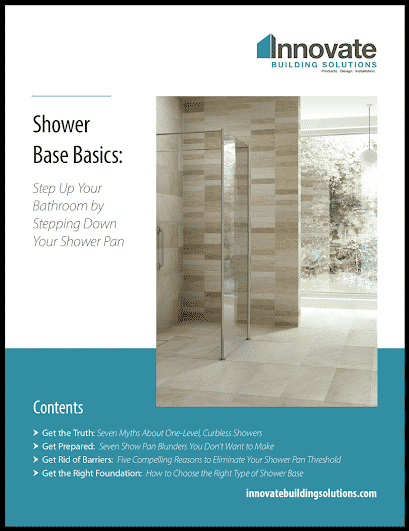 Get Our Ultimate Shower Base Guide!
Step Up Your Bathroom by Stepping Down Your Shower Pan!
The simple answer is they don't "break them up" into smaller pieces like we do. The bathrooms have an open design without barriers between the shower and the vanity/toilet areas. They do this by using sleek, contemporary barrier free wet room walk in shower systems. They are safer to walk (or roll) into. They don't break the room up by creating a separate "shower enclosure." Small bathroom barrier free showers make sense whether you live in Cleveland Ohio, Cleveland Tennessee or anywhere in between.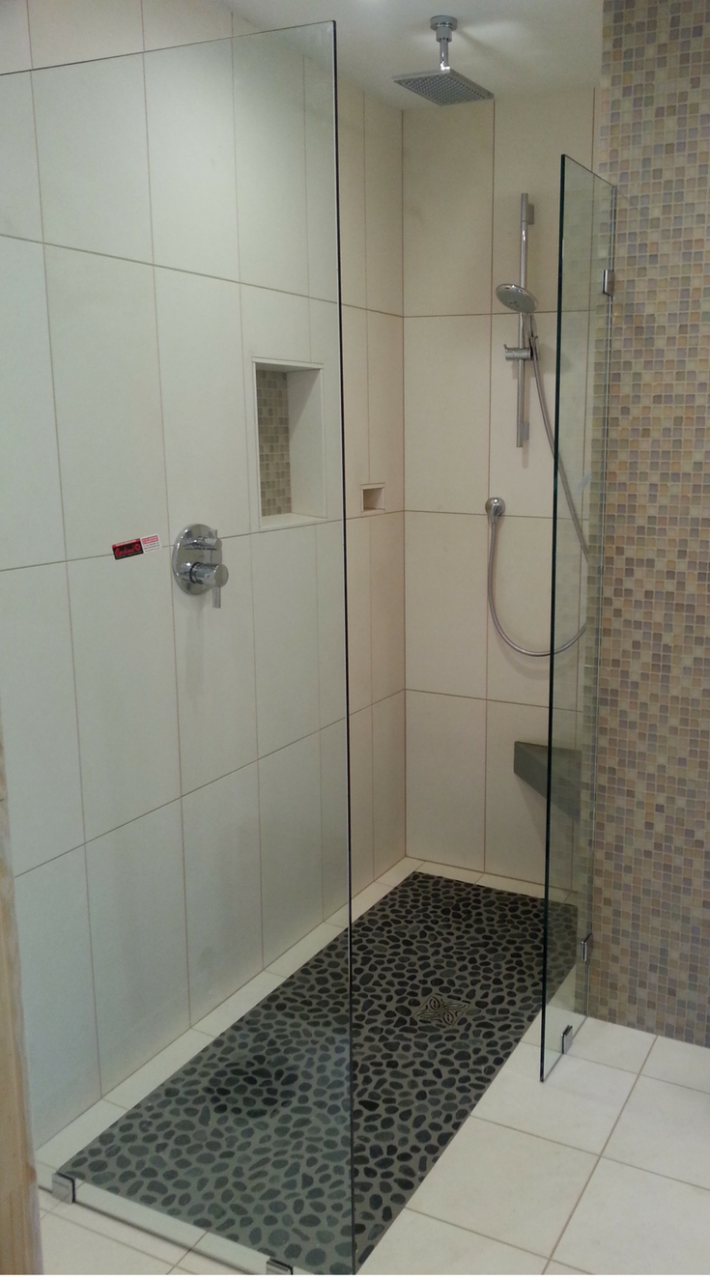 Small walk in shower trick #2 – Let it rain, not shower on you
Most showers have a stationary shower head mounted to a wall pointed at a 45-degree angle at you when you're showering. The water will not only spray on you – but will spray behind you as well. If you only have room for a 3' x 3' or 4' x 3' shower it makes a walk in shower impossible. Water will be spewing out onto the bathroom floor (which you obviously don't want to clean up).
This problem can be resolved by opting for a rain shower head vs. a stationary head. Rain heads direct water straight down on your head and body vs. an angled wall-mounted unit.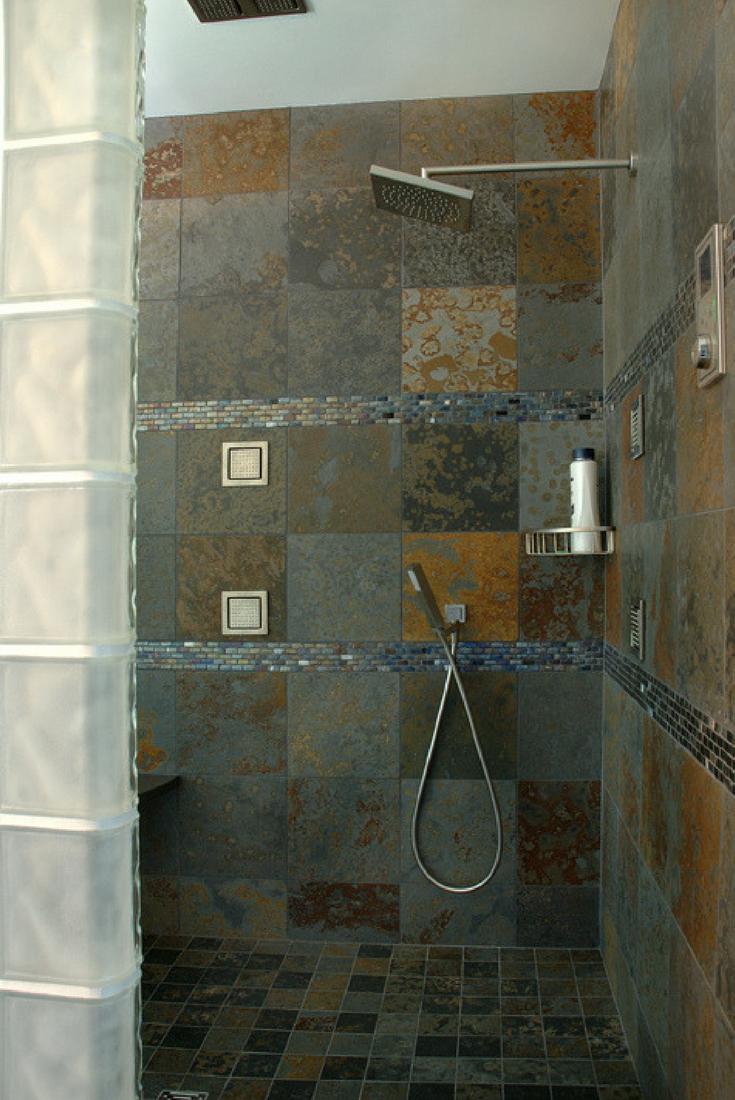 The compliant with rain showers is their water flow is wimpy. They don't offer enough pressure to get soap out of your hair quickly. You need to get in and out of the shower when you are running behind for work in the morning.  This problem has been overcome with air injection and self-pressurizing technologies in rain heads. Check out cool models by Hansgrohe and Moen (no – I'm not a paid consultant for them – but they do have some cool stuff).
Small walk in shower trick #3 – Make it bright and reflective
With a smaller bathroom (and tiny shower) you want it to feel bigger. A key strategy is to use (or create) light sources to open things up. In the bathroom use mirrored recessed medicine cabinets for a BOGO special (buy one get one free) of dual functionality. More storage space (a big problem in small bathrooms) and a larger feel to the room. Add task lighting above the vanity. Install a transom window. Create more light – any way you can.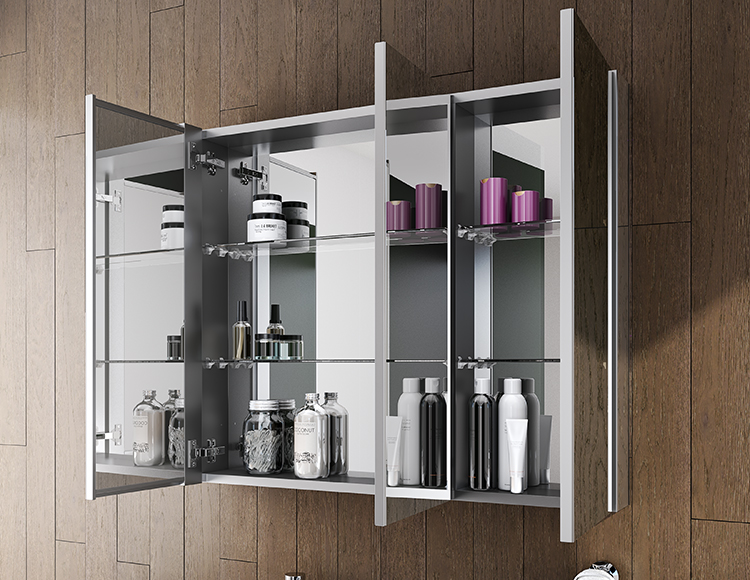 In the shower add a feeling of size and style with light-reflective high gloss wall panels. They come in bright colors (from clean, contemporary whites to calming light-blues and glass-bottle green colors). They reflect light off the walls while making it simple to maintain by wiping them clean (vs. the pain of scrubbing tile grout joints). These lighter colors also make the room feel bigger.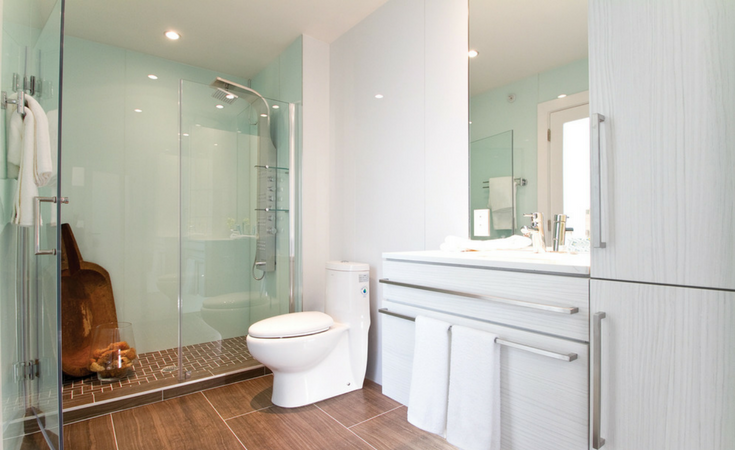 If you want any even more cost-effective type of high gloss wall panels choose these waterproof wall panels which are laminated on the top surface. They are fun – and since they're made is 2′ x 8′ tongue and groove installation sheets – a cinch to install. These walls can create a distinctive statement in showers for a vacation home rental or Air BNB you own.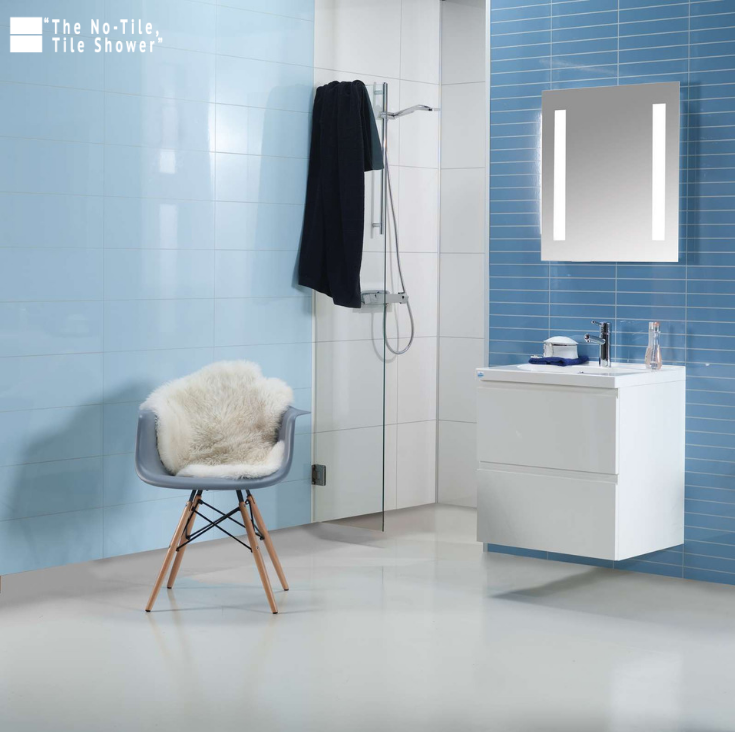 Get Free Samples!
Click here to request free samples of our Laminated Waterproof Shower Wall Panels.
Small walk in shower trick #4 – Say yes to building in and folding down. Say no to building out.
Whether you've got a 3' x 3', 4' x 3' or even the big (sarcasm intended) 5' x 3' shower – this is not a ton of room (unless your body resembles Gumby, the Gingerbread Man or "Flat Stanley" for those of you who remember this aggravating 5th grade school project). You still want a luxurious walk in shower which is comfortable to use and relaxing. How do you make this Houdini act of a walk in shower in a small space possible? Here are 2 things you need to do – and one you've got to avoid doing:
Do build into the wall – Where possible use the wall cavities to build into your shower walls. Use built-ins for recessed niches for soap and shampoo in the shower. Build into the walls for towel storage when you get out of your walk-in shower.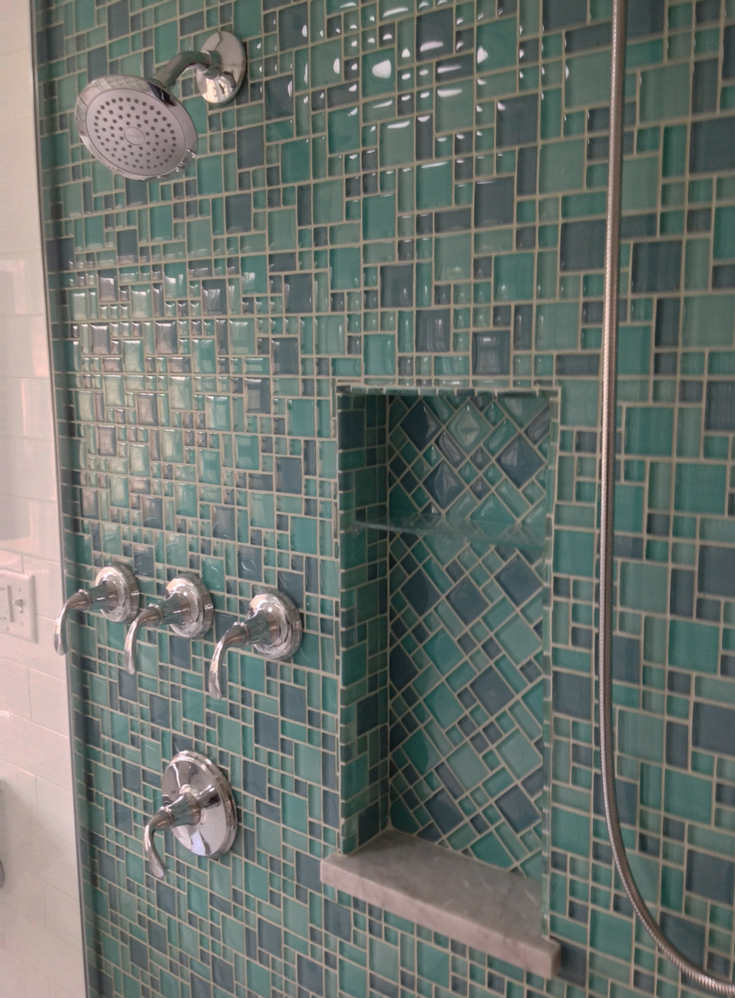 Do use fold downs – You'd love to shave your legs in the shower but space. The best way to pack more functional is to add fold down seating attached onto the wall. With this strategy you can pull down the seat when you need it to shave your legs (or relax). Your guy can push the seat up when he's showering.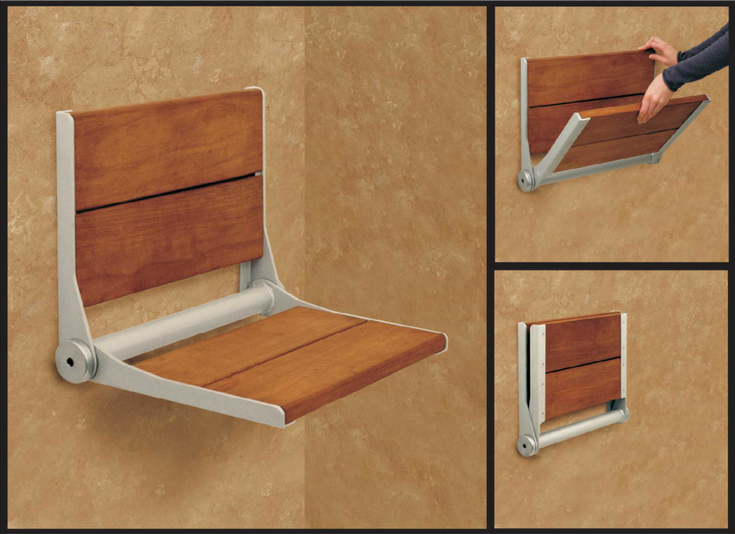 Don't build into the shower – A corner or bench seat is a no-no when space is tight. It will eat precious space you can't afford to lose.
Small walk in shower trick #5 – Let your shower be inspired by J-Lo, Beyoncé and Kim Kardashian
Here's a question for you.
What does Jennifer Lopez (J-Lo), Beyoncé and Kim Kardashian have in common with an effective walk in shower designed for a small space?
Answer – they use curves effectively.
Just like these shapely celebrities, many small walk in shower designs work (and have a notched up style) because they are curved. Glass block walk in showers with curves and rounded ends are popular because they make it possible to convert a small bathtub into a walk in shower (without a big expense).  Pre-curved glass enclosures add a luxury look while providing a visual connection ton the shower.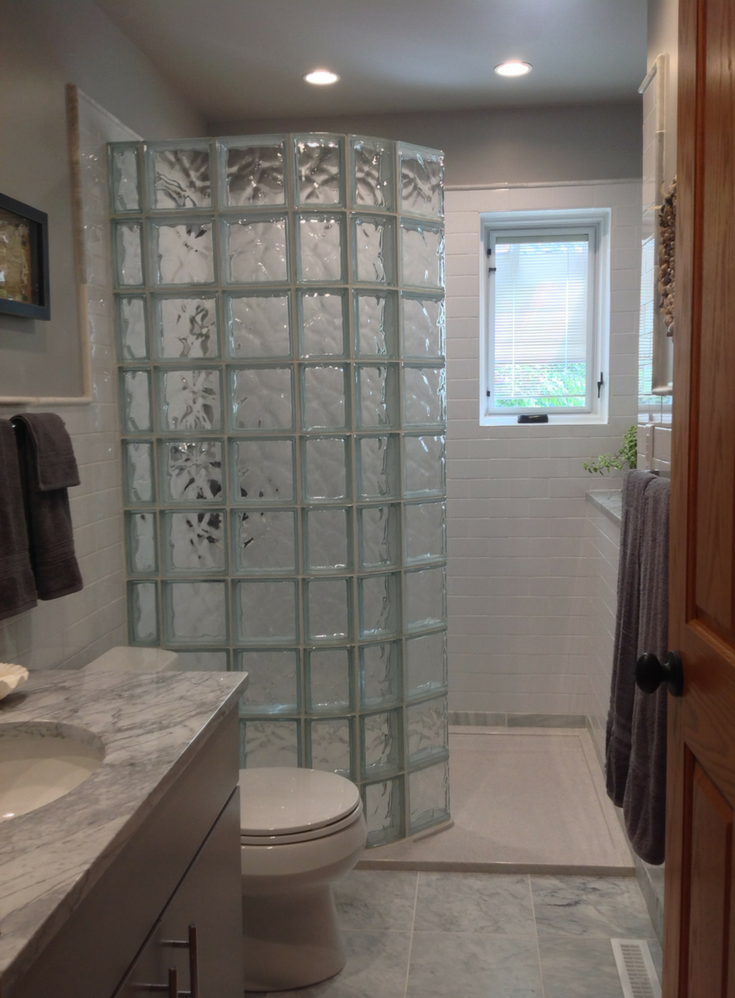 BONUS – Small walk in shower trick #6 – Buy a high quality shower kit so you can get quality products and save on shipping and bulk buying
You know when you go into a restaurant a buy 'a la carte' you're going to fork over A LOT of money! The same is true for a walk in shower. If you buy your shower pan in store #1, your ceramic tile or wall panels from another company and your glass shower doors from a third supplier you WILL NOT have any 'economies of scale' (as they used to lecture me on back in my b-school days at Carnegie-Mellon University).
No, if you want to get the best 'value' for your walk in shower dollars you should look for a shower replacement kit which comes complete with a base, shower wall panels and a glass screen. Take advantage of 'group buying' and 'group shipping.'
The Ultimate Shower Replacement Kit Guide
Clear advice on bringing your bathroom to the next level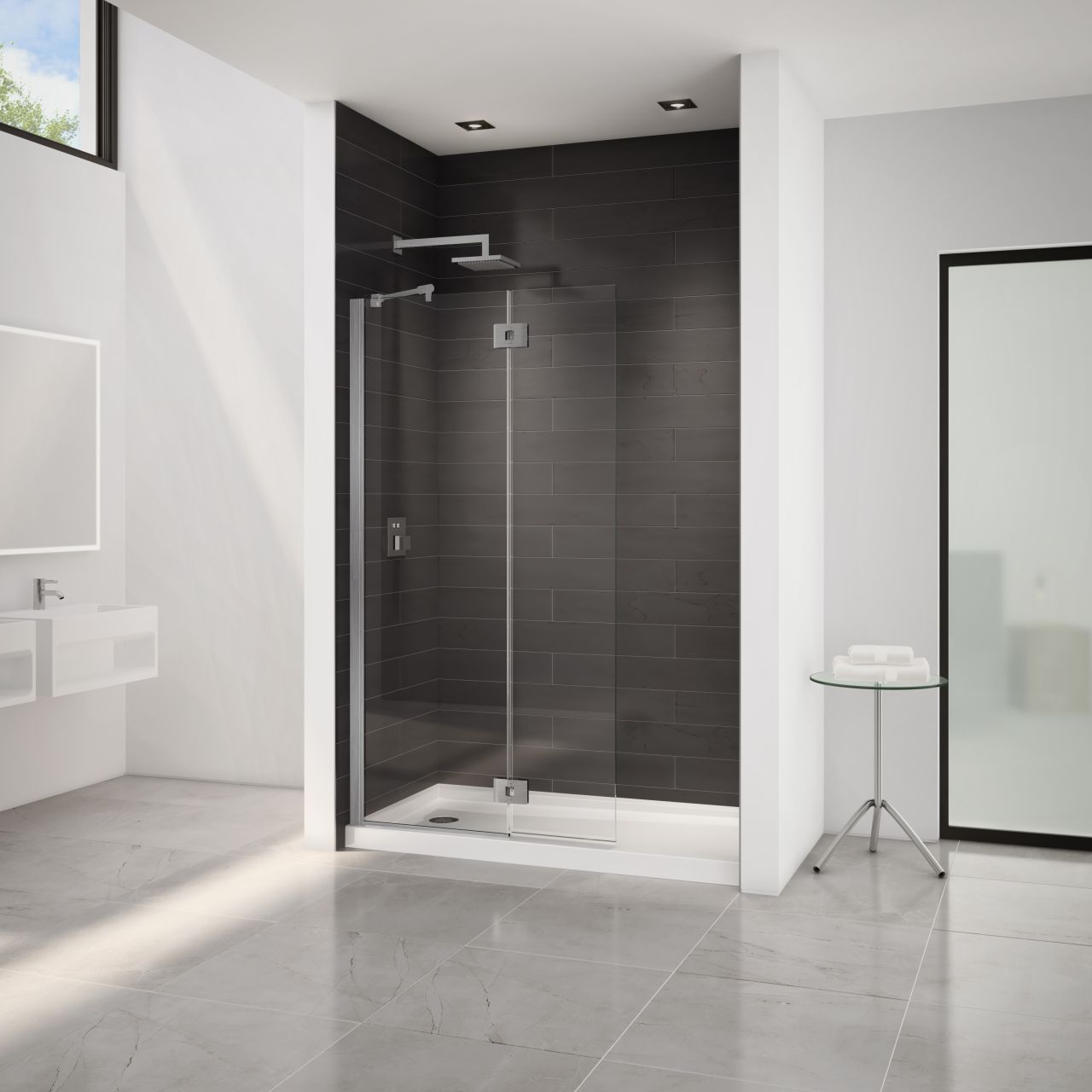 Conclusion
It is possible to get Pinterest-like coolness and a walk in shower even if you're confined to a tiny 5' x 8' bathroom. You will, however, need to think differently. First – see your bathroom as one complete space. Don't compartmentalize your shower. Look for ways to reflect light and create the feeling of a bigger space. Use rain heads, built-in storage and fold down seating to use limited square footage better. Lastly – don't be afraid to add curves for fun and function.
How can I (or my team) help you?
If you're looking for input on a shower remodeling project or innovative walk in shower products nationwide call Innovate Building Solutions at 877-668-5888. For a Cleveland bathroom remodeling project call The Bath Doctor (216-531-6085) or in Columbus (614-252-3242). Or for a Cleveland tub to shower conversion click for Free Design Consultation.
If you're a remodeler or builder and want practical advice on remodeling products, industry trends, marketing and sales tips to grow your business (and cut day to day hassles), start reading my newest blog – Innovate Builders Blog. It's packed with ideas you can use now. Click here to Sign Up for the Innovate Builders Blog.
If you're in the building business, click here if you'd like to learn how to become a shower wall panel dealer or call and ask for Mike at 888-467-7488.
If you're looking for solutions for shower walls for a hotel renovation or tired bathrooms in student apartments call 888-467-7488.
---
Mike Foti
President of Innovate Building Solutions a nationwide supplier and regional (Cleveland and Columbus) remodeling contractors. Some of our product lines include glass counters, floors, backsplashes, glass blocks and grout free shower and tub wall panels
---