Need cost effective space? It's right under your feet!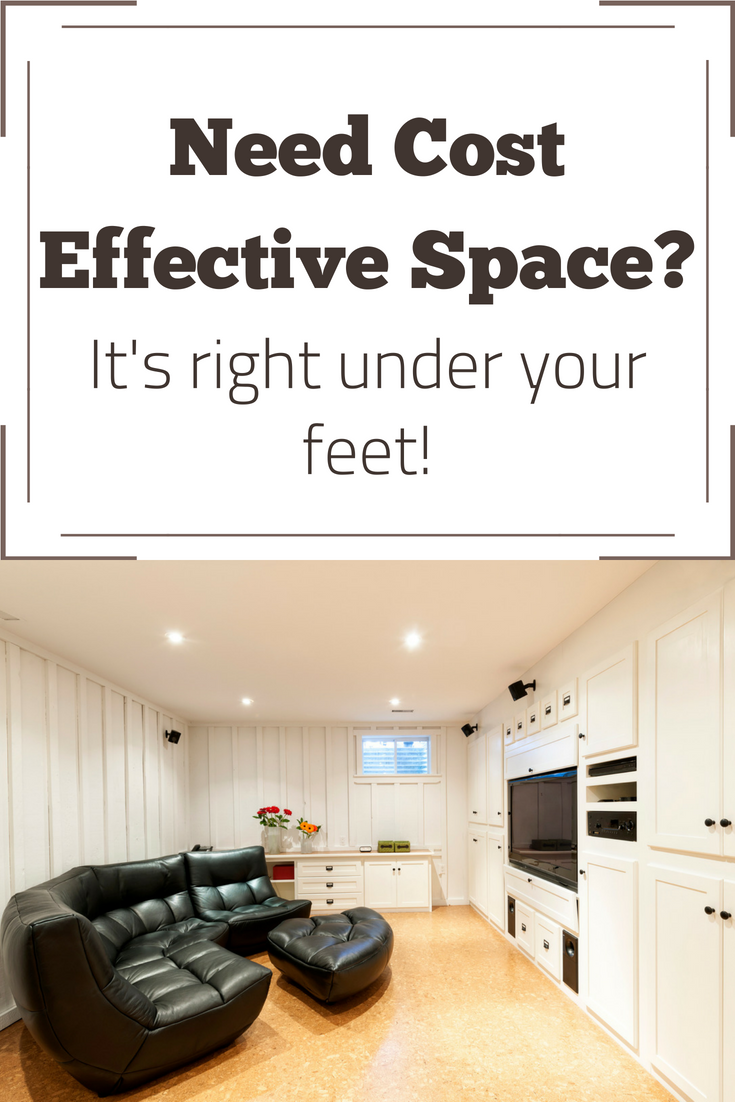 Updated March 24, 2019
Do these examples describe you?
(Example #1) You've got a growing family and your 'cute home' is bursting at the seams.
(Example #2) You're an empty nester looking to add 'fun spaces' for hobbies and entertainment as you near retirement (you never thought you'd say the 'r' word). You could buy a home in one of those 'active adult, 55+, retirement villages.' However, who wants to 'live life' around a bunch of old people who complain about knee replacements and are bragging about the latest feature in their walkers?
In both examples the need for more space, better space – (and since you're still waiting for Bill Gates to add to his Trust Fund list) cost-effective space is critical.
Here's the challenge. Where are you going to find it? Let's look behind the popular 'door #1 and door #2' options most people think of to gain more square footage:
Space option behind door #1 – Buy an existing home
The existing home market is crazy-nuts. According to the S & P CoreLogic Case Shiller Home Price Indices last year alone, nationwide homes prices increased by 6.3%. Add to that cost, fixing up your existing home to sell it and paying a realtor and you'll see trading up to a larger home is gonna cost you – BIG TIME!
Space option behind door #2 – Buy a brand-spanking new home from a builder
A new construction home is no bargain either. Lumber prices are going through the roof. Land development costs are increasing. Builders are forced to pass these costs on to you. Lastly, don't even ask builders about the challenge of finding qualified labor to build new homes!
Is there a better option behind door #3?
 The question is, can you find a better option for cost-effective space which is neither door #1 or door #2 above? If so, what is this better idea?
I'll make the argument for people who own a basement, finishing the lower level (i.e. the space right below your feet) can be a perfect area to 'find' cost-effective space. Whether you're a growing family or soon-to-be empty nester couple looking to reinvigorate your home around hobbies and entertaining friends, basement remodeling can be a smart financial move.
Sure, I know today you may refer to your basement as a cellar, dungeon, or cave because it's not exactly the sexiest space going. OK – if we're being real – it's butt ugly. But there are 'cures' for your lower level.
Goals for this article
In this article, I'm looking to do two things.
First, I'm going to offer 5 practical reasons basement remodeling makes more sense today than ever.
Second, I'm going to give you 5 practical steps to transform your basement into a place you'll want to spend time (and will help save money vs. buying a new home or a larger existing home).
At the end of the article, I'd love to hear ideas you've used to improve your basement and your opinions on this type of type of remodeling project.
5 Reasons Basement Remodeling Makes More Sense Today Than Ever
Spending money on a home (whether you're remodeling, buying new or trading up) may be something emotionally you want to do, but you also need common sense and logic behind your decision. Here's 5 reasons the timing of remodeling a basement is better than ever:
Reason #1 to remodel your basement – It's cheaper than buying a new home
High land development costs. Rising material prices due to tariffs. Impact and inspection fees are all BIG problems according to a recent study by the National Association of Home Builders. These higher costs are being passed on to new home buyers, with no signs of them lessening.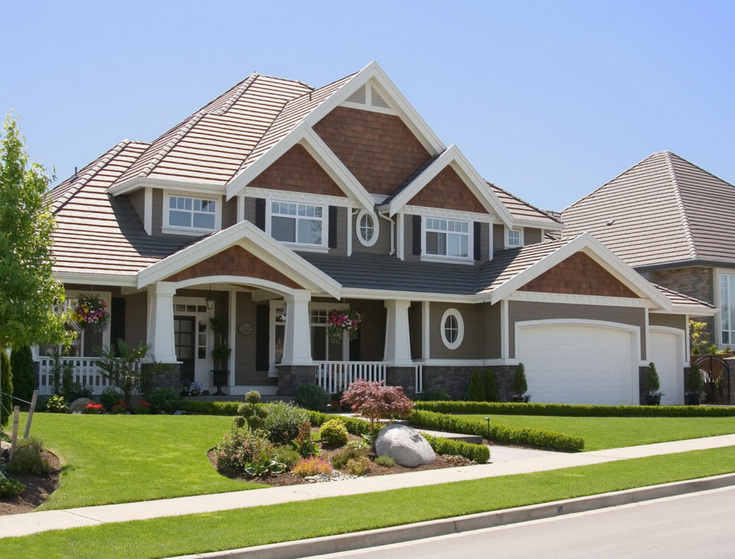 Reason #2 to remodel your basement – It's less than ½ the cost of a room addition, and it won't eat up your yard
According to a study by Home Advisor, the national average cost to do a room addition is $42,420 and the cost to remodel a basement is $19,083. That's a lot of extra cost to do a room addition project. The other challenge with a room addition is you've got to take away square footage from your yard. With basement remodeling you're working inside the existing 'footprint' of your home.
Reason #3 to remodel your basement – you can create private spaces and new rooms
It's wonderful to have a large family, except when it's not (and you want a little private space)!
As your kids get older they want a cool space to hang with friends. With a basement remodel you can have your kids close, and their friends closer (and it's nice to have an eye on the influences in their lives).
When company comes over it's nice to give them their own 'retreat' in the evening with a finished bedroom in the basement.
Looking for room for your hobbies or an exercise room? A finished lower level makes this possible when there's no ability to squeeze more space from the first and second floors.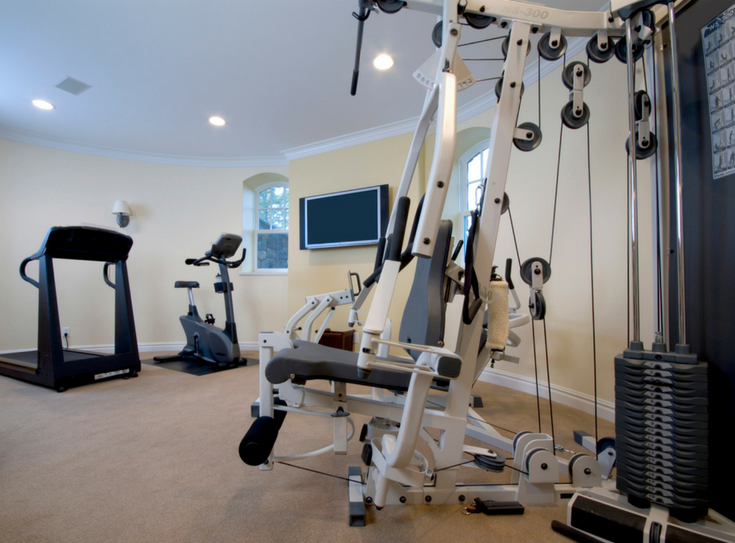 Reason #4 to remodel your basement – you have a large 'blank canvas' to work with
Sure, there are poles, mechanical and plumbing systems to design around, but many basements have wide open spaces which are perfect for man caves, entertainment rooms, guest bedrooms or home offices.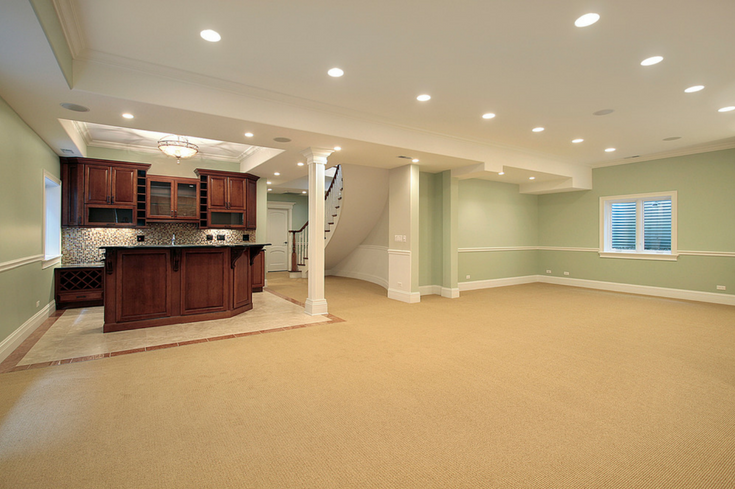 Reason #5 to remodel your basement – you'll have space to bring together 'da family for big meals
I love big family gatherings. A few years ago, we went to visit relatives in Toronto (yes, every Italian family has relatives in Toronto). My wife's Dad's cousin (exactly how many people are invited over by their wife's Dad's cousin anyway?) invited us over for (as she said) a 'little meal.' Now this little meal included 30 people and so much food and bakery you could have fed 60 – EASY!
If you're like me and love the large family meals, a finished basement is perfect. The table can be set without disturbing the rest of the house. Also, you may be able to keep Crazy Uncle Nunzio confined to a smaller area of the house as well (a double bonus)!
Now that we've looked at reasons it's timely to do a basement remodeling project, next let's look at practical steps, so you can reclaim this space and actually want to use it.
5 practical steps to transform your basement into a space you want to use
Most basements are nasty, bug infested, dark, damp, moldy, and full of junk. In short, it's a place you don't want to be. So how are you going to make this space inviting? Consider these practical steps (and in some cases fun ideas).
Step 1 to improve your basement– Begin with the urge to purge!
OK – maybe you don't have the urge to purge your junk, but I bet your spouse does! The old fraternity paddle from college days has gotta go. Textbooks you haven't opened in 15 years from "The U" aren't going to be opened in the next 15 years either. The fondue set you got as a wedding gift 20 years ago still in its original package (you just know 'you're going to use someday'), ain't happening.
Most people can't use their basement because it's full of junk. You may ask where all this 'junk' ('er stuff) is going to go. Here is what I'd recommend:
If you struggle with how to organize and determine what needs to go, hire a professional organizer. They will help you through the steps and even 'talk some sense into you' about what should stay and what should go.
Be realistic which possessions are important and which are just taking up space.
Find another space to store things other than the basement. Where you might ask? Garage cabinetry systems are excellent places for holiday decorations and lesser used items you want to keep.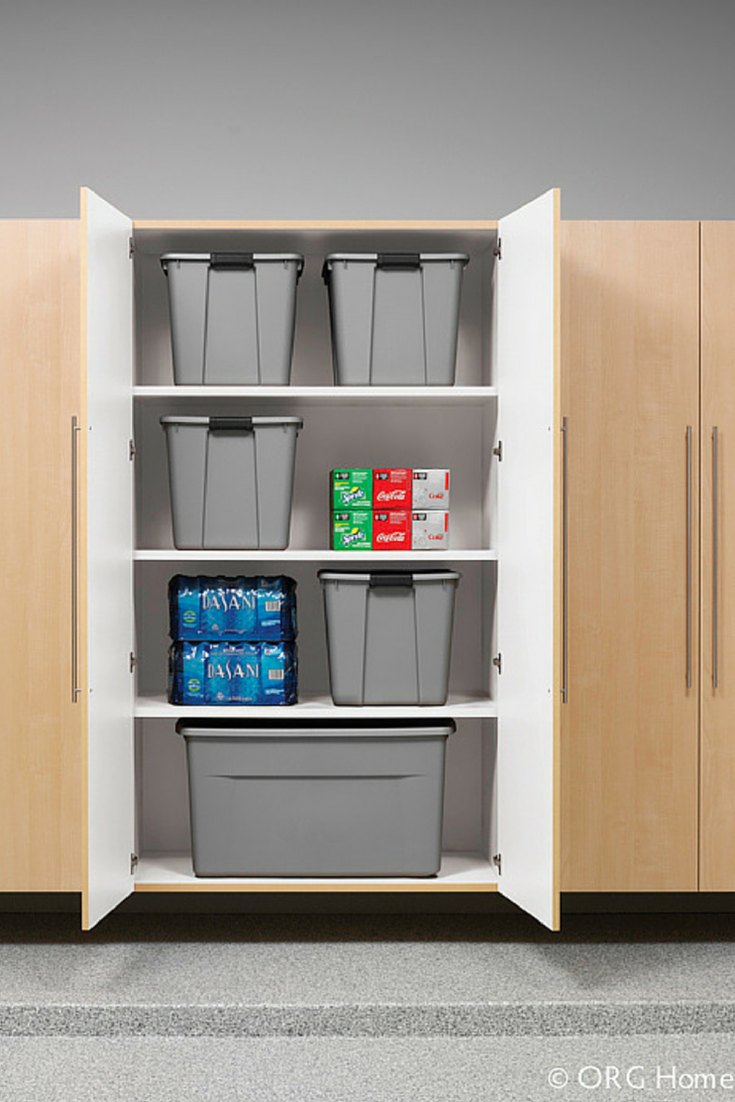 Step 2 to improve your basement – get rid of moisture
There's nothing pleasant (or healthy) about a musty basement. If your basement is wet, you obviously can't do anything fun with the space until this problem is fixed. Waterproofing your basement first is a must. There are approaches where you'll need a contractor to dig up and waterproof from the outside, and systems where the basement waterproofing is done from the inside only.
While I won't claim to be an expert in this area, I know there are some "Tin-Men-esque" contractors in this industry. I would recommend (no matter how much a waterproofing sales person tries to force you to 'sign tonight' for this once in a lifetime opportunity) get various bids and look up reviews on Houzz, Angie's List and Home Advisors. Don't hire a high-pressure home improvement company to do this job.
Step 3 to improve your basement – add natural light and improve air flow
Most basement are depressingly dark. Many windows are cob-web infested, rotten and rusted shut which contributes to the basement smelling musty. They would make excellent props on an episode of The Munster's. A simple (low cost) idea is to remove old ugly wood or metal frames and replace them with glass block basement windows with air vents. The glass block windows eliminate the need for a frame around the window (since they are mortared into the concrete block or poured wall foundation). In addition, the vinyl air vents allow air to move through your basement (a welcome addition to rusted metal frame or deteriorated wood frames you're afraid to open today).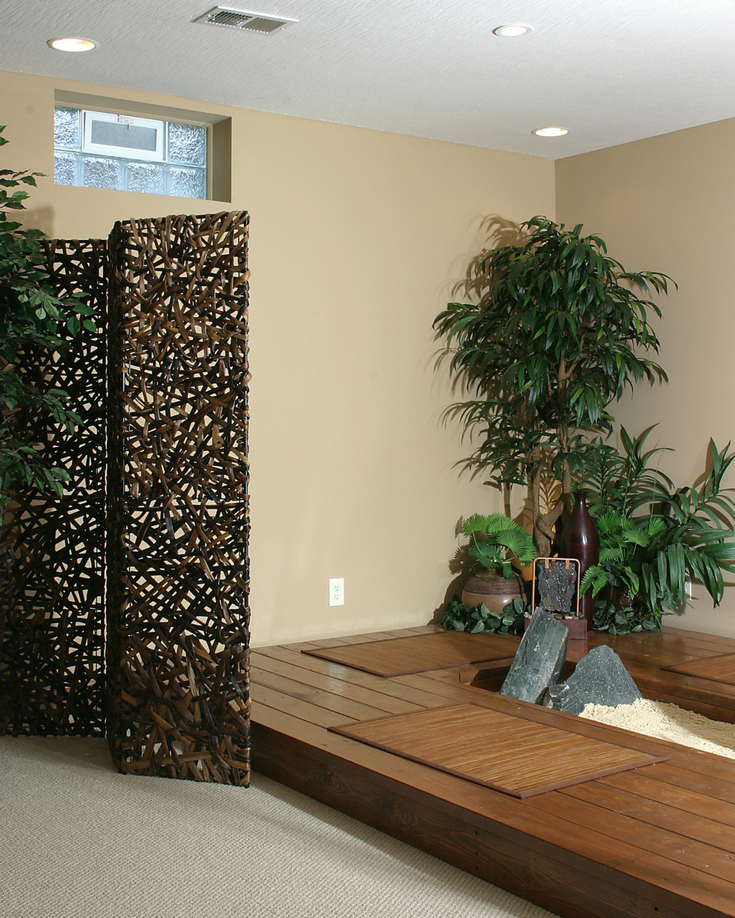 If you're adding a bedroom, then you'll need to design this new room on an outside wall and create a window well and larger opening for an egress window (for your bedroom to meet local building codes). This will not only give you a place to get out in case of a fire but will offer at least 6 square feet of light into the lower level as well. If you're worried about privacy, an acrylic block egress window will give you the best of all worlds (air flow, privacy, and the ability to get out – if needed).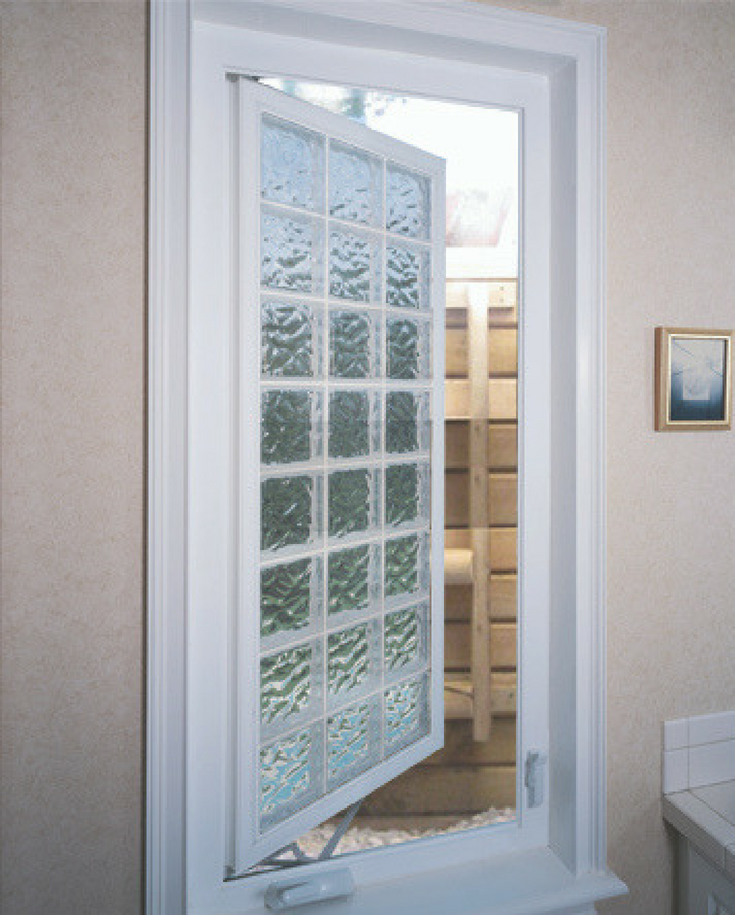 Step 4 to improve your basement – insulate and use mold resistant products
Basements are below the grade of your land (amazing insight huh?), which by their nature make them colder than your first and second floors. For a basement to be a place you want to go for your yoga studio, home office, theater room or guest bedroom, it must be comfortable.
For an enjoyable space you'll want to insulate and finish it with mold resistant gypsum panels or use insulated DIY paneling systems. For your bathrooms consider grout free wall panels using materials like solid surface, cultured granite walls and laminated wall panels. They are durable and won't hold any moisture, unlike a tile shower.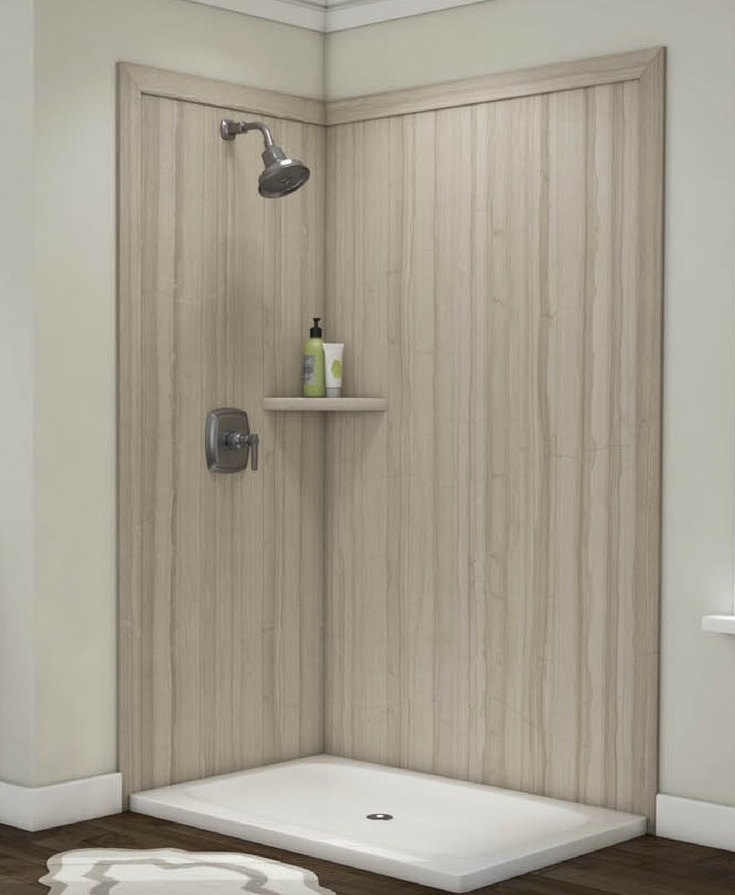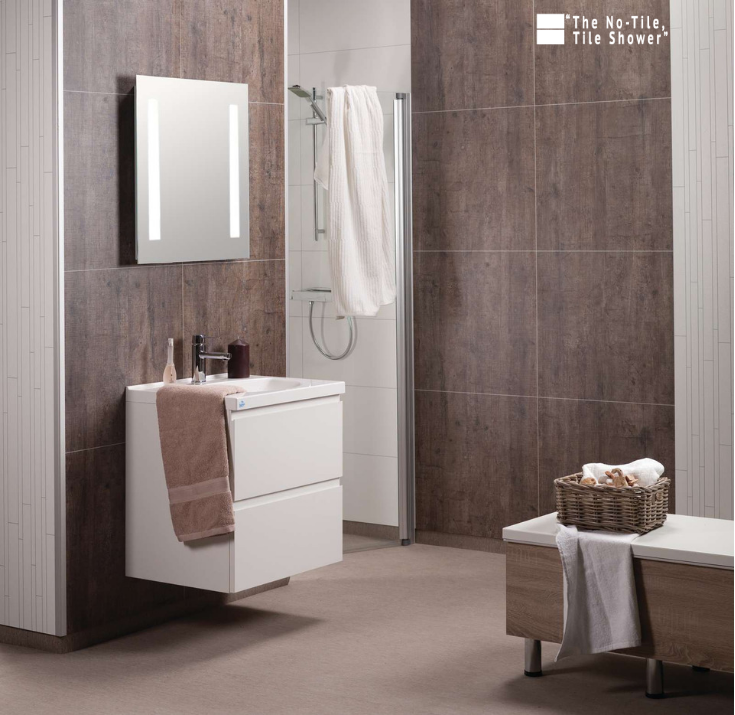 Step 5 to improve your basement – use low maintenance, light reflective materials
Now that you've made the changes in step 3 to improve natural light and air flow you'll want your basement to be as light and open as possible (except for a movie room – which you'll want dark).
To keep the space as open as possible, use partition walls sparingly. Where you do need partitions consider light moving, or light reflecting materials. For example, if you want to move light through a bedroom or bathroom wall use an obscure glass, plexiglass or glass block wall to maintain privacy without blocking out light between rooms. In addition, glass is a low maintenance material which is simple to clean.
To bounce light off walls within spaces consider products like glass tiles or high gloss wall panels in your basement kitchens or bathrooms. They offer a sense of style and a brighter look.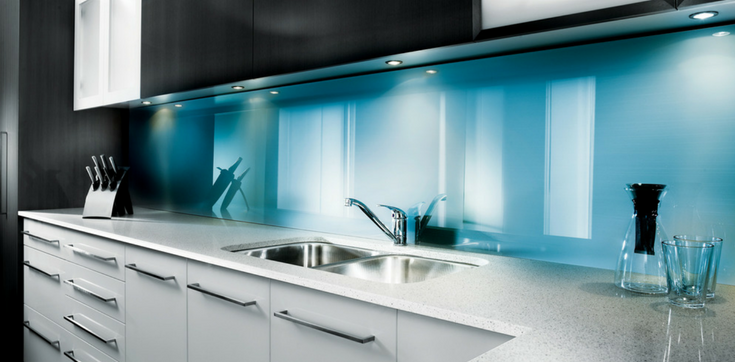 Conclusion
Finding 'cheap space' in today's home market is no simple feat! You can look at new homes or a larger existing home, but be prepared, this will be no cheap date.
I hope this article has convinced there may be a cost-effective alternative right under your feet! Your basement.
If you'd like insight on basement remodeling and smart products to use in this project call me or a member of my team at the numbers below. We're excited to help you.
How can I (or a member of my team) help you?
For a help with a Cleveland basement remodeling project contact Cleveland Design and Remodeling at 216-658-1270. For help with glass block basement windows, acrylic block egress windows, light reflective or grout free wall panels call Innovate Building Solutions at 877-668-5888.
If you're a remodeler or builder and want practical advice on remodeling products, industry trends, marketing and sales tips to grow your business (and cut day to day hassles), start reading my newest blog – Innovate Builders Blog. It's packed with ideas you can use now. Click here to Sign Up for the Innovate Builders Blog.
If you're in the building business, click here if you'd like to learn how to become a shower wall panel dealer or call and ask for Mike at 877-668-5888.
If you want to connect with me and/or learn more about remodeling, but don't want to put up with my wacky humor (I get it). Follow me on Twitter @Mike Foti, or my companies @InnovateBuild or @InnovateHomeOrg.
---
Mike Foti
President of Innovate Building Solutions a nationwide supplier and regional (Cleveland and Columbus) remodeling contractors. Some of our product lines include glass counters, floors, backsplashes, glass blocks and grout free shower and tub wall panels
---