Get rid of old dated colors in your 1960's small bathroom – 2 Options to dress up your space without breaking the bank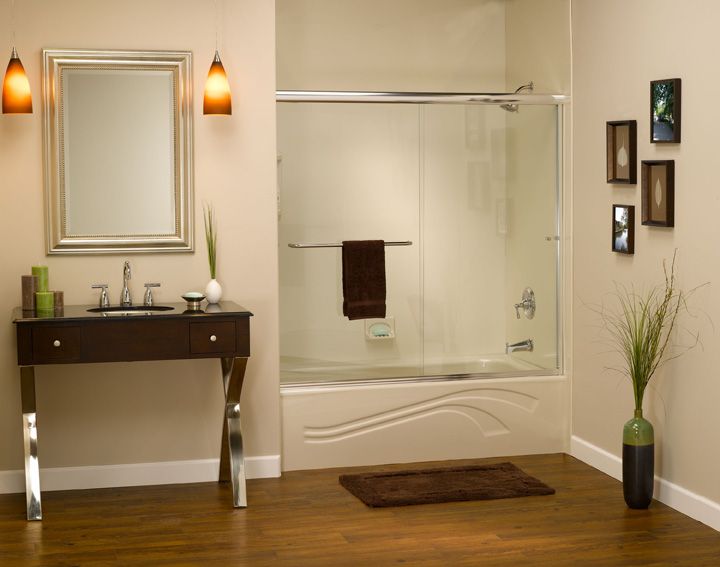 Are you just sick and tired of an old outdated color scheme in your 1960's bathroom? Are you tiles cracked, or are the walls and grout joints deteriorated?  Let's face it – the 60's color schemes are over and some of the materials used are not good enough to eliminate mold and mildew from your shower and bathroom space. How can you turn this eyesore into a shower or bathtub space that is functional, cool, and easy to maintain? Here's 2 options to consider:  
Option 1 – Go over the old tub and walls – Lower cost, quicker to complete, low maintenance – If you've got 1 bath or 1 ½ baths in your house you may find it difficult to (and also more costly) to completely gut and remodel a bathroom due to the time involved (having to be without a tub/shower in your home for an extended period of time can be a pain). A cost effective and attractive way to solve this dilemma is using an acrylic tub liner and acrylic wall surrounds.
When the acrylic bath/shower products were introduced years ago the color and texture options were quite frankly pretty boring – such is not the case today. You can cost effectively get a simulated stone or tile look at a fraction of the cost of other types of wall surrounds. These products are available in a wide range of color and trim options to dress up your bathroom. In addition these wall and tub system are usually installed in 1 or 2 days. Maybe the greatest benefit to this system is there are no grout joints to be concerned about maintaining.
Option 2 – Convert your tub into a shower using a low maintenance straight or curved glass block shower wall – Even if you've got a small bathtub you can turn a 60" x 32" or 60" x 34" standard tub space into a more functional, cool looking, and low maintenance glass block shower. This project will cost more money than option 1 (and will usually take 5 to 7 days to complete) but the results can be stunning. The following steps will be required:
Remove the existing tub and wall surrounds.
Purchase and set the acrylic shower pan or ready for tile base to your subfloor.
Install cement board or a waterproof wall backer board to the wall surrounds.
Install tile, stone, granite, cultured marble etc. over your wall backer board and ready for tile base.
Purchase prefabricated glass block wall sections (these are available for both straight and curved walls). For a 60 x 32 space you'll most likely need a straight wall but for a 60 x 34 space or larger you can choose a curved walk in shower.
On the first wall installation day set the first premade section and anchor to your wall(s). Add specialized silicone to the first section and stack the section on top of the first.
On the section shower wall installation day grout the wall with either sanded grout or waterproof urethane grout.
Are you looking for any help with your old 1960's bathroom or do you have any tips for others on how to turn this not so good looking space into something cool and functional? If so – comment below or visit the Bathroom Blogfest site.
###
To get help with your bathroom remodeling project visit Cleveland Design & Remodeling (216-531-6085) , Columbus Design and Remodeling (614-252-7294) or the Bath Doctor (513-742-6679)of Cincinnati.
Related Articles
---
Mike Foti
President of Innovate Building Solutions a nationwide supplier and regional (Cleveland and Columbus) remodeling contractors. Some of our product lines include glass counters, floors, backsplashes, glass blocks and grout free shower and tub wall panels
---