6 Shower Trends to Kick up your Bathroom from the 2017 Columbus BIA Parade of Homes (and 3 new ideas I'd like to see next year)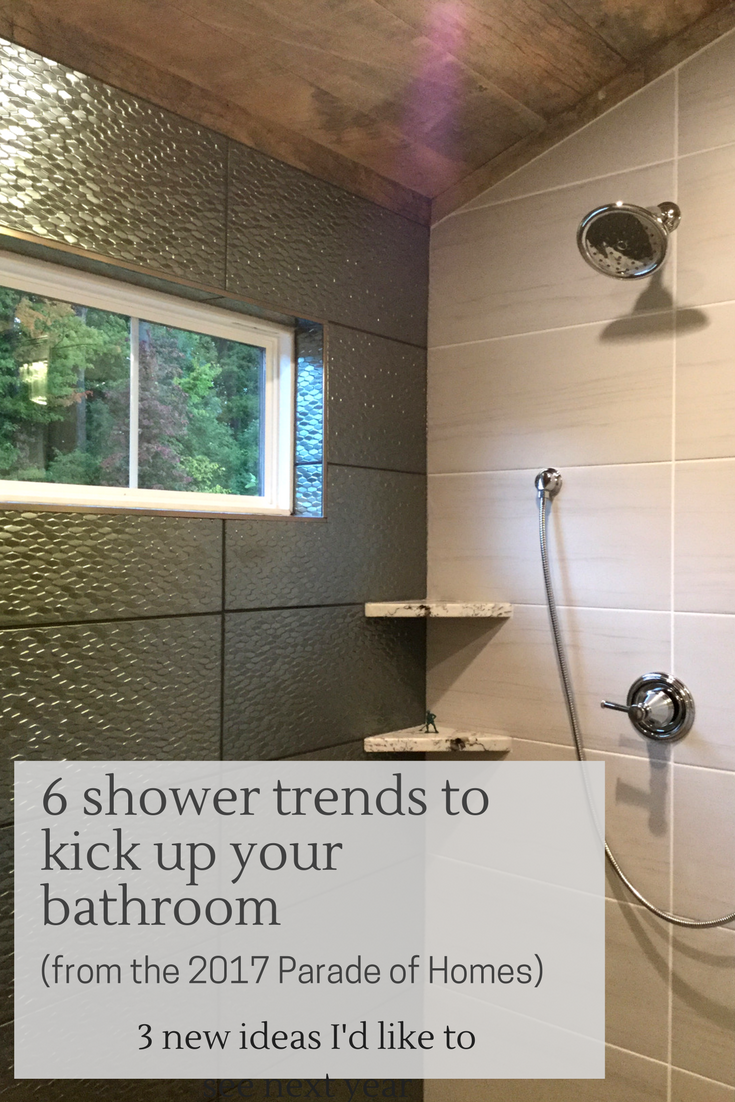 Updated March 9, 2019
As a bathroom and shower remodeling geek I HAVE TO check out the Columbus Parade of Homes each year. It's fun to see what the crazy designers and builders can do to inject personality, fun and function into their home designs. This year's group of 9 homes did not disappoint. These homes were not the generic overly-beige Mid-Western drab spec home stuff you can tend see in the Central Ohio new home building market. There were drool-worthy kitchens, living rooms with cool Mid-Century modern styling, and relaxing bedrooms to give anyone a big case of house-envy (I'm glad my wife wasn't with me otherwise she might have got the "urge to redecorate." This urge can give me a bad case of hives – but I digress).
I completely enjoyed the bathrooms and showers in these homes. Maybe it's because I've been in this remodeling world too long – or I'm a bit touched in the head (or both). However, I'm jazzed by cool looking showers and the products used to make them not only functional – but special and practical for people in any stage of life to use.
On an overcast Thursday afternoon, my trek through the homes began. I caught a crazy day because half-way through my tour it poured on me as I sprinted from house to house with my iPad taking pictures (I asked people in each home if the dryers in their homes were turned on to dry out my shirt – nobody took me up on that offer though. I guess the concept of a half-naked guy in their Parade Home wasn't the ambiance these builders were looking for!).
Below you'll find my summary of 6 shower trends I saw live at the Parade – and 3 new ideas I didn't see this year (and hope to find on display next year). At the end of the article I'd like to ask you to do me a favor. Comment on which trends you think would help you existing home the most (or you'd want in a new home). If you think any of these trends are a waste of time, money or space – give me your 2 cents on that also. Quality debate is cool. At the end of the article, I'll also give you my vote for the coolest shower from the show.
6 shower trends to kick up your bathroom from the Columbus BIA Parade of Homes
Shower trend #1 – Exotic tile patterns
I'll say it right now – Columbus builders may be more in love with tile than their spouses. OK – that may be going out on a limb a bit…but not much. Here are 3 cool tile patterns, materials and styles you need to see.
Go vertical to create a sense of space, even when it's not there – You know this challenge. You only have space for a small stand up shower and you don't want it to be boring. You'd like to inject it with personality. I like how this shower by Silvestri Homes used a vertical tile pattern and a clear glass door to make this stand-up shower feel bigger (even though it's still tiny a 3' x 3' space). The large format tiles on the sides also minimize grout joints – a good idea.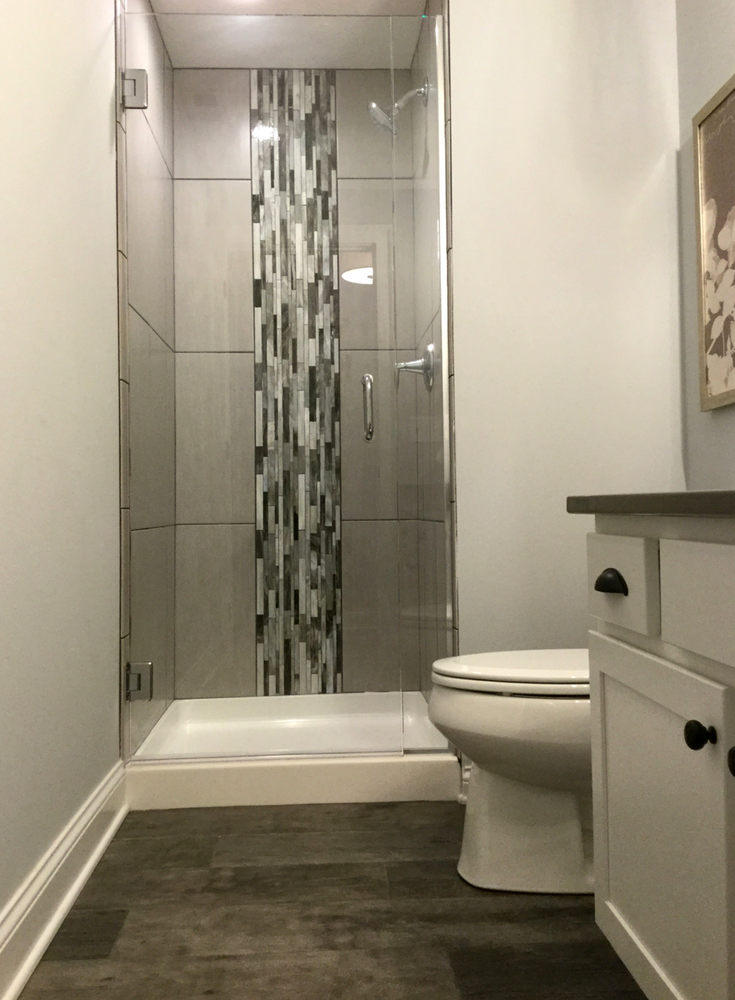 Back to the Jetson's in the Manor Homes Master Bathroom! – OK I'm old. To prove it I can tell you I used to watch the Jetson's – the futuristic cartoon which debuted in 1962. This home features wall tiles which reminded me of the Jetsons. The cool large format Emser metallic tiles were stunning. The contrasting tiles on the shower head wall and floor showed even in shower design not all tile has to be "matchy-matchy." I don't know why "he" was there, but I also loved the green army man (this brought be me back to my youth!) hanging out on the corner shelf of the shower.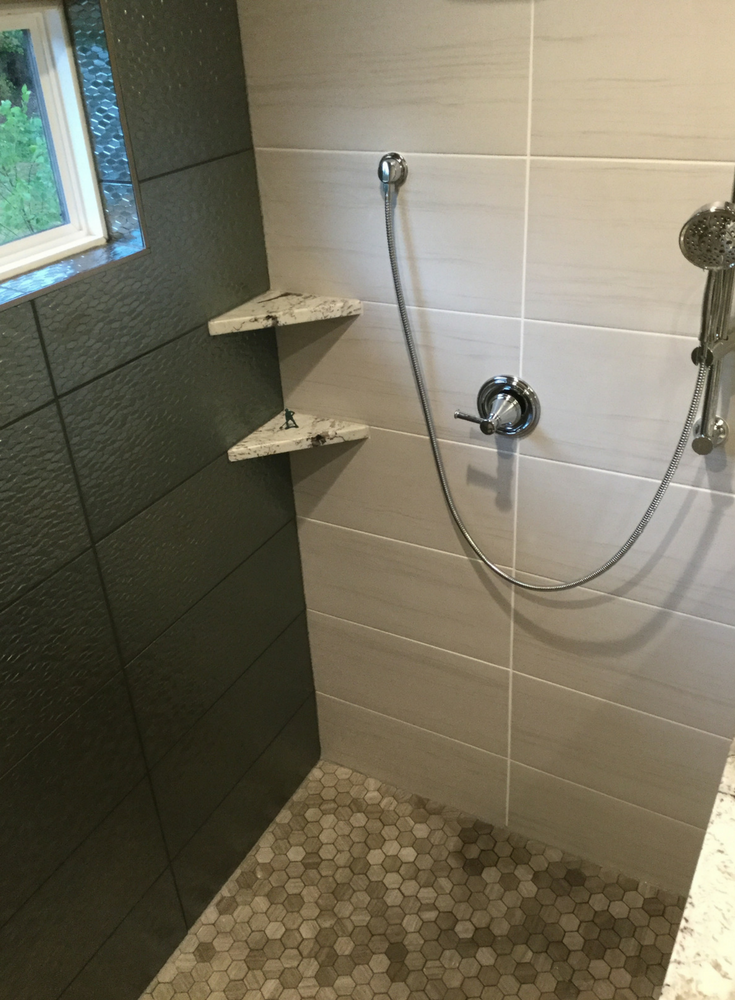 Don't run for the border, embrace the border – Combining glass tile and ceramic tiles creates a fun look for any shower. This walk-in shower from Westport Homes was a good example of that.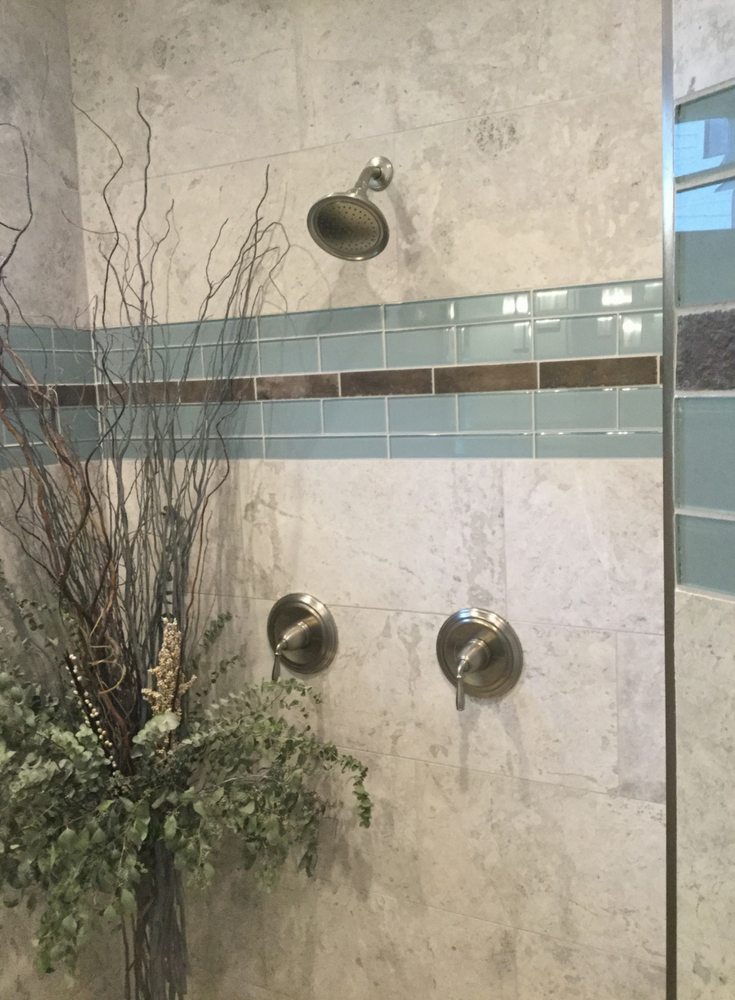 Shower Trend #2 – Create a relaxing spa, not just a shower
In Dad and Grandpa's Day a shower was all about utility (as a matter of fact back in the day my Dad and my Father-in-law both used the basement bathrooms in their homes which didn't exactly scream out luxury – if you know what I mean). In today's overly-hectic suburban family lifestyle you're running between work and carting the kids around. Being able to relax in your shower from time to time is a welcome pleasure. That is why bench seats in showers are getting hot (OK – bad pun intended). I love this bench seat in the home by Maple Craft Custom Homes. It is long and luxurious.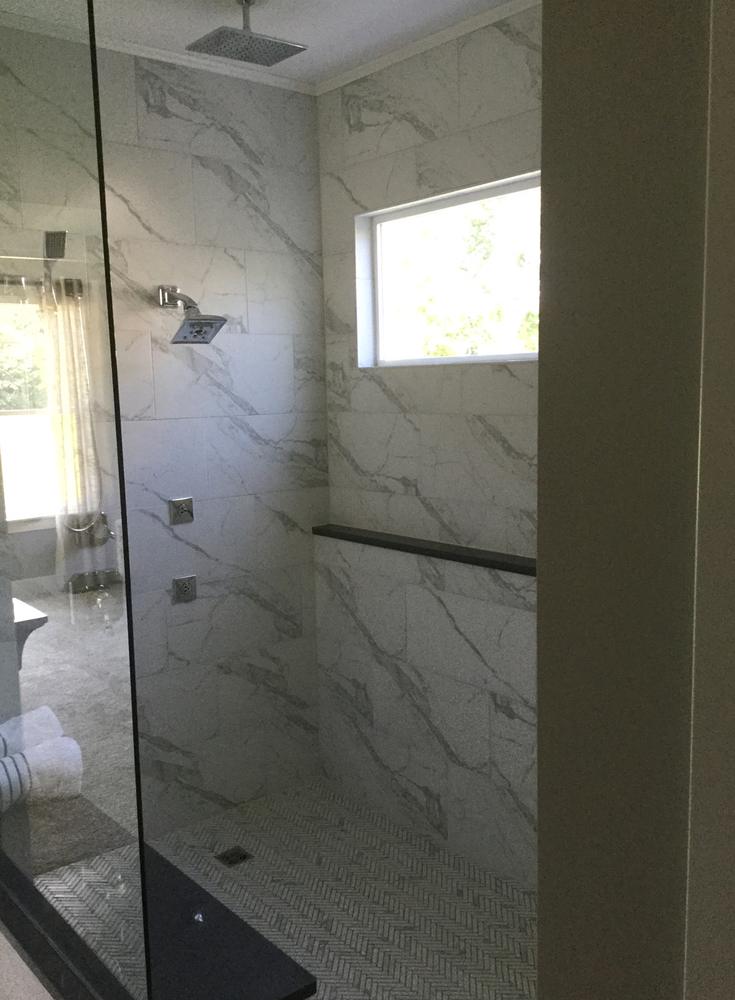 Shower Trend #3 – Shower doors don't have to be boring
When I've attended the International Builders Show (along with 80,000 of my closest friends. As Donald Trump would say this show is "bigly") the last 2 years one of busiest booths I saw was a company called Coastal Shower Doors (who showed their "Gridscape" series). The shower from Silvestri Homes with the grids between glass panels reminded me of the Coastal Shower Doors line. What is cool about these doors is they can not only be used in a traditional shower, but are an excellent look in an industrial modern loft factory space, a Japanese shoji style bathroom or for a contemporary bathroom.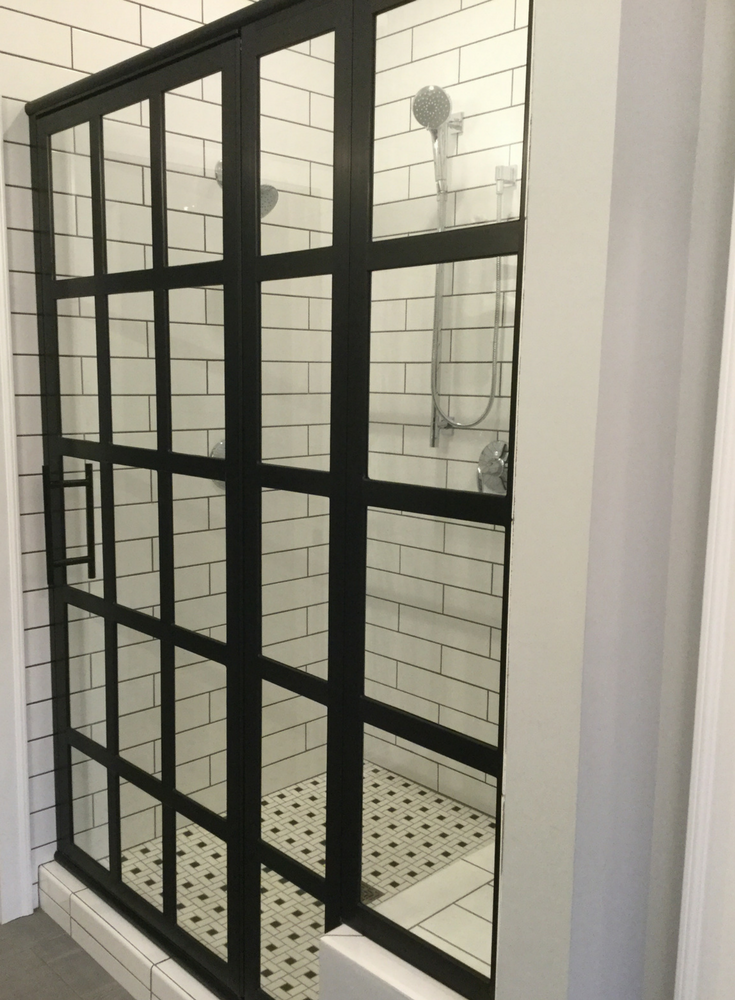 Shower Trend #4 – Use your space wisely. Build in vs. build out with recessed niches
Anyone who has raw elbows from bumping into the side walls of their showers knows a shower enclosure can be a tight. Effective shower designs know how to use every inch of space – even hidden inches inside the walls. One perfect tool to accomplish this goal is recessed niches. These hidden shampoo and soap storage gems are built into the wall so you won't bump into them. You get more space with zero room being consumed. The niche in the marble tiled shower in the Ambassador Homes Parade entry has a fun mosaic pattern. They get bonus points for leveraging the trend back to brass fixtures (do you like that brass is coming back?)
Shower Trend #5 – The stylish one level (which works for everyone shower)
Throw out the idea of an ugly "handicapped (note – I hate the term handicapped)" accessible bathroom and embrace the concept of the one level wet room. This super-stylish one level space from Maple Craft Custom Builders shows how a shower which will work for everyone can be cool and safe. This empty nester focused home has a bathroom built on one level with a herringbone tile pattern. It proves luxury and safety can become the best of buddies – even in your bathroom. What is even cooler is these one level shower systems are just as simple to do in a bathroom remodeling project as a new home with the systems available today.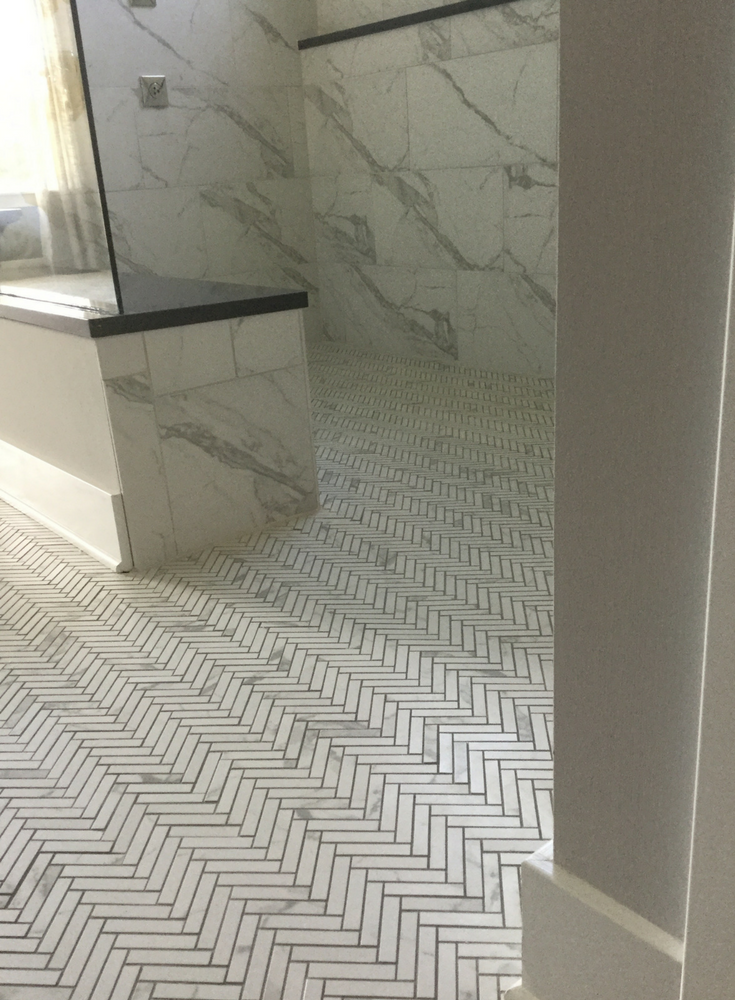 Shower Trend #6 – Moving light through space
Have you ever watched your kids or grandkids reading a book in a dark room and said to yourself, "How the heck can they do that?" As you get older your eyesight cannot keep up with those younger people. You try to become (at least delusional) younger with hair coloring, Botox and anti-aging creams, but these products still don't make your eyesight better.
As you age your shower and bathroom (a wet slippery space by its definition) become more dangerous. This is where natural lighting is a big-time bonus. I loved the use of a transom window and a half-wall glass enclosure from Manor Homes. It allows privacy in a shower (even if it's on the first floor) and moves natural light through space. This is thoughtful design in action.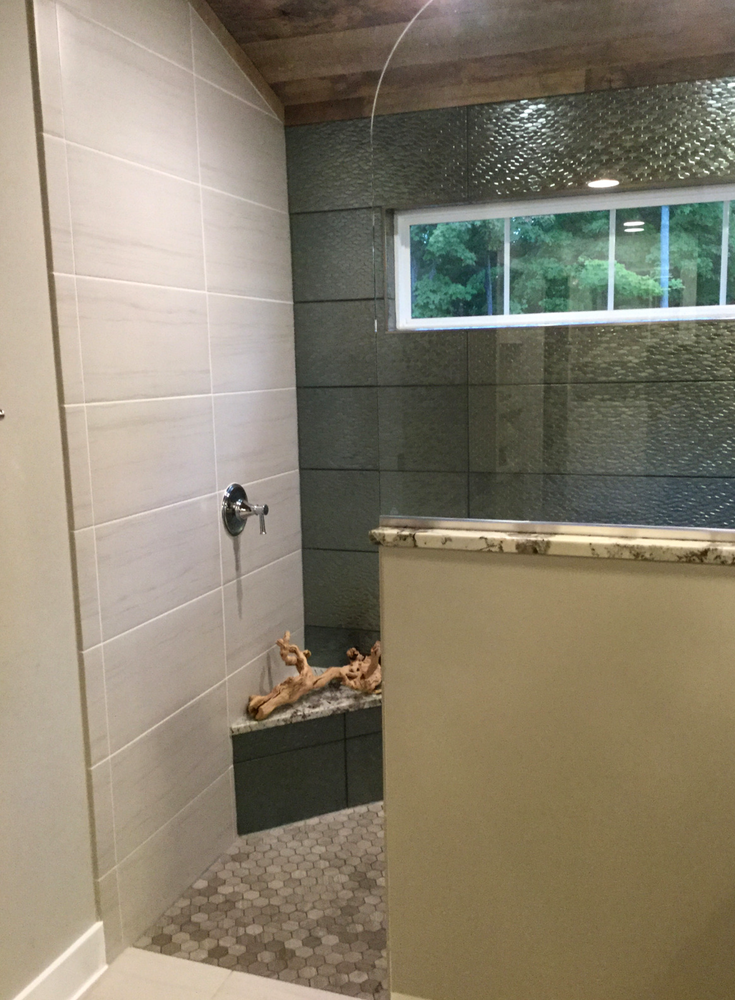 3 Shower Trends I'd like to see at next year's Parade of Homes  
It's hard for everything to be built into a Parade of Homes but there are 3 additional trends I know are hot from my remodeling and wholesale businesses, I think homeowners (and future homeowners) in Columbus would like to see in next year's Parade. Let's take a quick look at these trends not in this year's Parade.
Additional Shower Trend #1 – A contemporary (grout free) shower design
Yes – I know Columbus is a conservative town. With, there are a lot of tech-savvy millennials living in the city formerly referred to "cow-town" (yes in the old days Columbus was thought of in terms of agriculture than employers like OSU, Honda and Nationwide Insurance) who want sleek, modern and tech savvy built into their homes (and showers). It would be cool to see a home designed to fit the needs of this market – with a focus on technology, smart style and uber-efficient (OK – Uber might not be the best name right now) spaces. Products like these Euro high gloss panels come in some fun colors, are easy to clean and create a wow impact for an urban-dwelling Millennial or Empty Nester who likes the city-vibe. Some Buckeye fans might even love these red walls for an OSU-themed shower.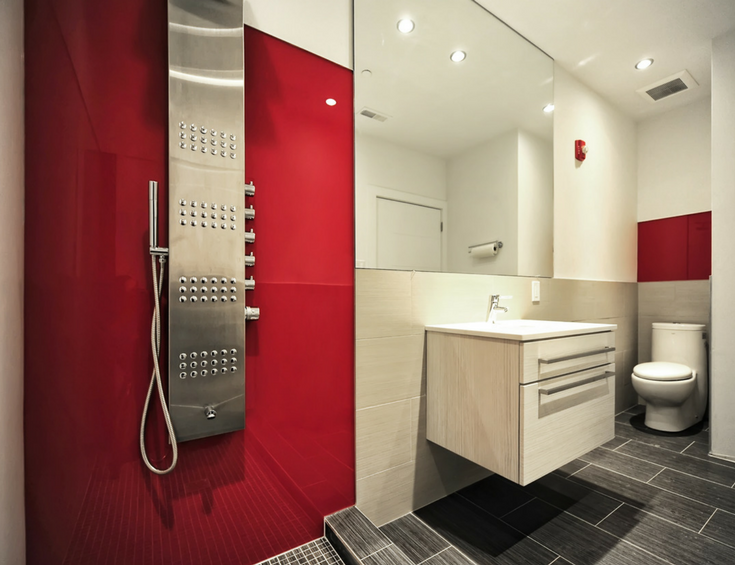 Additional Shower Trend #2 – The low maintenance shower
While Columbus builders love tile, I'm finding in my local bathroom remodeling and nationwide construction products supply business – people HATE tile! I've heard comments like, "I'd like to kill the builder who put in all these tiles, or better yet make HIM come over here to clean these nasty grout joints!" What is hot in the remodeling business are luxury grout free shower wall panels and bases. These new wall panels are much nicer than the cheap fiberglass one-piece units from the big box stores. Faux stone and laminated shower panels are catching on like wildfire.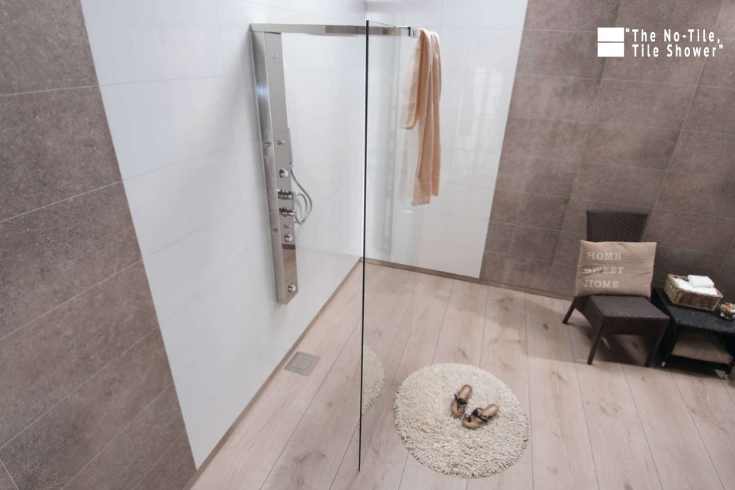 Additional Shower Trend #3 – The minimalist, mid-century modern bathroom and shower
When it comes to interior design (and living a simplified decluttered life) less truly is more. While fancy maximalist tile showers are well and good – most people today want a simplified lifestyle (while having a shower/or bathroom which can work for them over the long run). The bath and shower below provide the minimalist flair with wall hung cabinetry and clear glass– but will also "grow" as a person ages with the barrier free shower base.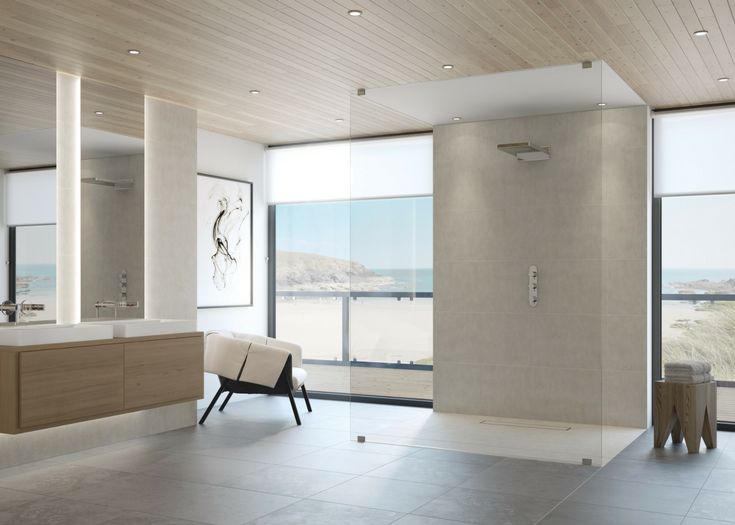 Conclusion (and my favorite Parade shower)
Even if you couldn't attend this year's Parade I hope you've enjoyed this "virtual" blog tour and found these 6 trends from the show (or 3 I'd like to see next year) of value to you. I had fun checking out the Parade homes (even though I was soaking wet because of the rain and my stubborn-guy refusal to bring an umbrella ).
If you'd like to know my favorite vote for a shower at the Parade it is the one by Manor Homes. The metallic tile, transom window and wood ceiling are cool – but it was ultimately the army guy on the corner shelf which put it over the top for me (OK I'm a bit weird!).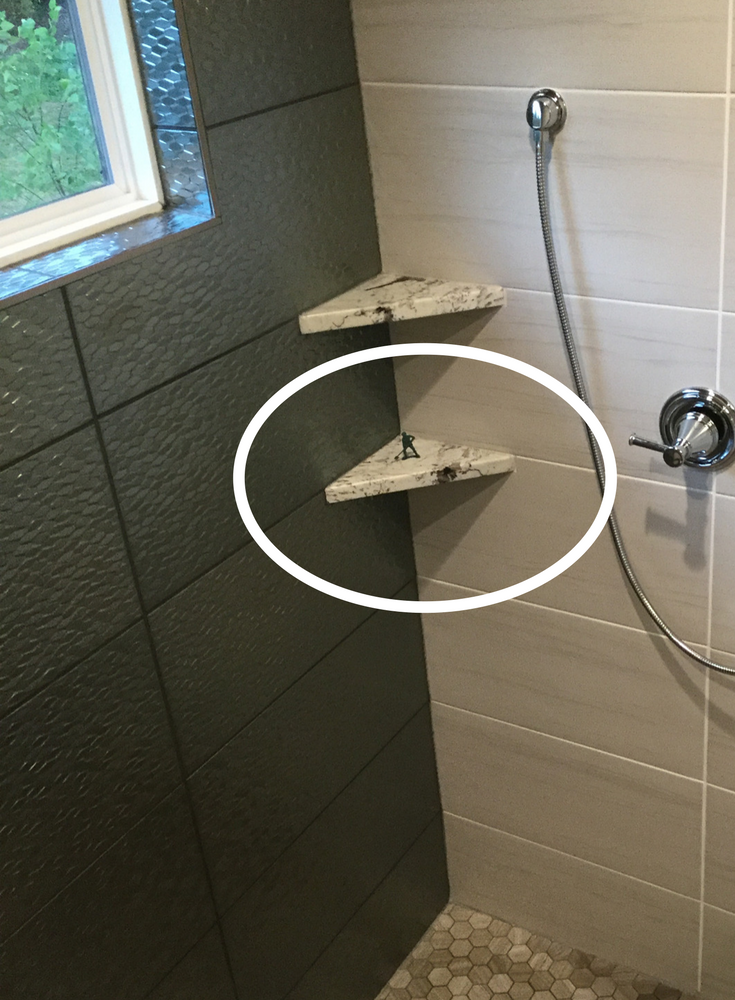 How can I (or a member of my team) help you?
If you want to upgrade your shower call me (or a member of my team) to learn about our cool products like grout free shower and tub wall panels, one level wet room and even the updated designs of glass block showers. Please call us in Columbus at 614-252-3242, in Cleveland at 216-658-1270 or for nationwide supply at 877-668-5888.
If you're a remodeler or builder and want practical advice on remodeling products, industry trends, marketing and sales tips to grow your business (and cut day to day hassles), start reading my newest blog – Innovate Builders Blog. It's packed with ideas you can use now. Click here to Sign Up for the Innovate Builders Blog.
If you're in the building business, click here if you'd like to learn how to become a shower wall panel dealer or call and ask for Mike at 877-668-5888.
If you're looking for a quality home in Columbus
If you want more information on these Parade Homes call Manor Homes (614-841-1800), Maple Craft Custom Homes (614-496-0589), Ambassador Homes (614-898-7200) Silvestri Group (614-890-3616) or Westport Homes (614-891-8545).
Save
---
Mike Foti
President of Innovate Building Solutions a nationwide supplier and regional (Cleveland and Columbus) remodeling contractors. Some of our product lines include glass counters, floors, backsplashes, glass blocks and grout free shower and tub wall panels
---