6 Ideas to Rock a Small Minimalist Bathroom Design (without breaking the bank)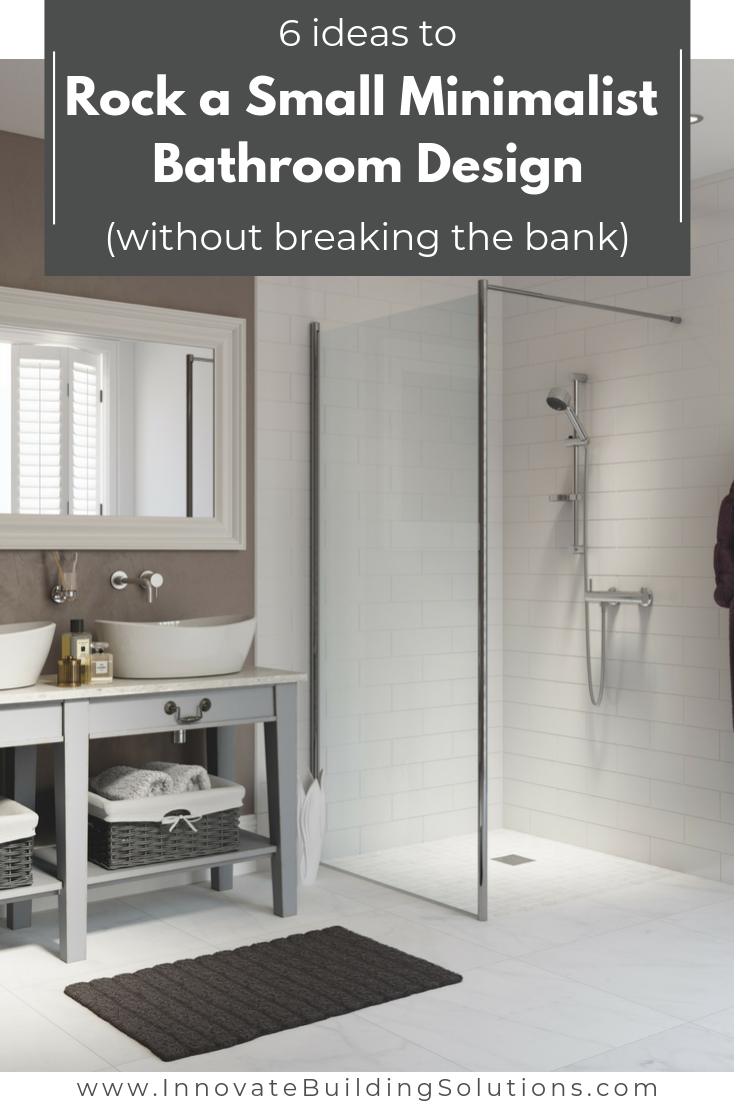 Updated March 31, 2019
You've looked at one too many issues of Architectural Digest to put up with your crappy, outdated 5' x 8' bathroom any more. You've asked yourself what the heck was the guy who built this home thinking when….
He slapped in a fiberglass tub/shower unit which yellowed, scratched and now looks awful.
He installed a floor-based double bowl vanity which takes up half the room.
He had a tile guy install teeny-tiny mosaic tiles with huge grout joints which are a pain to clean.
He didn't include a window. It now feels dark, dingy and closed-in.
You dream of a sleek, uncluttered, simplified minimalist bathroom. You're unsure, however, if you can make this style work in your tiny space.
It's simple to do anything with a big bathroom and a big budget, but how do you make a minimalist design work in a small space without tapping into your 'Bill-Gates Trust Fund' (oops, I forget Bill forgot to write you into his will…. yet).
This article will show you 6 practical ideas to rock a design for a small minimalist bathroom without busting your budget. Let's dig in.
Idea #1 – Embrace a 'boundaryless' design  
The biggest problem with small bathrooms is they're too 'chopped up.'
When you have a small bathroom why compartmentalize spaces? Why create a 'shower box' (AKA a shower enclosure) which makes your small bathroom live even smaller?
For a minimalist design you need simplicity. For a minimalist design you need an open design concept which goes beyond the 'boxes' which are American bathrooms today. You need a boundaryless design.

Not sure what a boundaryless design is, or how to create it? Here's 3 products to get you started:
Product #1 – A one level wet room – Using a pan called a shower base former, you can make a waterproof bathroom which is designed at one level. Clean, neat, waterproof and open in design. The image below shows how this pan looks underneath your finished tile floor.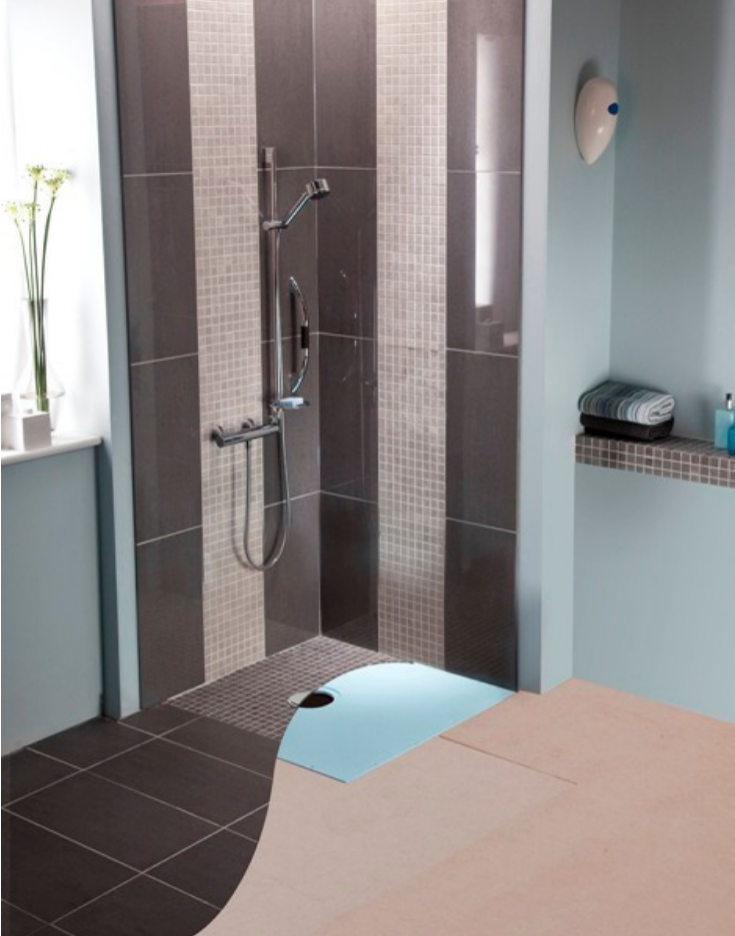 Product #2 – A walk in shower with a clear, pivoting glass shower shield – Visually create an 'open-feeling' using a clear glass pivoting walk in shower design. It's sleek. It's contemporary, but you still have an enclosed shower.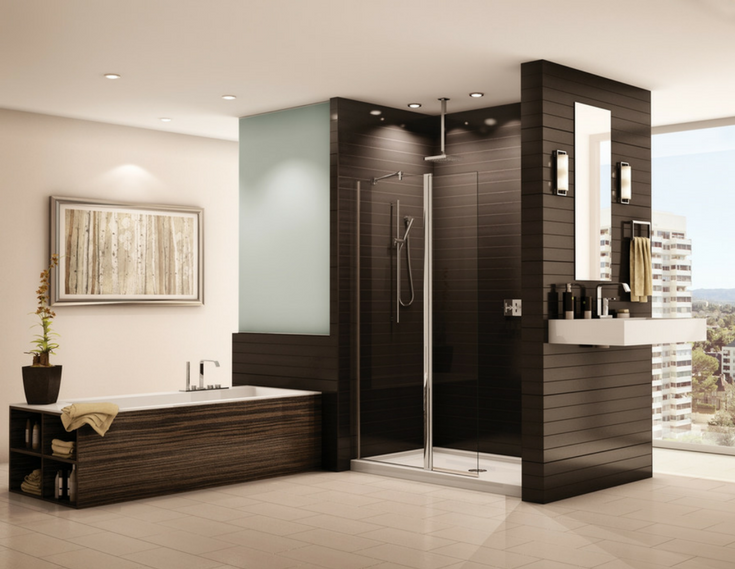 Product #3 – Low-profile contemporary acrylic shower pan – Maybe you don't have the guts, or don't want a tile floor or can't find a contractor to do the one level wet room in product idea #1. Another way to get an 'almost' boundaryless and minimalist design is to use a low-profile contemporary shower pan. These newly designed, advanced pans are not only stylish, but have reinforced bottoms so they won't sag when you walk on them.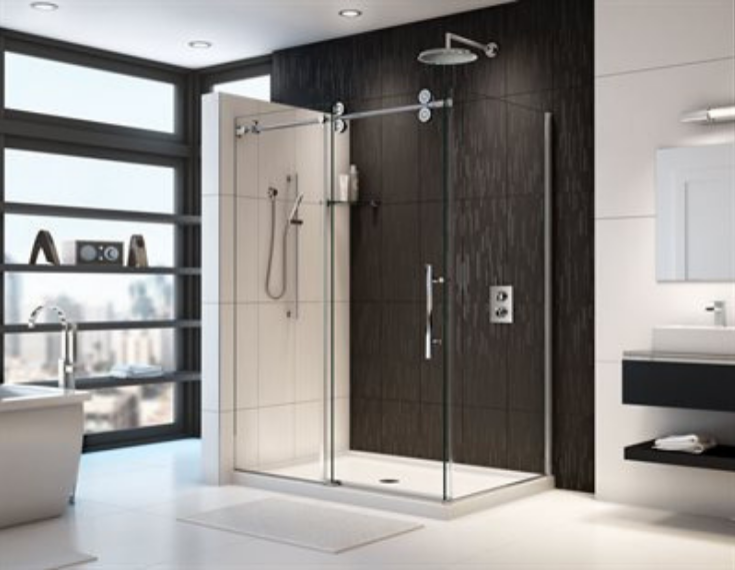 Idea #2 – Use organic bathroom and shower wall panels to simplify your look (and life)
Minimalist bathrooms have an organic, natural feeling. They embrace the connection between the inside and outside environments.
Minimalist bathrooms are uncluttered and simplified. They allow you to enjoy your bathroom without laboring over it with your 'favorite' (sarcasm intended) scrub brush.
The question is what materials could you use on your shower and bathroom walls to create an organic, minimalist look? How can you make a stylish space without it being a pain in the butt to take care of?
One thoughtful answer is using laminated bathroom wall panels.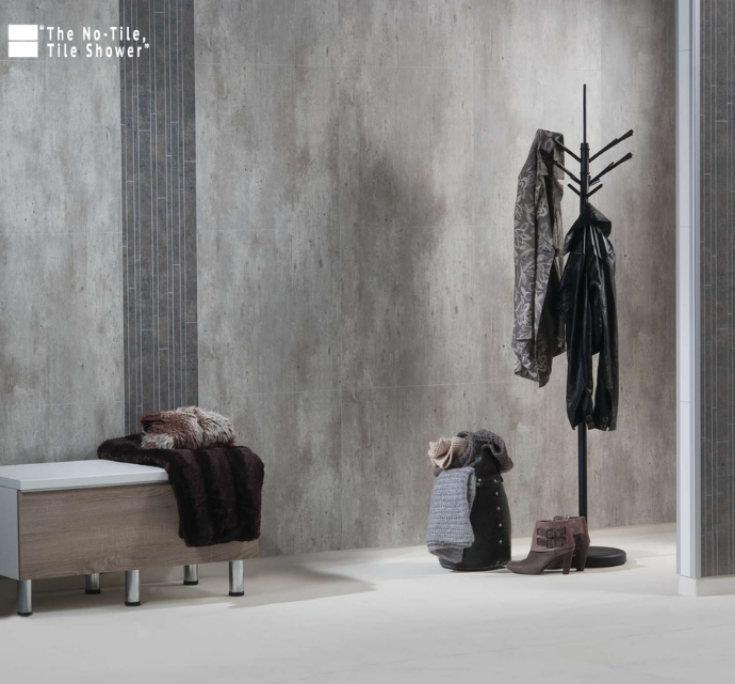 These panels come in natural designs. Choose from cracked cement, wood-looks, and travertine marble designs. Since they're grout free, you can take enjoyment in being able to crush your scrub brush.

Idea #3 – Even if a tub won't fit, insist on a place to sit
You love the idea of a luxurious freestanding soaking tub in the middle of 200 square foot minimalist bathrooms you read about. However, you know your changes of using a freestanding tub in your 5' x 8' bathroom is as likely as getting Nancy Pelosi and Donald Trump to agree … on anything!
You don't need to give up the idea of a relaxed spa-like minimalist bathroom because your space is small. With a little ingenuity, you can still create a bathroom where you can rejuvenate. Here's a couple of ideas to get you there:
Add a fold down shower bench seat. When you've got time to relax, fold it down. When you've gotta rush to work, you'll keep it up, shower and go.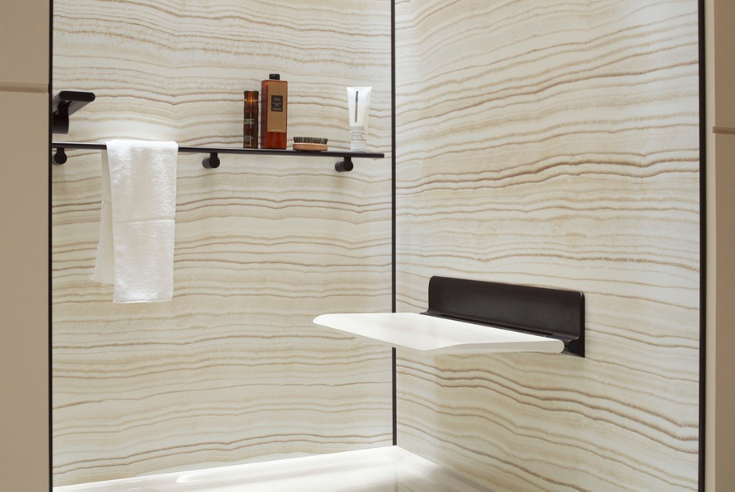 Install a rain head. There's nothing like the gentle streams of water 'raining' down on you. Plus, with modern air-infused heads, the water pressure doesn't have to be wimpy from rain heads any more.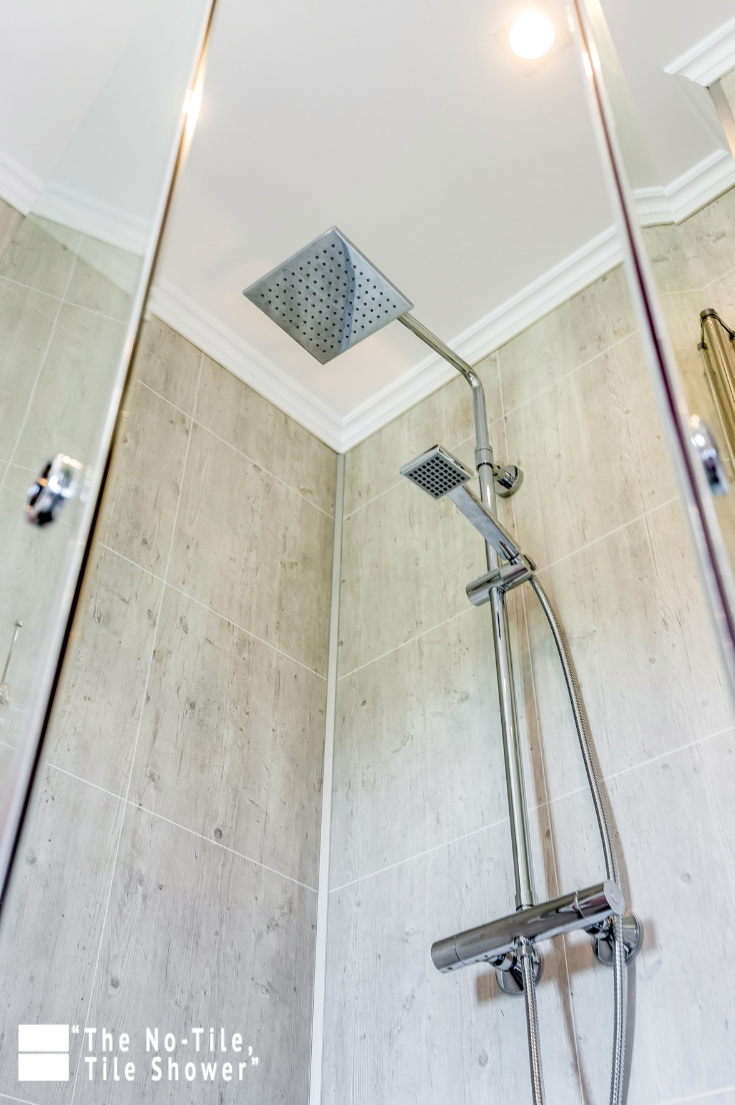 Idea #4 – Even if you've got minimum space, your goal is to maximize your place  
Want to make a small bathroom feel smaller? Use itty, bitty tiles.
This small tile mistake is an error made time and time again (isn't that redundant?).
For a larger feeling bathroom, you've got to use larger materials. You've got to maximize your place.
On your bathroom and shower floor choose large format tiles. On the shower floor add a linear drain shower pan. These pans make it possible to use big tiles.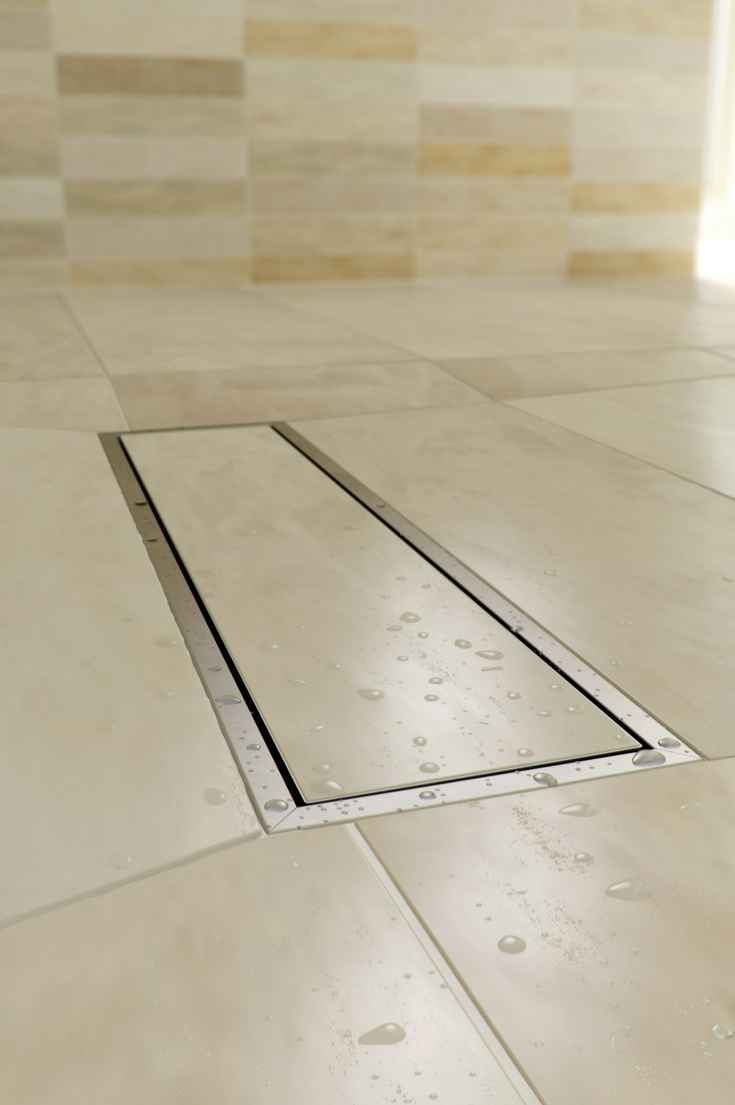 For your walls select big tiles. Also, you'll cut down grout joints. Yeh you!
If you really want to make your life simple you need to as Tony Montana might say from the movie Scarface, "find your little 'fre." Not sure who your little 'fre is? That would be grout free large format wall panels. They're simple to install. They're simple to clean. That's a winning combo.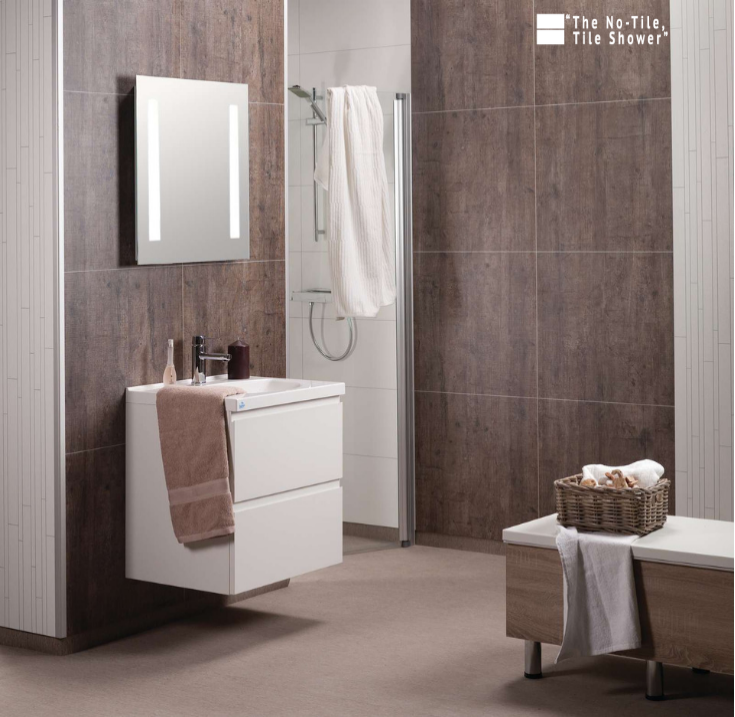 Idea #5 – If you don't want to be cramped, you need to go from being 'floored' to floating     
A smart minimalist design is thoughtful. It works every inch. It finds ways to 'add space' (or at least the feeling of space) where none existed before. Cramped is out. Uncluttered is in.
To capture the uncluttered look, you don't need to be a magician, but learning how to 'float' things will come in handy. Not sure what I'm referring to? Here's what. It's time to start floating your vanity cabinet and ditch the cabinets on the floor routine.
With this approach you'll see more of your floor. It'll be a cleaner look.
When you choose a wall hung vanity with drawers you'll get more effective space than a 'box cabinet.' No more 'digging' through the back to find what you need (can you relate?). See how the design of the cabinet has drawers which even 'work around' your pipes. That's more storage for you!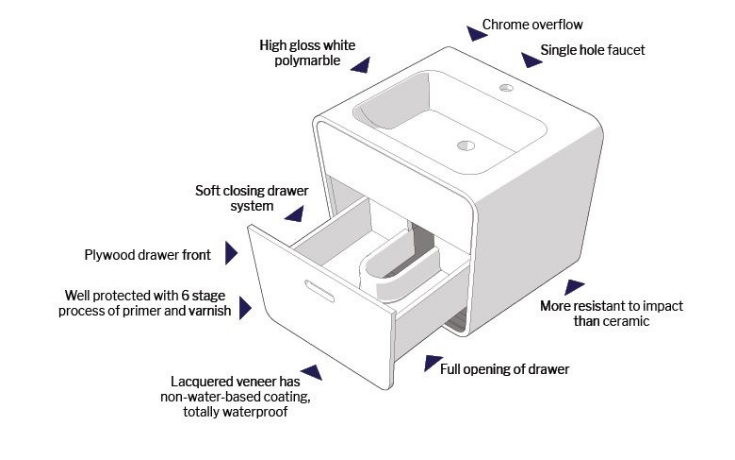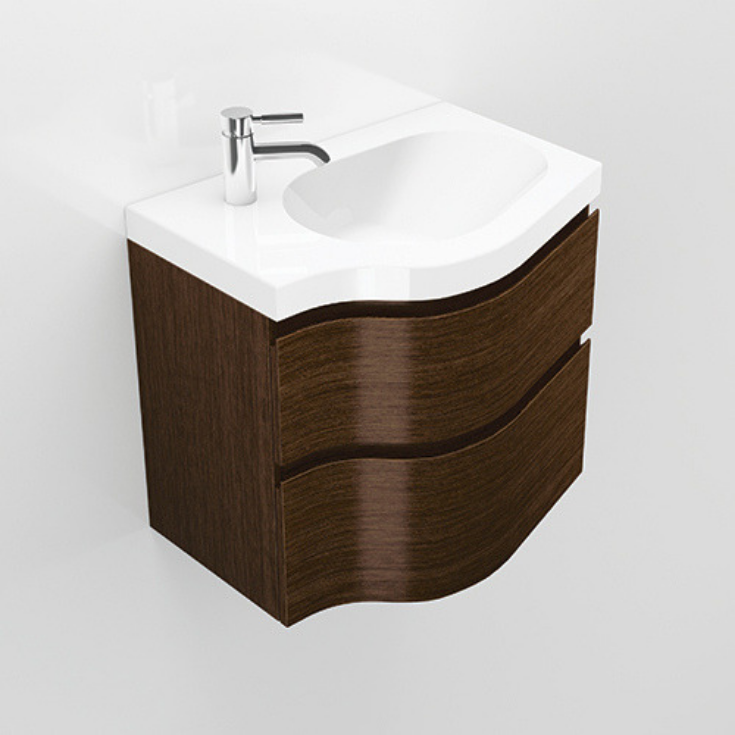 Idea #6 – It's time to 'light your world' (or at least your bathroom)   
One thing which makes a small bathroom live smaller (in addition to the tiny mosaic tiles mentioned in idea #4) is for it to lack light. Here's a bathroom formula you DON'T want to live with:
(Darkness) = (A Closed in Space).

To create a light, open, airy feeling embrace your inner 'David-Copperfield' and (at least) create the illusion of lighting. The question is how? Here's 3 ways:
#1 – Use high gloss wall panels to bounce light around – High gloss materials (cabinets, wall surfaces and floor surfaces) brighten dull rooms. Two cool options include contemporary high gloss acrylic panels and the more cost-effective laminated wall panels. They're both stylish. They're both fun. They're both simple to clean. That's a huge win for you with your way-too-busy life.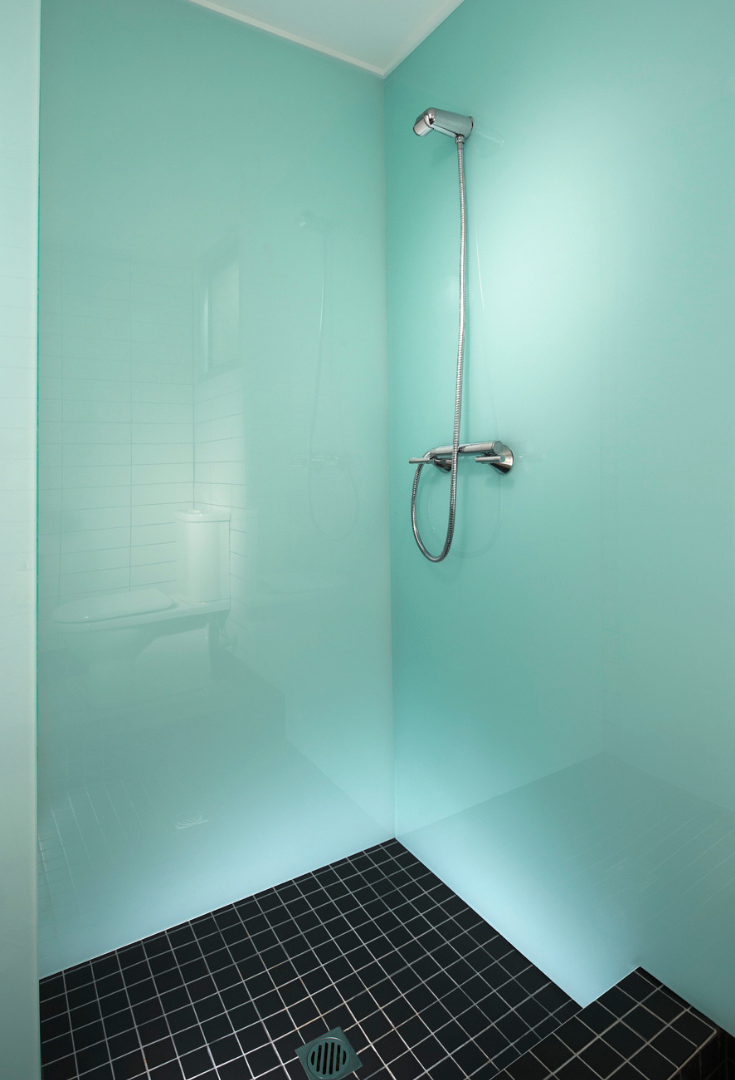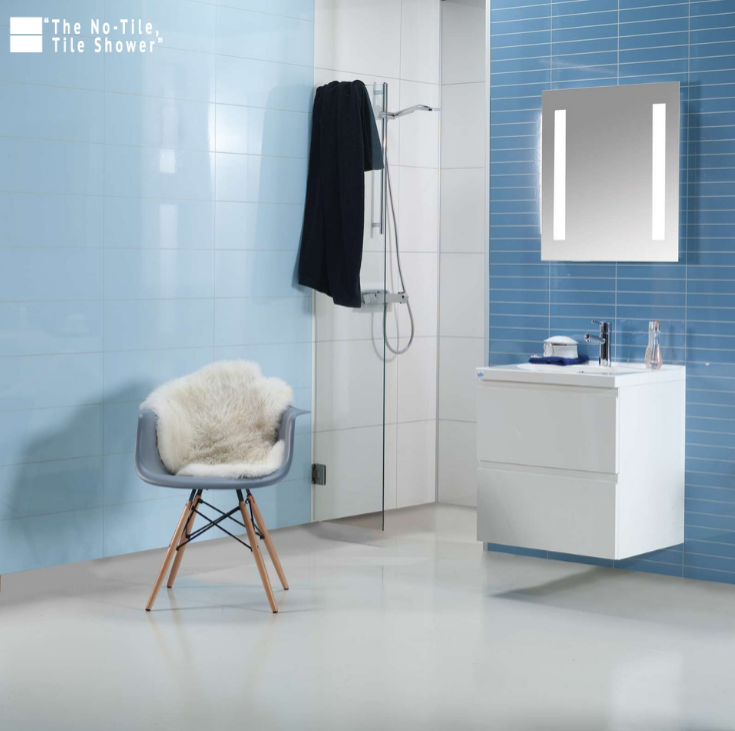 #2 – Add a transom window or a solar light tube – The way to add more light is to well…. add more light (ingenious thought – huh?). Nothing beats natural light. One way to get this natural light (without giving a 'show' to the neighbors) is to use a transom window. This little horizontal 'sliver' of a window will help more than you think. If creating a window opening is too costly, solar light tubes installed through the roof are a smart way to draw natural light into a smaller room.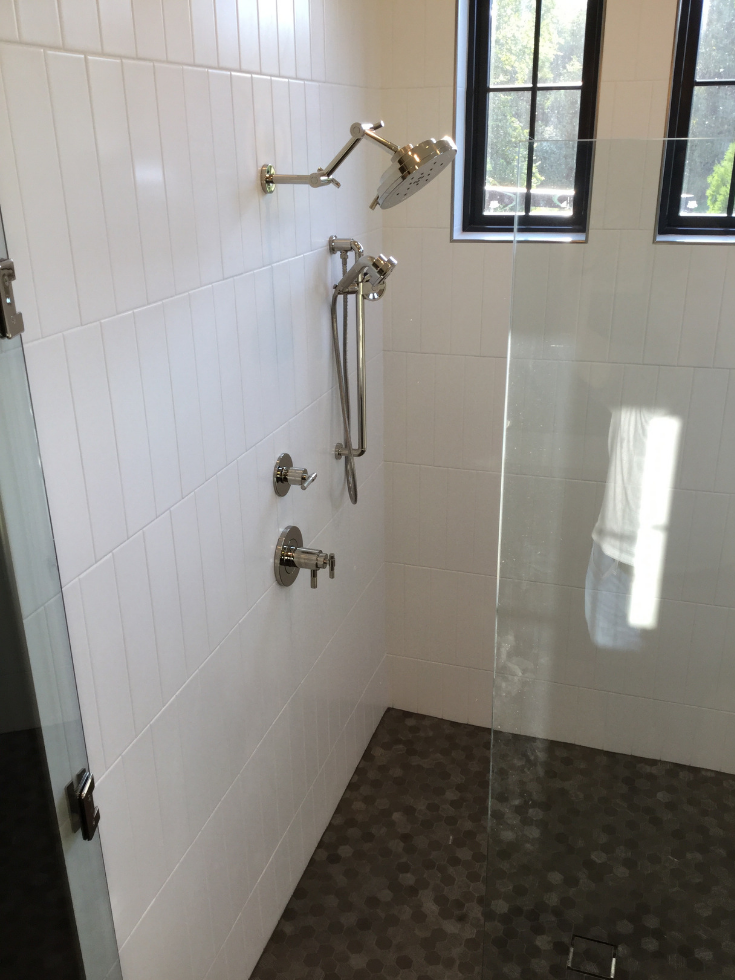 #3 – Visually open your floor – Dark tiles, small tiles, matte finished tiles and bulky cabinets darken your room. Rejuvenate your flooring with lighter colors and larger tile sizes. See more of your flooring with a floating vanity cabinet. You'll gain 'visual' floor space. Your bathroom will be easier to clean. You can even safely use a wet room system (discussed in idea #1), since there's no cabinet sitting on the floor.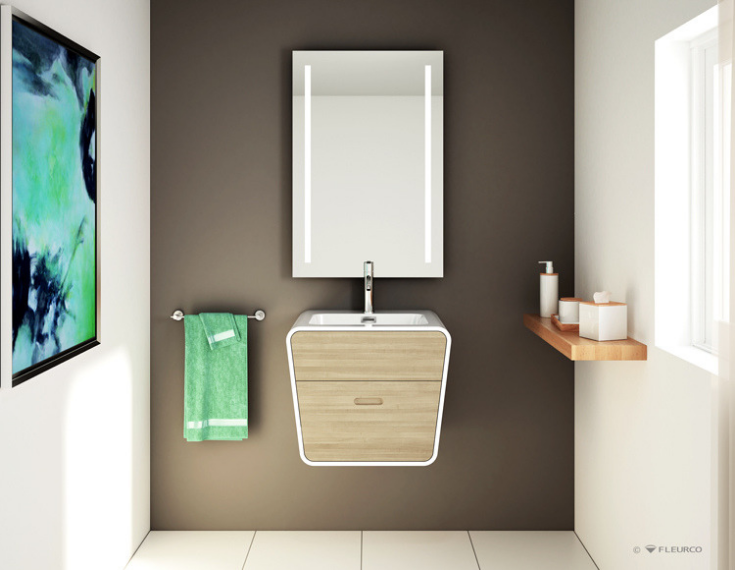 Conclusion
While you can still dream about living in the ultimate 200 square foot minimalist bathroom right out of the pages of Architectural Digest, this isn't the reality of the life you know today (unless you can find a way to be included in the Bill Gates Trust Fund we discussed earlier).
However, it's comforting to know if you don't have 200 square feet (and an unlimited budget) you can still get a sleek, light-filled and uncluttered minimalist bathroom look…. IF you put into motion these 6 ideas.
If you'd like help converting your small bathroom into the minimalist space you've dreamed of, we'd love to be there for you. Call the numbers below. Just because you're doing a minimalist bathroom, there's no reason to get 'minimalist' assistance along the way.
###
For input on minimalist products (shower wall panels, wall hung vanities, one level wet rooms, and frameless glass enclosures), or design and installation expertise call
Innovate Building Solutions at 877-668-5888.
For a remodeling project in Cleveland contact Cleveland Design and Remodeling at 216-658-1270 or in Columbus The Bath Doctor at 614-252-7294.
If you're a remodeler or builder and want practical advice on remodeling products, industry trends, marketing and sales tips to grow your business (and cut day to day hassles), start reading my newest blog – Innovate Builders Blog. It's packed with ideas you can use now. Click here to Sign Up for the Innovate Builders Blog.
If you're in the building business, click here if you'd like to learn how to become a shower wall panel dealer or call and ask for Mike at 877-668-5888.
If you want more advice (or like wacky humor) follow me on Twitter @Mike_Foti or my companies @InnovateBuild or @InnovateHomeOrg.
---
Mike Foti
President of Innovate Building Solutions a nationwide supplier and regional (Cleveland and Columbus) remodeling contractors. Some of our product lines include glass counters, floors, backsplashes, glass blocks and grout free shower and tub wall panels
---