5 Things Nobody Tells You about Shower & Tub Wall Panels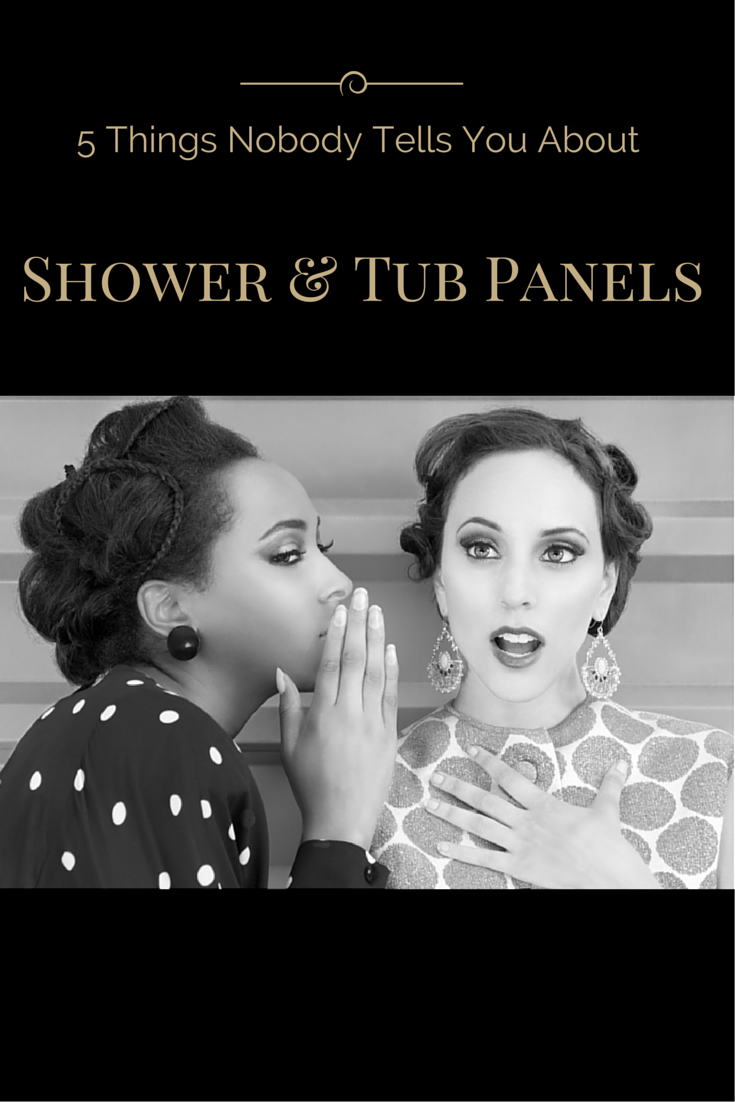 Updated January 28, 2023
If you've ever been subjected to an in-home sales presentation from a hard-selling acrylic shower or tub wall salesmen – you know some of the "facts" surrounding grout free shower and tub wall panels "spun" quite a few ways. These reps may tell you their system is the only right one for your bathroom, or they have the only "one-piece" system or that it's not possible to install grout free shower and tub wall panels yourself. As the owner of Innovate Building Solutions (we wholesale and install 5 different lines of tub and shower wall panels) I can tell you choosing the right system for your project is not a "one size fits all" situation. There is no one product which is "the best" (note – if there was one best solution we would not offer 5 lines ourselves!).
The best product for you is simply the one you LOVE to look at. It's one which fits your needs. It's a product which won't have you on your hands and knees begging to chuck the scrub brush which seems permanently fixed to your hands. And most importantly works for your budget.
My goal in this article is to shatter  the myths and half-truths being told by high pressure, sleezy, ,'dirt-buckety' (not sure that's a word!) sales people who have one goal in mine for your project….their commission! Read on to blow up the myths and mysteries regarding grout free wall panels. And even stay tuned at the end for a bonus 6th thing nobody tells you which will make your shower remodel much simpler AND save you money!
Myth #1 – Grout free panels must be professionally installed
This is a half-truth if there ever was one! I'll tell you it's best to have acrylic shower and tub wall panels professionally installed. The reason is this material can expand and contract after it's cut and the black butyl tape installation adhesive is a pain to work with. However, there are 4 other systems I'll outline below which are DIY friendly and can be cut and drilled with common woodworking tools you  own already:
• PVC backed composite faux stone walls – These walls look like natural stone and are super-easy to cut. They come in 20 different stone patterns (which all cost the same) and put the looks of the standard acrylic patterns to shame. If you're worried about cutting them – don't be. The 3″ trim moldings on the edges hide bad cuts. How cool is that for a DIY'er?
• Solid surface walls – Although they are the thickest at 3/8" they're not tough to cut and are available with a large array of accessories (shower seats, recessed niches, leg stands for shaving and grab bars to name a few). They come in 51 different colors and 4 patterns. The biggest challenge with solid surface walls is you'll need to eat your Wheaties (and bring along a friend) – because these panels are HEAVY! A 60″ x 96″ back wall panel will weigh about 120 lbs.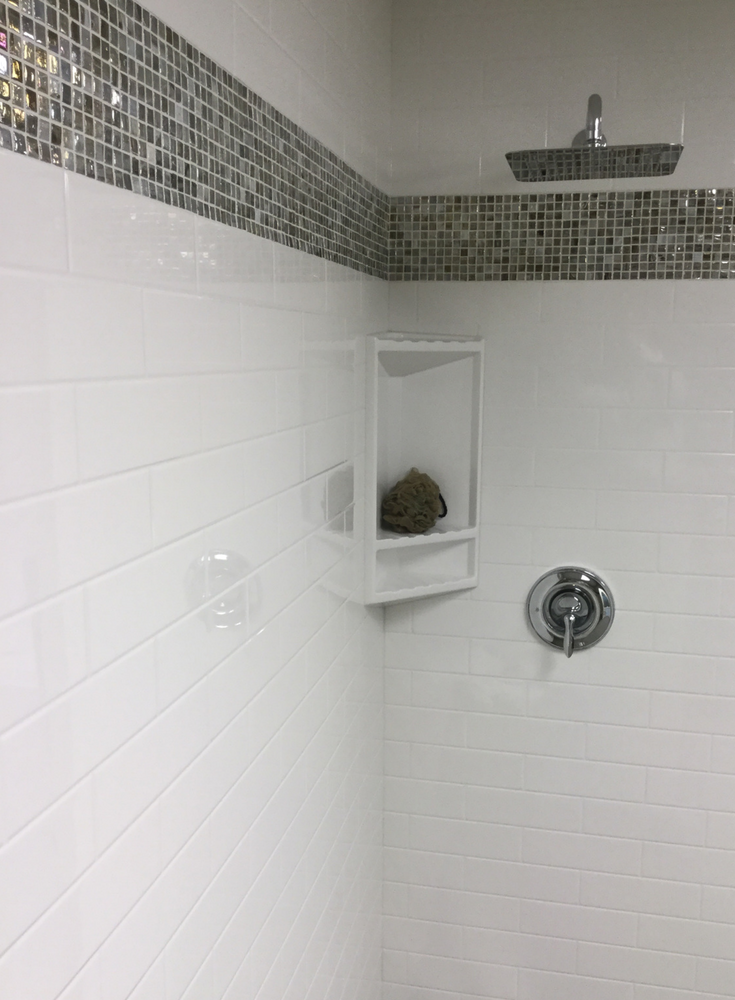 • Laminated shower and tub wall panels– Laminate shower wall panels  have finally arrived in the United States.  They are waterproof and have the feel and look of tile –  yet NO MAINTENANCE! This – to me- is the best of both worlds. This product has been made in Norway since the late 1990's. It makes me wonder why we're so far behind embracing wall panels in our country (maybe it's the sleezy acrylic sales dudes and low-quality fiberglass which has turned people off?). These panels come in different textures, with different tile sizes with styles to fit contemporary, traditional, Shabby Chic, Mid-Century Modern and even Modern Farmhouse bathrooms. If you're looking for shower wall panels for a modular home or bathtub walls for a vacation home, these units are perfect. If you're intrigued click on the button below and request your free samples.
Get Free Samples!
Click here to request free samples of our Laminated Waterproof Shower Wall Panels.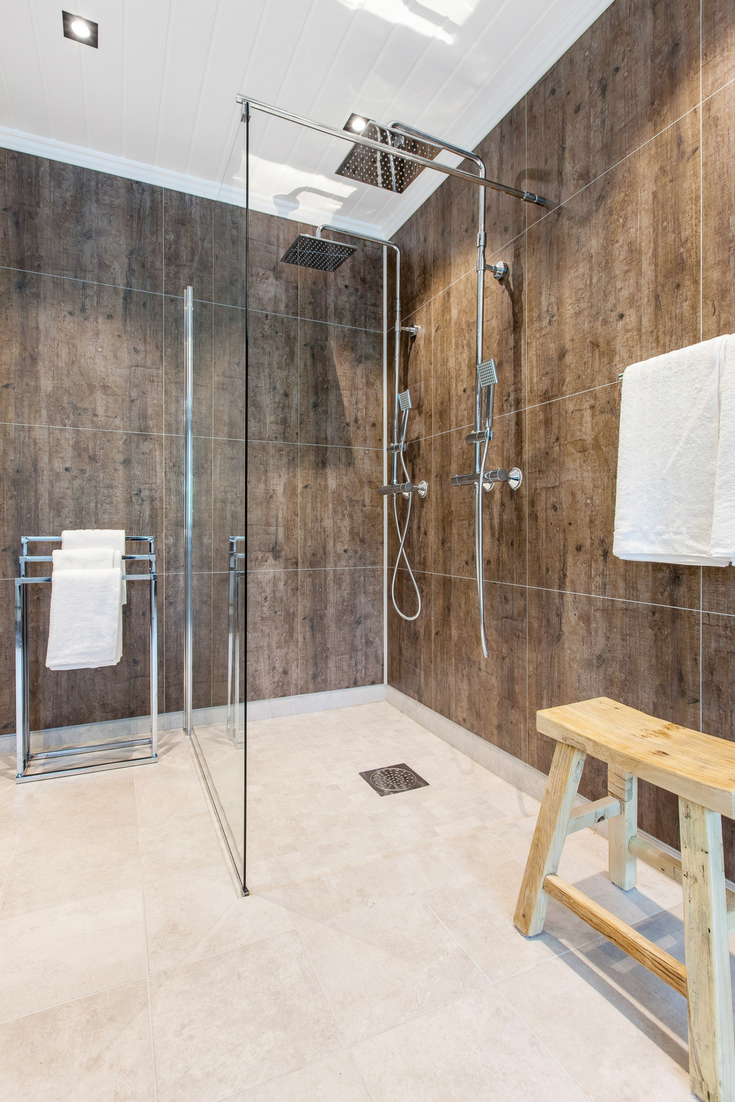 • Slick high gloss wall panels – Offering the look of back painted glass (without the cost) these panels are popular for those wanting a sleek contemporary Euro style bathroom. The come in 7 colors and they add as much drama to your bathroom as your 15-year-old daughter does to your household!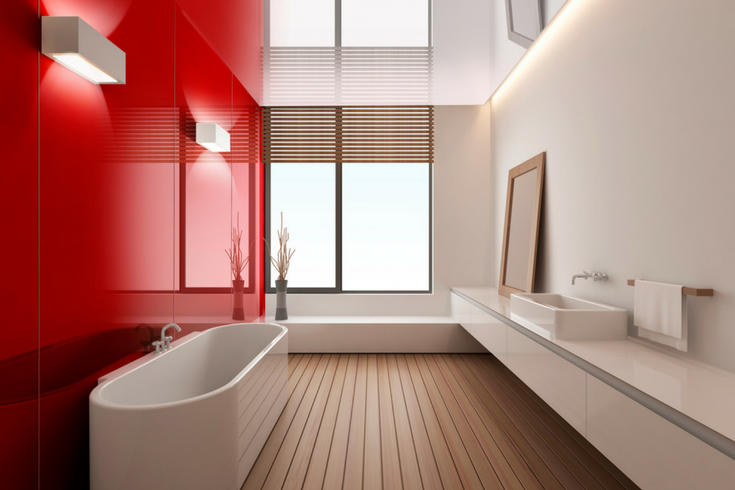 Myth #2 – The only panels worth using is a "one piece" system
While it is true you can buy (and home builders often use) cheap fiberglass one piece shower and tub surrounds, in-home remodeling companies who sell "one piece" acrylic shower and tub panels systems are frequently deluding the general public. Their "one piece"system is not one piece at all. It includes trim pieces around shower and tub surrounds. The other problem with these so-called "one piece" systems is if your shower/tub is not  square (which most aren't) the caulk joints around the one piece section will be inconsistent and start growing around the edges.
The best systems I've seen are those with unique panels for each wall (which can be fit or trimmed to your exact size) and have sound waterproofing methods to ensure a tight fit and seal at the seams and corners. If you have a wall longer than 60″ the solid surface walls are are one option because you can get them in lengths up to 100″ maximum (however – make sure you can get your panels through your doors – otherwise you'll be belting out more than a few choice words which can't be printed here!).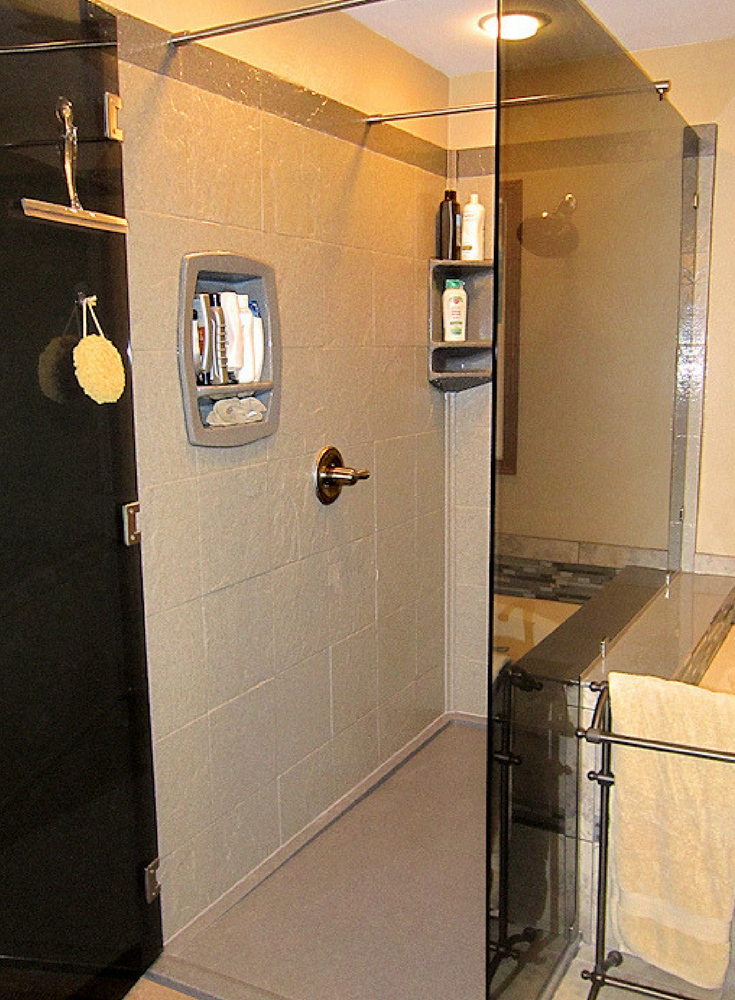 An even smarter choice can be the laminate wall panels. These 2′ x 8′ x 3/8″ thick panels simply click, lock and seal together and can be used in shower or as bathroom walls panels in rooms of any size.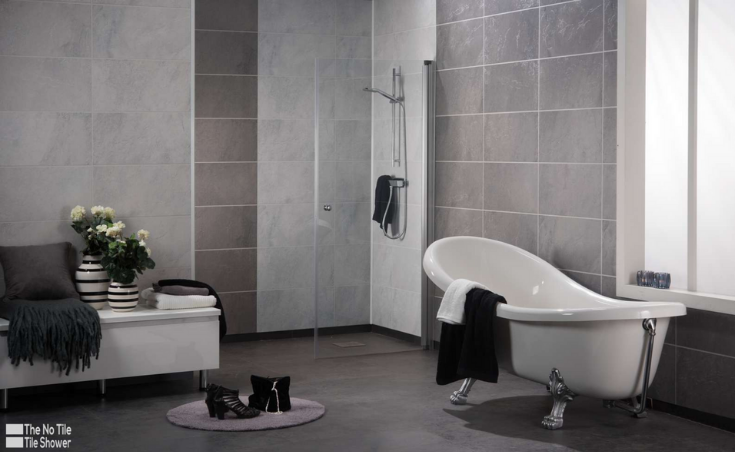 Myth #3 – Thickness matters
While it's certainly not bad to have thicker wall panels (the thickest ones our company uses are the 3/8" solid surface panels and the 3/8″ thick laminated shower panels) in most cases once the wall panels are properly adhered to a wall backer the thickness of the material will have little bearing on long term performance (note – if the wall panels are not adhered with the right adhesives all bets are off). From my experience it is critical to use the adhesive recommended by the wall panel manufacturing company). When you buy your shower and tub kit make sure you're getting the adhesives along with it. As my Dad used to say, "Mike, don't be penny-wise and pound foolish!"
Get Free Samples!
Click here to request free samples of our DIY Shower and Tub Wall Panels.
Myth #4 – You can only do standard sized showers and tubs with grout free panels
This is a myth you might hear in a big box store which only inventories stock sized enclosures or from your contractor who doesn't know his butt from a hole in the ground about wall panel systems. It is possible to get large panels for custom showers (in solid surface walls you can actually get a panel as big as 144" x 100"). With the easy to cut and seam systems in the PVC, high gloss acrylic and laminated wall panels you can use wall panels for any sized shower stall.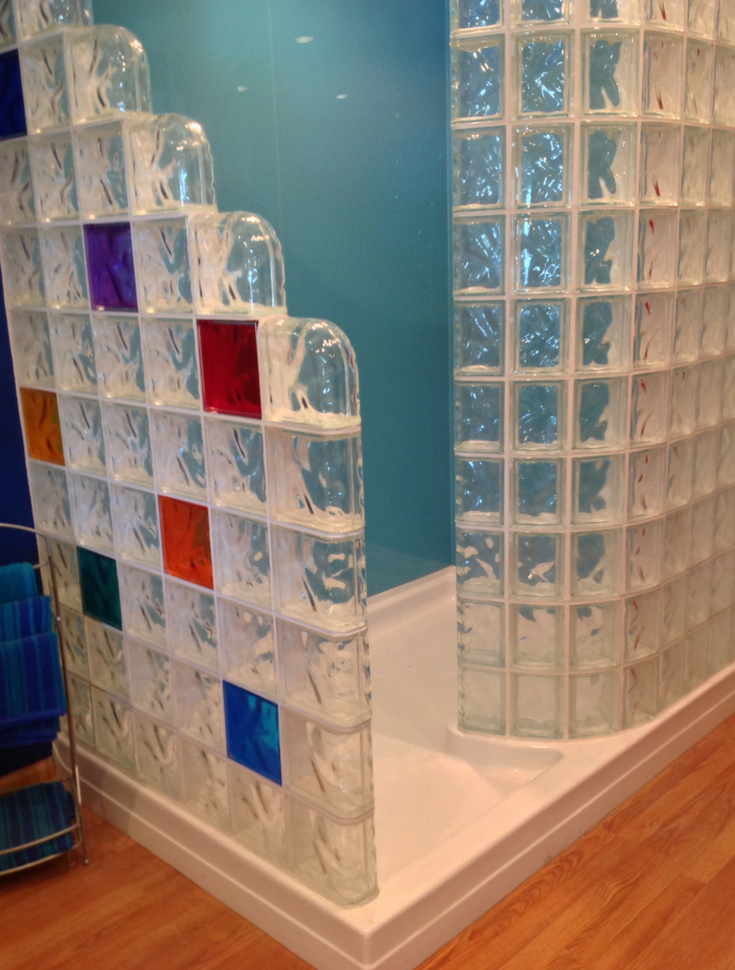 Don't limit yourself to a grouted tile shower even if you have a custom size anymore. Do you really want to be cleaning (or paying and having to wait for  the "Grout Medic" guy to service) your tile shower any more? If your answer is yes – you may need to check yourself into the hospital! Just sayin'.
Myth #5 – You need custom tools to do the installation
The facts is in most cases (with the exception of some intricate acrylic wall projects where a custom bending tool can be helpful) you can use standard woodworking equipment (like jig saws, routers, table saws, circular saws, hole saws and drills) for a DIY wall panel project.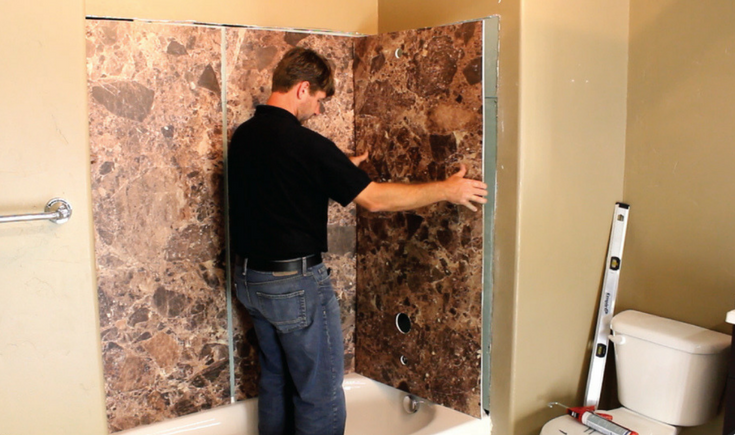 Another straightforward way to install wall panels are to use 'modular' systems (i.e. panels which click and lock together). With this laminated wall system the panels are only 2′ x 8′ in size (which makes them simple to bring into a second floor bathroom up a winding set of stairs…. even for one person) and they are simply screwed to studs and interlock together. Wall panels are getting easier to install all the time.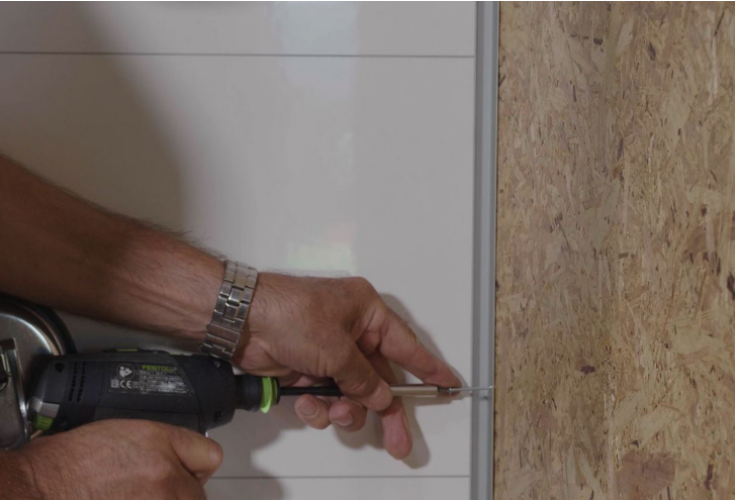 You aren't at the mercy of a way-too-expensive remodeling contractor to do this job (although sometimes a professional remodeling contractor is the smartest way to save you time you could be spending with your family!).
Bonus Myth #6 – Shopping for a stylish, yet-affordable grout free shower system will take a lot of time
If this is your first time shopping for a grout free shower wall (and shower pan) system you may think it's going to take a long time to make sure everything works together. But I'm here to tell you this doesn't have to be the case for you. If you look for a complete alcove shower replacement kit you can find systems which are prepackaged AND more cost effective to do than buying all the components separately (and you don't have to worry if they'll all fit together. There are alcove shower kit which you can get grout free shower wall panels and shower pans specifically designed for the walls. And if – by chance – you have a custom shower, don't fear there are also custom shower kits to save the day for you. Read How to Find a High Quality Custom Shower Replacement Kit and/or watch the video below.
Conclusion
Which of these 5 myths have you heard before? Do you have any tall-tales you've been fed by contractors or home centers you'd like to contribute below (or questions we can clear up  for you)? I would LOVE to hear your comments and questions.
How can I (or my team) help you?
If you want more information, or a quote for grout free shower wall panels (delivered direct to you anywhere in the United States)  or the installation of these panels in the Cleveland or Columbus Ohio markets call the numbers below. Me and my team – would be excited to help you. If you're a remodeler or builder, click here to learn how to become a shower wall panel dealer or call Mike at 877-668-5888.
For regional installation service call The Bath Doctor in Cleveland (216-531-6085), Columbus (614-252-7294) or for nationwide material supply Innovate Building Solutions (877-668-5888).
If you're a remodeler or builder and want practical advice on remodeling products, marketing and sales tips to grow your business (and cut day to day hassles), start reading my newest blog – Innovate Builders Blog. It's packed with ideas you can use now. Click here to Sign Up for the Innovate Builders Blog.
In addition, if you're looking for shower panels for a luxury apartment, or bathtub wall surrounds for rental properties, we'd love to help.
If you'd like to learn even more about grout free shower wall panels read 5 Little Known Secrets I've Learned Becoming a Bathroom Wall Panel Geek. For more information about the laminated shower wall panels read The No Tile, Tile Shower Bathroom and Shower Wall Panels – 5 Reasons you Need to Check them Out. 
If you're a fan of Twitter please follow me @MikeFoti. I love to share tips and information on remodeling and share a few bad puns along the way.
---
Mike Foti
President of Innovate Building Solutions a nationwide supplier and regional (Cleveland and Columbus) remodeling contractors. Some of our product lines include glass counters, floors, backsplashes, glass blocks and grout free shower and tub wall panels
---