Advantages and Disadvantages of Vinyl Double Hung Replacement Windows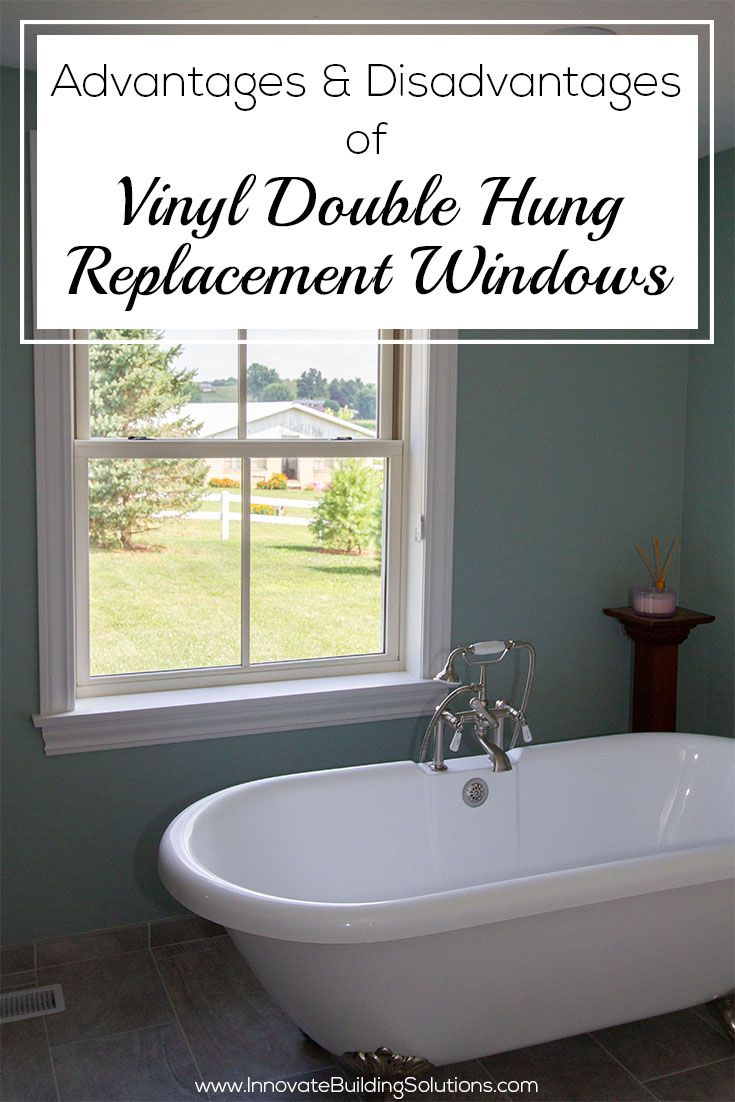 Updated May 15 2021 
Classic, traditional, bungalow and colonial homes all have one thing in common – the use of double hung windows. Whether you like them or not, double hung windows are EVERYWHERE – no matter if you live in Cleveland Ohio or Cleveland Tennessee. But just because you may have double hung windows in your home, you may still not know where there a good idea (and where they're not!). And if you're looking for replacement windows for your home, you certainly don't want to mess up and buy a new vinyl replacement window for your Cleveland home which doesn't do what you want it to do.
So, in this article- here's what we're going to do. The goal will be to first define for you what the heck a double hung window is. Then I'll move on to look at the advantages and disadvantages of these windows. And just because just because double hung windows are popular DOES NOT mean they're the best choice for every window in your home. You need to know where it's best to use them. OK, now let's take a closer look at double hung windows.
What is a double hung window? 
A double hung window is a two sash window which moves up and down and uses a balance systems to keep the sashes open. They're shape is vertical and can be made in wood, vinyl or with metal clad finishes in a wide range of colors and finishes.
Advantages of double hung windows 
 Advantage #1 – They fits into many architectural styles
The traditional look of the double hung window makes it a popular choice for a classic, country, colonial or bungalow style home. And you can even get more 'stylized' when you add decorative grids in a double hung window (a la a 'Frank Lloyd Wright' style home).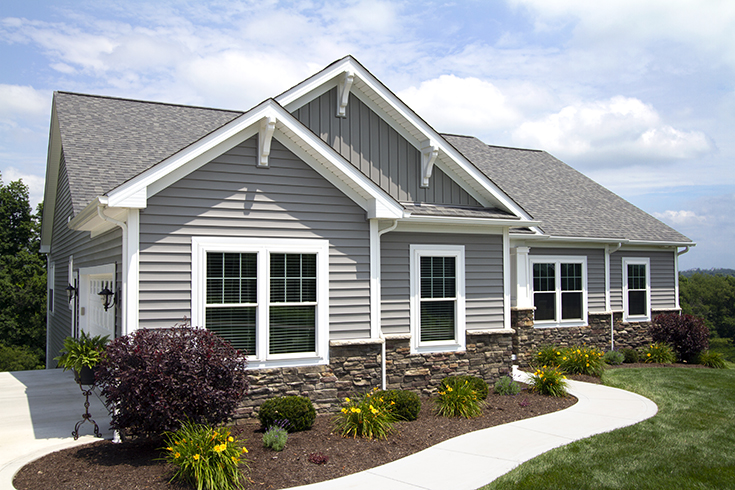 Advantage #2- Double hung windows are low priced
OK – just like Dad used to say 'you're not made of money!' You want to replace your old leaky windows, but you can't drain ALL of the kids college fund! And you'll be glad to know since double hung house windows are a simple design, they're also cost-effective to produce and time-effective to install. Bottom line – compared to casement and awning windows – you'll find double hung windows are low priced.
Advantage #3 – Easy to operate for Mom & safer for children
The double hung has a bottom and top sash where either sash can be opened. Opening the top sash brings air in without worrying about a young child falling out of the window.
Advantage #4 – The simple design of a double hung increases longevity, & makes it easy to clean
The double hung window doesn't require any operable cranks (like casement or awning windows) which makes it a long lasting replacement window. And it's a HUGE bonus to know with most new designs sashes tilt in for easy cleaning.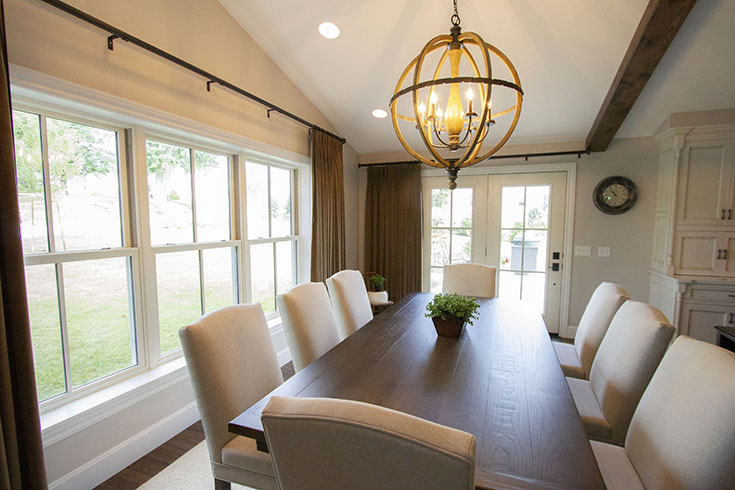 Advantage #5 – With a double hung you can use a room air conditioner if your spouse is too cheap to invest in central air conditioning 
– I know you WISH you had central air – but you haven't broken down for this investment yet. However, it's still good to know you can open up the bottom sash of your double hung windows and put in a room air conditioner. At least THEN your spouse or partner won't be complaining ALL THE TIME!
Advantage #6 – Energy efficient double or triple pane double hung windows eliminate the  storm window
Installing and uninstalling storm windows every year is dangerous and a pain in the rear to do. New vinyl, wood or fiberglass thermal windows provide higher levels of energy efficiency vs. old metal or wood double hung windows and you'll be able to ditch the storm windows which are gobbling up too much room in your garage as well.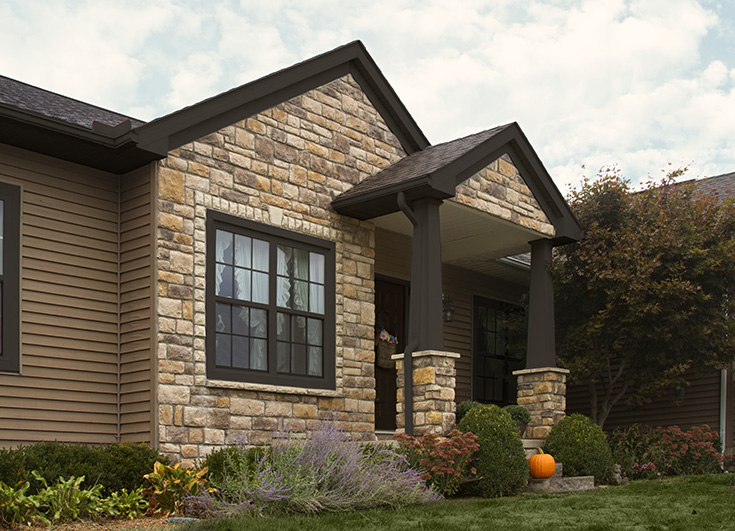 Disadvantages of a Double Hung window  
Disadvantage #1 – Double hung replacement windows don't maximize air flow
Since only the space of one sash is open at a time (of this two sash window) the double hung doesn't give as much air flow as an awning or casement window which has one sash where the entire window area is open. This can be especially important if you're trying desperately to 'air out' your teenage boys bedroom!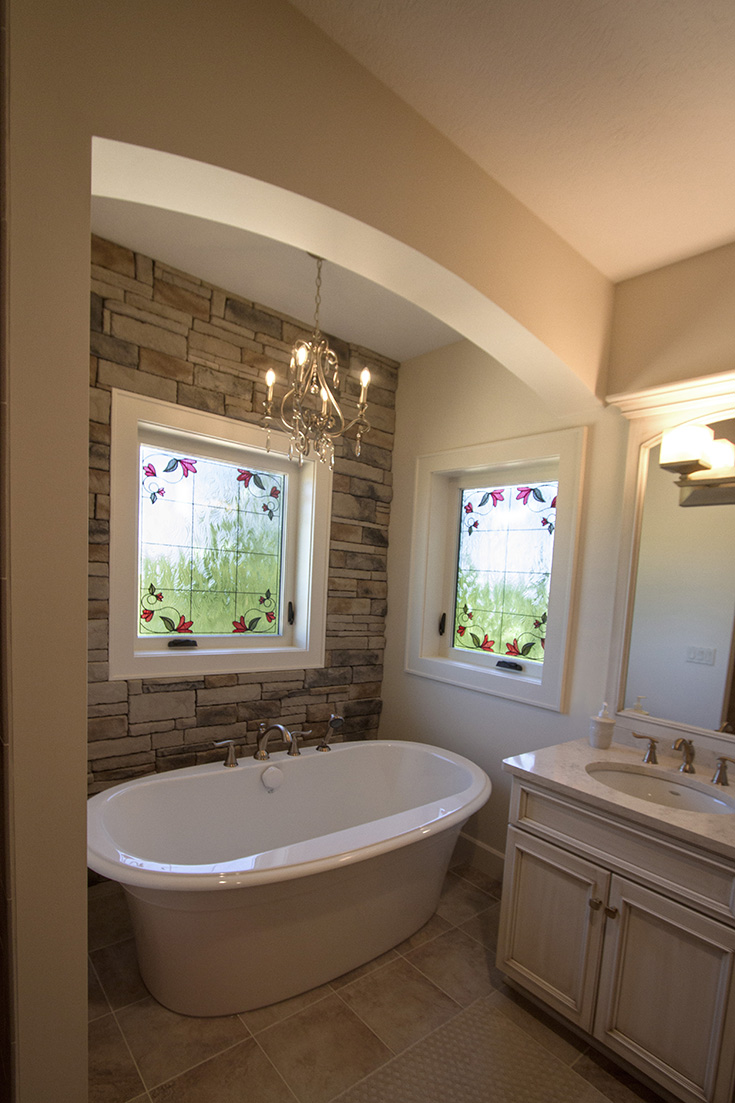 Disadvantage #2 – Not as tight a seal as a casement window
The double hung window does not seal as tight as a casement or awning style since the sashes need to meet in the middle.
Disadvantage #3 – Double hungs aren't designed for horizontal openings
The double hung is designed for vertical openings. So if you have horizontal spaces, you'll want to consider a sliding replacement window, or an awning or picture window.
Disadvantage #4 – You don't get as good a view as you do with casement or picture windows 
Since there's 2 sashes in a double hung window, you won't get the unobstructed views you get with casement windows or picture windows.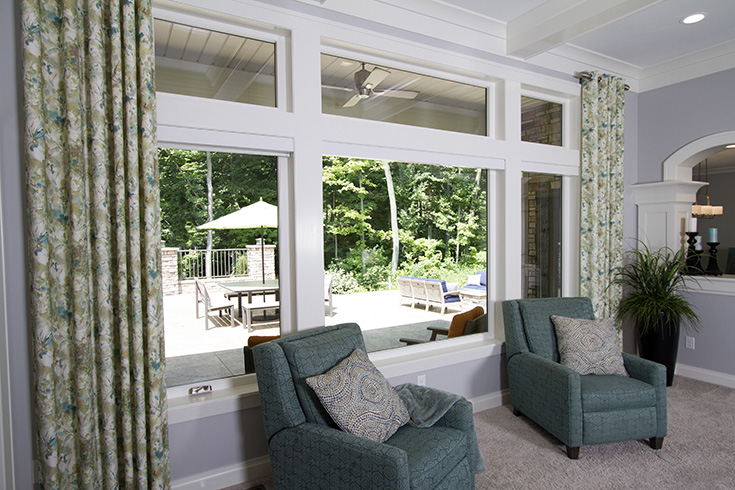 Options in Double Hung Vinyl Replacement Windows 
You double hung windows DO NOT need to be boring! Add more style and architectural character to improve the curb appeal (and resale value of your home) with these options:
Where are the best places to use double hung replacement windows in your Cleveland or Columbus home (or anywhere for that matter) 
While I've outlined the advantages and disadvantage of double hung windows above, the most important point to keep in mind is you need to choose the right window for the right application. And while double hung windows are popular – and cost-effective – they're not always the right choice. So – where are they best used? Here's some places to consider:
In bathrooms and bedrooms. They provide a good amount of light transmission – and it's nice to be able to open them at the bottom – or at the top (to keep your kids safe)
In utility and laundry rooms – if you're lucky enough to have a window to keep your mind off the 'tasty task' of laundry!
In sunrooms
Flanking a picture window in a bay family room window.
If you need help choosing the right vinyl replacement window – or want to make sure you're getting a fair price for your project in Cleveland or Columbus Ohio – we'd love to help!
Although this article may have answered some of your initial questions – we understand you don't want to make a mistake and choose, not only the wrong type of window – but also the wrong brand from the wrong company. So, if you have additional questions or need more insight either comment below or for more information or Free Quote from a representative I'll guarantee you won't be hire pressure (quite frankly IT'S NOT how my company does business). then call Cleveland Window Company (216-531-4118) or Clear Choice Window & Door in Columbus (614-545-6886), divisions of Innovate Building Solutions.
Related Articles
---
Mike Foti
President of Innovate Building Solutions a nationwide supplier and regional (Cleveland and Columbus) remodeling contractors. Some of our product lines include glass counters, floors, backsplashes, glass blocks and grout free shower and tub wall panels
---